Solo: A Star Wars Story First Reactions Revealed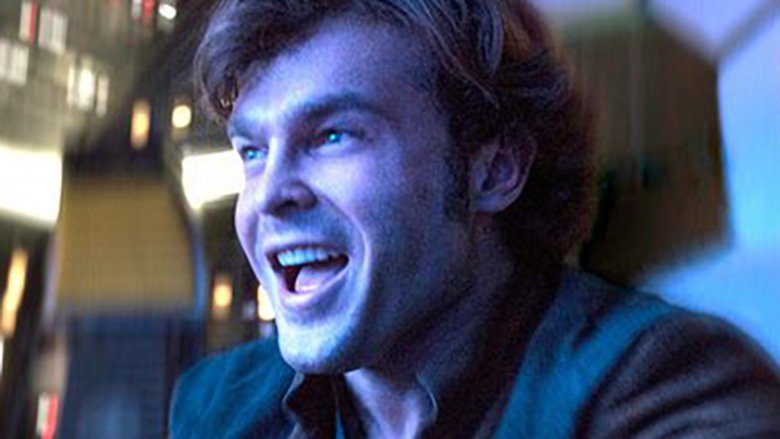 Solo: A Star Wars Story isn't set to fly into cinemas until the end of the month, on May 25, but a handful of lucky movie lovers got to board the Millennium Falcon and journey to the galaxy far, far away ahead of time. 
The latest entry in the sprawling Star Wars franchise, Solo: A Star Wars Story had its world premiere Thursday night (May 10) in Los Angeles, and those who attended the star-studded event have taken to social media to spill their thoughts on the Ron Howard-directed standalone, how (and if) new Han Solo actor Alden Ehrenreich lives up to the legacy built by Harrison Ford, and whether the film has a spark bright enough to make it more than just a standalone. 
Though full reviews of Solo: A Star Wars Story are embargoed until Tuesday, May 15 at 2PM ET, we've got the scoop on some of the very first reactions to the film. 
IndieWire film editor Kate Erbland admitted that Solo "takes a bit for it to find its feet" and for actor Ehrenreich to "turn on enough charm to make you forget" he isn't Harrison Ford, but noted that as soon as the film gets on solid ground, it's a ton of fun. "Once it kicks into its hey-let's-make-a-crew and yes-also-do-a-heist stuff, it totally flies," she wrote on Twitter. 
Erland later gushed about Donald Glover's performance as young Lando Calrissian and gave much-deserved kudos to Phoebe Waller-Bridge, who voices Lando's droid companion, L3-37: "I don't want to add too much more — review on Tuesday, y'all — but feel remiss to not add that Donald Glover is a delightful Lando and no one should sleep on what Phoebe Waller-Bridge does as his beloved droid. Solid supporting cast all around, but they are highlights."
Yahoo Entertainment senior correspondent Kevin Polowy felt much the same, writing that Ehrenreich crushes it (in a good way!) as Han, but Waller-Bridge's L3-37 is a real scene-stealer. Polowy also noted how the film's overall tone, which is lighter in comparison to its mostly serious predecessors, works to its advantage. "Solo: A Star Wars Story is reaaaaalllly good. Fun as h***. It's a straight intergalactic heist movie, kind of refreshing to see a Star Wars movie without a Death Star or the rebellion's fate at stake," he shared. "Alden Ehrenreich is super impressive as Han, but L3 might be my favorite new character."
Angie J. Han of Mashable echoed those sentiments, giving a special shoutout to Thandie Newton's Val as well: "Alden Ehrenreich is the real deal, Thandie Newton is who I want to be when I grow up, and Phoebe Waller-Bridge's L3... well we'll talk about that later.
IGN's Jacki Jing was stunned by Solo, writing, "Got out of Solo: A Star Wars Story and I'm completely floored. This movie seriously holds up! I was on the edge of my seat and had so much fun watching it! Interviewing the stars of the film tomorrow, cannot wait." When asked whether Ehrenreich was a hit or a miss as Han, Jing said that she went into the film "very defensive and protective of the beloved character" and wound up seriously impressed. "[He] made it his own ... Alden won me over," tweeted Jing.
Mike Ryan, senior entertainment writer at Uproxx, wasn't as blown away with the standalone flick, but had a rocking good time as soon as the narrative kicked into high gear. "The first act of Solo: A Star Wars Story can be hit and miss clunky," Ryan wrote in the first post in a multi-tweet thread. "But once Donald Glover's Lando shows up (who is legit fantastic) and the Kessel Run heist plot kicks in, it's a whole lot of fun. (And those who've always wanted a Han and Chewbacca shower scene are in luck). It does take a bit to get used to Alden as Han, but after 30 minutes or so your brain adjusts. (Also I've now finally seen Clint Howard in a Star Wars movie.)" Perhaps the most interesting bit of Ryan's reaction was his mention that Solo: A Star Wars Story feels like the start of "the Solo franchise," and that the film isn't "hiding the fact it's setting up more Han Solo movies."
CinemaBlend's Eric Eisenberg was even less enthused, sharing one of the few not-quite-negative-but-not-positive-either reactions thus far. "Solo: A Star Wars Story is... fine. It's slow to find its footing, but picks up in the second act, and it's definitely fun," wrote Eisenberg. "Has the occasional prequel problem answering questions I didn't need answers to, but also some fun references. Overall I liked it, didn't love it."
Off that lukewarm response to Solo, there's a flurry of wonderful words from Slashfilm head Peter Sciretta, who praised the film for its portrayal of Han Solo in his early days and for its unexpected twists — ones wild enough to rival the infamous turns Marvel has tucked into its movies. "Solo was a blast. The Kasdans [screenwriters Jonathan and Lawrence Kasdan] nail the character of Han Solo. Yes, the story is a series of expected events (Han meets Chewie... etc.) but none of them happen as expected. Stay away from spoilers, big Marvel-level s*** that will make you wonder where Lucasfilm is headed next," Sciretta tweeted. 
He added in two additional tweets that "Solo feels surprisingly unlike any Star Wars movie before," yet still captures everything fans love about the film series: the "tone, adventure, characters, and humor." Sciretta then mentioned that he absolutely needs a Lando Calrissian standalone; that Woody Harrelson's Beckett, who serves as Han's criminal mentor, brings a stellar layer of comedy to the film; and that the finished product more than makes up for the production troubles — including the firings of original directors Phil Lord and Christopher Miller — the project faced. "It's hard not to laugh at Beckett telling Han before a heist to stick to the plan and [do] absolutely no improvising, seems like a meta commentary on the production problems. Regardless of any of the production problems, the finished film is going to make most fans happy," said Sciretta.
Solo: A Star Wars Story also features Emilia Clarke as Qi'ra, Joonas Suotamo as Chewbacca, Paul Bettany as Dryden Vos, and Jon Favreau as the voice of Rio Durant. Ian Kenny, Warwick Davis, and Clint Howard top off the cast in undisclosed roles. 
Fans can decide for themselves how Solo: A Star Wars Story stacks up when the film opens wide on May 25.