Ron Howard Teases Famous Millennium Falcon Kessel Run In Han Solo Movie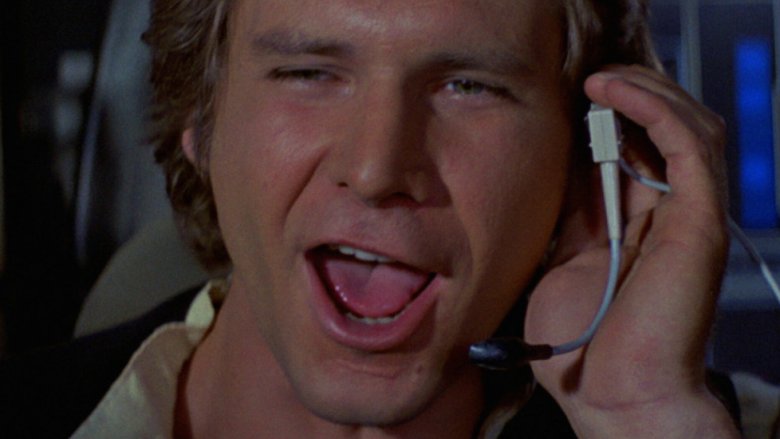 By the looks of it, Star Wars fans are finally going to witness how the Millennium Falcon's famous Kessel Run really went down. 
On Wednesday evening, Han Solo movie director Ron Howard took to Twitter to share a photo that shows an entrance to a cave, captioned with just a single word: "Spicey?" 
This is quite clearly a tease of the spice mines of Kessel, meaning that it's also a nod to the classic Kessel Run, a hyperspace route utilized by smugglers, and other unscrupulous captains to move spice into and out of the mines on orders from the Pyke Syndicate. The organization relied heavily on the Runs to deliver the unlawful substance to its countless customers. Runners go through several changes in velocity, jumping to and dropping out of light speed along the way. Given its difficulty, the Run became a fierce competition amongst smugglers, with those finishing it in the shortest overall distance proving their keen maneuvering and piloting skills. 
Han Solo, of course, completed the Kessel Run in (fewer than) 12 parsecs, shattering records and giving him some serious bragging rights that he put to use in Star Wars: A New Hope. 
Take a look at the photo below. 
Ever since the Oscar-winning filmmaker hopped aboard the yet-untitled Han Solo project, replacing former directors Phil Lord and Chris Miller after they were reportedly fired, Howard has been leaving a trail of breadcrumbs for fans across his social media accounts. His Twitter and Instagram have become goldmines for Han Solo sneak peaks, demonstrating that Howard has mastered both the art of the film tease and a unique way to promote the space adventure series' spinoff film. 
Alden Ehrenreich is attached to play Han Solo, with Donald Glover taking on the role of a young Lando Calrissian. Woody Harrelson, Emilia Clarke, Thandie Newton, and Phoebe Waller-Bridge also star, with Joonas Suotamo attached to play Chewbacca.
The Han Solo movie is set to debut on May 25, 2018. For now, check out what we hope to see in the film once it's finally released. 
Spicey? pic.twitter.com/dLhop8S60T

— Ron Howard (@RealRonHoward) September 20, 2017