Every Bill Lawrence Show Ranked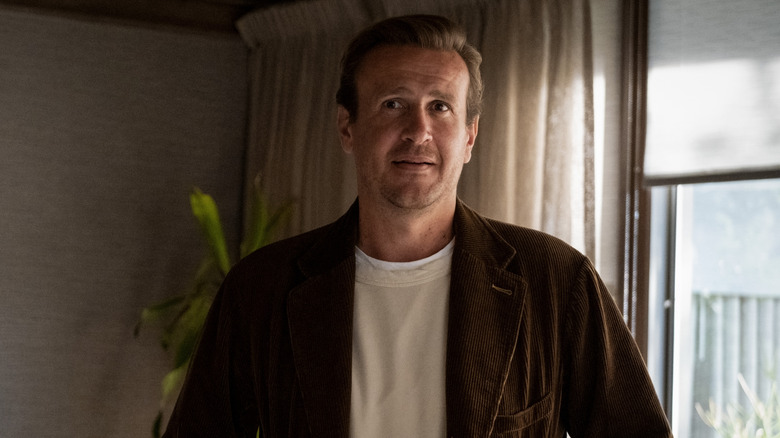 Apple TV+
Over the years, we've come to expect certain things from a Bill Lawrence show. The writer and producer got his start in television in the early 1990s, churning out scripts for shows like "Boy Meets World," "The Nanny," and "Friends" before hitting it big as the co-creator of the ABC political sitcom, "Spin City." In the decades since, his shows, while they all have very different subject matters, can be counted on to bear the marks of their creator: characters with encyclopedic pop culture knowledge, musical taste that leans toward earnest acoustic singer-songwriters, heroes who wear their heart on their sleeve to a perhaps irritating degree (either for the character or the audience), premises that ultimately prove less important than hanging out with his uniformly gifted ensembles, and perhaps most of all, a doctrine of kindness and friendship, even when dealing in somber subject matter.
After years of working in network television and playing a not-small role in the single-cam sitcom revolution of the 2000s, Lawrence made the move to streaming in 2020 with the quarantine phenomenon, "Ted Lasso," and the Jason Segel-led dramedy, "Shrinking," in 2023. As that show wraps up its first season and the long-awaited third season of "Ted Lasso" is set to premiere (albeit without Lawrence as showrunner), let's take a look at Lawrence's body of work, ranking the shows he has created from the worst to best.
8. Rush Hour
As the saying goes, they all can't be winners, but in Lawrence's case, that's not really true. Nearly all of his shows have been zeitgeist-capturing popular and critical hits, and even those that weren't all that well-received have devoted cult followings. The one blemish on his record as a creator and showrunner is the ill-fated 2016 adaptation of "Rush Hour," the action-comedy film trilogy starring Chris Tucker and Jackie Chan as a pair of mismatched detectives. The CBS series premiered as a mid-season replacement in March, starring "MacGyver" actor Justin Hires as rule-breaking LAPD cop James Carter and British actor and stuntman, Jon Foo, as Hong Kong detective Jonathan Lee.
The show came together with a solid pedigree both in front of and behind the camera. Lawrence and co-creator Black McCormick ("Cougar Town") wrote the pilot with original "Rush Hour" screenwriters Jim Kouf and Ross LaManna, while directorial duties on the series were handled by such notables as Jon Turtletaub ("National Treasure"), John Badham ("Saturday Night Fever"), and Robocop himself, Peter Weller.
On screen, relative unknowns Hires and Foo were supported by a cast that included Aimee Garcia, Wendie Malik, and James Hong. Ultimately, though, the small screen was just too small for the kind of explosive set pieces the film was known for, and the series leads had neither Chan's comic physicality nor the charisma of Tucker at his late-'90s peak. The show was canceled after its first 13-episode season.
7. Ground Floor
Workplace romances are nothing new for Lawrence's shows, from Mike and Nikki in "Spin City" to the myriad relationships that powered much of the ongoing plot of "Scrubs." In the throwback multi-cam TBS sitcom, "Ground Floor," Lawrence and co-creator Greg Malins use the skyscraper headquarters of a prestigious bank as a metaphor for its culture-clash romance, with "top floor" yuppie banker Brody (Skylar Astin) falling for "ground floor" maintenance worker, Jenny (Briga Heelan), much to the chagrin of his boss and bank president, Mr. Mansfield (John C. McGinley).
The first season is largely occupied by the question of if and how the two will make their romance work, with Jenny turning her nose up at Brody's fancy job, his rich-kid trappings, his Harvard education, and his Harvard ex-girlfriend, (Anna Camp). But like many a Lawrence joint before and after, the show is best when it moves past the artificial limits of its premise and delights in its ensemble of funny actors just hanging out and being funny together, especially at the start of Season 2 when Brody finds himself working alongside Jenny and the rest of the ground floor workers. Sadly, the show was canceled in 2015 after two seasons as part of a network rebranding initiative, along with every other TBS comedy on the air at that time (per Deadline).
6. Spin City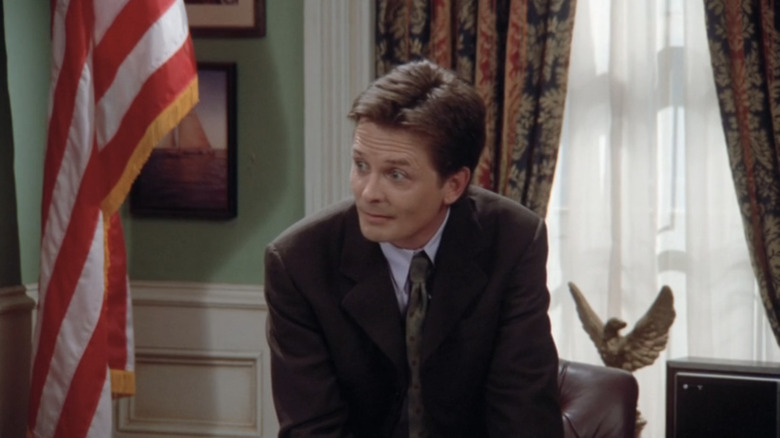 ABC
ABC's 1996 political sitcom, "Spin City," might have been Lawrence's debut as a producer, but at the time it was better known as a homecoming for star Michael J. Fox, returning to network TV seven years after the end of the '80s hit, "Family Ties," the NBC series that made him a star. Reuniting with his "Family Ties" creator, Gary David Goldberg (who shares a "Created By" credit with Lawrence), Fox stars as Mike Flaherty, the beleaguered deputy mayor of New York City. Every week there's a new crisis for Mike and his team of City Hall politicos to resolve, many of which are the fault of their own boss, a dimwitted blue-blood mayor played by Barry Bostwick.
While the show mostly lacks the sentimental streak of Lawrence's later work, its workplace universe bears a strong resemblance to "Scrubs" and "Ted Lasso," crucibles populated by career obsessives who can only ever find love and understanding from each other. Many of the "Spin City" stars would later show up on "Scrubs," including Fox, Bostwick, Michael Boatman, Alexander Chaplin, and most notably, Richard Kind as the obnoxious hypochondriac, Harvey Korman.
Fox led the series for four seasons, earning Emmy nominations each year and finally winning for his final season. After publicly disclosing his Parkinson's disease diagnosis in 2000, Fox stepped away from the daily grind of network television and Charlie Sheen replaced him as deputy mayor Charlie Crawford in the final two seasons.
5. Shrinking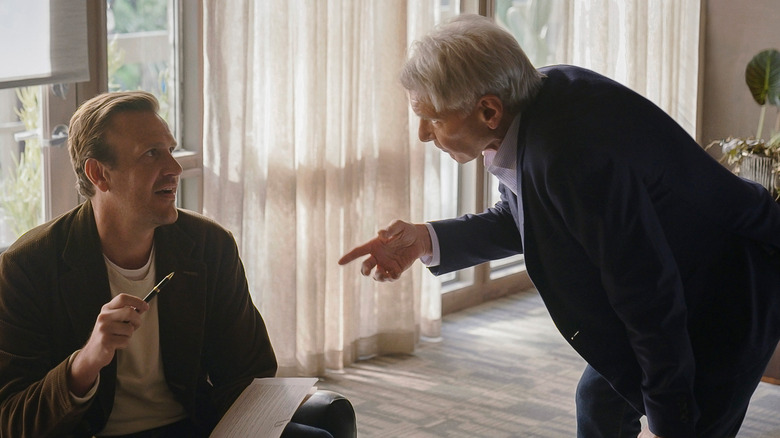 Apple TV+
"Shrinking," like its characters, is a work in progress. The freshman Apple TV+ series, developed by Lawrence, star Jason Segel, and "Ted Lasso" writer and actor Brett Goldstein, follows Jimmy (Segel), a Pasadena therapist struggling to pull himself together and raise his teenage daughter, Alice (Lukita Maxwell), in the wake of his wife's recent death.
Rather than continue to numb himself with sex, drugs, and alcohol, Jimmy tries a new strategy: immersing himself in the lives of his patients — including an emotionally abused housewife (Heidi Gardner) and a damaged Army vet (Luke Tennie) — to a borderline unethical degree, hoping that the healing work (for both them and himself) can go faster if he pushes past the normal therapist-patient boundaries.
It's a high-concept premise, the kind that Lawrence's shows often have to work past before becoming the show they were meant to be. And to its credit, very little weight has been given to the logistics and consequences of Jimmy's therapy vigilante act. By the middle of the season, the focus is firmly on the support network that has grown up around Jimmy and Alice, including his professional colleagues (Jessica Williams and Harrison Ford), their empty-nester neighbor (Lawrence's wife and frequent collaborator Christa Miller), and Sean (Tennie), who perhaps unadvisedly has moved into his therapist's pool house. Though the subject matter is undeniably heavy, the show wrings genuine laughs from everyone in the cast; Ford, as Jimmy's very Lawrence-ian cranky mentor, is arguably the show's secret weapon.
4. Cougar Town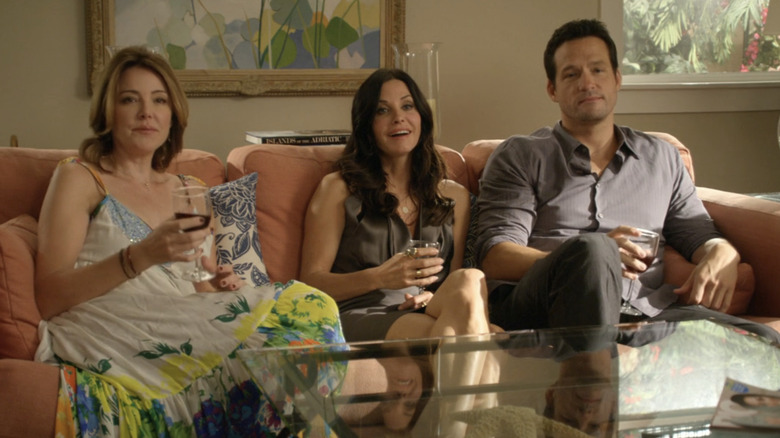 ABC/Hulu
Everyone agrees that it's a bad title that promises something very different than the warm, funny, and inviting show that "Cougar Town" would turn out to be. Created by Lawrence and "Scrubs" writer Kevin Beigel, the 2009 ABC series was a television homecoming for "Friends" star, Courteney Cox, as a recently-divorced single mom.
After relocating with her teenage son Travis (Dan Byrd) to a sunny Florida suburb, Jules (Cox) is determined to make a new start and embody the idea that life begins at 40, but the realities of dating and living in a youth-obsessed world make that a hard goal to achieve. Luckily, she has a community of new friends to help her along: married neighbors Ellie and Andy (Miller and Ian Gomez), fellow divorceé and eventual love interest Grayson (Josh Hopkins), Jules' young assistant Laurie (Busy Phillips), and even her tomcatting ex-husband Bobby (Brian Van Holt).
Season 1 attempted to make good on the promise of the title, focusing on Jules' dating adventures with younger men, but by the start of Season 2, it was clear that the show's magic was in the so-called "Cul-de-sac Crew," holding court in Jules' house or Grayson's bar. The recalibrated show — which kept the name but made a running joke of how bad it was — settled into an easy, silly groove for five seasons on ABC and a sixth on TBS before it was canceled in the same comedy massacre that ended "Ground Floor."
3. Scrubs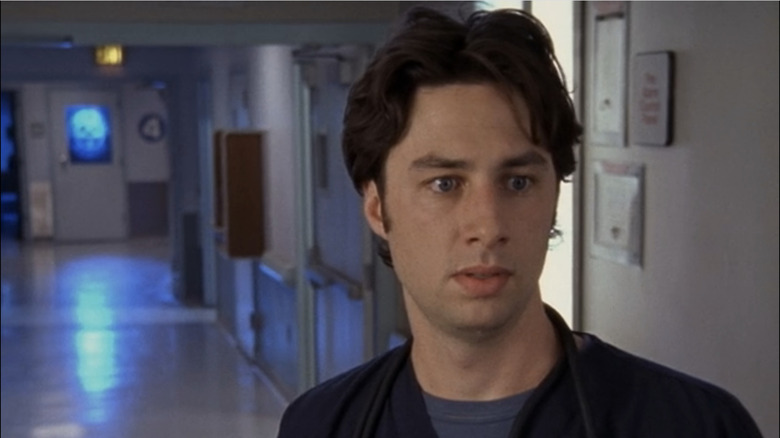 NBC/Hulu
"I can't do this all on my own," sings the band Lazlo Bane on "Superman," the acoustic alt-rock tune that served as the theme song to the 2001 hospital sitcom "Scrubs," a phrase that could serve as the guiding principle of Lawrence's work. Sacred Heart Hospital is a closed ecosystem where young doctors — John "J.D." Dorian (Zach Braff), Elliot Reed (Sarah Chalke), and Christopher Turk (Donald Faison) — come of age as professionals and as adults, finding love, fulfillment, and family with each other and the other people who have dedicated their lives to medicine at the expense of all else.
The life-and-death stakes in "Scrubs" are very real and literal, and the series was known for its extreme tonal shifts, going from a silly cut-away joke (often in J.D.'s imagination) to the death of a beloved character at a breakneck pace. Of all of Lawrence's shows, "Scrubs" was the longest-running — seven seasons on NBC and two on ABC — and also has the biggest legacy, at least so far.
When it came time for Braff to make the millennial touchstone, "Garden State," he leaned heavily on the sensitive aura he'd cultivated as J.D., and decades later he and Faison are still known for their "Guy Love"-style friendship, and host a "Scrubs"-themed podcast, "Fake Doctors, Real Friends with Zach and Donald."
2. Clone High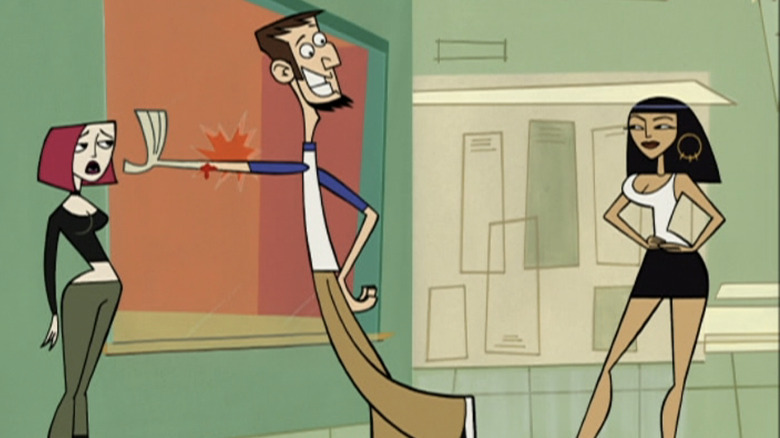 MTV/Paramount+
If there is a series to match the legacy of "Scrubs," it is ironically Lawrence's shortest-running show, the 2003 cultishly-adored MTV animated series, "Clone High." As its theme song helpfully explains, the retro-styled cartoon takes place in a world where scientists in the 1980s extracted DNA from various historical notables for the purposes of cloning. 17 or so years later, these historical clones all attend high school together, with all the attendant shenanigans and heartbreak that entails.
Most of the teen clones have traits that correspond to their originals: Abe Lincoln (Will Forte) is earnest and awkward, Joan of Arc (Nicole Sullivan) is a moody goth kid, while cool kids, John F. Kennedy (Christopher Miller) and Cleopatra (Christa Miller), rule the school. Some, on the other hand, are decidedly not like their real-life counterparts; the show's depiction of Gandhi (Michael McDonald) as a horny goofball was deemed so offensive by some viewers in India that they launched a hunger strike.
Lawrence had a co-creator credit on the series, but the show was the brainchild of animation wunderkinds Phil Lord and Christopher Miller. The two would later bring the same brand of dopey absurdism to the "21 Jump Street" franchise, "The Lego Movie," and the Fox series, "The Last Man on Earth." In 2021, "Clone High" fans got the update they've been waiting for as it was announced that a second season is coming to HBO Max in 2023.
1. Ted Lasso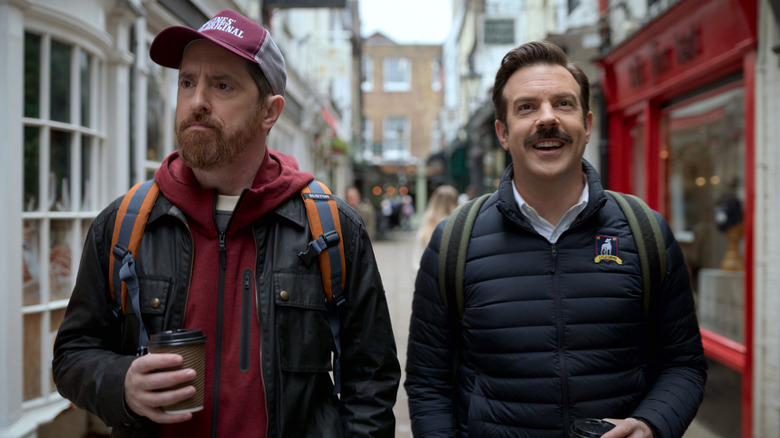 Apple TV+
Ted Lasso (Jason Sudeikis) doesn't belong in London coaching AFC Richmond, and in fact, for much of Season 1, he doesn't know why he's there. New team owner Rebecca Welton (Hannah Waddingham) plans to run the franchise into the ground as an act of revenge against her ex-husband and the team's former owner (Anthony Head), and to do so she has hired an internet-famous American college football coach who doesn't know the first thing about soccer. But Ted thrives in an environment where he was set up to fail, and soon, not even Rebecca can resist rooting for him.
"Ted Lasso" faced a similar uphill battle on its way to becoming a feel-good phenomenon and awards magnet. The character was originally conceived by Sudeikis and writers Joe Kelly and Brendan Hunt (who plays Ted's assistant, Coach Beard) for a series of NBC Sports promos. But the show soared on the strength of its cast, particularly Sudeikis, Waddingham, and "Shrinking" co-creator Brett Goldstein as the cranky veteran player, Roy Kent.
Lawrence served as executive producer and showrunner for the first two seasons, bringing in some familiar story elements — Rebecca and her assistant Higgins (Jeremy Swift) have a distinct Dr. Kelso and Ted vibe — while also not ignoring the darker side of Ted's sometimes manic positivity. Season 3 is set to premiere in March 2023, and while Lawrence remains involved in the show as a producer, Sudeikis has taken over showrunner duties (via Decider).