Ted Lasso Season 3 - Everything You Need To Know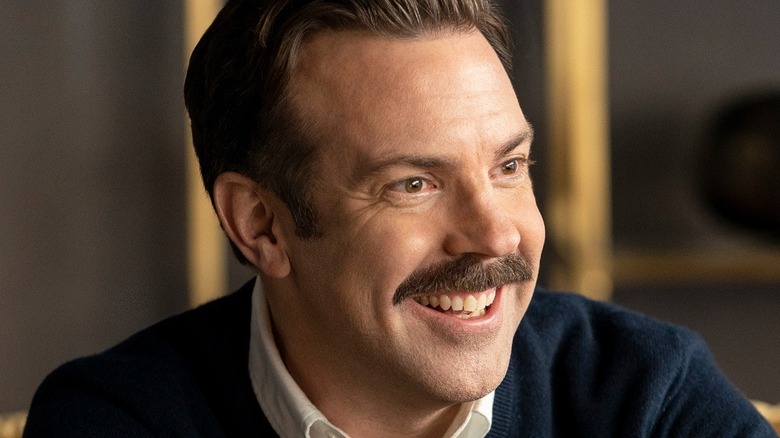 Apple TV+
Without a doubt, "Ted Lasso" is the biggest crowd-pleaser on Apple TV+. The series follows Jason Sudeikis as an American football coach who goes to London to take over a struggling soccer club, only to discover a new family among the team's crew of misfits. "Ted Lasso" Season 1 proved itself a surprise hit, and Season 2 doubled down on everything that made it great while also propelling the story in a new, more challenging direction in how it dealt with grief, loss, and mental illness.
With Season 2 of "Ted Lasso" behind us, fans have been wondering what to expect going forward. It's been a while since we've seen our buddies at AFC Richmond, so when will they be coming back on the pitch? Well, "Ted Lasso" is life, so let's get into the nitty-gritty details about the release date, the cast details, and plot info we have so far about Season 3.
When will Ted Lasso Season 3 be released?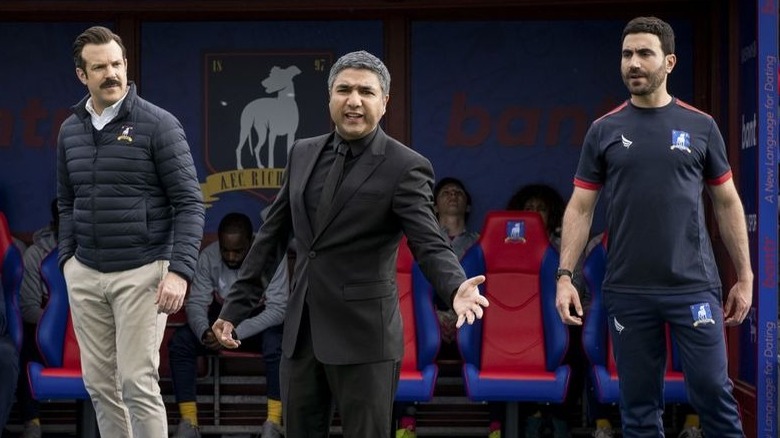 Apple TV+
"Ted Lasso" Season 3 has been a guarantee for a long time. The third season got the green light before Season 2 had even gone into production (via Variety). However, the second season finished airing in October 2021, so when can we expect the Diamond Dogs to return to Apple TV+?
In December 2021, Hannah Waddingham appeared on "The Late Late Show with James Corden" and revealed that filming on Season 3 was set to begin on February 14, 2022. Then, in January 2022, actor Brendan Hunt (Coach Beard) posted a snap on Instagram of himself and Jason Sudeikis boarding a jet with the caption "here we go," implying the shoot was moving along as planned.
Then, in January 2023, fans got great news during the Television Critics Association's press tour. As "Ted Lasso" co-creators Bill Lawrence and Brett Goldstein discussed another one of their projects — "Shrinking" — they revealed that Season 3 of everybody's favorite soccer show would premiere sometime in the spring of 2023 (via Variety). And now, we have an exact date for when the series will air.
The first episode of "Ted Lasso" Season 3 will hit Apple TV+ on Wednesday, March 15, with subsequent episodes being released each week. In total, we can expect to see 12 episodes of the third season.
What is the plot of Ted Lasso Season 3?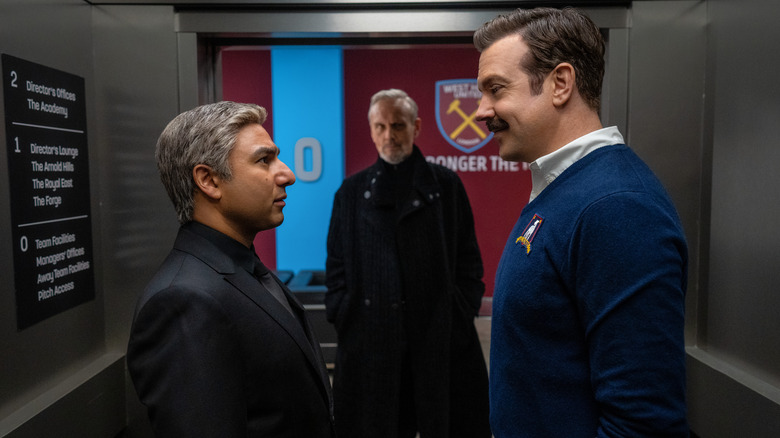 Apple TV+
Season 3 is going to be filled with all sorts of drama for our AFC Richmond heroes. According to the official plot synopsis, even though they've been promoted to the Premier League, they are definitely the underdogs, with everyone in the sports media skeptical of their chances. Worse still, Nate (Nick Mohammed) has left the club to take a coaching gig for Rupert (Anthony Head), where he's evidently being labeled a "wonder kid."
So who's going to fill Nate the Great's shoes? Why, it's none other than Roy Kent himself (Brett Goldstein). Of course, there's even more drama happening away from the world of football. As the official plot synopsis sums it up, "While Ted (Jason Sudeikis) deals with pressures at work, he continues to wrestle with his own personal issues back home, Rebecca (Hannah Waddingham) is focused on defeating Rupert and Keeley (Juno Temple) navigates being the boss of her own PR agency. Things seem to be falling apart both on and off the pitch, but Team Lasso is set to give it their best shot anyway."
Who is starring in Ted Lasso Season 3?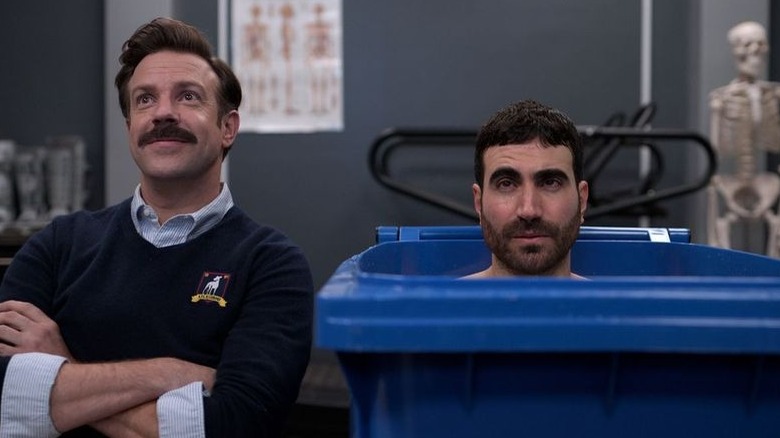 Apple TV+
The cast of "Ted Lasso" is arguably the show's secret weapon in terms of endearing the series to audiences. As such, it stands to reason that most of the regular players will return for Season 3. If nothing else, we can reasonably assume that Jason Sudeikis will return as Ted Lasso and that Roy Kent (Brett Goldstein), Jamie Tartt (Phil Dunster), Rebecca Welton (Hannah Waddingham), Keeley Jones (Juno Temple), Coach Beard (Brendan Hunt), and Nate the Great (Nick Mohammed) will be returning characters as well. Additionally, given Sam Obisanya's decision to stick around, we'll be seeing the return of Toheeb Jimoh.
We also know that we'll be seeing James Lance as Trent Crimm (of The Independent). At the end of Season 2, Crimm revealed to Ted that Nate was his anonymous source for the article revealing Ted's mid-game panic attack. This admission subsequently led Crimm to leave The Independent and strike out on his own, and it seems that his arc on the series isn't over. Jeremy Swift is returning as Diamond Dog Leslie Higgins, Cristo Fernández is returning to remind us all that football is life, and we can also expect to see Kola Bokinni and Billy Harris. 
However, there's no word yet if we'll be seeing Sarah Niles as Dr. Sharon Fieldstone. Despite her goodbyes to Ted and the team, it seems like "Ted Lasso" isn't done exploring Fieldstone's own hidden trauma and questionable drinking habits, so it's probable that Ted will be there to support her if she shows back up.
Is there a trailer for Ted Lasso Season 3?
The official trailer for "Ted Lasso" Season 3 is almost completely wordless, with the Rolling Stones' "You Can't Always Get What You Want" playing as we get caught up on the lives of our AFC Richmond friends. We see the team struggling as Nate the Great finds plenty of success, and we also see Ted struggling with his anxiety, but it's not all bad news. There are moments of inspiration and great joy as Jamie Tartt tears it up on the pitch, Sam Obisanya inspires a loving team cheer, and Roy Kent gets so caught up in coaching that he actually gives his players a compliment. While it's light on plot details, the trailer is big on those "Ted Lasso" vibes — it's a warm hug of a trailer, and we can't wait to see Season 3 when it hits Apple TV+.
Is Season 3 the end of Ted Lasso?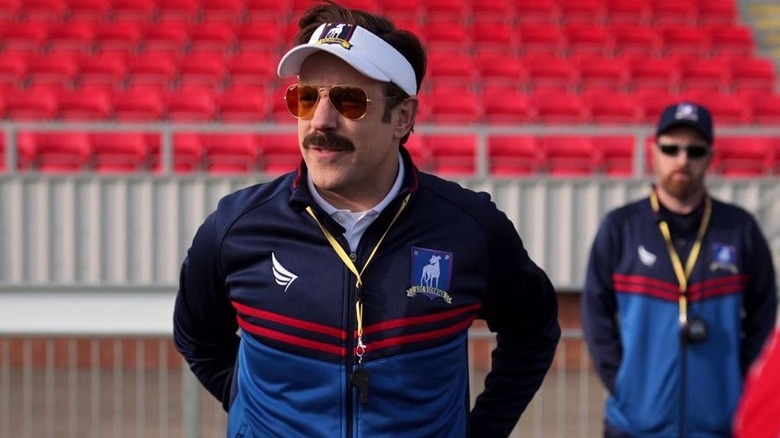 Apple TV+
Like a box of Ted's biscuits, all good things must come to an end, and the same goes for "Ted Lasso." But when will the match be over for good? Will Season 3 be the end of things? Very possibly ... but we can't say for sure.
For a long time now, it's been assumed that Season 3 will be the final installment of the "Ted Lasso" story. Co-creator and Roy Kent star Brett Goldstein said in June 2022 that the show was "planned as three" seasons (via Deadline). Co-creator Bill Lawrence gave a similar statement, saying (via The Hollywood Reporter), "This story is going to be over [in Season 3], regardless, even if the show finds another story to tell and goes on."
That last bit there is interesting. The Hollywood Reporter has said that the cast contracts mention the possibility of future seasons. The trade also reported co-creator and Coach Beard star Brendan Hunt saying, "We are writing an ending for this three-chunk portion that we've always seen. ... It's just a matter of whether or not we pick this up in some way and when."
So, while there's been no official statement, it does seem like the "Ted Lasso" story we all know and love is ending with Season 3. However, it also seems very possible we could revisit this world and all these characters in some other way in the future. Hey, with a show this cheerful and upbeat, we'll take as much of it as we can get.