Ted Lasso's Brett Goldstein Would Be More Than Happy To 'Play Roy Kent Forever'
Cindy Ord/Getty Images
You'd be hard pressed to find a character on "Ted Lasso" who doesn't have at least some likable element to them, but few have captivated audience's hearts in the same way as Brett Goldstein's warmhearted player-turned-coach Roy Kent. Watching the former football star get a second lease on life and come out of his shell to forge new friendships has been one of the show's most gratifying arcs, and Roy has contributed to quite a few of "Ted Lasso's" heartwarming moments.
Fans may know Goldstein for portraying Roy all throughout "Ted Lasso," but the actor also does triple-duty as both a writer and executive producer for the series. That's a lot of work and responsibility, and one might think that the creative could run the risk of getting burnt out on the character or the show. However, it seems to be quite the opposite — Goldstein has indicated in no uncertain terms that he'd be perfectly content acting as Roy for the rest of his life.
Goldstein wants Roy to stick around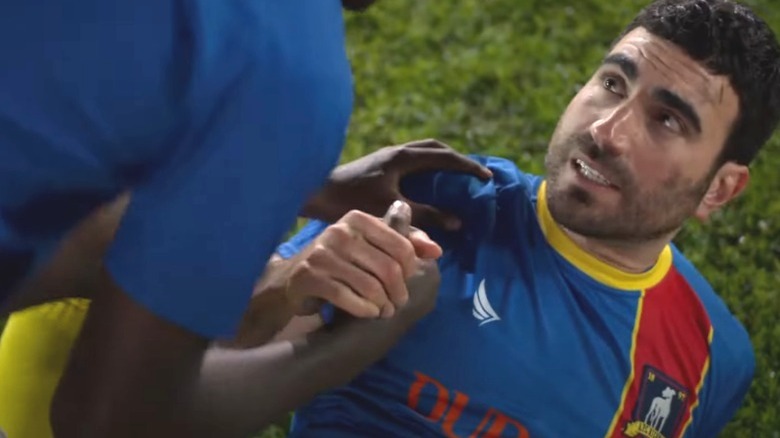 Apple TV+
During a televised interview on "The Late Show with Stephen Colbert," the talk show host asked Brett Goldstein how he felt about the portrayal and writing of Roy on "Ted Lasso." As it turns out, the actor had nothing but good things to say about his time playing the character. "I can say this: I would happily play Roy Kent forever and I'd be very sad to say goodbye," the actor proclaimed, sparking a round of applause from the live audience.
Of course, nothing lasts forever, and Roy's final farewell may be imminent. "Ted Lasso" has stuck to a plan of a three-season run. While some of the show's stars aren't totally sure "Ted Lasso" is ending with Season 3, there's no confirmed plans for any related content past that point. In fact, Goldstein himself has been one of the most vocal proponents of the idea that the series was only intended for three seasons and nothing more (via The Sunday Times).
Not all hope is lost, however. Goldstein has notably signed on to produce more content with Warner Bros. TV (via The Hollywood Reporter). Executives at Apple and Warner have also internally expressed a desire to continue the series in some capacity, meaning that "Ted Lasso" Season 3 may not be the end after all, or a spin-off could get developed. It definitely doesn't seem like audiences or Goldstein would mind Roy showing up again down the line, so the possibility remains.