Deadpool 2: New Images Show Off Sequel's Stacked Cast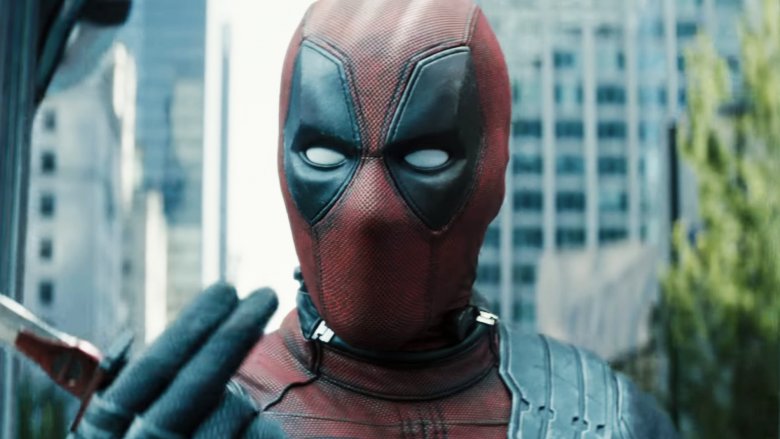 The world may be caught up in Avengers: Infinity War frenzy right now, as the Marvel extravaganza opened wide in theaters on Friday, but 20th Century Fox has countered that excitement with some enticing material of its own: a batch of new photos from Deadpool 2. 
Courtesy of Collider, the fresh sequel snaps show off the film's sparkling cast in all their latex-clad, gun-toting, bio-mechanically engineered goodness. We see Negasonic Teenage Warhead (Brianna Hildebrand) teaming with Shioli Kutsana's mysterious purple-haired character, Wade Wilson (Ryan Reynolds) cozying up on the couch for a cuddle with Blind Al (Leslie Uggams), Russell (Julian Dennison) sporting a yellow hazmat-type suit, Deadpool rocking an X-Men shirt alongside Colossus (Stefan Kapičić), Cable (Josh Brolin) looking as nefarious as ever, Domino (Zazie Beetz) standing in the street opposite a couple who are looking horrified at a wood chipper (we suspect Deadpool chucked a bad guy in there), and everyone's favorite taxi driver, Dopinder (Karan Soni), taking Deadpool for a drive. A final shot shows director David Leitch (Atomic Blonde) speaking to Reynolds on set. 
Check out all 14 photos below. 
Here's the real-but-totally-fake synopsis for Deadpool 2: "After surviving a near fatal bovine attack, a disfigured cafeteria chef (Wade Wilson) struggles to fulfill his dream of becoming Mayberry's hottest bartender while also learning to cope with his lost sense of taste. Searching to regain his spice for life, as well as a flux capacitor, Wade must battle ninjas, the yakuza, and a pack of sexually aggressive canines, as he journeys around the world to discover the importance of family, friendship, and flavor — finding a new taste for adventure and earning the coveted coffee mug title of World's Best Lover."
Also starring T.J. Miller as Weasel, Terry Crews as Bedlam, Lewis Tan as Shatterstar, Jack Kesy as Black Tom Cassidy, Morena Baccarin as Vanessa, Rob Delaney as Peter, and Eddie Marsan and Bill Skarsgård in undisclosed roles, Deadpool 2 will touch down in theaters on May 18.