Why Domino From Deadpool 2 Looks So Familiar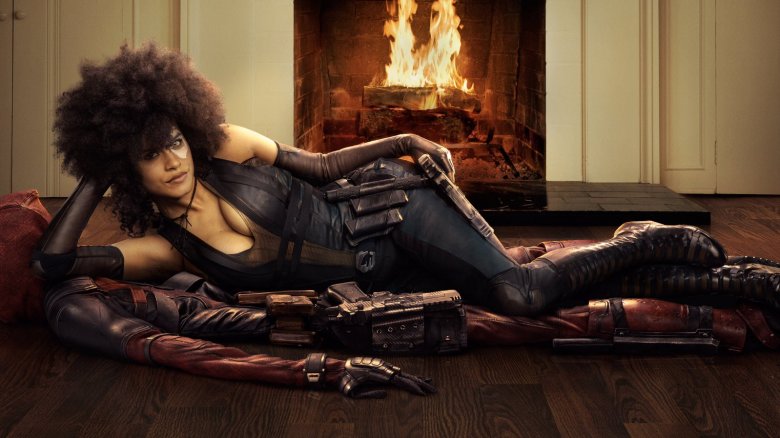 Though infinitely Googleable, Zazie Beetz is not yet a household name. Hopefully, being cast in the Untitled Deadpool Sequel will change all that when it hits theaters later this year. In the scant five years that Zazie's IMDb profile has been active, she's racked up a respectable number of credits. From her earlier parts to her breakthrough as the female lead in Donald Glover's critical darling Atlanta on the FX network, let's look back and see why Domino from Deadpool 2 looks so familiar — and find out whether any of Zazie's past roles hold any hints as to what we can expect from her take on the Marvel hero.
Wolves (2016)
Zazie started her career in features by following in the proud tradition of attractive and well-moisturized actors in their mid-20s who play high school students. Wolves is the age-old urban tale of a young man named Anthony (Taylor John Smith) who uses his prowess on the basketball court to escape a far more complicated home life. Zazie is Victoria, Lee's love interest, whose arc revolves around her desperate desire to know all the parts of him that he keeps hidden.
Shot during the summer of 2015, Wolves is the project that let Zazie give up her day job and pursue acting full time. The film took a one-way ticket to Highbrow Town by premiering at the Tribeca Film Festival before being picked up for distribution by IFC Films. Though Zazie has nothing but glowing things to say about her experience on the set, the film didn't exactly wow critics, as evidenced by its disappointing 36 percent Rotten Tomatoes rating. Thankfully it's the trite story and not the performances that most critics seemed to object to, which is likely why she moved on quickly from that disappointment to other gigs.
​Margot vs. Lily (2016)
The lengths that brands will go to advertise their wares can be inspiring at times. Since DVRs and streaming have emerged, companies can't simply rely on the 30 and 60-second spots that get aired during breaks in broadcast television shows. Nike decided that a cute, diverse, and surprisingly well-made web series was the best way to promote their workout clothes, and 2016's Margot vs. Lily was the result. As part of the "Better For It" Women's campaign, this was Nike's first scripted show, and it got a nice amount of positive buzz in part because the commercial elements were integrated well into the narrative.
Zazie plays Allie, best friend and roommate to Margot, a snarky millennial with a chip on her shoulder who lives (and plots) in the shadow of her internet-famous fitness guru sister Lily. Zazie's job as the best friend character is to be an enthusiastic support system for Margot as she starts a fitness YouTube channel of her own — and provide a withering side-eye when Margot takes the spirit of competition a bit too far into meanness while competing with Lily. Allie's laid-back demeanor is not too dissimilar to Van, the character Zazie plays on Atlanta.
Easy (2016)
This Netflix Original lacks the buzz or prestige of some of their other high profile shows like Stranger Things or House of Cards, but Easy does have that rambling indie quality that seems to fit nicely within Zazie's filmography. 
This sexy ensemble drama follows a chain of interlinking friends navigating the ups and downs of their intimate relationships; Beetz plays Noell, yet another girlfriend character. She's introduced as a sweet and supportive stoner who's dating an amateur brewer named Jeff (Dave Franco) who has ambitions of starting an illegal brewery and distribution business with his more conservative brother. Over the course of Beetz' three-episode arc, we see her go from a fun-loving, carefree hipster with little direction and a sweet little indie band to a loving mom with a burgeoning boutique business of her own. 
Every step is authentic and charming. She gleefully helps concoct a wild-eyed hops-infused dream with her boyfriend and friends. She offers sisterhood and affirmation to a pregnant friend who is feeling on the outs and uncool, and when she finds out she's pregnant, she pulls viewers into her devastation at the realization that the carefree life she's been leading is abruptly coming to an end and she's totally out of her depth. Zazie has a way of getting you to root for her and cheer when there's a harmonious conclusion to her characters' stories.
Atlanta (2016 - )
Much has been said about Atlanta, Donald Glover's Emmy-winning MC Escher painting of an urban drama. Again, Beetz plays the girlfriend, but her performance as Van has a lot more weight and dynamics than most. She's able to be independent and demanding as well as soft and vulnerable — and everything between.  
Van is a young mother in love with Earn (Donald Glover), the father of her daughter, who at turns she's completely enamored with and totally frustrated by with due to his underachieving, spacey, charismatic brilliance. In the sixth episode, "Value," Van takes center stage. We see her interact with an old friend who spouts her dating-as-commerce philosophy with all the conviction of an evangelical litigator while taking direct shots at Van's relationship decisions. After a huge dustup, they end their night bonding over a joint, as so many friends who love each other but have mutually outgrown each other tend to do. This leads Van down a bumpy path, since she's forgotten that she has a drug test for her teaching job the following day. 
This role is tailor made to make use of all that Zazie Beetz has to offer as an actor. It's an excellent platform, and likely the reason she was on the Deadpool creative team's' radar to begin with.
Geostorm (2017)
Even though her role is small, Geostorm marks Zazie Beetz' first appearance in a high-profile film. She plays Dana, a cybersecurity analyst and friend to Max (Jim Sturgess), one of the main characters. The film, starring Gerard Butler, was unfortunately reamed by critics (a number of whom took issue with the effects-driven apocalyptic thriller's sad lack of a titular storm). Beetz doesn't have a huge part, but she was still able to inject some expositional technobabble and moments of levity opposite Sturgess — and when she appears in Deadpool 2, it won't be her first time at the blockbuster rodeo.
New York, the World's Most Romantic City | Condé Nast Traveler (2017)
A simple guitar riff plays as Zazie Beetz traverses busy Manhattan streets sporting a headwrap, button-down shirt, and high waisted, artfully tattered black jeans. Suddenly the music picks up as she spots a cute bespectacled gentleman. Somehow they lose each other, only to find one another again on a ferry while the sun is going down. Shots of iconic New York landmarks are interspersed with what looks like a truly enchanting evening of dinner, conversation, and a spot of romance. 
Conde Nast's Valentine's Day card to Beetz' favorite city, this narrative advertisement was produced by Zazie and her co-star/boyfriend David Rysdahl. With Domino's comic book beau Cable joining the proceedings, it's likely Beetz will have to pull out her romantic chops in Deadpool 2 along with the punching and shooting.
​#ThatsHarassment 'The Boss' (2018)
If you can make it through this squirmy dramatization of a real-life workplace harassment incident, filmed voyeur-style through the vertical blinds of an office at night, you'll see Beetz go from an efficient and helpful professional to confused, then alarmed, then panicked as her boss, played by Friends vet David Schwimmer, raises the specter of job precariousness then proceeds to violate her space completely.  Beetz is viscerally shaken and conveys it from the creeping stiffness in her body to the stunned and all too familiar "please let me get out of here unharmed" look on her face.
The sheer variety of Beetz' catalog is impressive. This isn't just another acting job, however — it's a PSA for a time when activists like Tarana Burke have given us the language of #MeToo to shine the light on how rampant and pernicious sexual misconduct can be in all manner of public and private spaces. This series, executive produced by Schwimmer, taps some serious talent from the world of character acting veterans rounded out with up-and-comers like Beetz. The films are designed to inform viewers of RAINN, which is the nation's largest anti-sexual violence organization.
​Deadpool 2 (2018)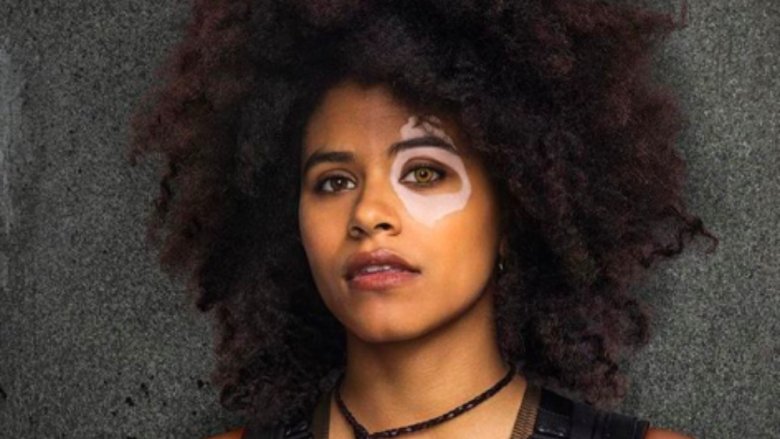 Months before anyone got to see her in action as Domino, Zazie Beetz was part of the vast media machine surrounding the Deadpool sequel. Her casting was announced via Ryan Reynolds's Twitter with a character poster — apparently, social media announcements are in now, and carefully crafted press releases aren't. Her arrival quickly generated a ton of buzz, not the least of which was the high praise it received from Domino creator Rob Lifield. 
Beetz' Deadpool 2 headlines haven't all been happy. She was personally impacted by the tragic death of Joi "SJ" Harris, a motorcycle racer who was serving as the double for Beetz during a stunt gone wrong. The shocking death stunned the stunt and racing community, and raised serious questions about who could be at fault.
Zazie posted a handwritten note sending her heart and her love to Harris's family and expressing her grief over the loss. There will always be the specter of Joi's death and the growing concern for stunt person safety in Hollywood attached to this film and the press surrounding it, but due to the nature of the business, Beetz will have to continue to push past all that to promote what should be a huge turning point in her career.
​From whence she came...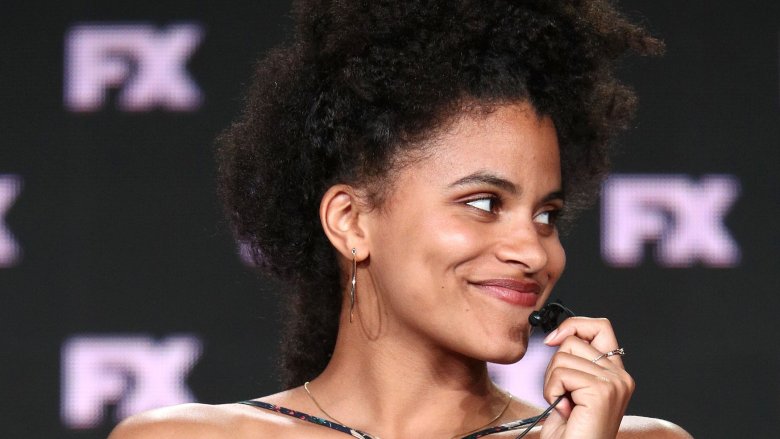 Getty Images
In the world of comics, the character of Domino, a.k.a. Neena Thurman, debuted in the pages of X-Force #8 in 1992. A governmental experiment whose mutation is the ability to psionically affect the probability of any event within her line of sight, she's able to physically do something, then manipulate the probable fallout in her favor. (A pretty handy ability in Vegas, for sure.) She's joined various mercenary bands and also rolled solo throughout her history. 
Domino will definitely be a departure from Zazie Beetz' usual roles, which lean more toward the soulful and melancholic than the riotous and butt-kicking.  Beetz' strong suit is her vulnerability and sensitivity; she pulls you in with her gentle smiles and curious demeanor. She may seem an odd choice to play the pistol-packing, motorcycle-revving mercenary mutant — but that might be just what the role needs. The trailer shows Beetz in full larger-than-life action, and as we've seen through her work as Van on Atlanta, she's also able to be snarky or aggressive. Those colors will serve her well as Domino in Deadpool 2.