Bloopers That Make Us Love Ryan Reynolds Even More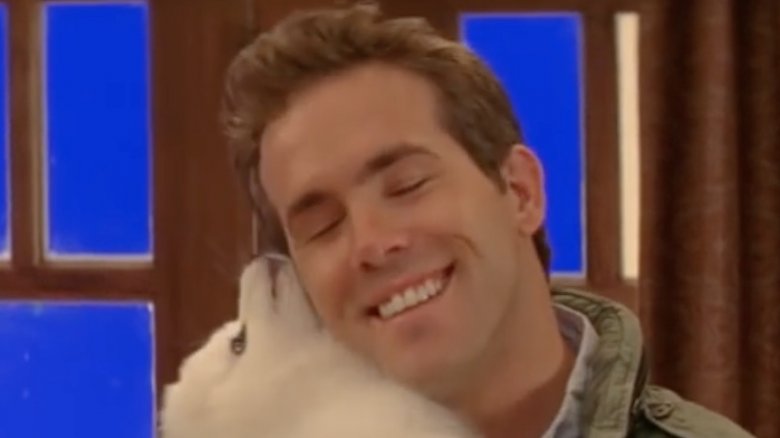 After first finding American fame on the goofy '90s sitcom Two Guys, a Girl and a Pizza Place, Canadian Ryan Reynolds moved on to play the lead in multiple romantic comedies as well as action flicks like Blade: Trinity and Green Lantern. He's of course best known for portraying the world's funniest superhero in Deadpool, the role he was born to play. Reynolds always brings a playful edge and sharp sense of humor to his roles, which can lead to a lot of extra footage and hilarious outtakes. Here are some of the best bloopers from the films of Ryan Reynolds.
Deadpool
With Deadpool, Hollywood finally figured out what to do with Ryan Reynolds. The first film about the "Merc with a Mouth" was a perfect match of actor to character since both Reynolds and character Wade Wilson are sarcastic, self-deprecating, and self-aware. The fictional character blended so seamlessly with Reynolds' real-life snarkiness that the movie relied heavily on Reynolds' funny improvisations and comedic riffing. However, only one take of a scene can make the final cut, meaning there's lots of Deadpool outtake footage, like this scene where Reynolds tries out a bunch of ideas when he shows up at the mansion of the super-team the X-Men.
Blade: Trinity
What few comic moments there are in the dark and violent conclusion to Wesley Snipes' vampire hunter trilogy come courtesy of Ryan Reynolds, even though Blade himself ignores most of those jokes. In this blooper, director David S. Goyer let Reynolds riff in character, describing what music is on the radio. Reynolds amusingly and self-deprecatingly exposes his character's not-very-hip musical tastes in the process.
The Proposal
The Proposal was a 2009 rom-com starring three of Hollywood's most well-liked actors: Sandra Bullock, Betty White, and Ryan Reynolds. White and Reynolds are similar in that both are so charming that they can get a little dark or dirty and the audience will still eat it up. White pretends to bite off a sensitive part of Reynolds' anatomy. Or, just maybe, it's Reynolds who pulls the fast one, and tries to convince the cast and crew that Betty White bit his nipple.
The Hitman's Bodyguard
Not too many people in this world get a pass freeing them from the mockery and ill will of their fellow man. Among that very small group: nuns. Regardless of religion, everybody likes, or at least shows respect to, nuns—generally speaking, they're senior citizens who pray all day. Why mess with them? Because messing with people by being mildly shocking is Ryan Reynolds' jam, and because only he could get away with hassling a nun. While filming a scene for the action-comedy The Hitman's Bodyguard, Reynolds abruptly and sarcastically claps all up in a sister's face.
The Change-Up
This sounds like something a pretentious acting teacher—or a deadpan Ryan Reynolds—might say about the "process," but acting is really reacting to other actors and situations. In this blooper from the body switch movie The Change-Up, Reynolds reacts quickly to how he can't remember his lines. He stays in character as long as he can before admitting to costar Jason Bateman that he has no idea what he's supposed to be doing.
Just Friends
It's something that the fancier, more sophisticated individuals among us would never admit: Poop jokes are always funny. They're even funny on repeat—possibly even funnier. Case in point: this blooper from the comedy Just Friends. Reynolds is tasked with delivering just the right variation on how his character would hypothetically soil his pants, but each attempt just makes Reynolds (and costar Amy Smart) laugh harder and harder.
National Lampoon's Van Wilder
Reynolds' first big leading role came in 2002's Van Wilder, a lewd and crude college comedy in the tradition of Animal House and Revenge of the Nerds. Reynolds played the titular smarmy-but-charming dude-bro, and part of that energy included bringing his bulldog (part pet, part mascot) almost everywhere he went. Animals, however, make for difficult costars because they don't follow the social graces that keep human interactions civil. For example, if they have to fart, they'll fart. The dog in Van Wilder apparently farted right on Reynolds's face during a snuggling scene. The human actor suffers for his art, but plays it off for the hilarious moment that it is.
The Proposal
Ryan Reynolds just has a certain way with dogs it would seem. His role in the romantic comedy The Proposal required him to act opposite both Sandra Bullock and an adorable white pooch. Most every guy likes dogs, but Reynolds really likes this dog. The feeling is mutual—their scene quickly descends into a hot and heavy make out session.
R.I.P.D.
It's nice to know that some actors never lose their childlike whimsy and sense of fun while filming a movie. As this footage from the making of R.I.P.D. shows, Reynolds always has a blast while making a film. Of course, it helps that he's got a fellow goofball like Jeff Bridges to play against—and a stunt car to mess around in.
Deadpool
Before Wade Wilson becomes Deadpool, he submits to some highly questionable medical experimentation that quickly turns to torture. He keeps his spirits up by making fun of his captors, which gives Reynolds a chance to rattle off different insults, so filmmakers can choose the perfect one. He compares the appearance of Gina Carano (portraying villainous Angel Dust) to a wildly diverse series of individuals, from Kevin Sorbo to Henry Winkler to Chunk from The Goonies. (Also, Ryan Reynolds can do an excellent Chunk impression.)