Why Russell From Deadpool 2 Looks So Familiar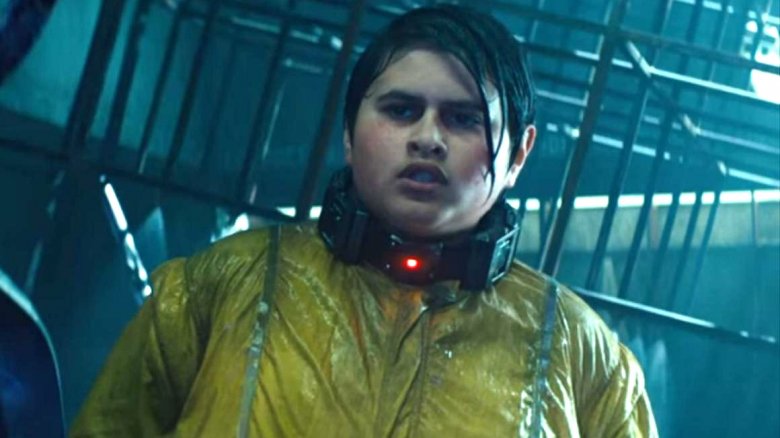 It takes a lot for a kid to steal the spotlight from Deadpool, but Julian Dennison has a superhuman amount of charisma. A native of New Zealand, the young actor plays Russell, the mysterious mutant at the center of Deadpool 2. His character is so important that Cable (Josh Brolin) travels back from the future to find him while Deadpool (Ryan Reynolds) puts maximum effort into protecting him. It's a huge role for Dennison, a self-proclaimed Marvel movie fan, but it's far from his first. 
Discovered during open auditions at his primary school, he's rapidly become one of the most popular actors in New Zealand. But even if you live on the other side of the planet, there's a good chance you've seen Dennison before. He's been in critically acclaimed indie flicks, hugely popular viral videos, and one of the most legitimately entertaining body spray commercials ever made. Here's why the kid from Deadpool 2 looks so familiar.
Shopping (2013)
Dennison was just a shy student from the suburbs of Lower Hutt in New Zealand when the filmmakers for the coming-of-age film Shopping came to his school. They were looking for a young actor to play Solomon, the kid brother of Willie (Kevin Paulo), a Samoan New Zealander who gets entangled with a group of shoplifters led by an Eastern European immigrant. 
Dennison's mom told Stuff that the filmmakers narrowed down the search to Dennison or his twin brother Christian, but Julian wasn't sure he wanted to do it. "I sat him down and said what would be involved and asked if he thought he could do it," she recalled, "because once he said yes, he would be obliged to see it through." The film premiered at the Sundance Film Festival in 2013 and instantly turned Dennison into a local celebrity. He won Best Supporting Actor at the New Zealand Film Awards and told Metro, "That made me want to become an actor when I got older."
Blazed: Drug Driving in Aotearoa (2013)
Dennison's debut in Shopping didn't just impress the critics, it also brought him one incredibly important fan: Taika Waititi, the Oscar-nominated director of the 2004 short film Two Cars, One Night who would eventually go on to helm What We Do in the Shadows and Thor: Ragnarok. Waititi thought Dennison would be perfect for his next project: an extended public service announcement about the dangers of driving under the influence of marijuana. 
The two-minute video for the New Zealand Transport Agency features three Māori kids who imitate the antics of their stoned fathers behind the wheel of a car. Dennison is hilarious throughout much of the clip, but he also shows a hint of depth in the final moments. The commercial, which cost just $250,000 to make, became a viral sensation and generated headlines around the world. It has more than 2 million views on YouTube, but it also created a bond between Waititi and Dennison that would yield another successful collaboration down the road.
Paper Planes (2015)
Dennison's next appearance on the big screen came courtesy of a supporting role in the family drama Paper Planes, an uplifting tale about a young boy in Australia who dreams of competing in the World Paper Plane Championships in Japan. Dennison plays Kevin, a school bully who eventually becomes the best friend of the main character played by Ed Oxenbould (Alexander and the Terrible, Horrible, No Good, Very Bad Day). 
Acclaimed Australian director Robert Connolly (The Boys) co-wrote and directed the film with an impressive cast that includes Sam Worthington (Avatar) and David Wenham (The Lord of the Rings). But while the movie performed well at the Australian box office, it was far less successful in the rest of the world. Still, critics couldn't help but notice Dennison, even in a smaller role. The New Zealand Herald said he turned in a "scene-stealing performance" as the reformed bully Kevin. 
Hunt for the Wilderpeople (2016)
If you recognize Dennison from anything prior to Deadpool 2, it's most likely Hunt for the Wilderpeople, the heartwarming comedy that served as his official breakthrough. Writer and director Taika Waititi, who previously worked with Dennison on the "Blazed" public service announcement, didn't even make the young actor audition for the role of Ricky Baker — a juvenile delinquent taken by child welfare services to live on a remote farm with a loving foster mother (Rima Te Wiata) and her cranky husband Hector (Jurassic Park's Sam Neill). After a sudden tragedy leads Ricky to ineptly attempt to fake his own death, he and Hector go on the run into the New Zealand bush and become the infamous targets of a comical manhunt.
Dennison took a month away from school to work on the movie, but it was definitely worth it. Hunt for the Wilderpeople premiered at the Sundance Film Festival and became the top-grossing New Zealand film of all time. It also directly paved the way for Dennison's part in Deadpool 2. Ryan Reynolds told The New Zealand Herald the casting was partly a result of his friendship with Waititi, who co-starred with Reynolds in 2011's Green Lantern. 
Air New Zealand presents #YouGotSprung (2016)
After Hunt for the Wilderpeople made Dennison one of the most recognizable people in New Zealand, he put his star power to good use in a completely unexpected way. In 2016, he teamed with Air New Zealand (known for an especially epic air safety video) for a clip to celebrate the start of spring and Random Acts of Kindness Day. In a sort of Kiwi version of "pay it forward," Dennison traveled around the country to surprise unsuspecting people with thoughtful gestures.
"I'm like Santa Claus but in spring," he says in the video, which became something of a viral hit with more than 375,000 views on YouTube. In the clip, Dennison pays for people's meals at a restaurant, takes flowers and chocolates to patients in a hospital, pays for strangers' ice cream on Auckland's waterfront and plays games with retirees at a rest home in New Plymouth. He ends the video by calling on New Zealanders to surprise others with kindness, and we'd be shocked if he didn't inspire at least a few to do just that.
Chronesthesia (2016)
About four months after Hunt for the Wilderpeople hit theaters in New Zealand, Dennison returned to the big screen for a small role in a very different type of movie: he played Beni in the indie time travel romance Chronesthesia. Written, directed by and starring Hayden J. Weal (perhaps best known as Martin Freeman's body double in The Hobbit movies), the film was made in Wellington, New Zealand with next to no budget and a bare bones crew. 
In the movie, Beni is the crush of a girl named Summer, played by Nova Waretini-Hewison, and she was actually the one who recommended Dennison to Weal. The two young actors met at the 2013 New Zealand Film Awards where Nova was nominated for Best Actress and Dennison won Best Supporting Actor for Shopping. Weal originally didn't have anyone in mind for Beni, but when he asked Waretini-Hewison who she'd like to work with, she immediately suggested Dennison. Chronesthesia premiered at the New Zealand International Film Festival in 2016, but it largely flew under the radar in America. You won't even find a page for it on Rotten Tomatoes, but we assure you the movie exists.
Air New Zealand presents Summer Wonderland (2016)
In late 2016, Dennison showed up in another video for Air New Zealand, and this time he had a noteworthy pal. In "Summer Wonderland," Dennison shows up in a recording studio where Irish pop star Ronan Keating is recording a take on the holiday classic "Winter Wonderland." But Keating doesn't make it past the second line before Dennison interrupts to point out that New Zealand doesn't get a lot of snow. Keating eventually walks out, but the pair soon work out a new version of the song that's more appropriate for the climate.
Keating said in a press release that he signed on for the project because he's a "big fan" of New Zealand, but he also loved collaborating with Dennison. "Working with Julian was a breeze," he said. "He's an absolute legend, incredibly professional, and to top it off, he can definitely sing." Meanwhile, Dennison admitted that he was in awe of Keating and considers the video, which has more than 1 million views on YouTube, to be a highlight of his career.
LYNX Australia commercial (2018)
If you want a video to go viral, it's become increasingly clear that Dennison should be involved. The people at LYNX body spray must have known this, and in early 2018, they teamed with him for an extended commercial for their "Australia" fragrance. Of course, if you're not the best with geography, New Zealand and Australia are two separate countries, but that's where some of the humor lays. 
In the commercial, Dennison plays Humphrey, a kid who doesn't have the best luck with the ladies while his older brother Darius is "choice at everything." But when Humphrey finally confronts Darius about his ability to do everything well and smell great at the same time, Darius reveals his secret is LYNX Australia. The ad ran on TV and before movies at theaters down under, but it reached audiences around the world when it hit the internet. Less than three months after it was released, the ad had been viewed more than 2 million times on YouTube.