Why Peter From Deadpool 2 Looks So Familiar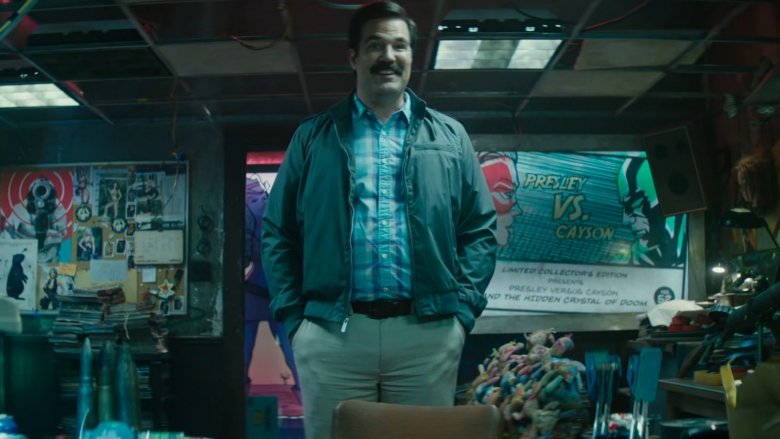 Twentieth Century Fox
We may receive a commission on purchases made from links.
When Deadpool first hit theaters in 2016, the movie immediately set a new benchmark in the world of comic book-inspired entertainment. Ryan Reynolds had the physical prowess — and notable comedic potty mouth — which made him the perfect candidate to bring Deadpool into the pop culture mainstream. 
Well, it's been a few years and Deadpool 2 is upon us. With the return of Wade Wilson comes a whole new set of faces that'll join the hero in his fight against evil. While this big screen version of The X-Force will feature the likes of Terry Crews as Bedlam, Zazie Beetz as Domino, and Lewis Tan as Shatterstar, a new standout has taken the Internet by storm: meet Peter, played by Rob Delaney.
By the looks of things, Peter is your average, middle-aged, dad-bod having dude. But after one look at the final theatrical trailer released for the film, it seems that what he lacks in super powers, he makes up for with unbridled enthusiasm. Needless to say, amid all the over-the-top action sequences and witty one-liners, Peter has unexpectedly broken through as the real star of the highly-anticipated sequel. He may be a new face in the comic book movies, but this isn't Rob Delaney's first rodeo. Let's take a closer look at why Peter from Deadpool 2 looks so darn familiar.
The Funniest Person on Twitter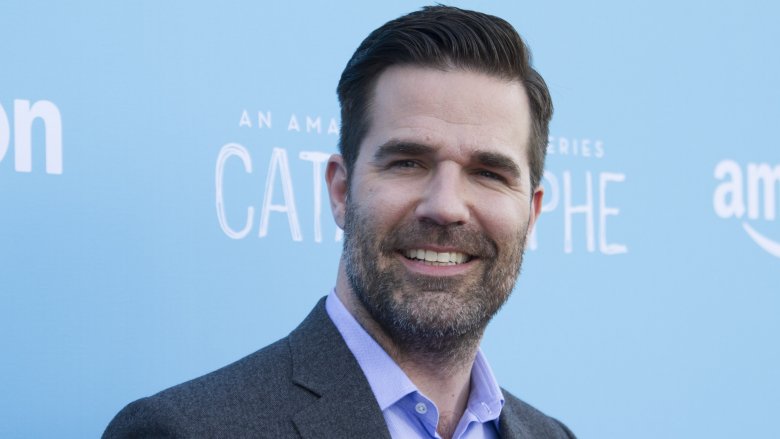 Getty Images
Back before Twitter expanded its character limit from 140 to 280, Rob Delaney was making an impression. The comedian had been regularly using the social media platform to workshop material, bringing tons of witty quips and humorous observations to the Internet before it was the fashionable thing to do. Not only did this reputation lead to lucrative work opportunities, Delaney became the first person to be named "The Funniest Person on Twitter" at 2012's Comedy Central's Comedy Awards.
If you're wondering how legit this award was, Mashable reports that comedy heavy-hitters Steve Martin, Aziz Ansari, and Stephen Colbert were also nominated. Not only did he use this as a springboard into more on-screen work, his social media following has since exploded, going from roughly 400,000 in 2012 to 1.5 million today.
"Don't work too hard on a tweet," Delaney explained his social media success to Mashable. "When you see people trying to, for example, synthesize two current news stories into one 'clever' tweet, it can get pretty clunky and their labor is obvious, rendering their tweet unfunny."
He's a published author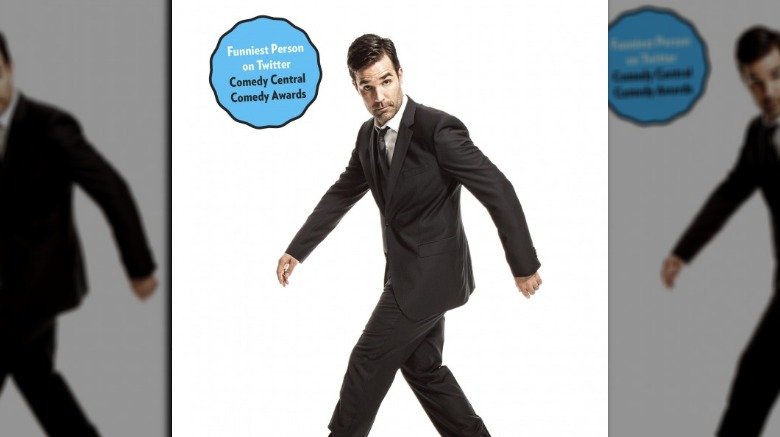 Before being named "The Funniest Person on Twitter" by Comedy Central, Rob Delaney was already working on getting into the book-writing world. In 2013, he released a memoir titled, Rob Delaney: Mother. Wife. Sister. Human. Warrior. Falcon. Yardstick. Turban. Cabbage. While the book featured its fair share of dad humor and fart jokes, Delaney used the medium to explore his very real struggles with depression and alcohol addiction.
Delaney told The L.A. Times that his book "was a memoir that paid no attention to chronology and was just about memories that surfaced in my own, sort of, psyche. Because I figured those would be the ones that would be most interesting to people." Breaking up narrative expectations is something the comedian has become known for, especially with the wide swath of Twitter jokes he's shared with the world. But a decade before he honed his craft online, he was regularly bombing on-stage, and made a habit of getting black-out drunk.
Comedy comes from pain, though, and, with his book, Delaney returns to the rock bottom moments that helped shape the man he's become. "The language is stronger than the typical memoir of triumph over struggle," says The Guardian,"but then again, not every writer can weave body fluids and body parts into a touching essay about a battle with depression, or three halfway house buddies who never made it out."
Writing for Vice and The Guardian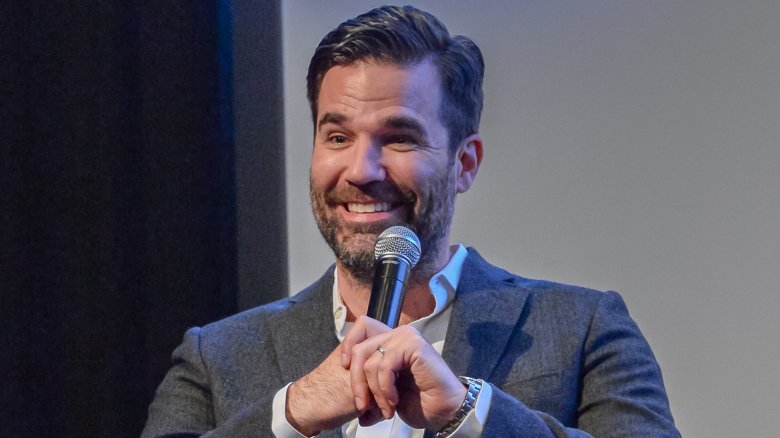 Getty Images
Before Rob Delaney was recognized for his online hilarity, he was doing his best to find an audience that would receive his stories. Much like most aspiring comics and writers out there, he turned to freelance journalism as a way to keep that creative muscle active. In 2010, Delaney contributed an introspective article to Vice that led to a regular column for the outlet titled, "Take a stroll... with Rob Delaney."
Through his work with Vice, which came to an end in 2013, Delaney had a chance to expound on the issues and concepts he posted about on Twitter, but without the 140 character limit. Here, he was given free rein to explore everything from sexuality and middle age to music and politics. Delaney's writing experience at Vice led to another byline — this time at The Guardian. 
In 2012, he penned an article exploring the importance of Medicaid in a post-Hurricane Sandy world. Most notable, though, is this touching tribute to the late Star Wars icon Carrie Fisher. She played his mother in the Channel 4/Amazon Prime series Catastrophe (which he co-wrote and co-starred in). If you choose one article of Delaney's to read, make sure it's this one. 
He's a stand up comedian
According to an interview with Good Men Project, Rob Delaney had planned on studying Theater in college. But an innocent trip to the Upright Citizen's Brigade Theater — their original sketch troupe featured comedy stars like Amy Poehler, Matt Walsh, Adam McKay, Horatio Sanz — gave him the inspiration to pivot his focus. "I always enjoyed comedy, then saw the Upright Citizens Brigade do a show when I was in college. That changed what I wanted to do with my life."
It wasn't until he was taken in for a DUI in 2009 that his life really began to change, though. Delaney expands on this detail, telling Good Men Project that he didn't even begin pursuing stand-up comedy until a year after his arrest, when he was just in the beginnings of his sobriety. "Carlin, Pryor, Cosby ... honesty is the main ingredient," the comedian explains, "I mean, you must be funny, but certainly the funniest stuff will always be the most honest. No secret there."
Since beginning his stand-up journey, Delaney has played shows all over the country culminating in appearances on Last Comic Standing, TruTV's reality series The Smoking Gun Presents: World's Dumbest..., and his own 2013 comedy special Rob Delaney: Live at the Bowery Ballroom.
Some small sitcom roles
When all is said and done, being an actor is a hustle and this means any role, no matter how small, is not just that proverbial stepping stone to the next job ... it's a paycheck. Over the years, Rob Delaney has continued racking up credits both behind and in front of the camera. For a short time there, he had a project in the works at Comedy Central called @RobDelaney, which unfortunately never saw the light of day. As he continued flexing his various comedic muscles, Delaney found himself graduating from the confines of the Internet, where he had appeared in comedy shorts for the likes of Funny or Die and The Onion, to the posh arena of primetime network television. 
In an episode of Cougar Town titled "Have Love Will Travel," Delaney had played a bit part billed simply as "Guide." At NBC's short-lived sitcom The Michael J. Fox Show, he played Clete Matthews in the bicycle-themed episode, aptly titled "Biking." And over at E!, Rob Delaney appeared as a recurring character named Kirk — the proverbial life of the party — opposite the likes of Michael Ian Black, Kumail Nanjiani, Natasha Leggero, and Ken Marino in Season 3 of Burning Love. 
Key & Peele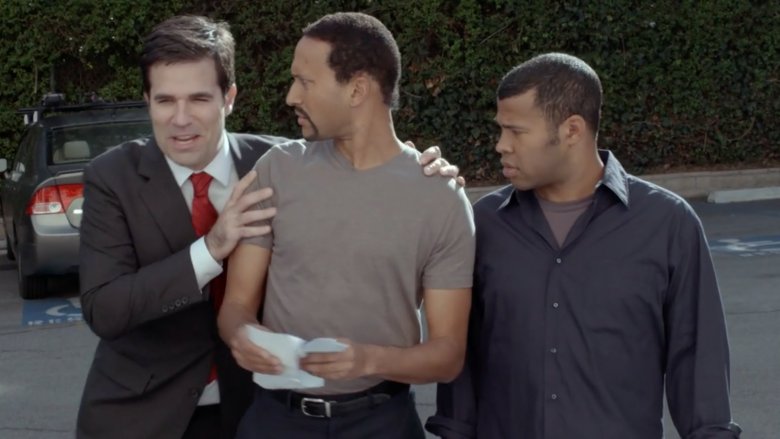 Comedy Central
In 2012, Key & Peele debuted on Comedy Central, giving a welcome kick to the often formulaic sketch comedy television formula. Not only did the series give Keegan Michael Key and Jordan Peele exposure to a bigger audience, the program also wound up giving some lesser known comedians a chance to workshop funny material in front of the camera. And, of course, that includes Rob Delaney.
Throughout the show's first two seasons, Delaney appeared in sketches throughout "Episode 1.4," "Episode 2.9," and "Soul Food." Of the comedian's appearances in the series, his delivery as the Campaign Advisor in "Soul Food" stands out as a clear winner. Not only did he have the timing right,his performance as a political spokesman looking to diversify the Tea Party during the 2012 presidential election brought some welcome levity to the masses. His appearance in the sketch is brief, but it clearly was memorable enough to earn a specific call-out in a post-broadcast write-up on the AV Club. 
Catastrophe
In 2014, Rob Delaney said goodbye to America and relocated his family to the UK. Just one year after settling into his new home, the hit series Catastrophe premiered to Britain's Channel 4 and, soon after, Amazon Prime's streaming platform. Delaney stars as Rob Norris, an American businessman who accidentally gets a woman pregnant during a one night stand. The Emmy-nominated, BAFTA-winning series is co-created and co-written by Delaney and Sharon Horgan, who co-stars as Sharon Morris, his fling-turned-baby mama in question.
Not only did the series disrupt the rom-com formula, with a pleasant amount of vulgarity throughout, the realistic subject matter — including topics like post-partum depression, infidelity, in-law drama, cancer scares, and other daily parental challenges — came at audiences with a brutal sense of honesty seldom seen on the small screen.
"Marriage is just fascinating and it's really hard to do in film, TV and even novels," Delaney explained to The Los Angeles Times.  He referenced Richard Linklater's Before films as a huge inspiration behind the hit series. "I know people had found [the third film] 'Before Midnight' depressing but I didn't. They're choosing to make it work, and that's a big element, maybe the biggest, of a successful marriage."
Clearly, Amazon's got a winning formula on its hands. Variety reported back in 2016 the streaming service renewed Catastrophe for two more seasons.
Big in the UK
One of the perks of being the Funniest Person on Twitter is the global audience the platform provides. Once Rob Delaney relocated his family to Britain, his star only continued to rise. Of course, being the creator and star Channel 4's Catastrophe helped. In between his time as a full-time comedian, TV star, and writer, Delaney has made a habit of appearing on a handful of British panel shows — which, if you're wondering, are a popular type of game show that throws celebrities into the mix. The desired result is usually pretty hilarious.
Throughout his experience doing stand-up comedy and pontificating on pop culture online, Rob Delaney has proven himself to be a worthy competitor here. Over the past few years, he has shown up in shows like Have I Got News for You, Would I Lie to You?, 8 Out of 10 Cats Does Countdown, The Big Fat Quiz of the Year, and Room 101. All this talk of game shows has us wondering ... will Rob Delaney ever come back to the states to grace Hollywood Game Night with his presence?
He lost his child to cancer
Throughout his comedy, both on Twitter and on stage, Rob Delaney has made it his mission to be as brutally honest as he possibly can. It's from those dark places where comedy and therapy lies. And while Delaney will be a recovering alcoholic for the rest of his life, it's clear he's used these various platforms as a means to acquire his own form of catharsis.
Case in point: In 2016, Delaney revealed on social media that his young son Henry had been diagnosed with a brain tumor shortly after celebrating his first birthday. According to CNN, the toddler passed away from brain cancer just shy of his third birthday. Being a celebrity and a comedian is a tough road to traverse at times, and for a person such as Rob Delaney, who's turned many facets of his private life into public fodder, one can only imagine the challenges he and his family have faced at this tragic loss.
As a writer, Delaney has perfected the craft of speaking to deep human truths both humorous and painful. His touching tribute to his son speaks to a level of compassion and empathy seemingly rare in the anxiety-inducing world of social media. But as his Twitter tribute to Henry shows, even in our darkest times, there's always a light at the end of the proverbial tunnel.