Shane Black's The Predator Gets Official Synopsis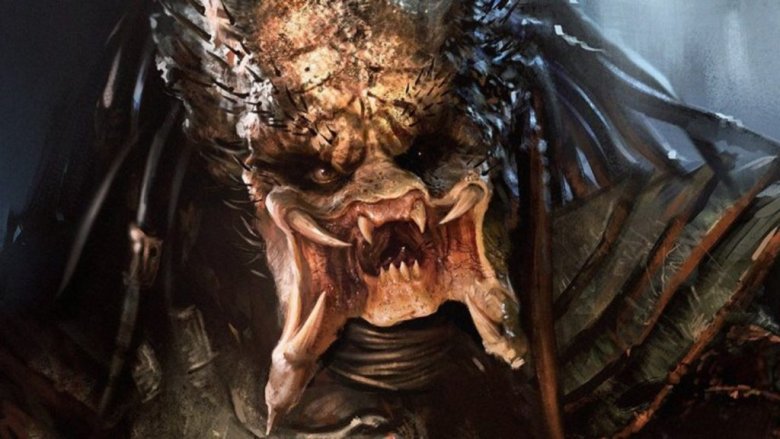 At CinemaCon this week, 20th Century Fox granted sci-fi fans across the world something special: the official synopsis for director Shane Black's The Predator. 
Anyone expecting the impending reboot to be a run-of-the-mill, we-saw-it-coming kind of rehashing should think again. The flick's synopsis details that "genetically upgraded" Predators will touch down on Earth, where all the vulnerable little humans must face off against the "universe's most lethal hunters." Who might save mortal man from becoming Predator food? A pack of ex-soldiers and an irritated science teacher, naturally. 
Read the synopsis (courtesy of Collider) for The Predator in full: "From the outer reaches of space to the small-town streets of suburbia, the hunt comes home in Shane Black's explosive reinvention of the Predator series. Now, the universe's most lethal hunters are stronger, smarter, and deadlier than ever before, having genetically upgraded themselves with DNA from other species. When a young boy accidentally triggers their return to Earth, only a ragtag crew of ex-soldiers and a disgruntled science teacher can prevent the end of the human race."
Not only does The Predator feature some high stakes and sure-to-be-intense action sequences, it also touts a stacked cast: Boyd Holbrook (Narcos, Logan), Olivia Munn (X-Men: Apocalypse), Trevante Rhodes (Moonlight), Jacob Tremblay (Room), Yvonne Strahovski (Dexter, The Handmaid's Tale), Thomas Jane (The Punisher), Alfie Allen (Game of Thrones), Edward James Olmos (Battlestar Galactica, Blade Runner), Jake Busey (Agents of S.H.I.E.L.D.), Augusto Aguilera (Chasing Life), and Niall Matter (Watchmen). 
In addition to unveiling the first plot summary for The Predator, Fox also rolled out new or extended synopses for five other films: Bohemian Rhapsody, Alita: Battle Angel, The Hate U Give, Widows, and Bad Times at the El Royale. Check them all out below. 
"Bohemian Rhapsody is a foot-stomping celebration of Queen, their music, and their extraordinary lead singer Freddie Mercury, who defied stereotypes and shattered convention to become one of the most beloved entertainers on the planet. The film traces the meteoric rise of the band through their iconic songs and revolutionary sound, their near-implosion as Mercury's lifestyle spirals out of control, and their triumphant reunion on the eve of Live Aid, where Mercury, facing a life-threatening illness, leads the band in one of the greatest performances in the history of rock music. In the process, cementing the legacy of a band that were always more like a family, and who continue to inspire outsiders, dreamers, and music lovers to this day."
"From visionary filmmakers James Cameron (Avatar) and Robert Rodriguez (Sin City) comes Alita: Battle Angel, an epic adventure of hope and empowerment. When Alita (Rosa Salazar) awakens with no memory of who she is in a future world she does not recognize, she is taken in by Ido (Christoph Waltz), a compassionate doctor who realizes that somewhere in this abandoned cyborg shell is the heart and soul of a young woman with an extraordinary past. As Alita learns to navigate her new life and the treacherous streets of Iron City, Ido tries to shield her from her mysterious history while her street-smart new friend Hugo (Keean Johnson) offers instead to help trigger her memories. But it is only when the deadly and corrupt forces that run the city come after Alita that she discovers a clue to her past: she has unique fighting abilities that those in power will stop at nothing to control. If she can stay out of their grasp, she could be the key to saving her friends, her family and the world she's grown to love."
"Starr Carter is constantly switching between two worlds: the poor, mostly black, neighborhood where she lives and the rich, mostly white, prep school she attends. The uneasy balance between these worlds is shattered when Starr witnesses the fatal shooting of her childhood best friend Khalil at the hands of a police officer. Now, facing pressures from all sides of the community, Starr must find her voice and stand up for what's right. The Hate U Give is based on the critically acclaimed New York Times bestseller by Angie Thomas and stars Amandla Stenberg as Starr, with Russell Hornsby, Regina Hall, Common, Anthony Mackie, and Issa Rae."
"From Academy Award-winning director Steve McQueen (12 Years a Slave) and co-writer and bestselling author Gillian Flynn (Gone Girl) comes a blistering, modern-day thriller set against the backdrop of crime, passion, and corruption. Widows is the story of four women with nothing in common except a debt left behind by their dead husbands' criminal activities. Set in contemporary Chicago, amid a time of turmoil, tensions build when Veronica (Oscar winner Viola Davis), Alice (Elizabeth Debicki), Linda (Michelle Rodriguez), and Belle (Cynthia Erivo) take their fate into their own hands and conspire to forge a future on their own terms. Widows also stars Liam Neeson, Colin Farrell, Robert Duvall, Daniel Kaluuya, Lukas Haas and Brian Tyree Henry."
"Seven strangers, each with a secret to bury, meet at Lake Tahoe's El Royale, a rundown hotel with a dark past. Over the course of one fateful night, everyone will have a last shot at redemption... before everything goes to hell. Jeff Bridges, Chris Hemsworth, Jon Hamm, Dakota Johnson, and Cynthia Erivo lead an all-star cast in Bad Times at the El Royale."