Riverdale's KJ Apa Replaces Kian Lawley In The Hate U Give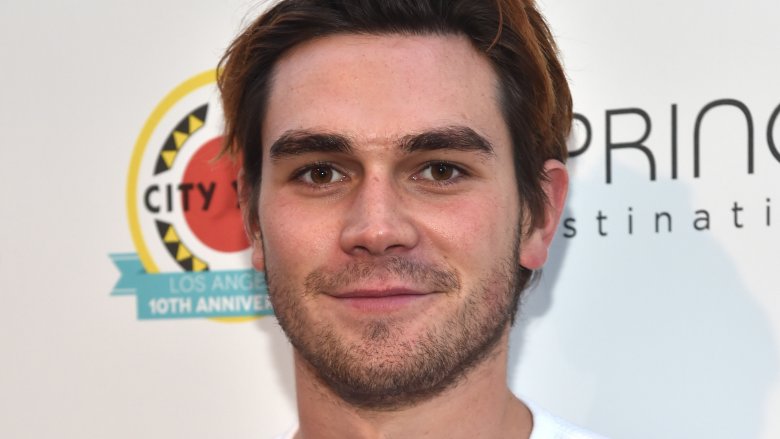 Getty Images
Riverdale star K.J. Apa has been tapped as the new lead in Fox 2000's The Hate U Give, Deadline has announced. 
Apa, who broke out as the red-headed boy next door Archie Andrews on the CW drama series Riverdale, will replace original actor Kian Lawley to play Chris, the white boyfriend of Amandla Stenberg's character, Starr Carter. 
Fox dropped Lawley from the project, the silver-screen adaptation of Angie Thomas' acclaimed novel of the same name, after videos in which the YouTube celeb-turned-actor uttered several racist slurs and made racially charged comments under the guise of humor. Lawley issued an apology for what was said in the videos, but the slurs he used go entirely against the heart of The Hate U Give: exploring racial injustice and highlighting the importance of social activism, sparked by Stenberg's Starr witnessing a police officer shoot and kill her best friend. 
"If you don't learn from your mistakes, you can never grow as a person. I've learned a lot and I am grateful to have the power to change," Lawley wrote in a tweet at the time. "I never want to be who I was yesterday. We're in a constant battle to become a better version of ourselves. Use your voice as your weapon."
In a decision similar to what director Ridley Scott did when firing Kevin Spacey and hiring Christopher Plummer to replace him in All the Money in the World, the cast and crew of The Hate U Give will undergo just over a week of reshoots with Apa filming all sequences in which Lawley originally appeared. Just as Spacey was completely scrubbed from promotional materials, trailers, and the final cut of All the Money in the World, Lawley will be from The Hate U Give. The film hasn't yet been dated for release, but it wrapped principal photography back in November of 2017.
Apa colored his tresses bright red to play Archie on Riverdale, but has since darkened them to a deep brunette to portray Chris. Sources state that the New Zealand-born actor arrived on the Atlanta set of The Hate U Give on or before Tuesday, April 3. The rest of the cast — including Regina Hall as Starr's mother Lisa Carter, Russell Hornsby as Starr's father Maverick Carter, Common as Starr's police officer uncle Carlos, Algee Smith as Starr's childhood best friend Khalil, and Issa Rae as an activist named April Ofrah — will film with Apa beginning today (April 4). 
Directed by George Tillman Jr. (This Is Us, Luke Cage), The Hate U Give also stars Lamar Johnson, T.J. Wright, Anthony Mackie, Sabrina Carpenter, Dominique Fishback, Megan Lawless, and Tony Vaughn. 
Apa's casting in The Hate U Give comes just after The CW renewed Riverdale for a third season. The 20-year-old actor is set to film The Hate U Give, and will next appear in Bill Bindley's coming-of-age drama The Last Summer.