Chris Hemsworth, Jeff Bridges To Star In Bad Times At The El Royale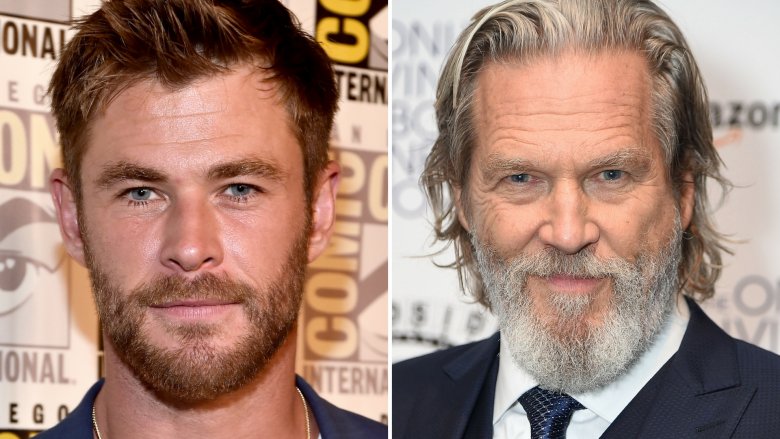 Getty Images
Jeff Bridges and Chris Hemsworth are going 1960s for the upcoming thriller Bad Times at the El Royale. According to The Hollywood Reporter, the duo are in talks to lead the film, which comes from Daredevil's Drew Goddard.
The movie takes place at the El Royale, a run-down hotel near California's Lake Tahoe. While plot details have been kept pretty tightly under wraps, we do know that the film follows a cast of characters who own shady agendas collide in a violent way. There is no word on who Bridges or Hemsworth will play in the film, although it does mark a reunion for Hemsworth and Goddard, who previously worked together on the horror flick The Cabin in the Woods.
Bridges, an Oscar winner for Crazy Heart, recently earned his sixth nomination for his appearance in 2016's Hell or High Water, for which he also earned a Golden Globe nomination. The actor's other upcoming roles include the firefighter drama Only the Brave, opposite Josh Brolin, and the highly anticipated, action-heavy sequel Kingsman: The Golden Circle, which hits theaters in September.
Hemsworth's upcoming projects are mostly with Marvel, with the actor appearing as Thor in Avengers: Infinity War and likely in the untitled fourth Avengers film, as well as in his third standalone Thor: Ragnarok, which is set to reinvent his character, according to director Taika Waititi. He also has a part in the war drama Horse Soldiers, which is set to be released in January. Hemsworth's recent non-Marvel roles include Ghostbusters, In the Heart of the Sea, Vacation, and The Huntsman: Winter's War.
Goddard, an Academy Award nominee for writing The Martian and an Emmy nominee for his work as a producer on Lost, has been in high demand in Hollywood, and the addition of two huge actors to his latest project suggests that it will be a must-see. The film marks Goddard's second feature film directing credit after The Cabin in the Woods; he has also directed multiple episodes of NBC's Kristen Bell comedy The Good Place, which he also executive produces.
Goddard is reportedly looking to begin production on the film in January of 2018. While we wait to learn more, see some of the movies you have to look forward to for the rest of this year.