New Venom Trailer Coming This Week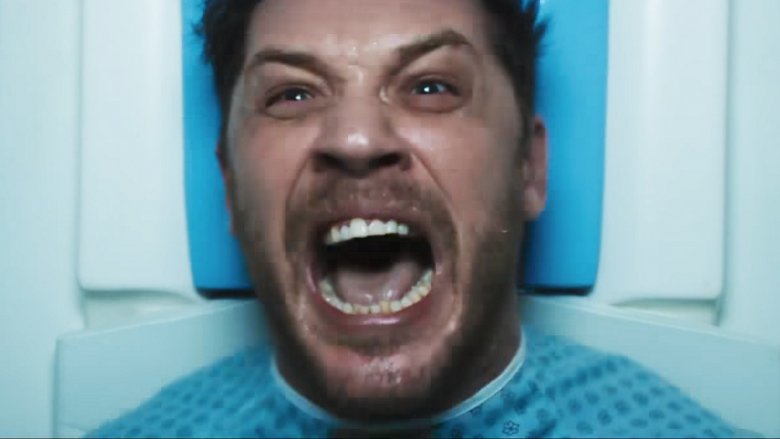 Anyone disappointed by the first Venom trailer will be happy to hear this news.
Venom star Tom Hardy took to Instagram over the weekend to tease that a new trailer for the film is set to drop this week during CinemaCon. Hardy shared the news in the caption of a photo of himself. "Inbound CinemaCon. New trailer [for] Venom," he wrote, adding a fire emoji, a dinosaur emoji, and plenty of haloed smiley face emojis at the end to properly convey his excitement for fans to see the new footage. 
Hardy is scheduled to be part of Sony Pictures' panel at CinemaCon on Monday evening. The presentation will take place between 6:30 PM and 8:30 PM PT, during which Hardy will apparently unveil the brand-new trailer. Given that the actor publicly announced that another look at Venom is on its way, it appears that the footage isn't an exclusive release for CinemaCon attendees, and that Sony will likely release the trailer to the general public as well — either during the panel, immediately after, or some other time during the week.
It's unclear what else Sony has planned for its CinemaCon presentation, though the official event website indicates that the studio will be discussing its film release schedule for "2018 Summer and Beyond." This might include the forthcoming Spider-Man: Homecoming sequel, but considering that Tom Holland won't make an appearance, as he's tied up attending the premiere of Avengers: Infinity War in Los Angeles, it seems like a long shot that Sony would announce anything major regarding the Spidey sequel without the leading man there. 
Sony Pictures Chairman Tom Rothman will host the panel, joined by Sony's President of Worldwide Marketing and Distribution Josh Greenstein and the studio's President of Domestic Distribution, Adrian Smith.
The first glimpse (the only one fans have seen thus far) of Venom was actually just a teaser, clocking in at a little over 90 seconds in length. Current speculation suggests that the trailer Hardy has hinted at will be a full-length one. Here's to hoping. 
Directed by Ruben Fleischer (Zombieland) from a script by Jeff Pinkner (The Dark Tower) and Scott Rosenberg (Con Air, Gone in Sixty Seconds), Venom stars Hardy as Eddie Brock, Michelle Williams as Anne Weying, Scott Haze as Roland Treece, Jenny Slate as Dora Skirth, and Riz Ahmed as Dr. Carlton Drake. Rumor has it that Woody Harrelson will take on the role of Carnage, the crazed killer otherwise known as Cletus Kasady, though nothing has been confirmed at this point in time.
Venom is slated for release on October 5.