Spider-Man Spinoff Venom To Hit Theaters In 2018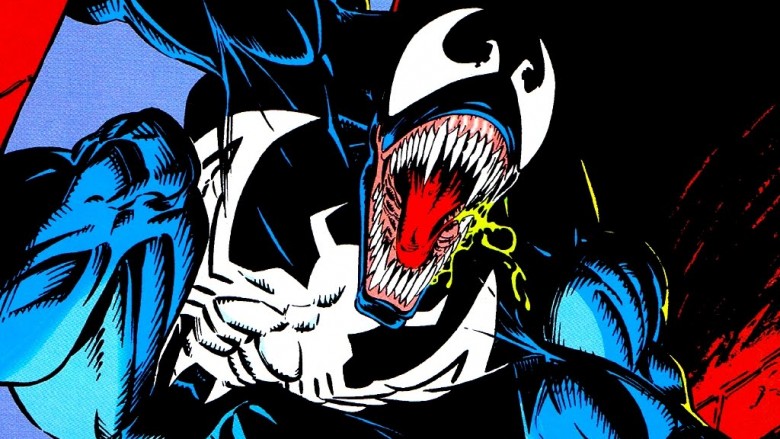 Marvel Comics
Longtime foe of Spider-Man and one of the odder roles Topher Grace has played (in 2007's Spider-Man 3), Venom is getting his own spinoff solo film. Sony Pictures announced that Venom will sink its teeth into the box office on October 5, 2018.
As reported by Variety, the upcoming flick wiggles its way between two of the company's other projects: the Fede Alvarez-helmed The Girl in the Spider's Web (a film based on the Stieg Larsson novel The Girl with the Dragon Tattoo) gets shifted from an October 5, 2018 release to October 19. This, of course, is to accommodate for the sharp-fanged villain of questionable morals to hit the big screen. The move was reportedly made by Sony.
Despite the shuffle, however, Venom will go head-to-head during its opening week with Jungle Book: Origins and a yet-unnamed film made by Blumhouse, the same studio behind The Purge and Jordan Peele's horror darling Get Out. Scott Rosenberg (Con Air, Gone in 60 Seconds, and the upcoming Jumanji reboot) will co-write the Venom script with The Dark Tower's Jeff Pinkner. Avi Arad and Matt Tolmach are set to produce.
Venom, the extraterrestrial symbiote that forms an often sinister connection with its host, was introduced to Marvel comics in a 1988 issue of Amazing Spider-Man.
The news about the movie and official release date came just hours after Warner Bros. pushed Aquaman back a few months, from October 5 to December 21, 2018. Additionally, given that the flick is a side-shoot of the webbed hero's lore, it's also interesting to consider how the Spider-Man franchise is in the midst of a complete refresh. With Tom Holland now the third actor to step into the spidey suit this century, it appears Sony is pooling its resources and creative juices to put its best foot forward on this particular front. And it may just be that focusing on some of Spidey's villains, like Venom, will be the key to success.
Though Venom has nabbed an official release date, no additional details were revealed. While we dream up who we'd like to see portray the dark, slimy villain, check out a few actors who were almost cast as Spider-Man.