New Solo: A Star Wars Story Images Tease Main Villain, High-Stakes Heist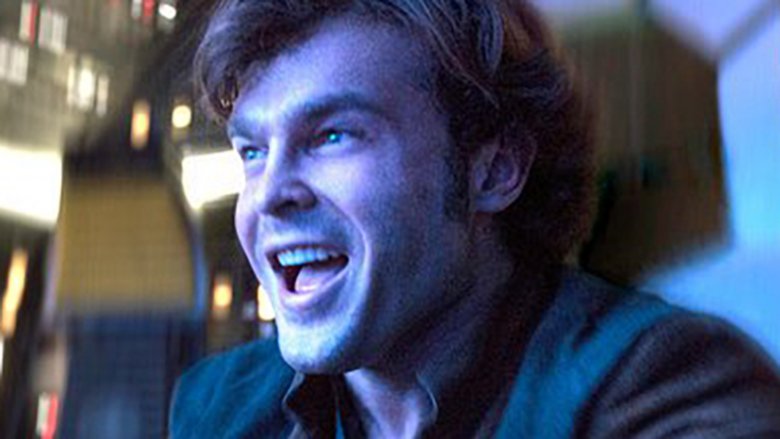 What a way to start a week. Empire has rolled out two new images from Solo: A Star Wars Story, giving fans their best look at the film's main villain and teasing the dangerous heist mission Han Solo carries out on the snowy planet of Vandor. The outlet unveiled the snaps separately as exclusives, marking the start of the company's Solo promotional coverage.
The first shot zeroes in on Paul Bettany's villainous character Dryden Vos, the central antagonist of Solo: A Star Wars Story who's described as a "facially-scarred 'big-shot' criminal overlord who recruits a crew of reprobates for a heist." It's clear that Dryden is wicked enough to make the mysterious gangsters and seedy tricksters featured in Solo look like law-abiding good Samaritans, and make the hoax-pulling Han Solo himself seem like a saint. 
As the new snap shows, Bettany is a natural fit to play Dryden, but he wasn't the first choice — or the first confirmed actor — for the part. When original Solo directors Phil Lord and Christopher Miller were on board (before they were fired following creative clashes with Lucasfilm), Michael K. Williams was attached to portray Dryden. Ron Howard took Lord and Miller's place in the director's chair, and soon kicked off a round of extensive reshoots, cutting Williams out of the movie entirely. Williams didn't mind, though, as he would have needed to commit to an extra month of filming to ensure that his character would "match the new direction which the producers wanted Ron to carry the film in." Since Williams was concurrently involved with another film, the spy thriller Red Sea Diving Resort, he backed out. "I felt great about what I created with the directors that I worked with," Williams said at the time, referencing Lord and Miller. "It is what it is ... For them to wait that long for me, that would have pushed back the release date ... They wanted me now; I couldn't go. So they had to clip-clip-clip."
Something else that stands out in the Dryden Vos image is the Mandalorian armor, which we've have actually seen before. Director Howard previously shared a set photo of himself and Bettany when the actor wrapped filming on Solo, and in the background, fans spotted a blurred-out Mandalorian suit. Speculation that Boba Fett would be in the film soon swirled, but now that we see the costume in full resolution, there's little doubt that Solo will star the famous Star Wars bounty hunter. However, the flick will include plenty of references to the Mandalorian, and will hopefully explain why Dryden Vos has Mandalorian armor in his establishment in the first place.
The second new snap depicts Alden Ehrenreich's Han Solo in the midst of hijacking the Conveyex, the high-speed train carrying cargo the young smuggler aims to steal in order to prove himself to Dryden. Though in the most recent trailer for Solo: A Star Wars Story, Han asserted that he has a "really good feeling" about the chances of the high-stakes heist panning out in his favor, the exclusive image proves that his gut instinct was dead wrong. Shown below, the photo sees Han precariously dangling from the train as the white-and-gray skies of Vandor sprinkle snow everywhere in sight. 
Solo co-writer Jonathan Kasdan revealed to Empire that the Conveyex heist on Vandor will be just one of many fresh action sequences included in the film. "Part of the challenge is to come up with new, inventive kinds of action we haven't seen in Star Wars," he said. "We often referenced Heat and Thief as high-end criminals doing serious jobs that involve ... big hijackings."
Here's what Solo: A Star Wars Story will be about: "Board the Millennium Falcon and journey to a galaxy far, far away in Solo: A Star Wars Story, an all-new adventure with the most beloved scoundrel in the galaxy. Through a series of daring escapades deep within a dark and dangerous criminal underworld, Han Solo meets his mighty future copilot Chewbacca and encounters the notorious gambler Lando Calrissian in a journey that will set the course of one of the Star Wars saga's most unlikely heroes."
Also starring Emilia Clarke as Qi'ra, Donald Glover as Lando Calrissian, Woody Harrelson as Beckett, Phoebe Waller-Bridge as L3-37, Joonas Suotamo as Chewbacca, Thandie Newton as Val, and Harley Durst as Moloch, Solo: A Star Wars Story is set to fly into cinemas on May 25. In the meantime, take a look at the new film photos below.