Paul Bettany Wraps Filming On Han Solo Movie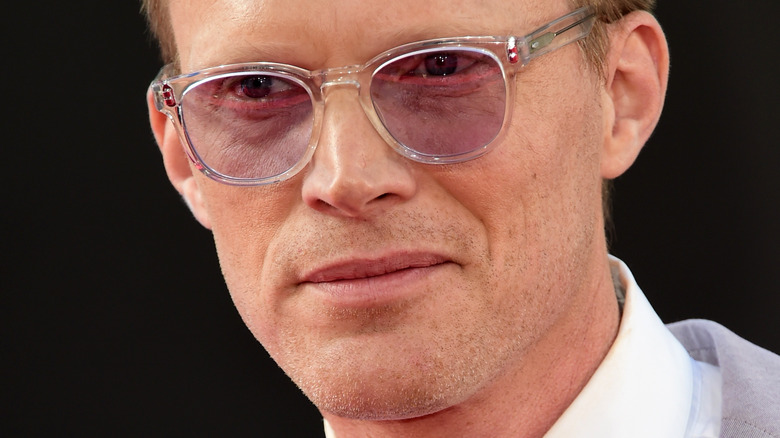 Getty Images
Just as quickly as he was cast, Paul Bettany had said goodbye to the Han Solo standalone movie. 
Director Ron Howard confirmed Saturday that the actor had officially wrapped filming, sharing a snap of himself and Bettany on set. "Had to say goodbye to my friend Paul Bettany today. Another terrific performance from a world class talent," he wrote on Twitter. 
It's only fitting that Howard announced the end of Bettany's involvement with the project, as he was the one who first broke the news that the prolific actor was indeed a part of the film. "The Outer Rim just got a little bit wilder," Howard said in a tweet in early September, using the hashtags #ForceFriday and #PaulBettany in the text that accompanied a photo of the pair giving the thumbs-up sign. 
The original tease spurred a wave of curiosity amongst Star Wars fans, who initially didn't understand what was happening, since Howard didn't confirm or deny Bettany's casting right away. Eventually, he clarified that Bettany was indeed a member of the cast, and that the Han Solo movie is his third opportunity to work with Bettany. He called the actor "a blast" and "so talented," a promising sign for tone of the upcoming flick.
Since Howard took over the directorial responsibilities on the upcoming spinoff film from previous helmers Phil Lord and Chris Miller, who were apparently fired from the project due to irreconcilable creative differences and reported conflicts with Lucasfilm head honcho Kathleen Kennedy, he's kept up quite the teasing streak on social media. Howard has shared intriguing on-set footage, including shots of R2-D2 droids going up in smoke and scrapped junkyard speeders with white foam oozing out of them, and his Twitter and Instagram accounts have become a haven for all things Han Solo movie. 
It's no easy feat stepping into a film production that was previously started by other creatives, but Howard seems to have done a stand-up job maintaining excitement for the movie. He hasn't commented directly on the director shake-ups and reshoots, which sadly caused Michael K. Williams' scenes to be cut out completely, but he did previously assure fans that everything is a-okay behind the scenes and that filming is "coming along great." Howard added: "It's a fantastic script, a great cast, and I am having a fantastic creative experience with it. It's a great young cast, incredibly strong—smart, funny people who love their characters and love being part of this. I think we'll be able to do something that is a lot of fun."
Bettany's wrapping comes shortly after Donald Glover, who plays a young Lando Calrissian, finished his scenes for the movie. These back-to-back wraps seem to indicate that the cast and crew are approaching total completion on principal photography. 
The untitled Han Solo movie features Alden Ehrenreich as Han Solo and Joonas Suotamo as Chewbacca, as well as Woody Harrelson, Emilia Clarke, Thandie Newton, Warwick Davis, and Phoebe Waller-Bridge. It's slated to fly into theaters on May 25, 2018. 
For now, find out what we hope to see in the movie once it's finally released. 
Had to say goodbye to my friend @Paul_Bettany today. Another terrific performance from a world class talent. pic.twitter.com/6jkNKQNQZZ

— Ron Howard (@RealRonHoward) September 16, 2017