Thandie Newton Discusses Her Role In Star Wars' Young Han Solo Film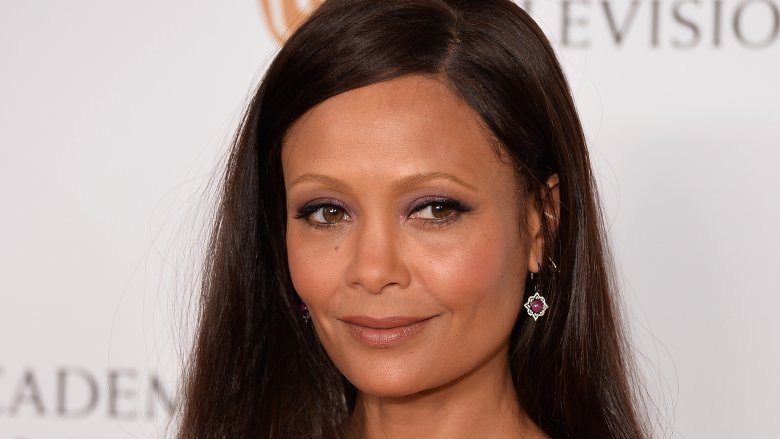 Getty Images
Having already appeared in HBO's Westworld, Thandie Newton is very used to having to keep secrets for a role. However, her part in the upcoming Star Wars young Han Solo anthology film was a whole new challenge. While we still don't have any details on who Newton will be playing, the actress offered up some tidbits of how she landed the part and what to expect from the film in a recent interview with Variety.
Newton said that she landed her role in the film through her friend, casting director Nina Gold. Although Gold had yet to cast Newton in anything throughout their 20-year friendship, she called her and offered her a role in the Star Wars anthology film– and made sure that Newton wouldn't be able to tell anyone about her part. "I just had these ideas of what it would be, you know, and it was completely different to everything I imagined and I'm so thrilled," Newton said. "I've signed a non-disclosure and can't say a word, which is frustrating because you know me. I like to chat it up."
Newton said that it is important to her to see diversity in the future of the Star Wars franchise. "We are all in this together, and we need to let go, accept, not be so afraid, fight for the truth if we know it, if we don't know it, ask questions until you do know," she said. "To be part of a legacy like Star Wars, it's loved for a reason. I could have been in it for a brief little nothing, and I would have been thrilled and delighted. To be taken seriously, a women of color at 44 years old and be in a dope-a** franchise. It's when you just let go."
While Newton wouldn't offer up any more details about the film, she, like her fellow co-stars who have been brought into the franchise's new chapter, says that she completely recognizes the magnitude of the role she is taking on. "It's like you're going through a portal that is beloved by all of humanity," she said.
Not many plot details have been revealed for the young Han Solo film yet aside from the fact that it will star Ehrenreich as the younger version of the gunslinger Harrison Ford played in the original films and that it will follow the pre-A New Hope adventures of Han and Chewbacca  (Joonas Suotamo). Emilia Clarke will play the female lead, while Donald Glover will play a young Lando Calrissian and Woody Harrelson will play Han's criminal mentor. Phoebe Waller-Bridge and Michael K. Williams fill out the cast of the movie, which started filming on Feb. 20 at Pinewood Studios in London, with Phil Lord and Chris Miller directing. The film is due out on May 25, 2018; for now, read up on what we want to see in the finished product.