The Predator Reshoots Changed Most Of The Film's Third Act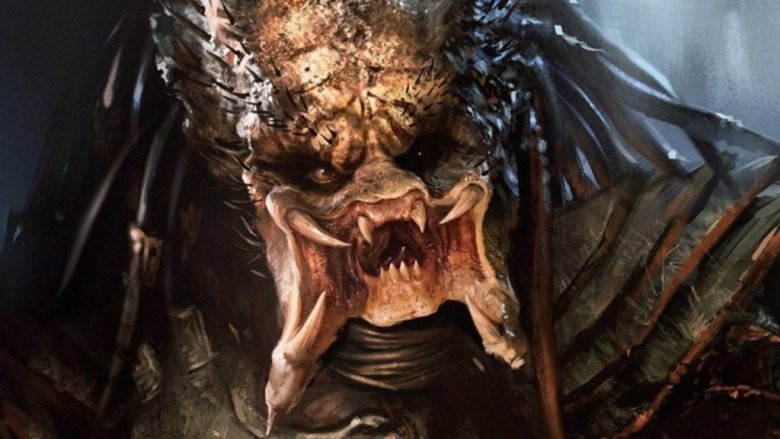 The Predator didn't get a simple little polish-up during its reshoot session. No, it received a massive overhaul.
Directed by Shane Black, The Predator underwent a round of reshoots recently, a situation of secondary filming that the film's cast and Black himself hinted at on social media. It has largely remained unclear why the hotly anticipated flick needed a scrub-down, or why it was twice pushed back from its initial February 9 release date (first to August 3, then to September 14), but according to star Keegan-Michael Key, the film's original ending has a lot to do with it. 
Key, who plays an to-be-named character The Predator, revealed that the majority of The Predator's final act was completely changed during reshoots. 
"We just finished [reshoots] last week, and just about three-quarters of the third act was rewritten," the actor told CinemaBlend. 
Key was quick to commend director Black's creativity and talent, particularly when faced with the feat of changing so much of a film that had already wrapped principal photography. "Shane Black is... he's just a consummate professional, and a consummate writer. He's a wordsmith! It was a really, really exhilarating experience [working with him], and I think that he's still one of our most vibrant writers of cinema," he said. 
Continuing off that string of compliments, Key also recounted a moment he shared with Black that left him in complete awe. "We had a birthday party, my fiancée and I are born 10 days apart, and [Black] wrote this lovely email afterwards ... She just said, 'Thanks for coming to the party,' and he wrote this gorgeous erudite email ... He's just lovely," recalled Key. "He's really, really, really terrific. It was a wonderful experience."
While much of the first cut of The Predator didn't end up working out, it's good to know that at least things were swell behind the scenes. 
Co-written by Black and Monster Squad scribe Fred Dekker, The Predator follows after the original 1987 Predator movie, which starred Arnold Schwarzenegger as Major Alan "Dutch" Schaefer, the head of a special forces unit the titular alien creature targets. The first flick spawned two sequels (1990's Predator 2 and 2010's Predators), and two films that crossed over with the equally loved Alien franchise (2004's Alien vs. Predator and 2007's Aliens vs. Predator: Requiem). 
Black's The Predator is the fourth main Predator series installment, set between Predator 2 and Predators, but won't serve as a sequel to the original. As Key previously explained, "It's not a sequel. It certainly lives in the universe of the films that were made. I think that's probably the best way to say it and the only way I can say it right now." Fellow star Sterling K. Brown, who portrays an unnamed government agent, also once mentioned that The Predator is "very different than the original," and has a "really wicked sense of humor to it [and] a real camaraderie amongst the main characters."
The Predator stars Boyd Holbrook (Narcos, Logan) as former Marine and Special Forces commando Quinn McKenna, Olivia Munn (X-Men: Apocalypse) as scientist Casey Bracket, Trevante Rhodes (Moonlight) as former Marine and best friend to Quinn Nebraska Williams, Jacob Tremblay (Room) as Emma and Quinn's troubled son Rory McKenna, and Yvonne Strahovski (Dexter, The Handmaid's Tale) as Quinn's ex-wife and Rory's mother Emma McKenna. Thomas Jane (The Punisher), Alfie Allen (Game of Thrones), Edward James Olmos (Battlestar Galactica, Blade Runner), Jake Busey (Agents of S.H.I.E.L.D.), Augusto Aguilera (Chasing Life), and Niall Matter (Watchmen) round out the cast. 
We'll likely see the first trailer for The Predator sometime soon, possibly in conjunction with Deadpool 2's theatrical release this May. For now, however, we simply have to keep our eyes glued to the film's September 14 debut date.