Focusing On The Women In Black Panther: Wakanda Forever Made The Most Sense In The Wake Of T'Challa's Passing
Following the untimely death of "Black Panther" star Chadwick Boseman in 2020, his co-stars and the world mourned the loss of a monumental talent. Amid the grief, however, work had to begin on the sequel, "Black Panther: Wakanda Forever." Boseman had played T'Challa, the titular Black Panther, in the original film, and Marvel made the decision for Boseman's character to die in the Marvel Cinematic Universe, rather than recast the role.
Out November 11, "Black Panther: Wakanda Forever" follows Queen Ramonda (Angela Bassett), Shuri (Letitia Wright), M'Baku (Winston Duke), Nakia (Lupita Nyong'o), and Okoye (Danai Gurira) as they grapple with Namor (Tenoch Huerta), the mutant leader of an undersea nation, in the wake of T'Challa's passing. Early reactions to "Wakanda Forever" have been positive, and many fans and critics have been quick to note that the film's women are at the forefront of the movie. Many have surely wondered whether the decision to frontline them was a deliberate effort by the filmmakers.
At a press event attended by a Looper reporter, "Black Panther: Wakanda Forever" producer Nate Moore and director Ryan Coogler addressed the rationale behind focusing on the women of Wakanda in their latest film.
The choice wasn't to focus on women, but to tell an organic story, producer Nate Moore says
At a Looper-attended Disney press event promoting "Black Panther: Wakanda Forever," the film's creatives were asked what guided them in the decision to put Wakanda's women front and center. Producer Nate Moore fielded the question, explaining that they hadn't thought about it in those terms, but rather that those characters had felt like the most natural choice to focus on in the wake of T'Challa's death. "It was just the right story to tell," Moore said. "I mean, these were the characters who were most affected by T'Challa's passing."
The producer went on to praise the cast, saying their portrayal of characters such as Letitia Wright's Shuri, Danai Gurira's Okoye, and Angela Bassett's Queen Ramonda make audiences naturally interested in their stories. "To not highlight them would have been a disservice to the story," Moore said.
Following up on Moore's remarks, director Ryan Coogler compared the death of T'Challa to a bombing, explaining that his loss directly impacted those nearest to him. "When you lose somebody there's a blast radius," he said. "It's like a bomb goes off and who was closest to it?" According to Coogler, T'Challa had been a central figure to women in his life, including his sister, Shuri. 
"Shuri, every day she was alive, she had her brother, you know?" Coogler explained. "So, when she lost him ... she lost her sense of self. She actually identified herself as T'Challa's little sister ... and as his protector ... When she loses that, it makes her very unmoored." Other cast members touched on the same idea, as Lupita Nyong'o expressed when discussing how Nakia's grief comes across in the script.
Nate Moore pushes back on the notion of 'agendas' behind Wakanda Forever's women-centric storytelling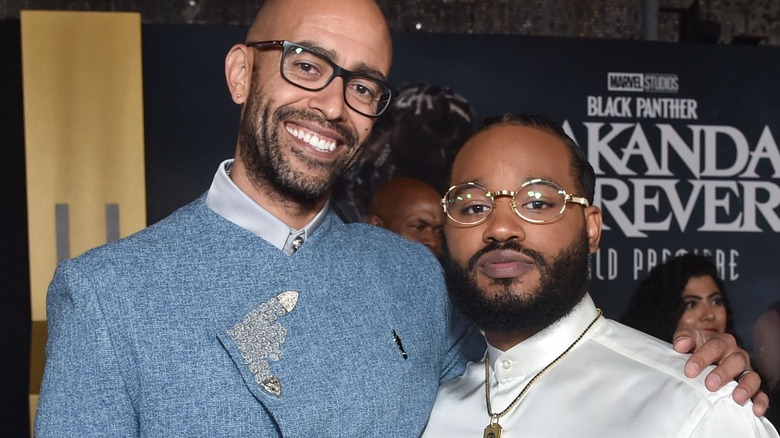 Alberto E. Rodriguez/Getty Images
While discussing the prominence of the women in "Black Panther: Wakanda Forever" during the Looper-attended Disney press event, producer Nate Moore emphatically denied that there was an ulterior motive behind the decision to put those characters in the spotlight. "I think sometimes, maybe from the outside, there's a thought that there are agendas at play. It's just telling a good story, you know?" he said.
Speaking further on the majority-female leading cast, Moore posited that the story naturally takes place around those characters and that it would have harmed the story to shoehorn in more men simply for the sake of having them around. "I think the movie's better for it because if we would have had to wedge in some new male characters just to have that voice," he said. "That would have been — that would have seemed more performative than telling the story we told."
The MCU has made great strides toward diversity in recent years, with women and people of color leading ever more of its projects since Kevin Feige took the creative reins from former Marvel CEO Ike Perlmutter (via Vanity Fair). The media multiverse has even taken the time to satirize toxic fans who balk at the notion of women in leading roles, dedicating an entire plot arc to the subject in the recent 1st season of "She-Hulk: Attorney at Law." Now, "Black Panther: Wakanda Forever" will feature an ensemble cast proudly made up of Black and indigenous actors, the majority of whom are women. Moore and Coogler don't see it as a political statement, just good storytelling, and perhaps that's precisely the point.