Early Reactions To Black Panther: Wakanda Forever Are Hailing It As An Emotional Triumph
When director Ryan Coogler's "Black Panther" hit the big screen in 2018, it quickly proved itself as an absolute game-changer in the world of superhero cinema. The film became a pop culture phenomenon in short order, with the ripple effects of its impact continuing to reverberate throughout media today. A huge part of that is thanks to the man behind the titular hero, Chadwick Boseman. Boseman, much like King T'Challa himself, was a fighter who inspired all who knew him. When he passed away on August 28, 2020, due to colon cancer, he left behind a massive void in the Marvel Cinematic Universe, and in the hearts of his colleagues, as well as his fans across the globe — one that will never be filled.
When Boseman died, movement on a "Black Panther" sequel was already underway. The loss of the legendary actor was massive enough that director Ryan Coogler almost made a huge life-changing decision to walk away from the entertainment business, but after some time, he instead decided to pivot his sequel to put the death of Boseman (and by extension, T'Challa) front and center. Now, to carry on this legacy, "Black Panther: Wakanda Forever" is on its way to cinemas. As the final theatrical installment of Phase Four, the story sees Wakanda mourn the sudden loss of T'Challa, though they don't have long to dwell on his demise, due to attackers from an underwater kingdom led by Namor (Tenoch Huerta). However, T'Challa's sister, Shuri (Letitia Wright), his former rival, M'Baku (Winston Duke), and more make it clear that they won't give up their home to these invaders without a fight.
A lucky few have gotten to check out "Black Panther: Wakanda Forever" early, and thankfully, they appear thoroughly impressed with all that it has to offer.
Wakanda Forever is a powerful, resonant sequel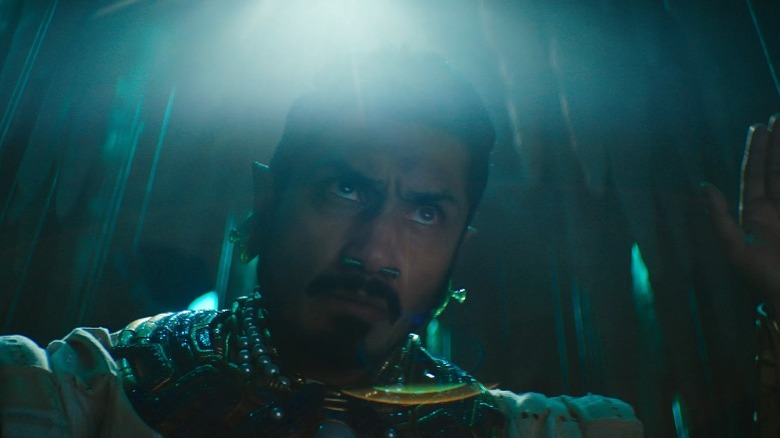 Marvel Studios/Disney
On October 27, 2022, early reactions to "Black Panther: Wakanda Forever" flooded social media, and it became abundantly clear that Ryan Coogler, the entire cast and crew, and Marvel Studios have, at large, produced yet another homerun.
"#WakandaForever is blockbuster filmmaking on another level. It surpasses the incredible first film with high stakes and and thrilling world-building," wrote @howatdk in a tweet, making the bold claim that it could be the best MCU entry yet. @McBDirect shared similar feelings about the movie while praising its score from composer Ludwig Göransson. @RydenScarnato offered up some high marks for "Wakanda Forever" as well, posting, "There's never been a CBM like it. Really strong performances all around too." Although, he does feel Namor's motives were a little underdeveloped, but not necessarily to the story's detriment.
Of course, the big question when it comes to "Wakanda Forever" is how does it feel tonally? Appropriately, it largely lacks that jokiness we've all come to expect from MCU productions. "Ryan Coogler's #BlackPantherWakandaForever, above all else, is cathartic. An emotional movie about loss, legacy and healing," said @Sean_OConnell, with @TheJosieMarie noting that while it's a serious feature, it's not without its uplifting moments. The female cast gets plenty of time to shine as they're celebrated for carrying the "Black Panther" franchise forward. According to @iKenny_J, amid all the emotion, there are still some fun surprises to look forward to.
All in all, from the performances, to the tone, to the soundtrack, to the story, "Black Panther: Wakanda Forever" seems like an absolute triumph for all involved. Sure, it's not perfect, and many will have their complaints when it arrives, but based on these early reactions and numerous others, those who dislike it will more than likely fall into the minority. "Wakanda Forever" premieres in theaters on November 11, 2022.