How Chadwick Boseman's Death Affected Black Panther: Wakanda Forever's Visual Style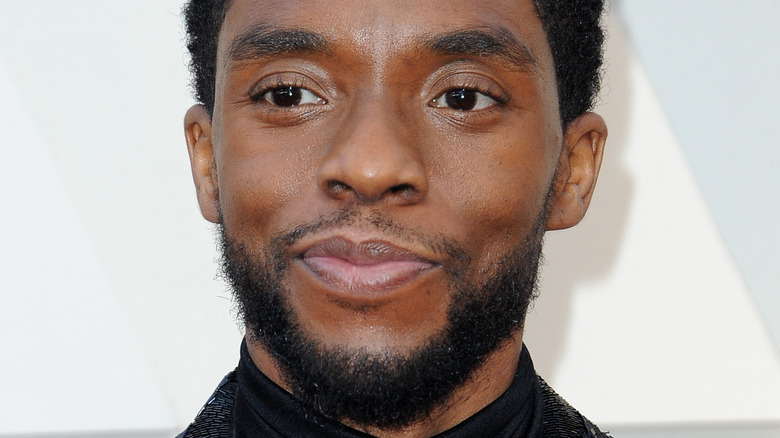 Tinseltown/Shutterstock
At this point, it's no secret that "Black Panther: Wakanda Forever" is one of the most highly-anticipated films ever to be released within the MCU — serving as both a sequel to the beloved 2018 blockbuster "Black Panther" and as the climactic finale to Marvel's Phase 4.
And​​ yet, overshadowing all of the excitement for this upcoming film is the notable absence of actor Chadwick Boseman, who tragically passed away in 2020 following an extended battle with colon cancer. From what we've seen thus far in the trailers for "Black Panther: Wakanda Forever," it's clear that Boseman's legacy (both as an actor and as an essential character within the MCU itself) will be a major component of the film itself — we see several glimpses of Wakanda in mourning, an extravagant funeral procession, and a massive portrait of his character T'Challa.
Indeed, it appears that much and more of the film will be informed by the devastating loss of Chadwick Boseman — something that director Ryan Coogler confirmed earlier this year when he said that "we put our love for Chadwick into this film," while presenting the movie at San Diego Comic-Con (via Deadline). In fact, Boseman's impact on "Wakanda Forever" is so great that even the film's visual style was influenced by his tragic passing.
The film uses anamorphic lenses to represent the warped feeling of loss
In a recent interview with Entertainment Weekly, director Ryan Coogler addressed how even the visual style of "Black Panther: Wakanda Forever" was meant to reflect the immense loss felt after the passing of Chadwick Boseman. "I think this film has the fog of loss over it," Coogler said. "Anamorphic lenses warp the image a little bit. Sometimes when you go through profound loss, it can warp how you look at the world... what we were after was just making it feel tactile, even though it felt like a dream."
Coogler went on to explain that this shift in visual style is meant to create a film that is both intimate and emotionally poignant while operating on the scale of a massive superhero blockbuster. In addition to the use of warped lenses, Coogler also addressed how this shift in visual style includes an emphasis on water and the color blue — something that should come as no surprise since the film's primary antagonist, Namor the Sub-Mariner (Tenoch Huerta), is the ruler of a vast undersea kingdom.
Considering just how much of the story and tone of "Wakanda Forever" is informed by the devastating loss of Chadwick Boseman, it makes perfect sense that the film's visual style would also take inspiration from the profound legacy he left behind.
Black Panther: Wakanda Forever was a melancholic experience for the cast and crew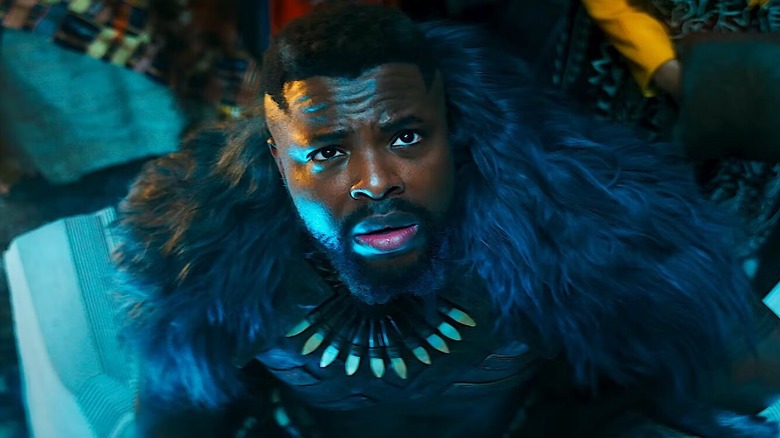 Marvel Studios / Disney
As previously mentioned, loss and grief have informed the storytelling in "Black Panther: Wakanda Forever." As such, the experience was melancholic for those who knew and worked with Chadwick Boseman on the previous movie.
While speaking to Collider, Winston Duke, who plays M'Baku, explained that shooting the sequel was strange without their old colleague on the set. However, the experience helped them process his death and understand the grief process. "It was something that we dealt with, every day, and something that we got to understand, every day, that we're not the only people grieving. Not only the people who are in front of camera are grieving, it's everybody."
Elsewhere, Lupita Nyong'o, who portrays Nakia, recalled having to meditate, pray, and reflect in order to come to grips with the new movie existing without the original "Black Panther" star. It took the actress a while to adjust to the idea of a sequel without Boseman, but she understood that changes were necessary. "I found myself having to radically accept that this was going to be different and that showing up with as much openness as possible was key," she told The New York Times.
"Wakanda Forever" was an emotional experience for everyone involved, but the movie promises to honor Boseman's legacy in a big way.