Why The Script For Black Panther: Wakanda Forever Initially Left Lupita Nyong'o Frustrated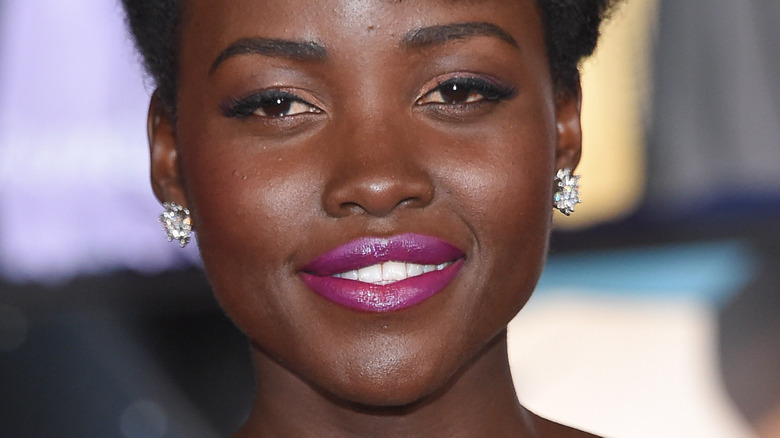 DFree/Shutterstock
One brief look at the production and marketing of "Black Panther: Wakanda Forever" lets audiences know that the film is about grief. T'Challa actor Chadwick Boseman died on August 28, 2020, at the age of 43 from colon cancer, months before the "Black Panther" sequel was set to begin production. Following the Emmy winner's death, writer and director Ryan Coogler retooled "Wakanda Forever" to honor Boseman's impressive legacy. This sentiment extended towards the musical side with singer Rihanna and co-writer Tems crafting the single "Lift Me Up" as a tribute to the late actor.
Promotional footage from the sequel hasn't shied away from showcasing the impact of T'Challa's death, with moments of actors meditating on their grief and sadness. Just as the film explores those themes, the production was affected by it as well. Filming served as a healthy way for the cast and crew to heal and grow together. While speaking with Looper sister site The List, Shuri actor Letitia Wright opened up about how production was difficult without her on-screen big brother. "It's difficult, but we are trying to take it one day at a time," she said. "We're trying to give ourselves the healthy space to heal and grieve and to continue his legacy as best as we can."
It's fair to assume that components of "Wakanda Forever" were difficult seeing as the film went in a naturally different direction than expected. Nakia actor Lupita Nyong'o particularly found the "Black Panther" sequel's script to be frustrating because it didn't allow her character to express the level of grief that felt necessary.
Lupita Nyong'o wanted Nakia to express the same chaos as Shuri
During a "Black Panther: Wakanda Forever" press event attended by Looper, Lupita Nyong'o was asked to speak about how Nakia handles the passing of T'Challa. The Oscar winner candidly opened up about her character, and how she was initially frustrated with how Nakia's grief was displayed on page. "I remember in the beginning reading the script and being so envious of Letitia [Wright] because she gets to be chaotic," Nyong'o told a Looper reporter who was in attendance for the Los Angeles-based event. Details are ultimately slim on "Wakanda Forever" but marketing has all but confirmed that Wright's Shuri will be at the heart of the sequel.
Despite continuing on as a supporting player in the Marvel film, Nyong'o hoped that Nakia would reflect the same emotions she felt over Boseman's passing. "And that's how I felt. I felt raw and wanted to express it," she said. "Nakia, though, she is an example of someone who is further along in terms of her processing [grief.] And it's not like she has it all figured out." Audiences grew attached to Nakia, a member of Wakanda's intelligence service who believed that the country should help those around the world. She also served as T'Challa's lover, a figure who grounded the resident Black Panther during his early days as the King of Wakanda.
The film ended with the two finally coming together, paving the way for a more concrete romance. Unfortunately, Nakia and T'Challa's love was cut short. Remnants of their love still persisted, which helped inform Nyong'o on how to tackle her grief-stricken character.
Stepping into Nakia's shoes helped Lupita Nyong'o tackle her grief in a unique way
While Lupita Nyong'o was initially frustrated with Nakia's temperance in the "Wakanda Forever" script, she recounted how director Ryan Coogler originally described her character as an "oasis" for T'Challa. Remembering this, she was able to rationalize Coogler's approach to handling Nakia's grief. "And that really, really resonated with me and so when I was reading the script and thinking about where she is, I realized that what she was once to T'Challa, she now has the opportunity to offer to Shuri," Nyong'o shared. In a way, Shuri has gained an older, wiser sister in the form of Nakia, who in the actor's words, is further along in terms of processing grief.
"And it made a lot of sense in terms of the structure and architecture of the story, when we're talking about the exploration of grief, it's really grounding to have someone who is ... befriending of the change for the people in the story but also for audiences," the actor said. Each principal character in "Wakanda Forever" will be seen processing their grief in unique ways. Choosing to have Nakia grounded also speaks to the theme of change and stepping up to duties, a sentiment that was persistent in "Black Panther."
"Back then, she was T'Challa's love ... as much as I was frustrated with Ryan for doing that with Nakia, actually playing her was very therapeutic for me," Nyong'o said. Ultimately, stepping back into the role of the Wakandan and dealing with grief from a different angle helped Nyong'o grow all the more appreciative of her character. "I had to look beyond my frustrations with losing Chadwick and for her ... I learned from that, it's different — what she seems to possess," she explained.