Every Ryan Murphy TV Series Ranked Worst To Best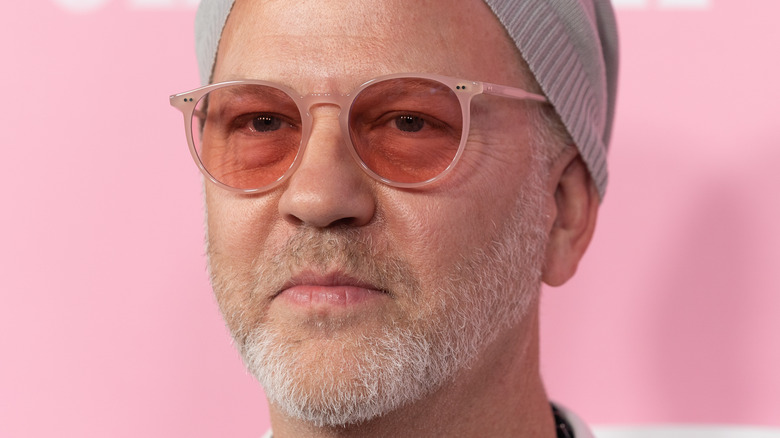 Ron Adar/Shutterstock
For over 20 years, the creative mind of Ryan Murphy has transformed the landscape of American television. Beginning in 1999 with the coming-of-age teen drama "Popular," Murphy tapped into a cultural desire to tell the stories of people audiences can relate to. He'd carry that mindset through shows like "Glee" and "9-1-1," while also making a name for himself in the horror genre with "American Horror Story" and "Scream Queens."
The universes that Murphy's built include familiar faces, as he often works with Evan Peters, Sarah Paulson, Jessica Lange, and Lea Michele, among many others. He's got a great rapport with his leads which, in turn, almost always leads to masterclass results. Murphy's steady work ethic, which includes iterations of two or three of his shows every year, keeps his imprint on television steadfast. In addition, his advocacy for the LGTBQ+ community and people of color has opened the door for marginalized creators and actors tenfold.
His credentials in 2022 are already bigger than those of any other year of his career so far, as "Dahmer — Monster: The Jeffrey Dahmer Story" is one of Netflix's biggest shows of all-time, an 11th season of "American Horror Story" premieres in fall of 2022, and his new Netflix miniseries "The Watcher" also arrives before the end of the year. Not every show he's produced has been a critical darling or cultural phenomenon, but Murphy's legacy in television has long been cemented. Here are all of his television series ranked from the unproven flops to the decade-defining dramas.
American Horror Stories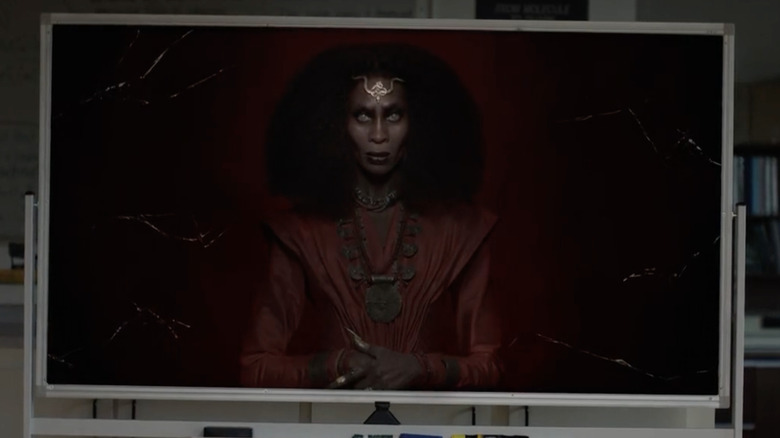 FX
As of its first year, "American Horror Stories" is Ryan Murphy's weakest episodic showing so far. It's a direct spinoff of his much better series, "American Horror Story." It's important that audiences don't conflate the two, given how "American Horror Story" is a rich, versatile series, while "American Horror Stories" is a weaker version of that. By taking the premise of each "American Horror Story" season changing and implementing that into a weekly anthology series, "American Horror Stories" loses the charm of a fully realized narrative with engrossing, memorable characters. There's no glue keeping the show's architecture together, and it suffers as a result.
One highlight of "American Horror Stories" arrives in the many returning cast members from "American Horror Story," including Matt Bomer, Naomi Grossman, Dylan McDermott, Max Greenfield and Jamie Brewer. Newcomers like Bella Thorne, Kevin McHale, and Paris Jackson are impressive additions, too.
The show wants to be a gorier "Twilight Zone," but it fails to register the necessary amounts of wonder and scares. By making every story restricted to a one-hour block every week, "American Horror Stories" tries to do as much as it can in each episode which, as a result, makes proper worldbuilding or character development difficult. Lucky for Murphy and company, more seasons are forthcoming and there's room to grow.
Scream Queens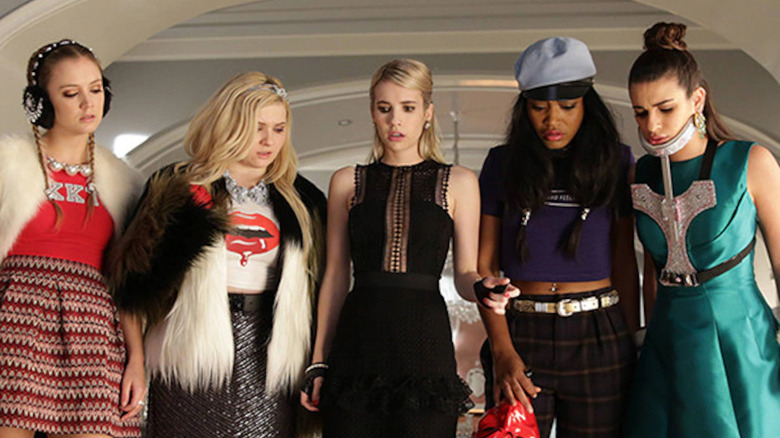 Fox
Relegated to just two seasons, "Scream Queens" had a lot of potential but was ultimately canceled in 2017. The premise is a riff on "The Slumber Party Massacre" slasher series from the 1980s, but with a contemporary flair. The tropes have long been exhausted in the horror genre, but when you throw in a leading cast of Emma Roberts, Skyler Samuels, Abigail Breslin, Keke Palmer, Ariana Grande, and Lea Michele, you can make almost anything memorable. "Scream Queens," however, doesn't rise to the challenge.
Season 1 of the show takes place at the fictional Wallace University and follows the institution's Kappa Kappa Tau sorority. The members are the targets of a serial killer who does his murders wearing the costume of Wallace's mascot, the Red Devil. Roberts does a great job anchoring the hilarious cast, but the show's scripts leave a lot to be desired. The episodes often arrive messy and lean too much on dark humor.
In the much better Season 2, the focus is pointed at Dr. Cathy Munsch, the former dean of Wallace played by Jamie Lee Curtis, who's left the university and opened her own hospital. With Curtis, the original scream queen, in the driver's seat, the story improved but not enough to keep it from being canned by Fox after just 23 episodes. Ryan Murphy has hinted at a possible return, but nothing has been confirmed yet.
Popular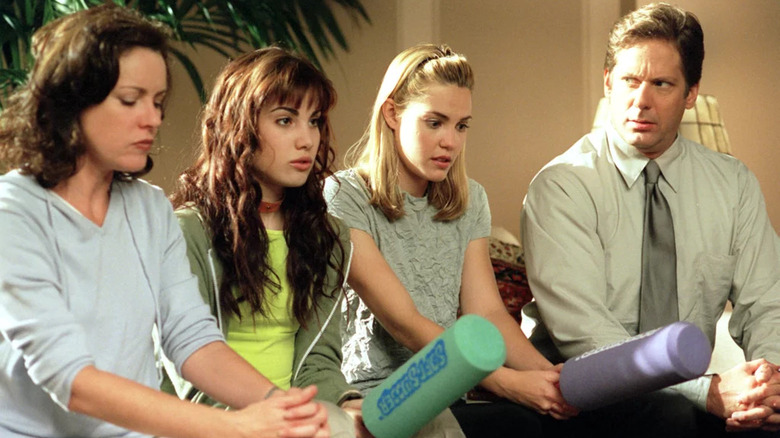 The WB
Ryan Murphy's first ever television show is a small-time teenage drama that premiered in 1999 on the currently defunct WB network. "Popular" was short-lived, lasting only two seasons before it ended, and often competed with its network sibling "Dawson's Creek." The latter, of course, endures as a touchstone in coming-of-age television history, while "Popular" remains an underappreciated but charming classic.
Merging soap-opera storytelling with the unrelenting truths of adolescence, "Popular" touches on issues like anorexia, sexual peer pressure, and the moral hurdles teens navigate as they grow into adults. What makes the show groundbreaking is how unashamed the writers were about tackling the unglamorous realities of high school. And with young actors Leslie Bibb, Tamara Mello, and Carly Pope at the helm, "Popular" is a winner more often than not.
"Entertainment Weekly" called the show a "proto-'Glee'" in its ranking of the best cult TV shows ever, and you can see its influence on shows like "One Tree Hill" as well. Though it's nowhere near Murphy's best production, "Popular" helped him establish the tropes and narratives he'd pursue at great length during the next 20 years.
Ratched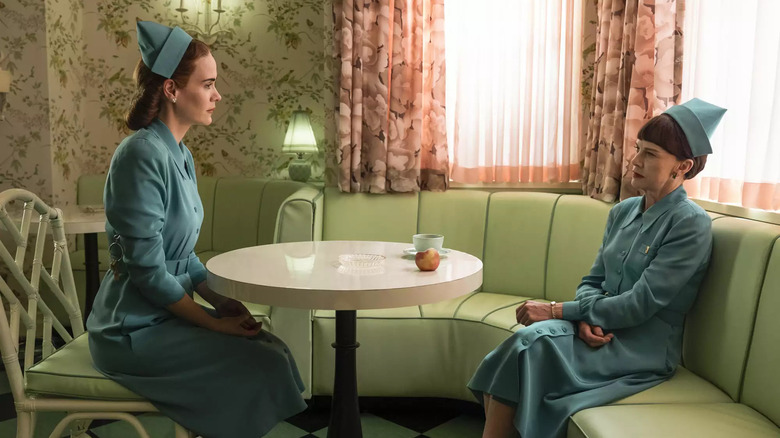 Netflix
Not every movie needs a spinoff series. That was absolutely the case for Milos Forman's beloved, critically acclaimed 1975 classic "One Flew Over the Cuckoo's Nest." The film's antagonist, Nurse Mildred Ratched, has been considered one of cinema's greatest villains. An origin story adds nothing to the character, though it does give Sarah Paulson an opportunity to flex her charismatic, scene-stealing talents, which is never a bad thing.
In the original adaptation of Ken Kesey's novel of the same name, the late Louise Fletcher won a best actress Academy Award for her portrayal. Paulson's performance in the spinoff does not, in any way, diminish the power and importance of Fletcher's. What bodes well for Ryan Murphy and "Ratched" is that both depictions can coexist in the ether of Hollywood, even if the Netflix series makes a few changes, such as setting the show in California as opposed to the movie's original location of Oregon.
"Ratched" is meant to tell the nurse's story before we meet her in "One Flew Over the Cuckoo's Nest." We see how she gains employment at a psychiatric hospital where new, unorthodox, experimental treatments are being tested on patients. We are supposed to gain empathy for a character we loathed 45 years ago. Like any origin story on a villain worth its salt, "Ratched" attempts to show how the monstrous Nurse Ratched was made, not born.
The Politician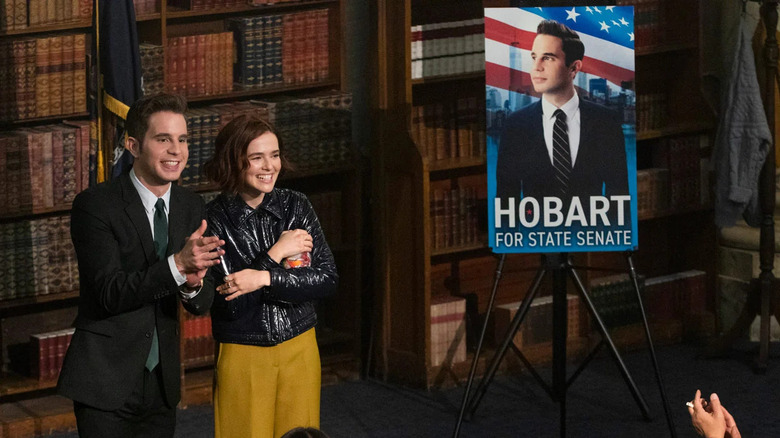 Netflix
In one of his lesser talked-about collaborations with Netflix, Ryan Murphy's "The Politician," which he co-created with Brad Falchuk and Ian Brennan, is a funny, clever satire about high school and local politics. The first season, especially, is great, as it strikes gold with a story about high schoolers running for the position of student body president. Though Season 2 jumps ahead a good number of years into the future when the protagonists are fully in college and now running for Congressional positions, "The Politician" initially sets out to comment on the culture of young people attempting to grapple with strife from the adult world.
Bolstered by a headstrong cast comprising of Ben Platt, Zoey Deutch, Jessica Lange, Laura Dreyfuss, and Theo Germaine, "The Politician" is earnest, funny, and sometimes uncomfortable. Why Hollywood keeps letting Platt, a 29-year-old who looks like he's pushing 40, play high school-aged characters appears to be an unanswerable question. But regardless, "The Politician" is carried by Deutch, one of the most underrated actors of the last 10 years. The show ended after only 15 episodes but remains one of Murphy's wittiest works.
Hollywood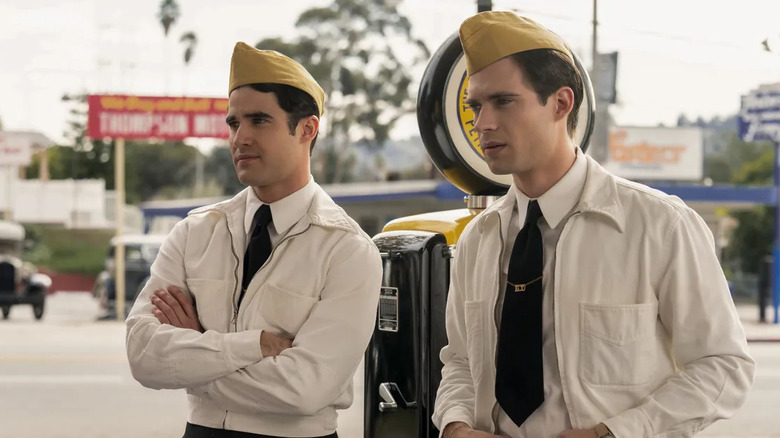 Netflix
The Netflix miniseries "Hollywood" garnered a lot of hype before its release in 2020. With frequent collaborator Ian Brennan, Ryan Murphy devised a homage to the Golden Age of Hollywood told like a Baz Luhrmann movie. It's brimming with color and heart, even if it's a flimsy romanticization of post-war America that doesn't quite match the reality of the era.
Murphy went all out with the "Hollywood" cast, bringing recurring actors from his other projects, like David Corenswet, Darren Criss, and Dylan McDermott, along with fresh faces Jeremy Pope and Laura Harrier. The premise is simple and familiar: a bunch of wannabe actors and filmmakers try to achieve the American Dream in Tinseltown. What's good about "Hollywood" is it actively works to dismantle the real-world truths about the film industry in the late 1940s, erasing the racism, homophobia, and misogyny that plagued cinema for years. It's not revisionist history as much as it is a breath of fresh air.
"Hollywood" received 12 Emmy nominations, winning two, and despite only running for seven episodes, left its mark on television. Released into a climate that looked onward for some kind of healing, "Hollywood" was the feel-good story we needed in the summer of 2020.
9-1-1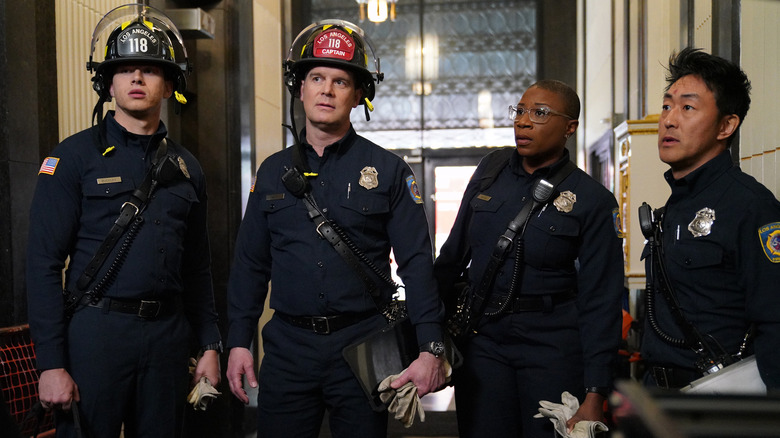 Fox
Ryan Murphy's most understated television program, "9-1-1" is a great procedural television show about Los Angeles' first responders. Starring the incomparable Angela Bassett and dramatic veteran Peter Krause, the show moves away from Murphy's typical oeuvre of teen dramas and psychological thrillers. It's a proper primetime television show, one akin to "Grey's Anatomy," "CSI," or "The Good Doctor," and it's good enough to warrant multiple seasons, takes its time building arcs out, and nurture character depth rather than expediting it.
With a focus on police officers, paramedics, firefighters, and dispatchers, "9-1-1" teeters on anthology but balances everyone's stories in an admirable way. Six seasons in, the show's potential feels bigger than ever. It's never short on action, is carried by one of cable television's strongest casts, and has a campiness to it that only a certain kind of showrunner can properly pull off. The disasters on the show, which range from tragedies to trauma, are emotional and well executed, as well. The series has ambition while already knowing what kind of show it's meant to be — a rare feat in an industry often diluted by overproduction.
Glee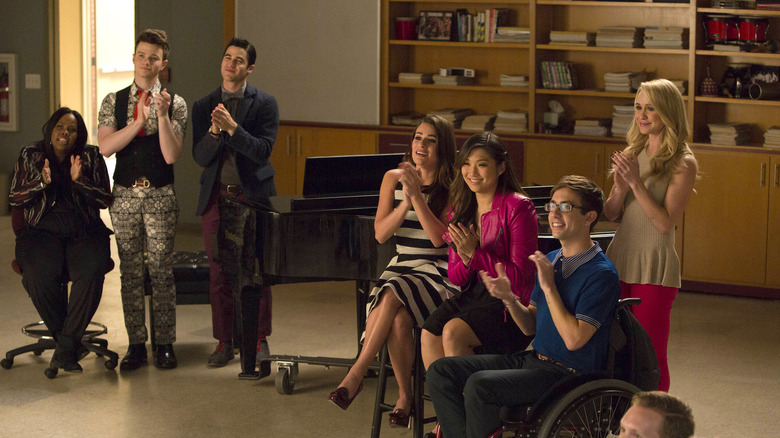 Fox
Ryan Murphy's most popular show is also his most controversial and groundbreaking. "Glee" was ahead of its time, though some of its subject matter would hopefully be handled much differently today. While the show became a major totem for the LGBTQ+ community, it isn't short of its own faults, which includes bouts of transphobia, fat-shaming, and ableism. Regardless, it's hard to avoid acknowledging how important of a production "Glee" was from the jump. Not afraid to tackle the tough issues, especially at the end of the 2000s when shows were looking away from social commentary, "Glee" broke the mold across its six seasons
A musical comedy focused on a high school show choir from Lima, Ohio, the singular world of "Glee" became an unlikely phenomenon. But it's the show's ensemble cast, headlined by Lea Michele, Jane Lynch, Cory Monteith, Chris Colfer, and Naya Rivera, that makes "Glee" feel just as important and powerful now as it did when it premiered.
That being said, "Glee" has two of the worst seasons ever of any of Murphy's shows. Seasons 4 and 5 are often lifeless and feature stale and annoying role players. Just when the narratives gain momentum, the writing focuses too much on Michele, who quickly became one of Murphy's most beloved stars. In the process, the power and talent of other cast members, like Amber Riley, Dianna Agron, and Chord Overstreet, wound up underutilized.
You might hate "Glee," or you might love it, but its importance and legacy in television history is undeniable, for better or worse. What it accomplished has not been replicated, nor attempted.
Nip/Tuck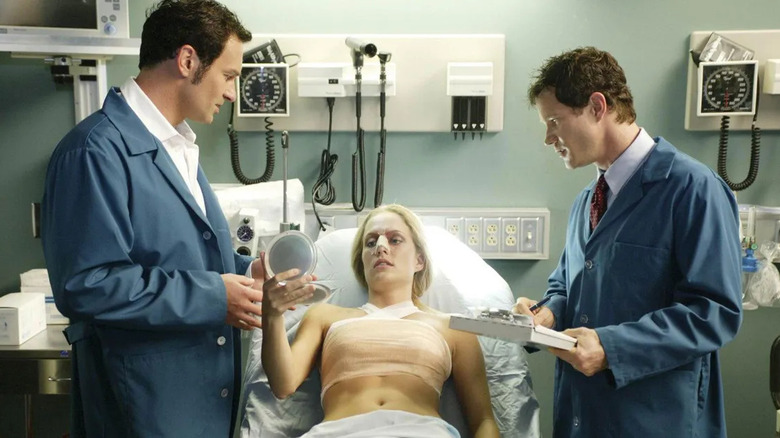 FX
"Nip/Tuck" is Ryan Murphy's first bona fide hit show. After enjoying its six-season, seven-year run, the prolific showrunner's legacy began to take firm shape. A hodgepodge of genres including crime, black comedy, satire, psychological thriller, and medical drama, "Nip/Tuck" took a unique idea and turned it into an entertainment goldmine.
Focusing on "McNamara/Troy," a new, state-of-the-art plastic surgery center, "Nip/Tuck" primarily centers on the professional and personal lives of its founders, Dr. Sean McNamara (Dylan Walsh) and Christian Troy (Julian McMahon), which often blur together. Reminiscent of the unabashed portrait of death in HBO's "Six Feet Under," "Nip/Tuck" episodes usually include graphic depictions of plastic surgeries.
While Walsh and McMahon were the heart and soul of the series, supporting actress Roma Maffia often stole the show in her role of Dr. Liz Cruz, an anesthesiologist who works at McNamara/Troy. "Nip/Tuck" was revolutionary in its day for how it broke away from the mold of most medical dramas by performing serialized storytelling and having some arcs last multiple seasons. By its conclusion in 2010, the series had garnered 45 award nominations and took home a Golden Globe and Emmy Award, cementing its deserved place in television history.
Dahmer — Monster: The Jeffrey Dahmer Story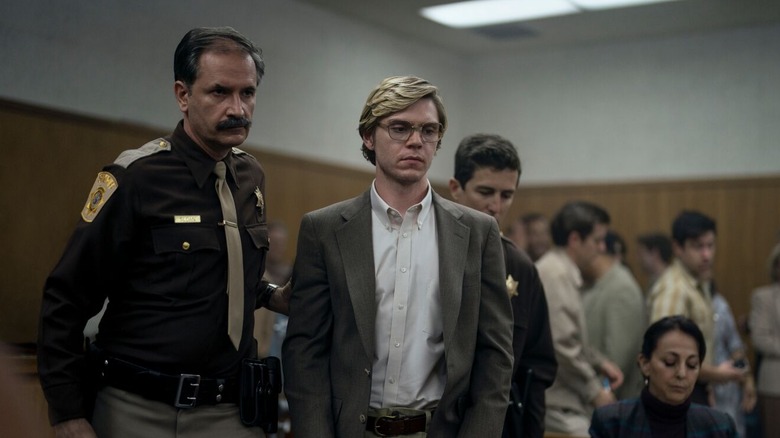 Netflix
Whether it was because of Ryan Murphy's storytelling talents, the commanding presence of leading man Evan Peters, or the sheer shock factor of making a television show about one of the most notorious serial killers ever, "Dahmer — Monster: The Jeffrey Dahmer Story" was a smash sensation as soon as it hit Netflix in September 2022.
Another team-up between Murphy and Ian Brennan, "Dahmer" focuses on the life of serial killer Jeffrey Dahmer. The series lends a good portion of its runtime to telling the stories of Dahmer's victims. It's an attempt to not romanticize the killer but lend empathy to the people he harmed, as they are often omitted from the core of narratives in serial killer depictions. Though "Dahmer" earns career-defining performances from a supporting cast of Richard Jenkins, Molly Ringwald, and Michael Learned, the triumph of the show comes from Niecy Nash who plays Dahmer's neighbor, Glenda Cleveland.
Peters brings an unforgivable and undeniable menace into the fold and leaves very little room, if any, for an audience to muster up any kind of sympathy for Dahmer. Some of the men who play Dahmer's victims, like Shaun J. Brown and Rodney Burford, provide award-worthy performances of men who had so much left to give to the world. There's a certain kind of grace that comes with playing a character who is no longer with us, and how these actors choose to honor them cannot be overlooked.
There are questions surrounding the ethics of the show's creation, especially Netflix's decision to not ask Dahmer's victims' families for permission to tell their stories. It's a moral misfire that has cast a dark, unredeemable shadow over the limited series and brings up the question of ethics in filmmaking. But, even so, in only its third week on the streaming service it has already become the second most popular Netflix series of all-time, behind only "Stranger Things 4." It's hard to not acknowledge such an impressive feat accomplished in so few days.
American Horror Story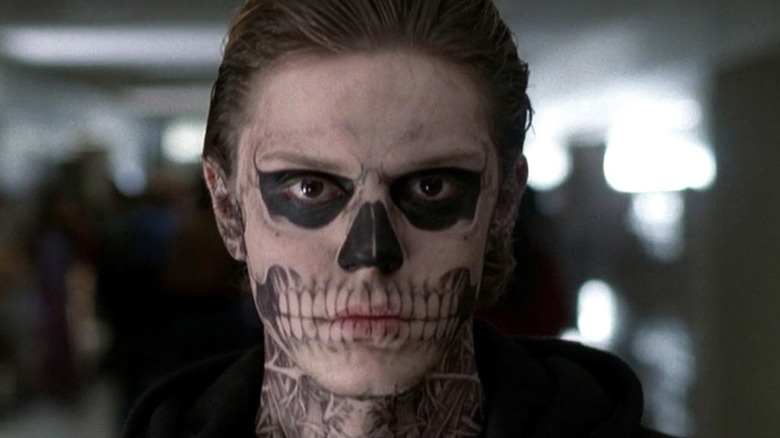 FX
Now entering its 11th season on FX, "American Horror Story" is the show that is the most immediately associated with Ryan Murphy. Once a campy, thrilling anthology of episodes, the series has transformed into its own franchise and a cable TV horror mecca. With an ensemble cast that consistently delivers powerful, haunting performances and a well of inspiration that never seems to run dry, "American Horror Story" is one of television's strongest examples of a show that can constantly reinvent itself yet hold a lasting creative versatility in the process.
Unlike its recent spinoff "American Horror Stories," each chapter of the anthology is told over the course of a nine- to 13-episode season. Since its inception in 2011, the show has taken up numerous subtitles: "Murder House," "Asylum," "Coven," "Freak Show," "Hotel," "Roanoke," "Cult," "Apocalypse," "1984," "Double Feature," and soon, "NYC." Cast members Evan Peters, Sarah Paulson, and Lily Rabe have each appeared in nine of the first 10 seasons, while Frances Conroy has appeared in eight and Denis O'Hare in seven. The use of recurring actors lends a sense of foundational continuity to the diverse landscape of subject matter the show tackles.
Each season has fared particularly well on Rotten Tomatoes, with the exception of "Hotel," which clocked in at 64% critics' score. "American Horror Story" has proved an important show for LGBTQ+ representation as well, giving queer performers and creators a voice and holding cultural conversations that are both in tune with the theme of each season as well as the overall landscape of the world at-large.
Feud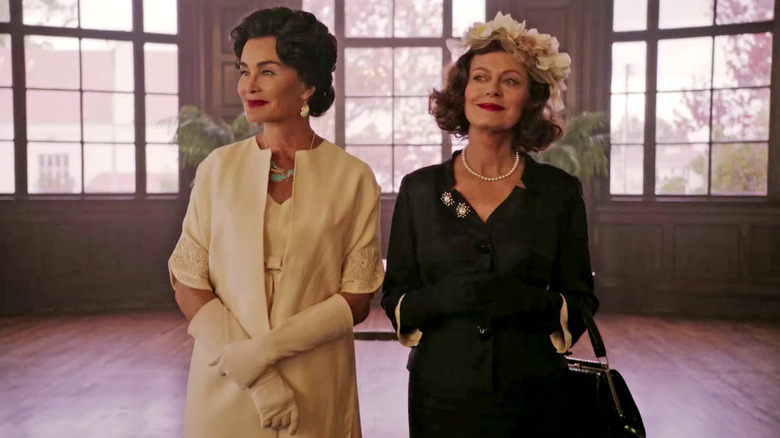 FX
In another anthology series from Ryan Murphy, the docudrama "Feud," he reenacts famous celebrity rivalries on the small screen. With only one season under its belt so far, "Feud" is already one of Murphy's greatest creations to date. It was initially conceived as an anthology series that tackles publicized and unknown rivalries in popular culture.
Season 1, subtitled "Bette and Joan," focuses on the well-documented beef between acting legends Bette Davis and Joan Crawford, two of Hollywood's greatest all-time stars, played by Susan Sarandon and Jessica Lange, respectively. "Feud" focuses on the strife between the two actresses during and after the production of "What Ever Happened to Baby Jane?" "Feud" racked up 18 Emmy nominations.
In career-highlight performances from both Lange and Sarandon, "Feud" quickly established itself as top-tier television that can only get better with future installments. It being one of Murphy's strongest productions after only eight episodes only proves that he is still in the prime of his career. A second season is on the way, called "Capote's Women," which will focus on the fallout of a story written by Truman Capote detailing the lives of New York socialites. Jon Robin Baitz will serve as showrunner, Gus Van Sant will direct, and Naomi Watts is slated to head the cast.
American Crime Story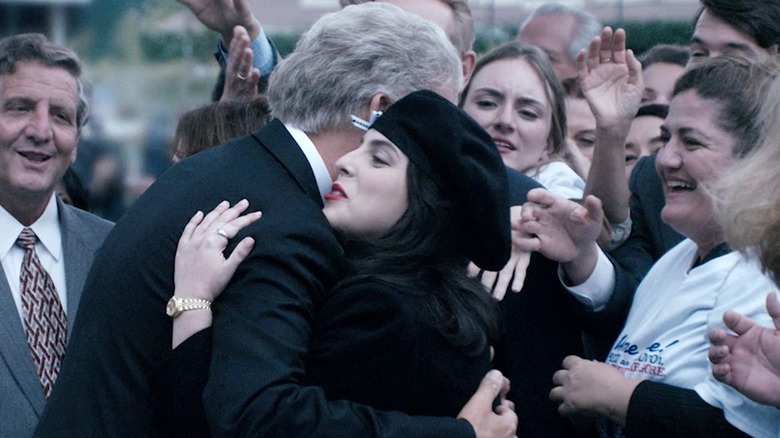 FX
Ryan Murphy's greatest anthology series is "American Crime Story," which tackles some of the most publicized criminal cases of the last 30 years. Each season is performed like a singular miniseries and allows the writers to world-build, sharpen character depth, and give every important detail its day in the sun.
With three seasons finished and another on the way, "American Crime Story" has depicted the murder trial of O.J. Simpson, the murder of designer Gianni Versace by Andrew Cunanan, and the impeachment of Bill Clinton following the Lewinsky scandal. The next installment will focus on the rise and fall of Steve Rubell and Ian Schrager, owners of the mythic Studio 54 nightclub.
In a cultural moment where true crime obsessions are surging, "American Crime Story" has delivered endless thrills to its audiences and each season has featured terrific ensemble casts with award-winning actors. Players like Sterling K. Brown, Cuba Gooding Jr., Darren Criss, Beanie Feldstein, Edie Falco, and Sarah Paulson have brought life and dynamic energy to the characters they've portrayed, chipping away at the complexities of the real-life figures. The pool of inspiration is endless, so as long as Murphy can hang around and keep churning out seasons, the ceiling of "American Crime Story" is nowhere in sight.
Pose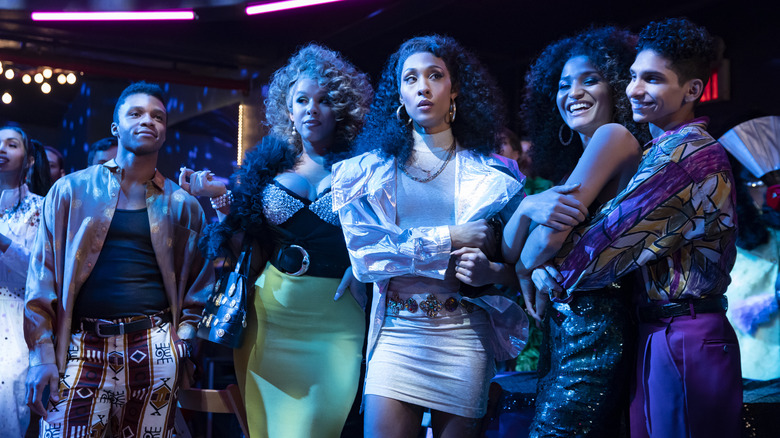 FX
The title of Ryan Murphy's greatest production, however, belongs to "Pose," his FX drama about New York City's ballroom culture, a central subculture in Black and Latino LGBTQ+ communities throughout the 1980s and 1990s. The characters, most of whom are dancers and models, spend the series competing for admiration and recognition within the underground ballroom scene. It was a miraculous, beautifully told story about friendship, love, and mutual aid in communities that were so often overlooked and left behind during the AIDS crisis.
"Pose" also holds the greatest ensemble of any Murphy production, featuring Evan Peters, James Van Der Beek, Billy Porter, Dominique Jackson, Indya Moore, Michaela Jae Rodriguez, and Kate Mara. Rodriguez would become the first trans woman to ever garner an outstanding lead actress in a drama series Emmy nomination, and Porter would become the first openly gay Black man to be nominated for and win an outstanding lead actor in a drama series Emmy.
After three seasons on television, "Pose" concluded with numerous accolades and an affectionate amount of critical acclaim. The show perfectly blends periodic settings with queer storytelling and soap opera-style melodrama. "Pose" never feels nostalgic or too far ingrained in relics of the past. Rather, it's an homage and celebration of the compassion and hope within the loving arms of a close-knit community. Murphy never made anything as daring or compelling before "Pose," nor has he made anything as urgent, important, and beautiful since.