The Untold Truth Of 9-1-1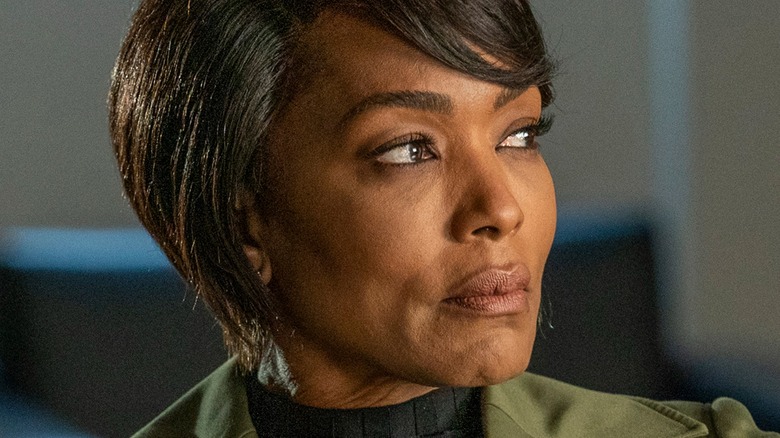 Fox
"9-1-1," one of television's most gripping procedural dramas, has captivated viewers with high-intensity rescues that are complimented by rich, detailed character development. The series was developed by an experienced team of industry veterans led by creator Ryan Murphy who effectively depict the terrifying reality of some of the most dangerous situations emergency responders encounter. The singular formula of "9-1-1" blends your everyday family drama with suspenseful 9-1-1 calls that often yield unpredictable results. 
From disastrous tidal waves to hot air balloons gone astray, "9-1-1" has featured several unbelievable scenarios that are, thankfully, often once-in-a-lifetime unlucky mishaps. The series is able to maintain a refreshing sense of reality by carefully leading up to the catastrophe through authentic sources of disaster. This creates an almost unbearable weight of suspense before the victims finally reach the breaking point that calls in the Station 118 rescue force. 
For more than five years and as many seasons, "9-1-1" has been an unmissable television event. The outlandish accidents victims land themselves in often feel like they're pulled from the world of "1000 Ways To Die" or even the deadly "Final Destination" film franchise. However, the series holds many surprising details that demonstrate that truth is often far stranger than fiction. 
The series was developed by the team behind Glee and American Horror Story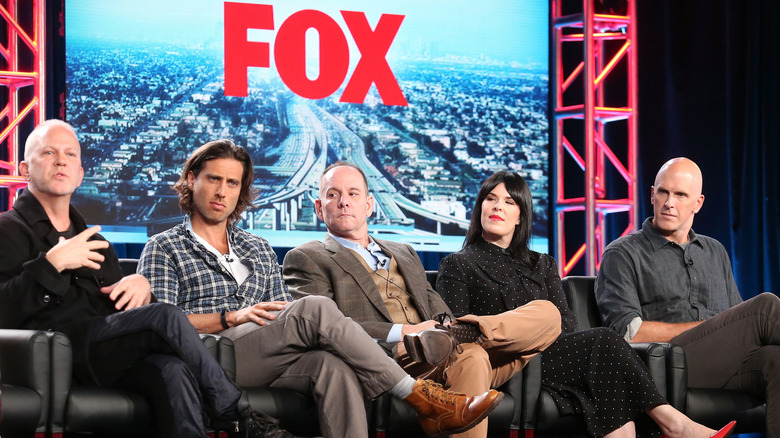 Frederick M. Brown/Getty Images
It should be no surprise that "9-1-1" was a massive hit on Fox, especially considering the outstanding talent behind the camera. The series was developed by "Glee" and "American Horror Story" team Ryan Murphy, Brad Falchuk, Tim Minear, Alexis Martin Woodall, and Bradley Buecker. These proven Hollywood veterans have once again brought their considerable skills and combined experience together to deliver an unforgettable drama in each episode.
Murphy and Falchuk's creative team elevate what could've been another forgettable and fast-paced copycat procedural drama. They instead take the best parts of their previous hit series and mold them into an edge-of-your-couch weekly adventure with relatable characters. The social commentary featured in their famous anthology series "American Horror Story" works wonders when combined with a key element from another of their past successes, the biting humor of "Glee." Adding in some horrifying surgical sequences rivaling anything seen on "Nip/Tuck" creates a scary layer of authenticity. 
This award-winning creative team is often in tune with what its audience wants to see while seamlessly incorporating diversity and inclusion. This goes beyond casting and is intentionally included in the deeply invested "9-1-1" storylines featured in the series. "9-1-1" also marks Murphy's return to Fox since the network canceled the horror comedy "Scream Queens" starring "American Horror Story" alumni Emma Roberts. 
AHS alums Angela Bassett and Connie Britton were first to join the cast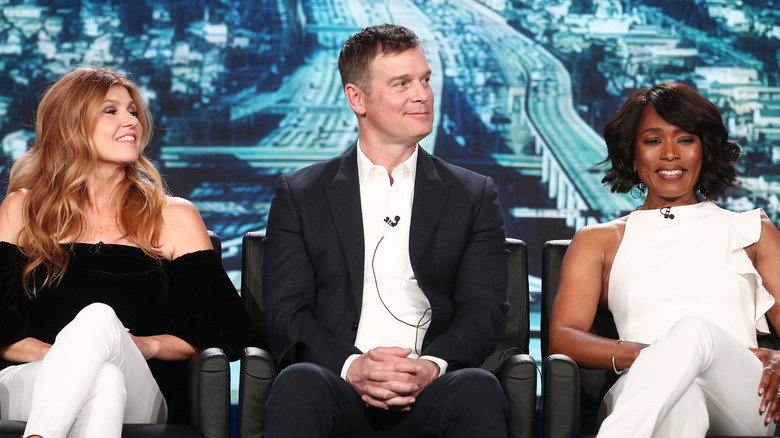 Frederick M. Brown/Getty Images
The tremendous talent behind the camera is also reflected on screen in the actors who portray the powerful characters of "9-1-1." Right off the bat, the series recruited "American Horror Story" stars Connie Britton and Angela Bassett to star in lead roles that helped to quickly draw in a unique and devoted fan base on top of intrigued new viewers. According to Deadline, the two were among the very first cast members added to the show, boosting early confidence in the Fox series, especially considering Murphy's impressive track record.
Peter Krause was also an early recruit to play the role of firefighter Bobby Nash. The star of series such as "Parenthood" and "Six Feet Under" brings his strong acting chops to this family drama, where Nash's tragic and inescapable past is uncovered as he leads the Station 118 crew. The strong relationships Murphy has forged in his career helps raise the series to new heights by allowing actors to be vulnerable and give their absolute best performances. This leads to heartbreaking moments onscreen and some tragic deaths, all of which are portrayed expertly by the talented cast.
9-1-1 often portrays real events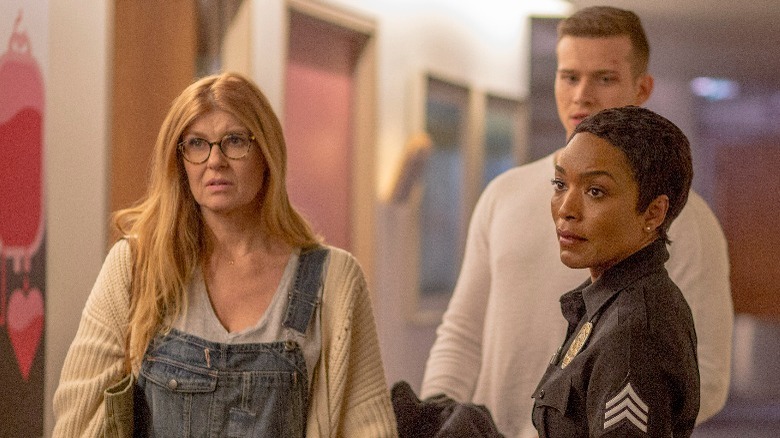 Fox
Part of what makes "9-1-1" so riveting are the intense rescue missions that manage to narrowly save the lives of many civilians around the Los Angele area. The shocking truth behind some of those events is that many of those calls have actually happened. In fact, as reported by Variety, the origins of "9-1-1" come from a scary incident where series creator Ryan Murphy had to call paramedics himself. 
The situation was a parent's worst nightmare — Murphy's 11-month-old son Ford stopped breathing in the middle of the night. "We called 9-1-1, and obviously we were in a panic and doing CPR, and they showed up, and at two in the morning there were four responders. They were incredibly calm and nurturing, and they brought him back to life." The responder's calm demeanor is critical to ease the worries of those in peril and is authentically replicated in the series.
The infamous storyline about a newborn baby stuck in a drainpipe was unfortunately also inspired by true events. CNN reported on the actual incident in 2013, and producer Alexis Martin Woodall recalled shooting the scene with Bustle in 2018 while remembering the real-life events. "There's some crazy stuff that goes on in our world and first responders have a very different life than we have." Woodall explained that co-creator Brad Falchuk was "obsessed with it for years" after he heard about the strange story, which ended up appearing in the shocking pilot episode.
Season 1 was renewed after only 2 episodes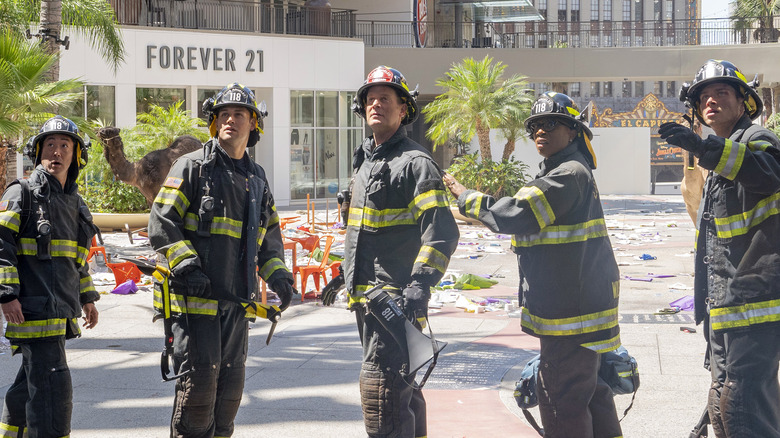 Jack Zeman/Fox
Season 1 of "9-1-1" premiered to an astounding number of viewers who tuned to watch the daring rescues pulled off by Station 118. According to TV Line, Episode 1 captured 6.8 million audience members and grew to 15 million with the inclusion of viewers who watched the episode on DVR and other platforms. This stunning achievement prompted a quick and easy Season 2 renewal, with Fox co-CEOs Dana Walden and Gary Newman applauding the series and the exceptional team behind it. "They have tapped into the cultural zeitgeist and reimagined the procedural as only they could, bringing it to life with a dream team of actors led by Angela, Peter and Connie." 
Their unique approach to the genre attracted a universal audience of fans looking for a bold take on a cherished form. In an oversaturated market, "9-1-1" distinguishes itself and the show has been rightfully rewarded for its attention to crafting exceptional, focused programming over multiple seasons. The harrowing depictions of disaster remind us to hold our loved ones a little closer, especially during the heartwarming family scenes with Bassett and Krause. 
Season 1 had over 10 million viewers, outperforming a legendary series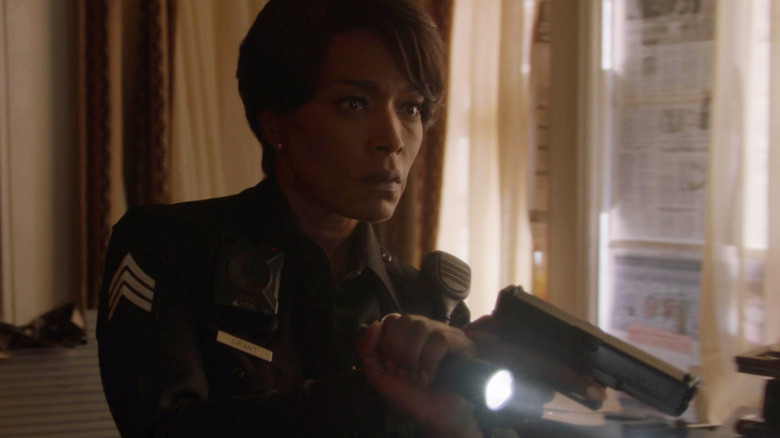 Fox
"9-1-1" has been a slam dunk for Fox and has helped the network attract a growing number of adrenaline junkies over the time that the series has been on the air. After a strong premiere, fans were hooked on Station 118's charm and inspiring dedication to rescuing innocent civilians across Los Angeles. Unsurprisingly, the cast and crew's tireless efforts to produce high-quality television have paid off and the show has developed a devoted fanbase that reliably tunes in week after week.
According to Deadline, the first season acquired a whopping 10.7 million viewers for the 2017 to 2018 season. These impressive numbers closely follow the juggernaut procedural series "Grey's Anatomy," which earned 10.8 million. The astonishing difference between these two is that "Grey's Anatomy" was currently airing Season 14 of the series, while "9-1-1" was able to achieve those stellar numbers during Season 1.
Data provided by The Hollywood Reporter for the 2019 to 2020 season placed "9-1-1" above "Grey's Anatomy" as the latter experienced a 7.2% drop in viewers while "9-1-1" remained strong with 10.4 million. This led the series to rank 15th in the television season ratings, whereas "Grey's Anatomy" made it to the 22nd place position. The success of Season 3, which kicked off with  a monstrous tidal wave hitting the Santa Monica Pier, led to "9-1-1" gaining a 3.5% increase in viewership over Season 2.
Connie Britton left 9-1-1 after Season 1
In a surprising turn of events, "9-1-1" star Connie Britton left the series after just one exhilarating season. Britton was the first to depart as her character Abby broke up with firefighter Buck (Oliver Stark) and left Los Angeles for some deep soul searching. She would soon be replaced by Jennifer Love Hewitt, who stepped to play Buck's sister Maddie and become the newest 9-1-1 call operator. While the shock of Britton's sudden exit may have disappointed some fans, the crew behind "9-1-1" knew ahead of time that Britton would be exiting.
Fox co-chairman Gary Newman shines some light on this at TV Line, where he revealed that this was the plan all along. "We love Connie Britton, [but] it was always envisioned to be a one-year role." He continues with a touch of optimism, ultimately leaving the future of Britton's return to the show in creator Ryan Murphy's very capable hands.
Murphy himself teased her return to TV Line, which came to fruition in Season 3's dramatic penultimate episode. "We're in the process of renegotiating her deal so she can come in and do a couple of episodes to keep her character alive." Britton's guest starring role in Season 3 was a joyous occasion for fans after the episode's tragic train derailment accident. The finale seemingly ended her storyline in "9-1-1" but managed to provide satisfying closure for Buck and Abby's relationship.
Season 2 is 100% fresh on Rotten Tomatoes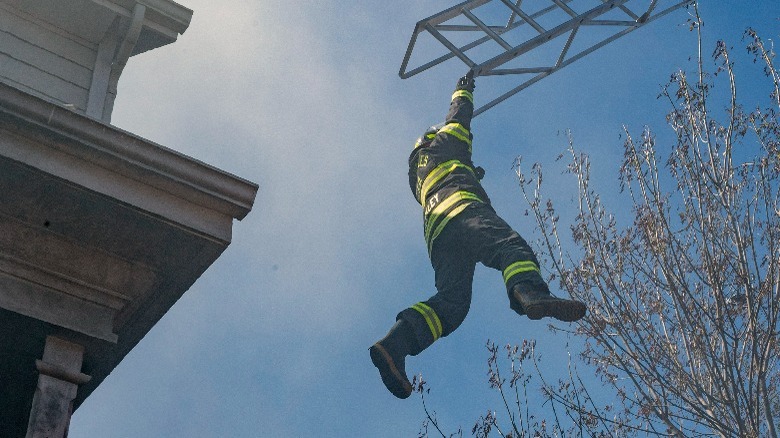 Fox
After an extremely impressive Season 1 boasting both originality and high viewership numbers, Season 2 followed suit exceeding even critical expectations. The thrilling follow-up scored a perfect 100% on Rotten Tomatoes. Season 2 also included distressing disasters like explosions, violent attacks, and a monumental earthquake that were all heavily advertised ahead of the show's highly anticipated return.  
It's extremely rare for lightning to strike twice, but creator Ryan Murphy seems to have magic on his hands with "9-1-1," even after a highly successful first season. The audience score for Season 2 did dip a little, with only 87% on Rotten Tomatoes, although this is still a highly respectable grade. The subsequent seasons would all remain fresh by Rotten Tomatoes standards through Season 5 and possibly even beyond. This trend also indicates the faith that television networks such as Fox and FX have in Murphy, as his hit FX horror anthology series "American Horror Story" was impressively renewed for three new seasons at once (via The Hollywood Reporter). 
Rockmond Dunbar left the series during Season 5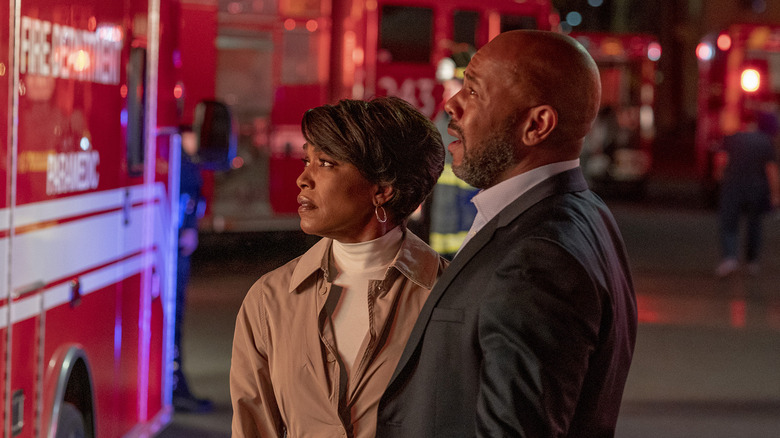 Jack Zeman/Fox
Rockmond Dunbar was a strong foundational figure on "9-1-1" in the earliest days. His portrayal of Michael Grant was heartfelt and sincere as he supported Athena while navigating his sexuality after he comes out as gay in Season 1. Despite the support the pair shows for one another, they decide to separate from one another to find their own paths to happiness. Michael soon meets a medical surgeon named David who, in Season 5, proposed to Michael after a near-death experience during a hospital fire. 
Michael leaves Los Angeles to be with David while helping those in need when disaster strikes Haiti. This departure also intentionally wrote Michael out of the show as Rockmond Dunbar was fired from "9-1-1" for not complying with COVID-19 vaccine mandates, as reported by Deadline. Dunbar cited medical and religious reasons for not being vaccinated and even took measures to sue both Disney and Fox for their actions against him (via Variety). 
Arielle Kebbel is here to stay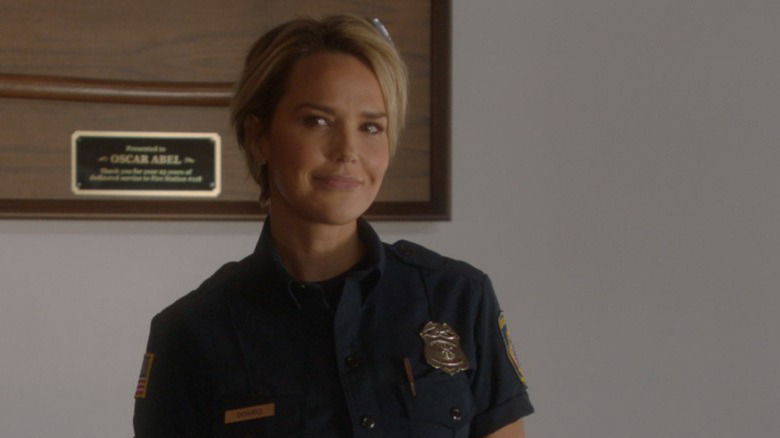 Fox
While some characters abruptly left the series during the tumultuous Season 5, some came to stay — including the bold firefighter Lucy Donato played by Arielle Kebbel. Donato comes from Station 147, the notoriously cocky rivals of Station 118. Her presence causes some tension among the crew — in particular Buck, who she begins having a romantic relationship with. 
Deadline confirms Kebbel is here to stay on "9-1-1" as a new audacious firefighter in a regular role. Donato makes her memorable entry by saving a falling woman from a building by catching her out of an open window in Season 5. She then shockingly shares an intimate kiss with Buck, surprising both themselves and the audience.
Kebbel's addition follows the sudden exit of Rockmond Dunbar, bringing new and refreshing energy to the series. Her wise-cracking nature also provides "9-1-1" with some much-needed levity following city-wide catastrophes and an abundance of relationship drama. After a messy breakup with his journalist girlfriend, Taylor Kelly (Megan West), Buck is desperately in need of a new love interest who may be closer than he thinks. 
9-1-1 was presented the ReFrame Stamp from 2020 to 2022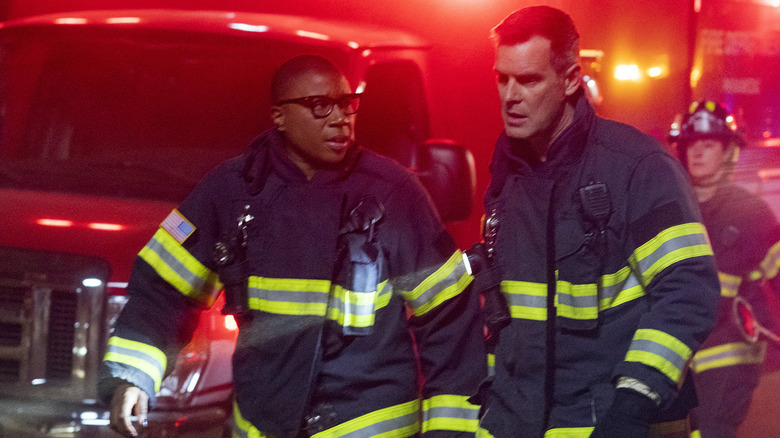 Fox
Deadline celebrates the extremely exciting news that "9-1-1" is one of the honorable recipients of the ReFrame Stamp for gender-balanced hiring. Though Deadline reports that the number of shows receiving this esteemed recognition has, unfortunately, experienced a slight decline, "9-1-1" is among an exceptional class of programs. The award is given to productions that earnestly hire women or other underrepresented individuals in at least half of their main positions. This includes writing, directing, acting, and production, with more recognition going to the shows which strive to hire women of color and exceed ReFrame expectations. 
Deadline also outlines the organization's Company Report Cards, which rate streamers, networks, and studios by the ReFrame Stamp's standards. While there are some signs of progress in the industry, an overwhelming number of statistics remain the same, with white men occupying most of the positions. However, the data collected by the Company Report Cards still offer hope, with rising percentages of women and people of color being hired. This better reflects the world we live in — which in turn helps "9-1-1" tell stories that are based in reality. Other well-deserved recipients like Ryan Murphy's "Impeachment: American Crime Story," HBO Max's "Hacks," and the network comedy break-out "Abbott Elementary."
The series received an abundance of other awards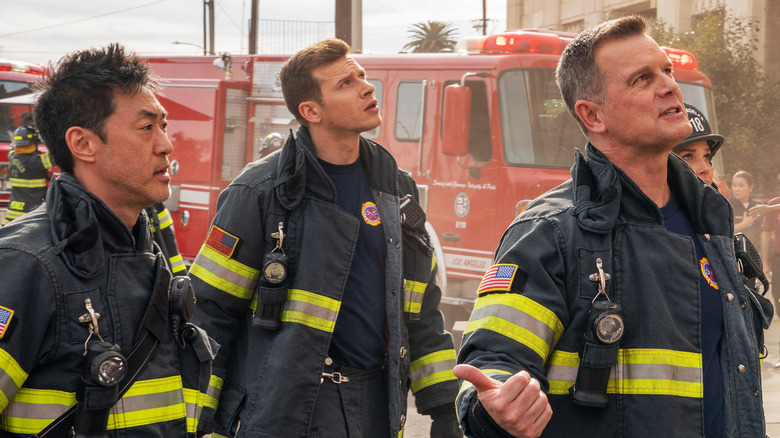 Jack Zeman/Fox
The resounding reception of "9-1-1" has helped the series earn several awards beyond the ReFrame Stamp for gender-balanced hiring. In 2021, the series was the recipient of the Ruderman Family Foundation Seal of Authentic Representation which recognizes well-developed characters with disabilities (via Variety). Composer Mac Quayle snagged three subsequent awards for scoring the rousing "9-1-1" soundtrack from the Broadcast Music, Inc (BMI) Film & TV Awards in 2018, 2019, and 2020. Quayle is also a frequent Ryan Murphy collaborator who worked on previous projects like "American Horror Story," "Scream Queens," "Feud," and "Ratched."
In 2018, the "9-1-1" crew was awarded the California on Location Award (COLA) as location team of the year. After all, the series showcases Los Angeles' sunny palm tree filled city alongside its gorgeous coastlines in between the catastrophic emergencies at the center of the action. Lead star Angela Bassett also won the 2019 best performance award from the African American Film Critic's Association (AAFCA) for her powerful and heroic role as police sergeant Athena Grant (via Deadline).
9-1-1 inspired a Texan spin-off subtitled Lone Star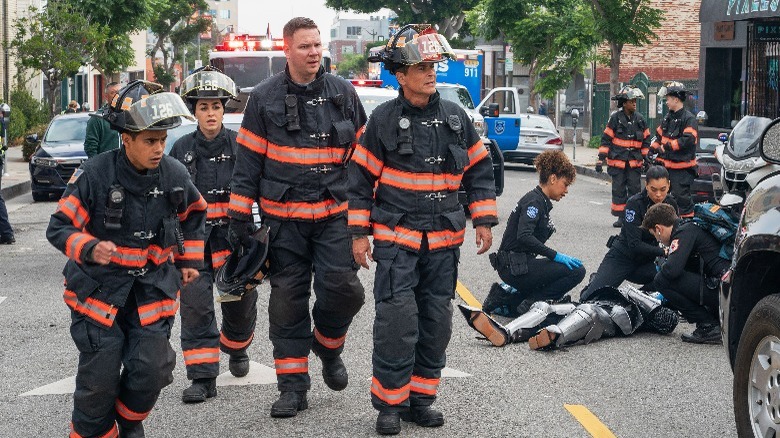 Fox
The undeniable success of "9-1-1" inevitably led to a spin-off series starring Rob Lowe. The Hollywood Reporter reveals that the new show was ordered straight to series, a clear display of the confidence that the Fox network has in Murphy's procedural formula. The spin-off shakes up the original recipe of "9-1-1" with a Texan flare and is titled "9-1-1: Lone Star."
"9-1-1: Lone Star" would break even more ground than its predecessor by featuring transgender actor Brian Michael Smith in a recurring role (via The Hollywood Reporter). The new series follows in the progressive footsteps of the original — often with hilarious results in a more conservative landscape. This successful spin-off also celebrates subsequent season renewals with over four seasons of heart-stopping episodes including volcanic eruptions, man-eating trash compactors, and heated road rage incidents.
The continued success of "9-1-1" and "9-1-1: Lone Star" promises fans plenty of high-stakes rescues, searing drama, and detailed character development in the franchise's future.