Whatever Happened To The Cast Of Stuart Little?
Based on the classic novel by E.B. White, 1999's "Stuart Little" was brought to life by director Rob Minkoff and co-writers Greg Brooker and M. Night Shyamalan (you read that right) and a wonderfully talented cast and crew. The film was a major hit, grossing over $300 million worldwide, earning an Academy Award nomination for Best Visual Effects, and spawning two sequels and a television series.
This '90s staple is the heartwarming story of a mouse adopted by the incredibly charming Little family. The film is full of hilarious fun, madcap antics and dangerous cats, as well as a toy car that every child wished they were small enough to drive.
Populating this fantastical world is a truly amazing cast full of familiar faces you are sure to have seen somewhere before or since — and an equally stellar voice cast for the animals. Here's what happened to the absolutely star-studded cast of "Stuart Little."
Michael J. Fox (Stuart Little)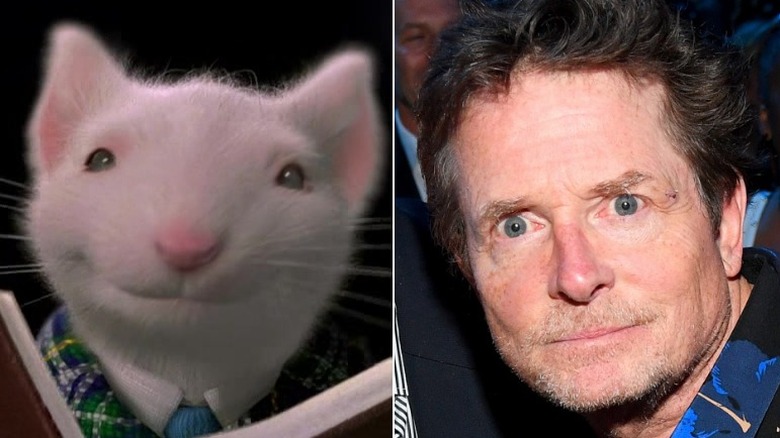 Sony Pictures Releasing & Kevin Mazur/Getty
The titular character of 1999's "Stuart Little" is a small white mouse with a big heart. Adopted by the Little family, Stuart initially struggles to fit in with his new brother George (Jonathan Lipnicki) and is constantly eyed by their pet cat, Snowbell (Nathan Lane). But with perseverance and courage, Stuart manages to stand up tall to all of his challenges.
Michael J. Fox is probably best known for his Emmy-winning role as Alex Keaton in the 1982 sitcom "Family Ties," his Golden Globe-winning role as Michael Flaherty in the 1996 sitcom "Spin City," or his career-defining role as Marty McFly in the classic "Back to the Future" series, as well as lead performances in films like "Teen Wolf," "The Secret of My Success," "The Frighteners" and "Mars Attacks!"
After Fox's diagnosis with Parkinson's disease, he mostly focused on voice acting roles like Chance the dog in the "Homeward Bound" series and Milo Thatch in the Disney film "Atlantis: The Lost Empire." He also made memorable appearances on television shows like "Scrubs," "Boston Legal," "Rescue Me," and "The Good Wife," while also briefly headlining the 2013 sitcom "The Michael J. Fox Show." After recurring roles in "Designated Survivor" and "The Good Fight," Fox officially retired from acting in 2020 to focus on his health, though still makes occasional cameos in documentaries and animated shorts.
Geena Davis (Eleanor Little)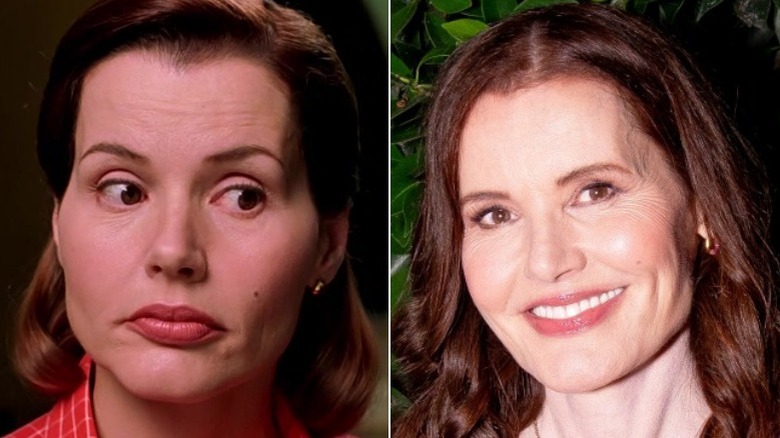 Sony Pictures Releasing & Kelly Lee Barrett/Getty
Eleanor Little and her husband, Frederick (Hugh Laurie), decide to adopt a brother for their son George. The delightful couple is initially overwhelmed at the orphanage, but when they meet the little mouse named Stuart, they are instantly smitten by his charming personality and their decision is soon made.
Stuart Little's new mother is played by the accomplished actress Geena Davis. Starting her career with small roles in 1982's "Tootsie" and 1985's "Fletch," Davis quickly rose to prominence with featured performances in 1986's "The Fly" and 1988's "Beetlejuice." She went on to win an Oscar for portraying Muriel Pritchett in 1988's "The Accidental Tourist" and was nominated for another Oscar for playing Thelma in 1991's "Thelma & Louise." More popular films followed including "A League of Their Own," "The Long Kiss Goodnight," "Marjorie Prime," and the 2020 Jessica Chastain action film "Ava."
On television, Davis played the first female president, Mackenzie Allen, in 2005's "Commander in Chief," Dr. Nicole Herman in "Grey's Anatomy," and former showgirl Sandy Devereaux St. Clair in the 2019 Netflix original "GLOW." Also in 2019, Davis voiced Huntara in the popular Netflix family show "She-Ra and the Princesses of Power," which falls in line with the Geena Davis Institute on Gender in Media she began in 2007 to increase female characters in children's shows and which later won her an honorary humanitarian Oscar in 2019.
Hugh Laurie (Frederick Little)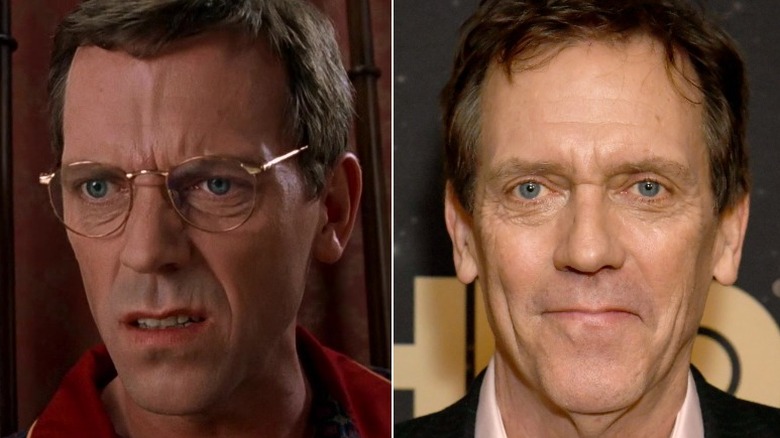 Sony Pictures Releasing & Jeff Kravitz/Getty
Frederick Little is a great husband to his wife, Eleanor, and a wonderful father to his son George and their newly adopted mouse child, Stuart. He is always there to listen to his family's problems and to offer his help and advice whenever he can.
Hugh Laurie began his acting career doing sketch comedy. This soon led to roles alongside his writing partner Stephen Fry in the comedic British television series "Blackadder," "A Bit of Fry & Laurie," and "Jeeves and Wooster." Laurie went on to land feature film roles in "Peter's Friends," "Sense and Sensibility," and "The Man in the Iron Mask," while also appearing in family fare like "101 Dalmatians," "Spice World," and "The Borrowers" before landing the role of Frederick Little in "Stuart Little."
In 2004, he adopted an American accent to portray Dr. Gregory House in the hit medical drama "House," a role which earned him seven Emmy nominations and two Golden Globe wins. Laurie gained another Emmy nomination and a Golden Globe win for his role in the acclaimed miniseries "The Night Manager" and yet another Emmy nomination for his role in the HBO comedy "Veep." Most recently, he can be seen in the television series "Avenue 5," "Roadkill," and "Why Didn't They Ask Evans?" as well as the feature films "Tomorrowland," "The Personal History of David Copperfield," and "The Amazing Maurice."
Jonathan Lipnicki (George Little)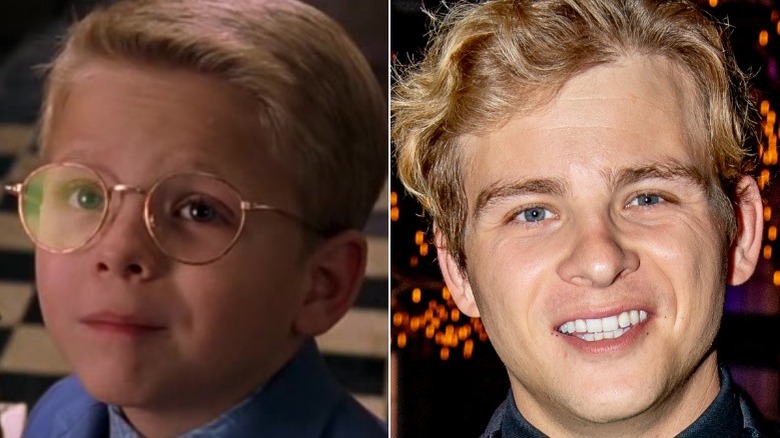 Sony Pictures Releasing & Roy Rochlin/Getty
Initially, George Little is excited to get a new brother, but he is disappointed when he finally meets the minuscule Stuart. But Stuart does everything he can to ingratiate himself. After he helps George win a boat race, George finally begins to let Stuart into his life, and pretty soon the two are inseparable.
Jonathan Lipnicki made his feature film debut in the 1996 Tom Cruise film "Jerry Maguire." He quickly followed that up by playing the brother of fellow child actor Haley Joel Osment in the 1996 NBC sitcom "The Jeff Foxworthy Show," as well as landing a lead role in the alien sitcom "Meego" in 1998.
After appearing in "Stuart Little," Lipnicki starred in 2000's "The Little Vampire" and 2002's "Like Mike." Afterward he mostly appeared in smaller independent films, including the horror film "Broil" and the comedy "Pooling to Paradise." He has also recently appeared on numerous reality shows like TBS's "Drop the Mic," E4's "Celebs Go Dating," and Food Network's "Worst Cooks in America."
Nathan Lane (Snowbell)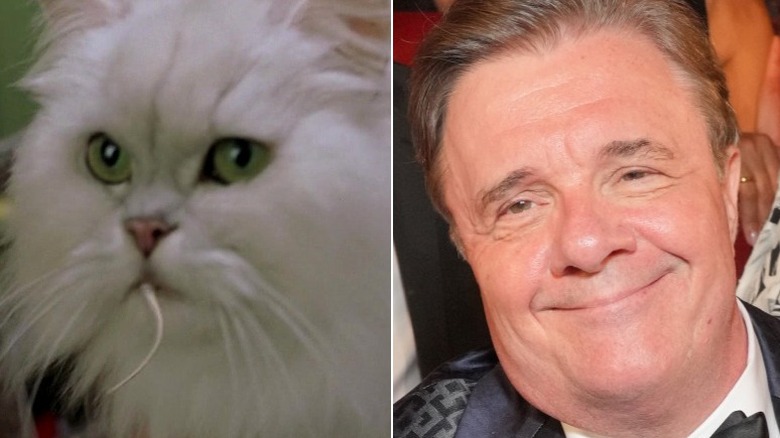 Sony Pictures Releasing & Kevin Mazur/Getty
When Stuart is brought from the orphanage to the Little family's home, he is almost instantly greeted by their pet cat, Snowbell. However, that greeting takes the form of Snowbell trying to eat Stuart. Though he is made to spit Stuart out, Snowbell continues to be annoyed by the mouse's presence and goes to great lengths to get rid of him.
Nathan Lane is no stranger to voice acting, having portrayed the meerkat Timon in three "Lion King" movies and its spinoff show, "Timon & Pumbaa," Preed in 2000's "Titan A.E.," George in "George and Martha," Spot in Disney's "Teacher's Pet," Hamegg in 2009's "Astro Boy," and the Oracle of the Sun in the Apple TV+ film "Spellbound."
In live-action films, Lane has been Golden Globe-nominated for his roles in 1996's "The Birdcage" and 2005's "The Producers" as well as having memorable performances in 1997's "Mouse Hunt" and 2012's "Mirror Mirror." On television, Lane has been Emmy-nominated for outstanding guest actor seven times for his appearances on "Fraiser," "Mad About You," "Modern Family," "The Good Wife," and most recently "Only Murders in the Building." He also has a recurring role on HBO's "The Gilded Age."
Chazz Palminteri (Smokey)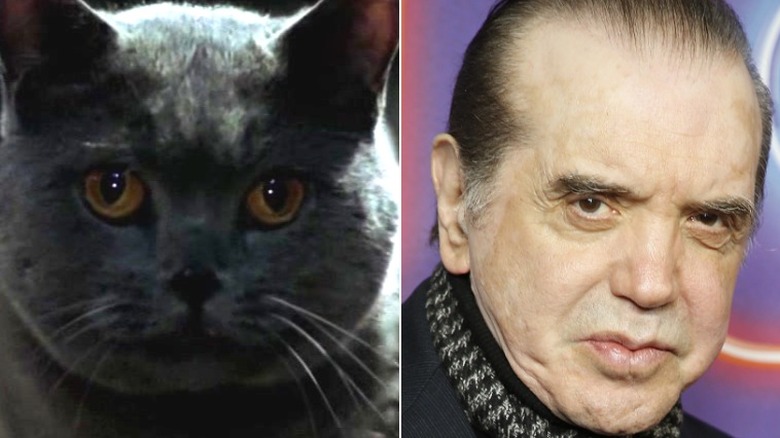 Sony Pictures Releasing & John Lamparski/Getty
Snowbell is taken by his fellow cat friend Monty (Steve Zahn) to meet up with a shady alley cat named Smokey, who agrees to enact a plan to get Stuart out of the Little house once and for all. When Smokey's initial plan begins to fall apart, he decides to provide a more fatal outcome for the little mouse.
Widely known for portraying mobsters, Chazz Palminteri began his career in 1989 writing and starring in an off-Broadway one-man show called "A Bronx Tale." In 1993, he adapted the play into the directorial debut of Robert DeNiro with both DeNiro and Palminteri playing major roles. The following year, Palminteri was nominated for an Oscar for his role in Woody Allen's "Bullets Over Broadway." He went on to land parts in films like "The Usual Suspects," "Analyze This," and "A Guide to Recognizing Your Saints."
More recently, Palminteri can be seen in the 2015 Tom Hardy film "Legend," the 2019 film "Vault," and the 2020 crime comedy "Clover." Palminteri has also landed recurring roles on the hit sitcom "Modern Family" and the crime dramas "Rizzoli & Isles," "Godfather of Harlem," and "Gravesend."
Steve Zahn (Monty)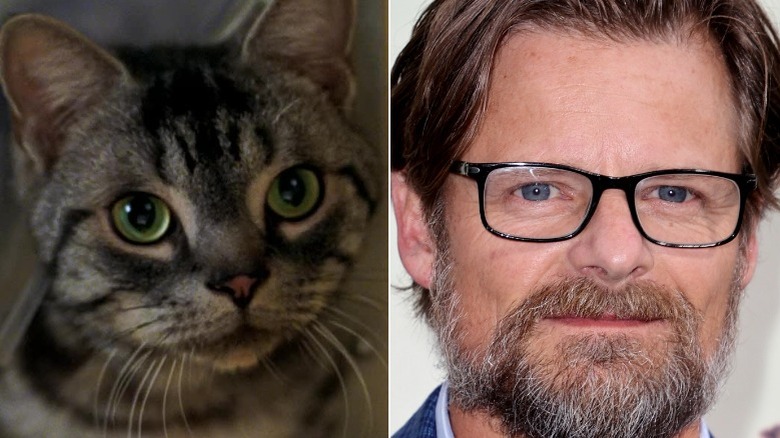 Sony Pictures Releasing & Kevin Winter/Getty
Snowbell's cat friend Monty provides a source of comic relief in the film and also grants Snowbell access to the criminal feline underworld. When the villainous Smokey gathers other cats to take out Stuart, Monty might be surprised to find himself sleeping with the fishes.
Comic side characters are Steve Zahn's specialty, having previously appeared in films like 1994's "Reality Bites," 1996's "That Thing You Do!," and 1999's "Forces of Nature." After winning an Independent Spirit Award for his role in the 1999 comedy "Happy, Texas," Zahn went on to star in even more comedies like "Saving Silverman," "Daddy Day Care," and the "Diary of a Wimpy Kid" series of films.
Zahn has also stretched his acting abilities in the horror film "Joy Ride," the war drama "Rescue Dawn," the HBO series "Treme," and even as one of the main apes in "War for the Planet of the Apes." Recently, he has appeared in 2019's "Tall Girl" and its 2022 sequel, 2020's "Uncle Frank," and 2021's "8-Bit Christmas," as well as landing lead roles in "Valley of the Boom," "The Healing Powers of Dude," and "The White Lotus."
David Alan Grier (Red)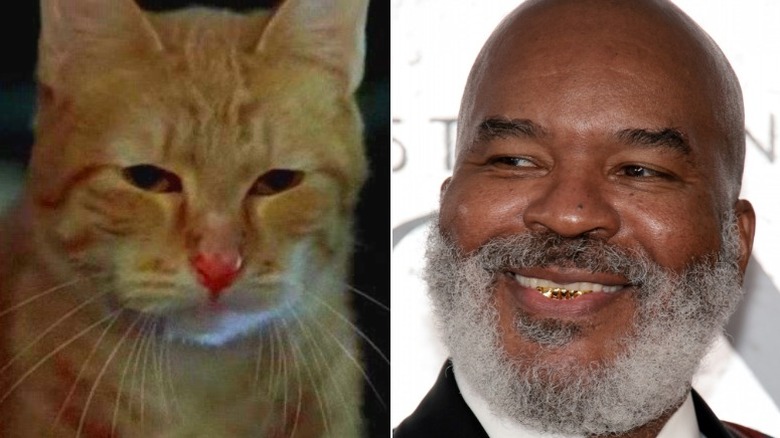 Sony Pictures Releasing & Dimitrios Kambouris/Getty
When the alley cat kingpin Smokey realizes his diabolical plan is in danger, he rounds up Monty and another cat named Red to help him permanently fix his problems by killing Stuart Little.
Voicing Red is comedian and "In Living Color" cast member David Alan Grier. His comedic talents can be seen on display in countless films like the Eddie Murphy comedy "Boomerang," the superhero parody "Blankman," the Robin Williams classic "Jumanji," and more recently in films like "Tyler Perry Presents Peeples," "The Big Sick," and "Clifford the Big Red Dog."
On television, Grier could regularly be seen in the Martin Lawrence sitcom "Martin," his own sitcom "DAG," with Bonnie Hunt in 2002's "Life with Bonnie," as a puppet on "Crank Yankers," and most recently in "A Series of Unfortunate Events," "The Cool Kids," "Dad Stop Embarrassing Me!," and "Joe Pickett." Grier also hosted the game shows "Random Acts of Comedy" and "Snap Decision" and was a contestant on "Dancing with the Stars."
Jennifer Tilly (Camille Stout)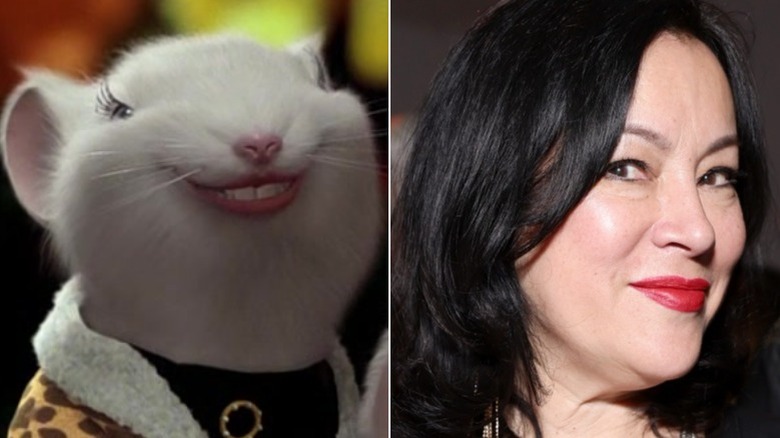 Sony Pictures Releasing & Emma Mcintyre/Getty
A pair of mice, Camille Stout and Reginal Stout (played by Bruno Kirby of "City Slickers" fame), arrive on the doorstep of the Little family's house, claiming to be Stuart's parents. They soon whisk him away to their home in a mini-golf course. However, the Stouts turn out not to be Stuart's parents, but were instead hired to pretend to be so by the dastardly cat Smokey.
Just like her fellow "Stuart Little" co-star Chazz Palminteri, accomplished actress Jennifer Tilly was nominated for an Oscar for her role in the 1994 Woody Allen film "Bullets Over Broadway." After that, she starred in the 1996 directorial debut of the Wachowskis "Bound," acted opposite Jim Carrey in 1997's "Liar Liar," and played the murderous Tiffany Valentine in 1998's "Bride of Chucky." She reprised the role of Tiffany (as well as hilariously playing herself) in three follow-up films and the currently airing television series "Chucky."
After "Stuart Little," Tilly landed the memorable role of the snake-haired Celia Mae in "Monsters, Inc." and its Disney+ spinoff "Monsters at Work," and the recurring voice of Bonnie Swanson in the animated Fox sitcom "Family Guy," and she also recently starred in the comedy "High Holiday." Tilly is also an award-winning poker player, appearing in the 2020 documentary "Poker Queens" as well as many poker-related television shows, including Game Show Network's "High Stakes Poker."
Allyce Beasley (Beatrice Little)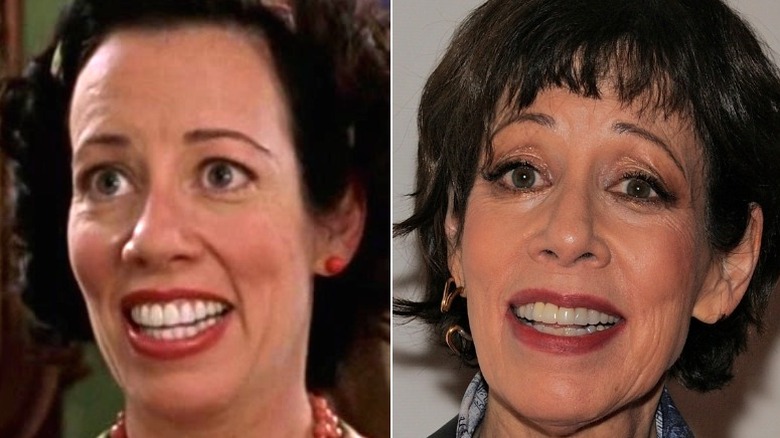 Sony Pictures Releasing & Ron Adar/Shutterstock
When Stuart Little is adopted, a party is thrown to introduce him to the extended Little family. These aunts, uncles, cousins, and grandparents are composed of a cavalcade of familiar faces, including television actress Connie Ray, "The Golden Girls" legend Estelle Getty, "Rhoda" star Harold Gould, and "Saved By the Bell" math teacher Patrick Thomas O'Brien.
Aunt Beatrice Little is played by the distinctively voiced actress Allyce Beasley. While she might be best known as the Blue Moon Detective Agency receptionist in the hit ABC series "Moonlighting," you might also know her as Miss Alordayne Grotke, the fourth-grade teacher in Disney's animated series "Recess."
Beasley can also be seen in the Stephen King miniseries "The Tommyknockers," the Samuel L. Jackson spoof movie "Loaded Weapon 1," and the Reese Witherspoon classic "Legally Blonde." On television, she's landed recurring roles on the soap opera "As the World Turns," the HBO comedy "Bored to Death," and the Netflix original "Maniac."
Brian Doyle-Murray (Edgar Little)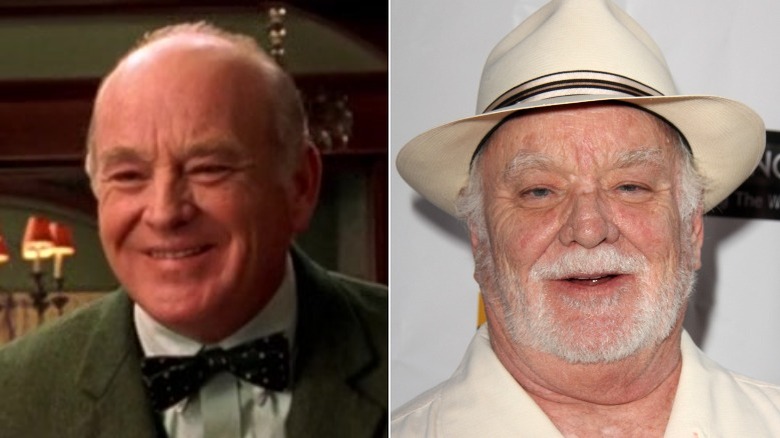 Sony Pictures Releasing & Kathy Hutchins/Shutterstock
Another of the Little extended family members to greet Stuart is Aunt Beatrice's cousin Edgar Little, played by the incredibly prolific Brian Doyle-Murray. Speaking of family, three of Brian Doyle-Murray's younger brothers are also actors. There's John Murray from 1985's "Moving Violations," Joel Murray from ABC's "Dharma & Greg," and Bill Murray from "Ghostbusters," Groundhog Day," and "Garfield."
Along with his brother Bill, Doyle-Murray got his start writing and performing on NBC's "Saturday Night Live," earning himself three Emmy nominations for outstanding writing. He then went on to write and star in the hit 1980 comedy "Caddyshack." While going on to appear in many films with his brother, Doyle-Murray also made memorable appearances in classic films like "Sixteen Candles," "National Lampoon's Christmas Vacation," "JFK," "Wayne's World," and "Waiting for Guffman."
Doyle-Murray has also guest starred on numerous television shows like "Seinfeld," "Supernatural," and "Veep," as well as playing Captain K'nuckles in "The Marvelous Misadventures of Flapjack," Don Ehlert in "The Middle," Bob Kruger in "Lodge 49," and the Flying Dutchman in "SpongeBob SquarePants" and its spinoffs.
Jeffrey Jones (Crenshaw Little)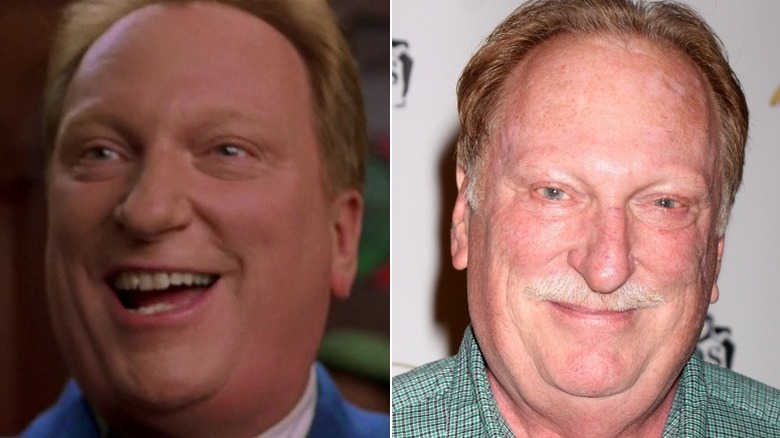 Sony Pictures Releasing & Kathy Hutchins/Shutterstock
Also at the Little family get-together is Uncle Crenshaw Little, brother of Stuart's father Frederick. While perhaps the biggest star to portray one of the Little family members, Jeffrey Jones illustrious career took a steep nosedive a few years after appearing in "Stuart Little."
In 1984, Jones was nominated for a Golden Globe for his portrayal of the Holy Roman Emperor Joseph II in "Amadeus." He followed that up with the iconic roles of Dean Ed Rooney in 1986's "Ferris Bueller's Day Off" and Charles Deetz in the 1988 Tim Burton classic "Beetlejuice." He worked with Burton again in 1994's "Ed Wood" and 1999's "Sleepy Hollow" as well as appearing in films like "Howard the Duck," "The Hunt for Red October," and "The Devil's Advocate." His last major role was as A.W. Merrick in the HBO Western "Deadwood."
In 2002, Jeffrey Jones pleaded no contest to charges of soliciting a minor for illicit photographs, resulting in Jones having to register as a sex offender. He was arrested two further times for failing to update his sex offender status. Jones reprised his role of A.W. Merrick in 2019's "Deadwood: The Movie" with many less than thrilled about his resurgence.
If you or someone you know may be the victim of child abuse, please contact the Childhelp National Child Abuse Hotline at 1-800-4-A-Child (1-800-422-4453) or contact their live chat services.
Julia Sweeney (Mrs. Keeper)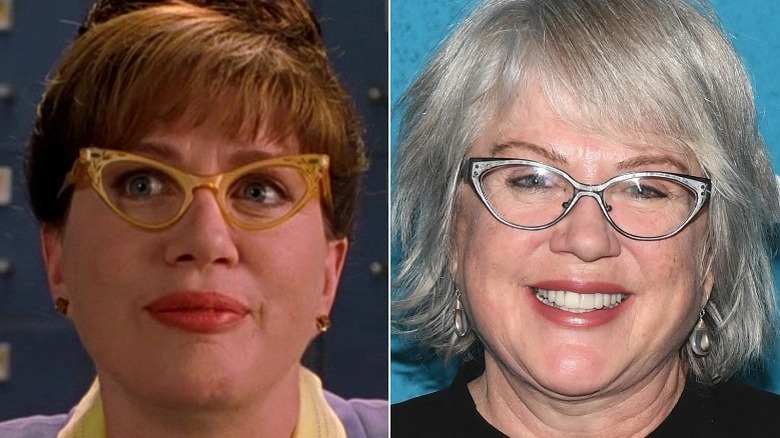 Sony Pictures Releasing & Sonia Recchia/Getty
At the beginning of "Stuart Little," Frederick and Eleanor Little go to the New York City Public Orphanage with the hopes of adopting someone special. Mrs. Keeper invites them to meet the potential candidates and the Littles are soon taken by a little mouse named Stuart. While Mrs. Keeper initially discourages them from adopting outside their species, the Littles are determined to make it work.
Julia Sweeney is perhaps best known for her time as a performer on "Saturday Night Live," particularly as the recurring androgynous character Pat, which was spun off into the 1994 feature film "It's Pat: The Movie." The famously bad film featured an uncredited rewrite by Quentin Tarantino, who also produced the film version of Sweeney's stage show "God Said Ha!" and cast her in the role of Raquel in his hit film "Pulp Fiction."
Sweeney can also be seen in films like "Gremlins 2: The New Batch," "Honey, I Blew Up the Kid," and "Monsters University." Recently, she has played the unofficial Lakeside mayor Ann-Marie Hinzelmann on the Starz show "American Gods," Annie's mother Vera Easton on Hulu's "Shrill," and a fictionalized version of herself in the Showtime comedy "Work in Progress."
Dabney Coleman (Dr. Beechwood)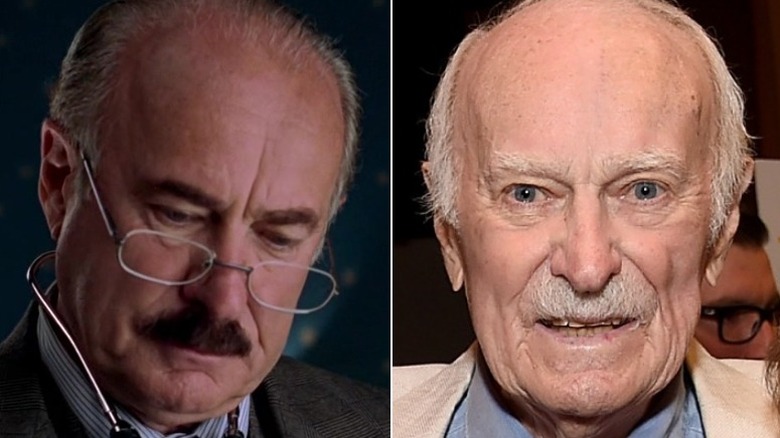 Sony Pictures Releasing & Michael Kovac/Getty
When Stuart Little accidentally winds up falling down the laundry chute, he nearly drowns in the washing machine before Eleanor notices him and saves him. Dr. Beechwood pays the Little family a home visit and checks in on little Stuart. Although he's initially worried about the amount of detergent Stuart might have swallowed, he ultimately gives the mouse a very clean bill of health.
The Emmy and Golden Globe winner has been acting since 1961 in films like "The Towering Inferno" and television series like "Mary Hartman, Mary Hartman," but his breakout role didn't come until he played the despicably sexist boss Franklin M. Hart, Jr. in the 1980 hit "9 to 5." Coleman went on to appear in classic films like "Tootsie," "WarGames," "The Muppets Take Manhattan," "Cloak & Dagger," "The Beverly Hillbillies," and "You've Got Mail."
On television, Coleman starred alongside his "Stuart Little" co-star Geena Davis in "Buffalo Bill," voiced Principal Peter Prickly in Disney's "Recess," played lawyer Burton Fallin in "The Guardian," and featured as Commodore Louis Kaestner in the first two seasons of "Boardwalk Empire." Most recently, he played Kevin Costner's father in a 2019 episode of "Yellowstone."