Jennifer Tilly Reveals How She Really Feels About Her Role On Chucky - Exclusive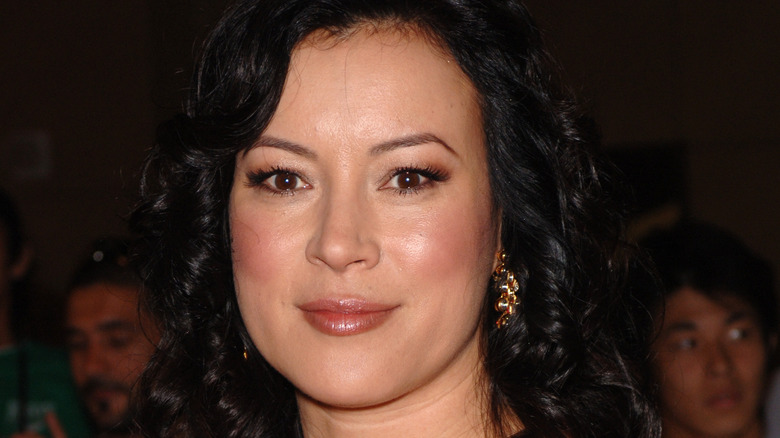 Featureflash Photo Agency/Shutterstock
Jennifer Tilly is, by her own admission, an "international film star." In addition to decades of film stardom (including an Oscar-nominated performance in Woody Allen's "Bullets Over Broadway"), Tilly is also a stage performer, a fashionista, and a poker champion. In addition to all these many directions Tilly's life takes her, she has continually made time for one unexpected evil doll: Chucky.
In 1998, Jennifer Tilly joined Don Mancini's long-time horror franchise "Child's Play" as Chucky's homicidal girlfriend, Tiffany Valentine, for "Bride of Chucky." Since then, Tilly has returned again and again to the franchise in "Seed of Chucky," "Curse of Chucky," "Cult of Chucky," and now, in the new "Chucky" TV series airing on USA and SYFY.
Looper sat down with Tilly to find out how the actress really feels about the Chucky franchise and why she likes it enough to lend her name to it in a way that no other actor has before.
On the accidental assumptions of playing oneself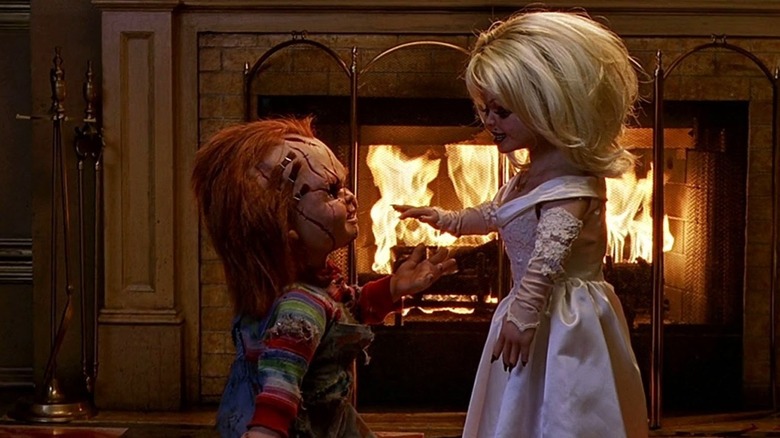 Universal Pictures
What you may not realize about Jennifer Tilly is that, at least as far as the Chucky franchise is concerned, she's not even alive. In "Seed of Chucky," Tilly appeared as herself rather than solely as Tiffany Valentine. In that film, Valentine takes over Tilly's body and life. So, in a way, there is no Jennifer Tilly — just a homicidal doll tooling around in her body killing people and celebrating being an international film star.
What's it like for Tilly to play herself in a comedy horror franchise for so many years?
"I was playing myself, Jennifer Tilly, international film star, but we did an exaggeration, because we thought it was really funny of Jennifer Tilly," she explained of the version of herself she plays. "So we made me a desperate, fading star that was really narcissistic and self-involved. And I think a little bit of that stuck, because you know, you can make fun of your career if you think your career is in a great place."
The unexpected (and comedic) result is that some people think the fake Tilly is the same as the real one. "And then people took up the refrain like, 'Oh, she was Oscar nominated and now she's f***ing a puppet,'" Tilly explains. "I was like, 'Hey, we wrote that. That's self-deprecating humor. It's not true. I chose to do this movie.' So that was a little funny, that people started confusing that Jennifer Tilly in the movie as the real Jennifer Tilly. And I remember this studio actually had them rewrite it a little bit, because they said, 'Oh, she's so mean.' And we're like, 'Yes, it's funny.' And they're like, 'She's really unlikable.'"
Kissing a different Dourif than she expected
However, there is one aspect of playing Tiffany Valentine playing Jennifer Tilly that the real Tilly seems to really enjoy — working with Fiona Dourif. The daughter of the ongoing voice of Chucky, Brad Dourif, was introduced as Nica in "Curse of Chucky." However, in "Cult of Chucky," Nica became possessed by the soul of Chucky. On the "Chucky" TV series, Fiona Dourif is now playing double duty as both Nica and Chucky — and both Tilly and Dourif are having a fantastic time working together.
"It's really amazing, because Fiona is a phenomenal actress, and I'm just so happy, because as an actor, if you have other people that you're working with that are great actors, it also elevates you," says Tilly. "And it's funny how things work out, because I am kissing Chucky, but he's in Fiona Dourif's body. So I'm kissing a Dourif, but it's Fiona. But that said, she is a delightful kisser, I have to say. And it's interesting, psychologically, for Tiffany because she loves Chucky, and then she starts to fall in love with Chucky Nica, which is the best of both worlds. It's the yin and the yang, like the tenderness of Nica and the macho-ness of Chucky. But Fiona's such a great actress. When she's playing Chucky, when Chucky is inside her, I look at her and I see Brad. I mean, she's got the swagger. She's got the voice. It's such a wonderful thing to watch her act."
"Chucky" airs Tuesdays on USA and SYFY.