Michael J. Fox's Best Onscreen Roles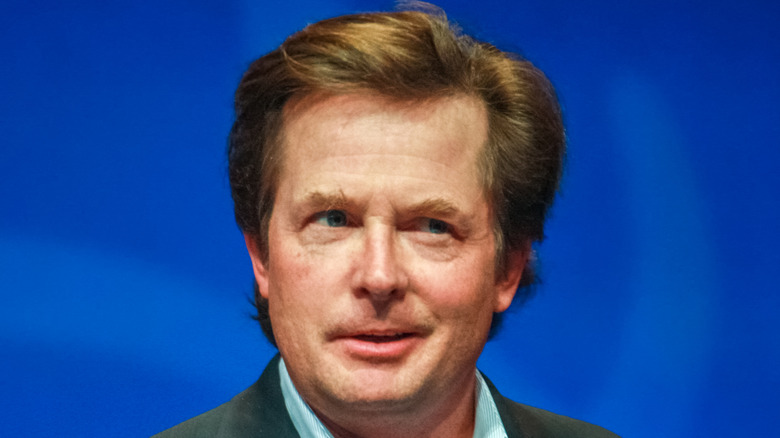 drserg/Shutterstock
Michael J. Fox is one of the most beloved actors around. Born Michael Andrew Fox on June 9, 1961, Fox adopted "J" as his middle initial as a tribute to actor Michael J. Pollard. 
Fox's first onscreen role was Jamie on 1978's "Leo and Me." Though he appeared in several television series and movies in the intervening years, his breakout roles were undoubtedly Alex P. Keaton on "Family Ties," which ran from 1982 to 1989, and Marty McFly in 1985's "Back to the Future." Since then, he's done voice work, written three memoirs, and received a slew of awards. You can also find his name on the Hollywood Walk of Fame.
Fox married his "Family Ties" co-star Tracy Pollan in 1988, with whom he has four children. In 1991, life threw a curveball his way when he was diagnosed with Parkinson's disease. Since going public about this in 1998, Fox has become one of the world's most visible advocates for Parkinson's research, especially through the Michael J. Fox Foundation, which he founded in 2000.
Fox's long and varied career offers a lot of great roles to choose from. But which are the very best? We're here to answer that question. These are Michael J. Fox's best onscreen roles.
Alex P. Keaton on Family Ties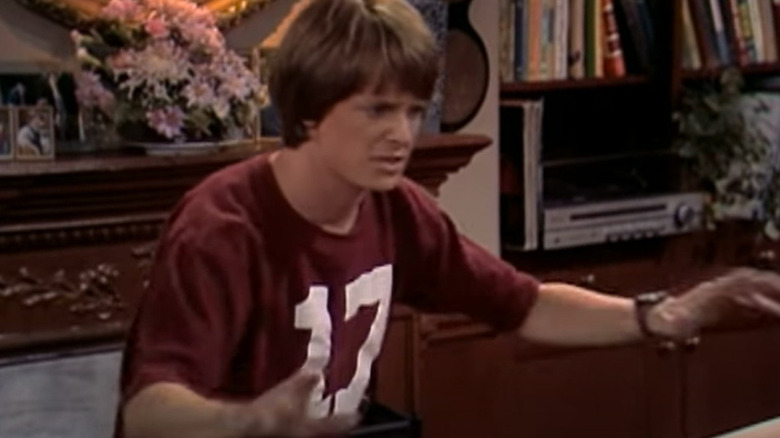 NBC/YouTube
Early on in "Family Ties," the focus is on the Keaton parents, Steven and Elyse, played by already well-known actors Michael Gross and Meredith Baxter Birney. Their three children — Mallory (Justine Bateman), Jennifer (Tina Yothers), and Fox's Alex P. Keaton — act as foils. But with time, the kids take up more and more space — especially Alex. Oh, and Gross grows a beard. 
At its best, "Family Ties" explores the generation gap many families of the era experienced, with its two tie-dyed-in-the-wool hippie parents dealing with three children who don't necessarily share their worldview. Alex especially is their polar opposite: A suit-wearing teen, he insists on using his middle initial and espouses capitalist talking points. He frequently clashes with his sisters and parents, but in the end, they're a family who rallies around each other.
Fox's natural charm makes Alex someone you can root for, even if you don't necessarily agree with his Yuppie-ism. Underneath everything, he's a kid trying to make his way in the world however he can. The Television Academy agreed: Fox earned five Emmy nominations for the role, taking home the trophy in 1986, 1987, and 1988.
Marty McFly in Back to the Future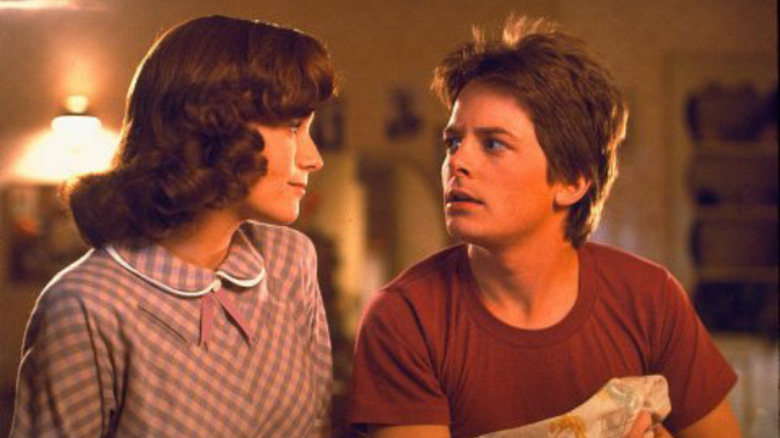 Universal Pictures
As Marty McFly in the "Back to the Future" trilogy, Michael J. Fox again puts his charm to good use. Marty is a teen who gets mixed up in science fiction shenanigans courtesy of Doc Brown (Christopher Lloyd) and his souped-up DeLorean. Fox was not actually the first Marty McFly – that would be Eric Stoltz, who was cast because Fox was unavailable at the time. Director Robert Zemeckis realized Stoltz's serious energy wasn't a good fit for the screwball comedy, however, and soon, Fox was able to take on the role.
"Back to the Future" was the top grossing film of 1985. Two sequels soon followed in 1989 and 1990. In the classic first movie, Marty makes some errors when he's thrust into 1955. He has to correct them in a jiffy, or he'll be stuck in the past — or possibly never born at all, if he doesn't manage to get his parents together. On top of this, he also has to get back to his own time so Doc Brown won't die. There's a lot of possible death happening here.
Fox's comedy chops, honed on "Family Ties," and his general charisma make Marty an irresistible character. It also makes cringe-inducing scenes, such as Lea Thompson's Lorraine — Marty's mother — hitting on him in 1955 instead of going for Crispin Glover's ultra-nerdy George, funnily uncomfortable instead of utterly gross.
Jamie Conway in Bright Lights, Big City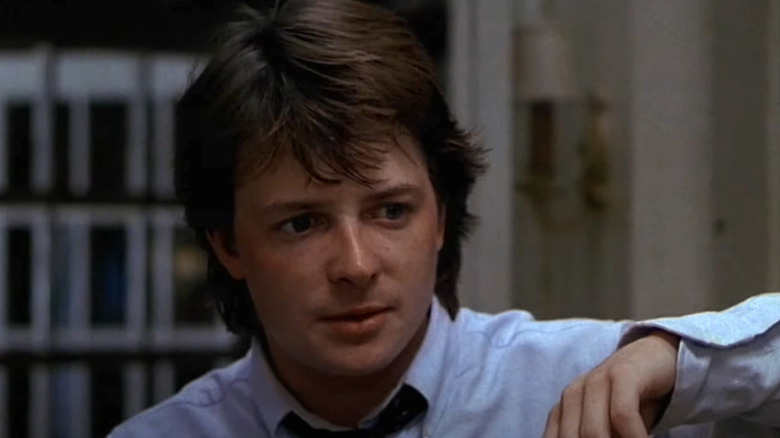 United Artists/YouTube
In the 1988 film adaptation of Jay McInerney's novel of the same name, Michael J. Fox puts his charm towards a completely different type of character. His Jamie Conway is not a cuddly conservative like Alex P. Keaton, nor a goofy teen like Marty McFly. Rather, Conway is a failure. A writer who isn't writing, he struggles with alcohol and cocaine abuse as his life spirals out of control. To make things worse, his wife, who's enjoying a rapid rise to fame as a model, has just left him. Soon enough, Jamie is hanging out with his Yuppie friends, living life ever more destructively in the fast lane.
At the time, seeing Fox show up in an R-rated film role bereft of his usual endearing qualities was a shock. Fox wanted to stretch as an actor, though, and though the film did not become a major success, his acting was praised. Chris Hicks of Deseret News declared that Fox gave "the performance of his young life," which Roger Ebert echoed, calling particular attention to a drunken monologue Fox delivers. The film surrounding him may not be as good as his performance, but Fox showed why he should be taken seriously as a dramatic actor in "Bright Lights, Big City."
Pvt. Max Eriksson in Casualties of War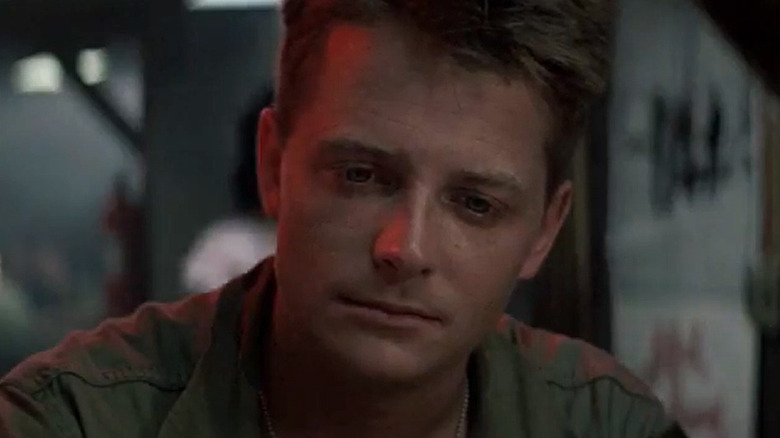 Columbia Pictures/YouTube
The role of Max Eriksson in 1989's "Casualties of War" gave Fox another chance to prove his abilities as a serious actor. Eriksson, a young soldier in Vietnam, watches Sgt. Tony Meserve (Sean Penn) snap when he's told he can't get the leave he was promised. Meserve hatches a horrifying plan to kidnap a young Vietnamese woman, Than Thi Oanh (Thuy Thu Le). Eriksson refuses to participate, but ultimately, he can't stop the men from torturing and killing Oanh. This leads to a lifetime of regret.
Director Brian De Palma never flinches in his direction of this movie, and neither does Fox. Fox expertly portrays the guilt and disillusionment Eriksson feels with such sensitivity, it's often hard to watch. Terrence Rafferty of Sight and Sound praised Fox's performance as "quietly astonishing," while Ian Nathan of Empire called him "a revelation as the mouse that roared." Fox may not have as many opportunities to show off his dramatic acting range as other actors, but when he's cast in serious roles, he's always more than up to the challenge.
Nick Lang in The Hard Way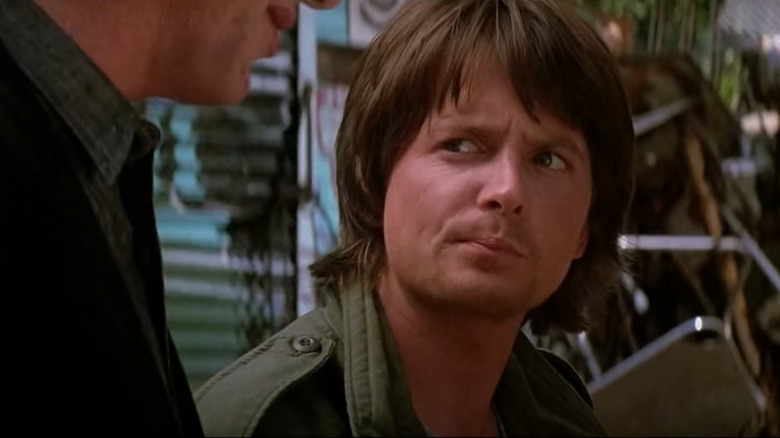 Universal Pictures/YouTube
1991's "The Hard Way" stars Fox as Nick Lang, an actor known for his action movies who's trying to snag a more serious role as a police officer. He winds up shadowing Lt. John Moss (James Woods) because Moss' Captain (Delroy Lindo) is a big fan. Shenanigans ensue as Moss chases a serial killer known as the Party Crasher (Stephen Lang) while trying to shake Lang off his tail, because, well, Lang is incredibly annoying.
John Badham's assured direction and the chemistry between Fox and Woods makes "The Hard Way" a good watch. Here, Fox gets to shine as a stuck-up actor who craves the opportunity to show off his dramatic side. As Simon Brew of Den of Geek noted, "Fox doesn't get enough credit for the skill with which he subtlely [sic] pitches his comedic performances ... He steals a scene right from under the nose of James Woods, and that's no small feat." Fox's persona has generally been guy-you-could-be-friends-with, not vain-actor-looking-for-glory. His willingness to look bad (and very, very funny in the process) puts Nick Lang on the list of Fox's best onscreen roles.
Dr. Benjamin Stone in Doc Hollywood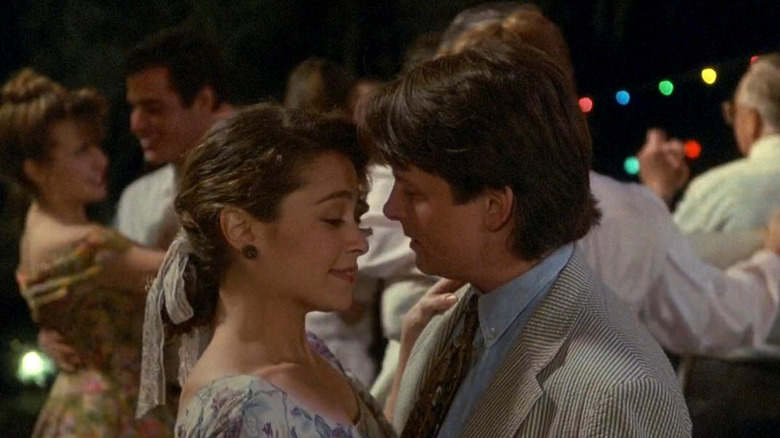 Warner Bros.
1991's "Doc Hollywood" puts Fox back in cocky-but-charming mode as Benjamin Stone, a young doctor traveling to Beverly Hills in the hopes of getting a job with a famous plastic surgeon. Unfortunately for him, he's waylaid in Grady, South Carolina by a minor car accident. Grady is a small town that happens to need a doctor, as its current and only one is retiring. It doesn't hurt that Stone is attracted to Lou (Julie Warner), the local ambulance driver, or that the mayor's daughter, Nancy Lee (Bridget Fonda), is attracted to him. Woody Harrelson also stars as Hank Gordon, Lou's other suitor. Will Stone ultimately choose a glamorous life in California or stay down home on the farm?
Though "Doc Hollywood" drew mixed reviews, its cast was praised, with several critics noting Fox's stand-out work. Roger Ebert praised Fox as "an actor who knows how to be quiet and attractive without seeming to work at it," and also stated that his chemistry with Warner "[creates] that feeling" of "two people [who] only have eyes for one another." "Doc Hollywood" sees Fox balance comedy, down-to-Earth appeal, and romance with apparent ease.
Frank Bannister in The Frighteners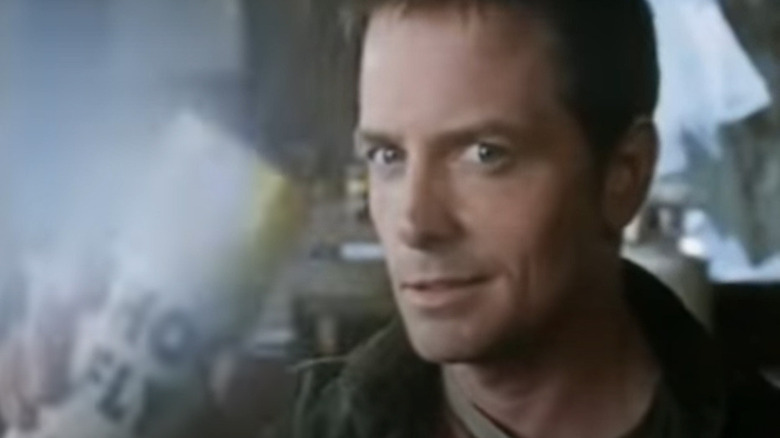 Universal Pictures/YouTube
Though 1996's "The Frighteners" is one of Fox's (and director Peter Jackson's) lower-scoring films on Rotten Tomatoes, Fox's performance as Frank Bannister is stellar. That he stands out in a stacked cast including indie favorites like Jeffrey Combs, Trini Alvarado, John Astin, and Chi McBride is a tribute to his talent.
This hybrid comedy-horror film finds Bannister acting as a "psychic investigator" who exorcises evil spirits for a price. The townspeople think he's a con man, but he really can see ghosts, and has been able to since his wife died. However, there is a twist: The spirits he's exorcising are actually three friendly specters who do hauntings so he can chase them away and get paid for doing it. But other, less kind spirits are out and about as well, including the ghost of the serial killer who murdered Bannister's wife.
Bannister is so broken by losing his wife that he's given up architecture, his true talent, for fake seances. Fox brings this trauma to vivid life. Ken Tucker of Entertainment Weekly praised Fox as being the thing that "holds this sprawling movie together; he's funny, touching, and tough."
Deputy Mayor Michael Flaherty on Spin City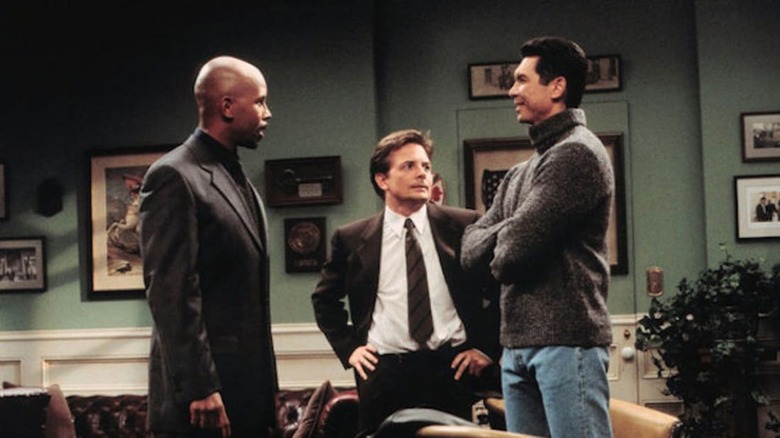 ABC/YouTube
On the ABC sitcom "Spin City," Fox plays Deputy Mayor Michael Flaherty, who might as well be the mayor proper — actual mayor of New York City Randall Winston (Barry Bostwick) is a mistake machine whose slip-ups frequently need to be erased by Flaherty and his co-workers. Flaherty is a bit of a different television character for Fox: He's an occasionally unscrupulous whirlwind of nervous energy. This is unsurprising, given the nature of his job, which largely consists of spinning gaffes into gold. Deep down, however, he respects his co-workers and his job, and is a decent person — albeit a bit of a smart aleck. The role earned Fox four more Emmy nominations and one win.
Fox left the show in 2000, due to Parkinson's symptoms and a desire to devote himself to advocacy. Charlie Sheen stepped in as the new deputy mayor, but the show only lasted another two seasons before ending in 2002. "Spin City" did, however, eventually reveal that Flaherty moved to Washington D.C. after leaving NYC, where he met a junior senator named — surprise! — Alex P. Keaton.
Dr. Kevin Casey on Scrubs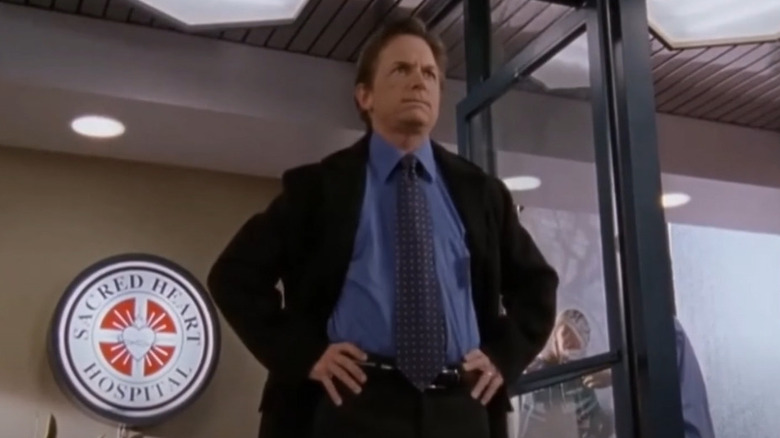 NBC/YouTube
One of Fox's best short-term TV roles is Dr. Kevin Casey, who appears on two episodes of "Scrubs." Season 3's "My Catalyst" introduces the surgeon, who has obsessive-compulsive disorder. He appears again in the following episode, "My Porcelain God." Casey's so good at his job, he can even diagnose oatmeal.
In this arc, Zach Braff's J.D. is dealing with his need for a mentor — a role Casey fits nicely, by virtue of his status as a revered surgeon. Casey functions as a catalyst for J.D. and others at Sacred Heart Hospital to make important realizations about themselves. He also provides one of the better portrayals of OCD on TV: Casey's frustration at living with the disorder is highlighted, yet it is never treated as something that defines him entirely. Fox balances these elements skillfully, never reducing Casey to a cheap caricature of anxiety or a schmaltzy lesson in overcoming obstacles.
Daniel Post on Boston Legal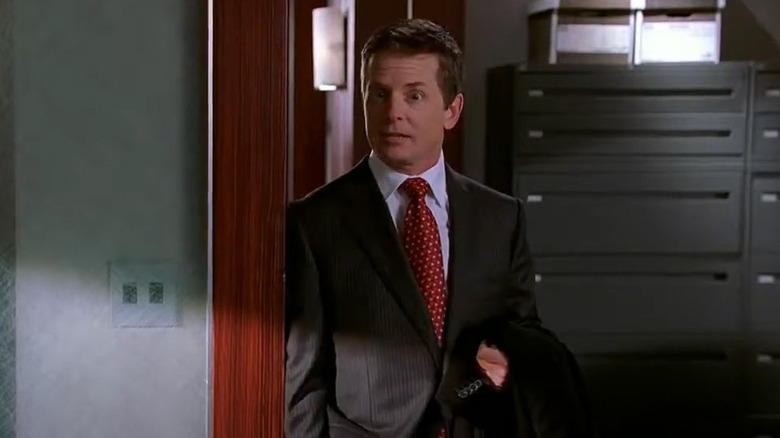 ABC/YouTube
Daniel Post of "Boston Legal" marks something of a departure for the likable Fox. The character appears in six episodes, staring with Season 2's "The Cancer Man Can." Post is a CEO who uses his wealth and power to get whatever he wants, including access to not-yet-approved pharmaceuticals for his cancer treatment. Fox's subtle portrayal garnered him another Emmy nomination.
Over the course of the six episodes he appears in, Post romances Julie Bowen's Denise Bauer, uses his diagnosis to engender sympathy and run roughshod over the legal system, and hosts his own funeral. In typically absurd "Boston Legal" fashion, after Post dies, his remains go missing, and Bauer eventually finds his head being used in a haunted house.
In other hands, Post would be an unremitting jerk. But Fox imbues him with some redeeming qualities that make you want to root for him, despite, well, everything else about him. As Fox told Today, he relished "the chance to do one of those courtroom speeches — a soliloquy in front of the judge — which in my long and assorted career I've never done. It was so much fun."
Dwight on Rescue Me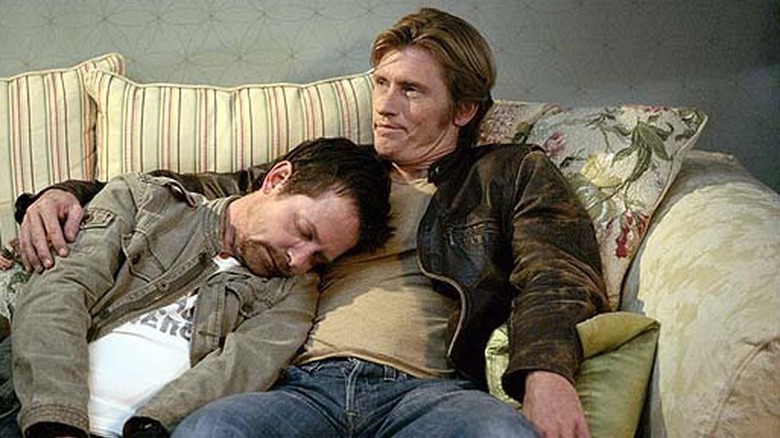 FX
By 2009, Fox was taking on roles that would make even Deputy Mayor Michael Flaherty blush. His character on FX's "Rescue Me," for example, is a giant jerk.
Dwight appears in five episodes of the series, starting with Season 5's "Baptism." The boyfriend of Janet Gavin (Andrea Roth), ex-wife of firefighter Tommy Gavin (Denis Leary), he's largely paralyzed from the waist down. By dating Janet, he's ended up on Tommy's list, and Tommy, being a macho jerk in his own right, can't understand why Janet would date someone who uses a wheelchair. Tommy thinks he can bully Dwight out of Janet's life, but what he doesn't count on is Dwight being just as manipulative as he is.
As Fox told Deadline, "I thought that people see a wheelchair or see someone with a disability on television and the music gets soft and hazy and then the guy is struggling with some mundane task, trying to conquer this thing ... and then they finally do it and the music rises to crescendo [but] handicapped people can be a**holes too. Handicapped people can be jerks and manipulative, and so it was fun to play one." Fox as Dwight is indeed an absolute hoot, and a bit of a surprise for an actor whose charm usually adds a baseline level of redeemability to his roles. This portrayal won Fox yet another Emmy.
Louis Canning on The Good Wife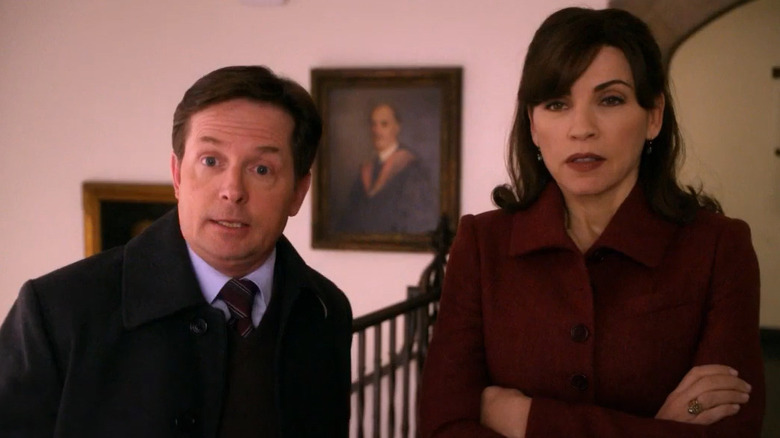 CBS/YouTube
Fox enjoyed a recurring role on "The Good Wife" as exploitative defense lawyer Louis Canning. Canning is just as cunning as his name implies, using his tardive dyskinesia to influence juries and judges. Canning first appears in Season 2's "Poisoned Pill," outmaneuvering Julianna Margulies' Alicia Florrick by emphasizing his health struggles. Canning is not above grabbing someone's sympathy, then twisting it against them in service of his own desires. Canning's boyish good looks draw his marks in, and by the time he's done with them, they have no idea what hit them.
Fox's career trajectory, which has taken him from playing likable guys to complete scoundrels, is remarkable. The audience's automatic assumption that whoever he's playing must be decent underneath allows him to go far beyond expectations — something he makes major use of in his portrayal of Canning. Canning is such a good love-to-hate character, he was brought back for the show's spin-off, "The Good Fight," in 2020. Canning also netted Fox five more Emmy nominations to add to his already massive list.
Himself on Curb Your Enthusiasm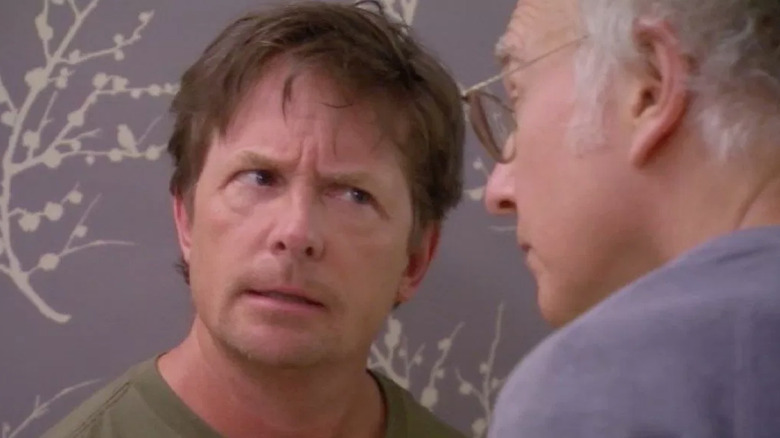 HBO
Michael J. Fox plays a skewed version of himself on "Curb Your Enthusiasm." Here, Fox is something of a weasel — a role he pulls off so well, it earned him yet another Emmy nomination.
In Season 8's "Larry vs. Michael J. Fox," Fox's feud with Larry David starts seemingly innocently. While Larry is at a bar where his current girlfriend is playing piano, he winds up shushing Fox and his friends, who are having a conversation. When Fox leaves, he shakes his head at Larry, who then wonders if Fox is upset with him. Later, Larry goes to see Fox to apologize, and things quickly escalate. Fox lives directly above Larry and clomps around at night in heavy boots. He tells Larry that all of this — the shaking, the clomping — is Parkinson's. Because Fox is so beloved, no one believes Larry when he insists Fox is deliberately antagonizing him. He's Michael J. Fox, for goodness' sake!
This results is one of Fox's most hilarious onscreen performances. He doesn't shy from joking at his own expense, even telling Larry, "I'll be back in two shakes!" when he has to answer his phone. Things are brought to a comedic close when Fox briefly appears in the Season 9 episode "Never Wait for Seconds!" and admits he acted like a jerk to Larry on purpose.
Mike Henry on The Michael J. Fox Show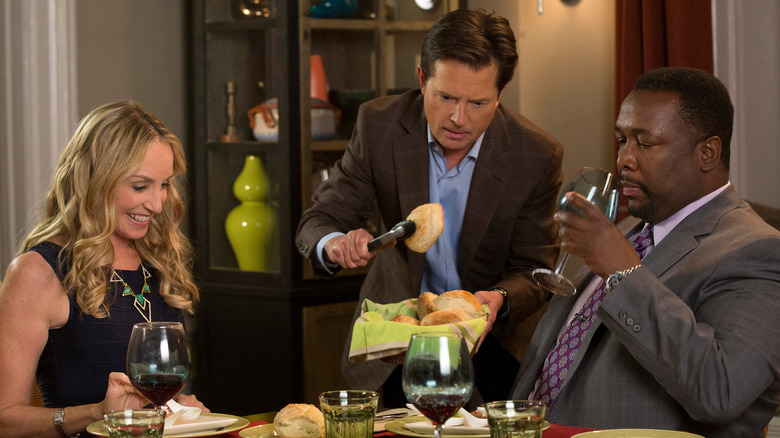 NBC
While Louis Canning on "The Good Wife," Dwight on "Rescue Me," and the "real" Michael J. Fox on "Curb Your Enthusiasm" are various shades of snake, Mike Henry of "The Michael J. Fox Show" is a beloved news anchor. Mike retired when he was diagnosed with Parkinson's, but after four years of quiet living, he's driving his family bonkers. This being a sitcom, means of subterfuge are used to get Mike back to work. Though its beginning is a bit uneven, the show soon finds its groove and is a pleasant watch. Fox's innate charm shines through, but Mike is very much his own character with unique struggles, dreams, and mistakes.
Though reviews were a bit mixed, most critics praised Fox's return to a leading television role. Andy Greenwald of Grantland said, "Fox still exudes charm and charisma as naturally as other people breathe," while Vicki Hyman of NJ.com called Fox "still ridiculously likable." The show only lasted a single season, but Fox made the most of his role, earning Mike Henry a spot on the list of his best-ever onscreen appearances.