10 Movies Like The Beach Girls That You Need To See Next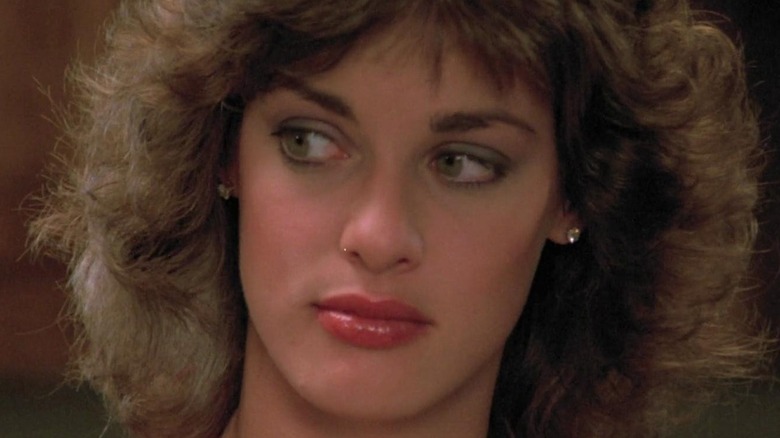 Crown International Pictures
The tagline for "The Beach Girls" may raise eyebrows in 2022: "Celebrate summer and fun with a slew of bikini-clad beach bunnies!" However, the 1982 comedy does nothing if not deliver upon its promise. Fresh out of high school, best friends Ducky (Jeana Keough, then Jeana Tomasino), Ginger (Val Kline), and Sarah (Debra Blee) kick off their summer by heading to Sarah's Uncle Carl's remote vacation house in fictional Paradise Beach. Ducky and Ginger's mission to party and leave high school in the rearview mirror is quickly revealed as they speed to the beach in a convertible, chucking their school textbooks into passing trash cans like a twisted version of Quidditch.
The girls' idyllic trip is thrown into jeopardy once the United States Coast Guard enters the equation, arriving on the coast to hunt down nefarious maritime criminal Captain Jack, who's suspected of being in possession of "demon weed." In an attempt to outwit the Coast Guard, Captain Jack temporarily ditches his cannabis booty by dumping it overboard in trash bags that wash up on the shores of Paradise Beach to be retrieved later. Jack's plan is thwarted when Ginger and Ducky stumble upon the discarded contraband on a walk and celebrate, much to the chagrin of rule-abiding Sarah, by throwing a huge raucous party fueled by Captain Jack's "devil weed." Ginger and Ducky frequently gang up on more timid, innocent Sarah, denouncing her prudish demeanor, but the trio shares a charming bond.
Today, "The Beach Girls" is nearly impossible to track down on mainstream streaming services, but its debaucherous, fun-loving spirit lives on in these films.
Spring Breakers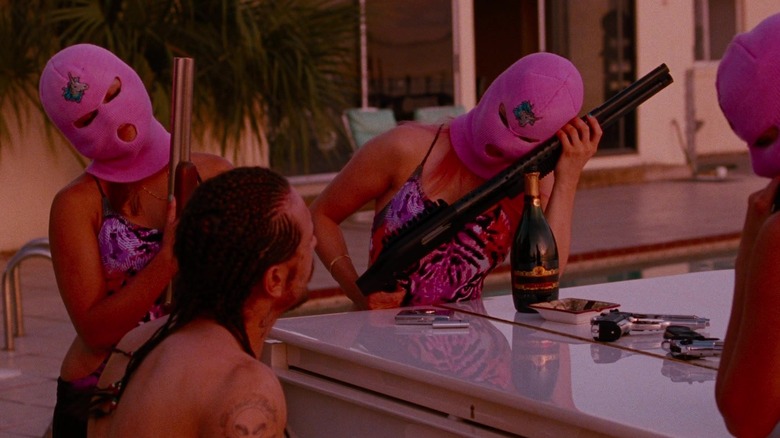 A24
For those who prefer a girls beach trip with higher stakes and more artistic flair, look no further than Harmony Korine's 2013's controversial, hotly debated fever dream "Spring Breakers," starring James Franco, Vanessa Hudgens, and Selena Gomez. The gonzo crime-comedy travels a similar trajectory as "The Beach Girls," following a group of college girlfriends — mostly outgoing, save for one cautious, reserved black sheep — as they venture to Florida for a spring break trip with only priority: partying. Both films interrogate how friends can goad each other to let loose to the point of peer pressure, but "Spring Breakers" takes it into overdrive.
While Ducky and Ginger are delighted victims of happenstance when they discover Captain Jack's herbal treasures on the beach, the "Spring Breakers" ladies are active agents of chaos, robbing a diner to fund their trip. When their paths cross with drug dealers, it may lead to no holds barred revelry like in "The Beach Girls," but here the party ends in drug and violence-riddled bedlam.
Wet Hot American Summer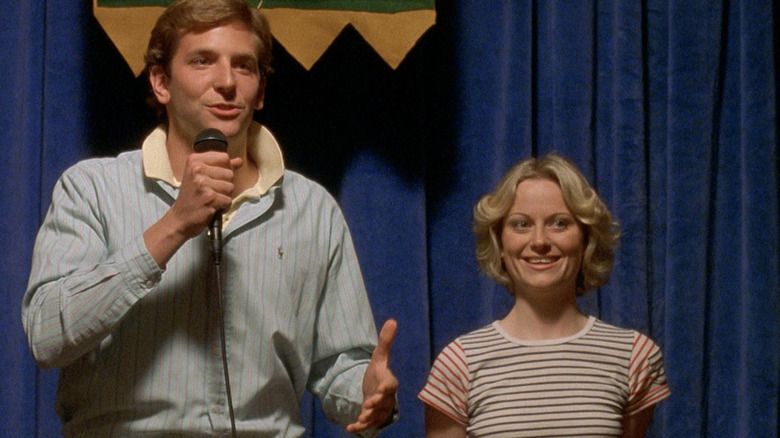 USA Films
The closest tonal sibling to "The Beach Girls" is Michael Showalter and David Wain's 2001 cult comedy "Wet Home American Summer," which chronicles the eventful final day at a summer camp in 1980s upstate New York. Both films gleefully embrace camp as their protagonists set out to execute their summer sexual conquests, and, most remarkably, both feature talking inanimate objects — a sinister bag of "devil weed" and a nihilist can in "The Beach Girls" and "Wet Hot American Summer," respectively. 
While the humor in "Wet Hot American Summer" may be more self-aware and subversive, both films revolve around similar themes of friendship and camaraderie. Ginger, Ducky, and Sarah are not the most complex characters, so spending extended scenes with them can prove a little dull during more aimless stretches of the film. "Wet Hot American Summer" manages to sustain a fresh and brisk pace thanks to its stellar ensemble cast, including Elizabeth Banks, Bradley Cooper, Paul Rudd, Janeane Garofalo, and Amy Poehler, among many others.
Superbad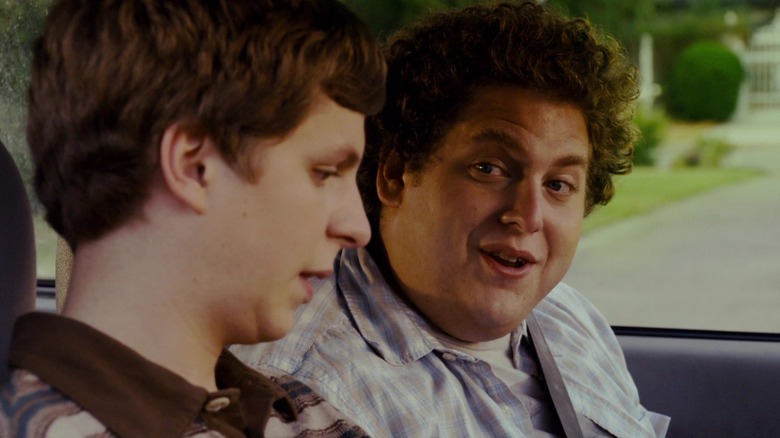 Sony Pictures
If "The Beach Girls" left you yearning for a more grounded story with more relatable characters, you should chase it with Greg Mottola's "Superbad." The 2007 sleeper hit utilizes many of the sex comedy tropes present in "The Beach Girls" while delving deeper into the central relationship between best friends Seth (Jonah Hill) and Evan (Michael Cera) as they navigate post-grad life on their last day as high schoolers. 
Their arguably co-dependent friendship is continually tested along the way as they are forced to confront the reality that they are headed off to different colleges in the fall. The closest we get to gleaning any meaningful insight into the inner lives of the titular girls in "The Beach Girls" arrives when Sarah tells a charming hippie hitchhiker that she's going to UCLA in the fall to study pre-law and has dreams of becoming a lawyer. But she's abruptly cut off by the hitchhiker and is told that she's on the path to becoming a computer. "Superbad" thoughtfully mines Seth, Evan, and Fogell's various insecurities and existential fears of the future after graduating high school, rendering them something of a rarity in this typical genre: fully dimensional, relatable characters.
Dazed and Confused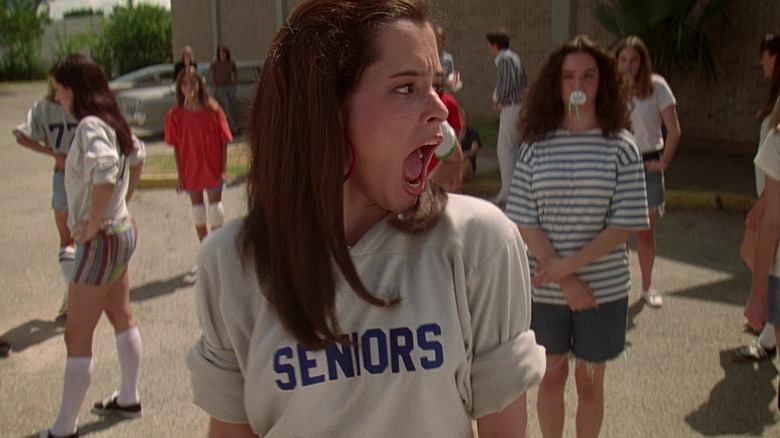 Gramercy Pictures
If you are in the market for a more potent, headier strain of storytelling, Richard Linklater's quintessential hangout comedy "Dazed and Confused" is an excellent follow-up to "The Beach Girls." Set in 1976 Austin, Texas on the last day of high school, the film is transportive, like "The Beach Girls," to a simpler, more carefree time where everyone seems to be stoned, but "Dazed and Confused" supplants much of the slapstick humor with coming-of-age nostalgia. 
Still, Linklater's film remains powered by the same force as "The Beach Girls" — "school's out for summer!" — and delivers on its promise of a good time. Whereas "The Beach Girls" focuses exclusively on high school grads, "Dazed and Confused" shares the focus between graduating seniors and incoming freshman characters from all across the social spectrums, resulting in a surprisingly tender mediation on more cerebral themes of time and growing up, all set to banger after banger 1970s needle drops.
Girls Trip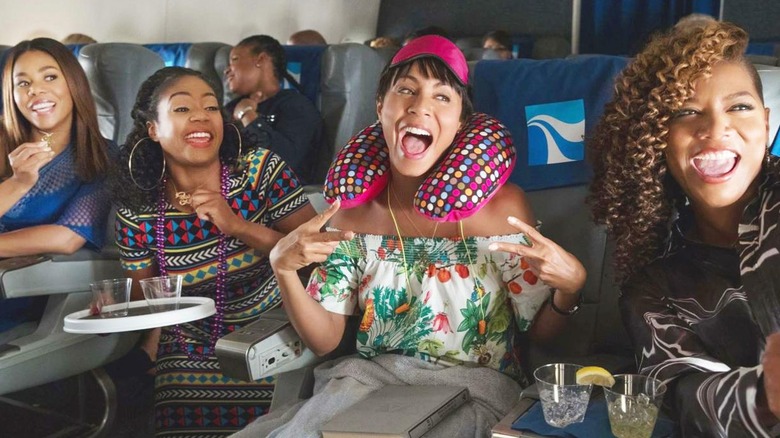 Universal Pictures
It is easy to dismiss "The Beach Girls" as frivolous on a surface level, but the film is an outlier in the annals of cinematic sex comedy from its era: a female-driven story that unabashedly explores its characters' sexualities. Thankfully, in the ensuing decades, more and more female-led raunchy comedies have surfaced and expanded the conception of the types of stories told within the genre, including Malcolm D. Lee's "Girls Trip." 
Starring Regina Hall, Jada Pinkett Smith, Queen Latifa, and Tiffany Haddish in her breakthrough performance, this hysterical 2017 comedy follows a group of four women rekindling their friendships on a trip to the Essence Music Festival in New Orleans. Featuring an all-Black female lead cast, this film is an anomaly within the genre in that there are few comparative films, but the film was a huge success for big screen representation and at the box office, raking in $140 million worldwide. "Girls Trip" proves that raunchy humor does not need to come at the cost of nuanced storytelling, delivering lewd, gross-out sight-gags alongside poignant character work — often within the same scene.
Can't Hardly Wait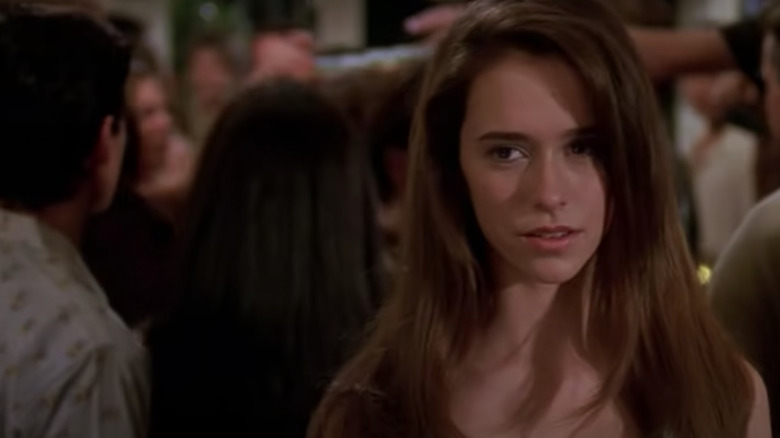 YouTube/Sony Pictures
Deborah Kaplan and Harry Elfont's 1990s teen comedy "Can't Hardly Wait" takes the genre's requisite wild party scene and extends it over the course of a whole movie. Like "The Beach Girls," everything revolves around said party, where the guest list is seemingly open to anyone with a pulse, culminating in a wild free-for-all where characters from all social spheres and walks of life collide. 
The sprawling cast is largely relegated to high school archetypal characters, from the jock and cheerleader to the nerd and artsy loner, featuring rising 1990s talent like Jennifer Love Hewitt, Melissa Joan Hart, and Seth Green. "Can't Hardly Wait" channels the wild hedonism of "The Beach Girls" with distinctly Gen-X flourishes and ennui, but also the importance of this fleeting moment for these characters — the night they leave a part of their adolescence behind as they step out into the unknown after the party ends. Although it was a disappointment for critics and at the box office, "Can't Hardly Wait" was deeply influential to the wave of late 1990s and early 2000s teen comedies and has developed a cult following since its release.
Beach Rats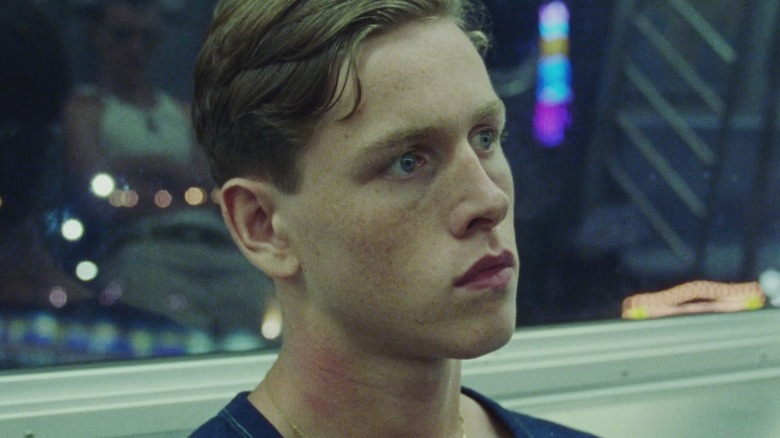 Neon
Eliza Hittman's moody 2017 Sundance Film Festival award-winning hit "Beach Rats" is a rarity in the erotic teen genre, as it interrogates the darker sides of summertime partying and drug use through a queer lens. Unlike "The Beach Girls," "Beach Rats" is tonally rooted in naturalism, employing hazy, dreamlike cinematography to conjure lustful summer sadness in a more fly-on-the-wall, observational approach. 
Set over the course of a summer along the colorful beaches of Coney Island and Brighton Beach, Brooklyn, the film follows closeted Frankie as he struggles to live authentically as a member of his trouble-seeking straight male posse while grappling with his true sexual desires. Ducky, Ginger, and Sarah all have the agency to pursue their sexualities out in the open, but Frankie's forced to explore his under the radar — often behind closed doors at seedy motels where he hooks up with older men he meets online. 
Ducky, Ginger, and eventually Sarah's sexual liberation in "The Beach Girls" affords them power and peace, but "Beach Rats" shows the inverse, revealing the tragic toll sexual repression takes on Frankie.
Psycho Beach Party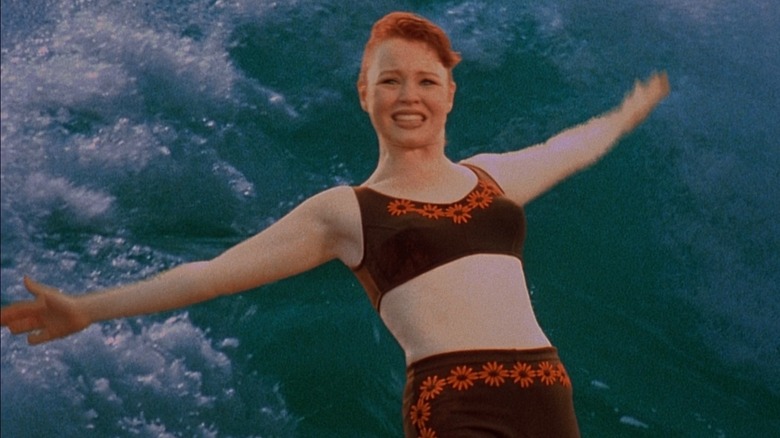 Strand Releasing
For viewers who responded to the "The Beach Girls" absurdist camp on the beach, try Robert Lee King's 2000 satire "Psycho Beach Party." Based on screenwriter Charles Busch's 1980s off-Broadway play in which he played the central character, the 1960s-set satire follows Florence Forrest, a plucky 16-year-old girl with Dissociative Identity Disorder. The local Malibu surfers nickname her "Chicklet" as she desperately tries to learn how to surf during her summer vacation. 
Ginger and Ducky's crossing with Captain Jack's "devil weed" and the Coast Guard is rendered child's play compared to the mess Chicklet finds herself in — a mystery revolving around a series of grisly murders that she may or may not have perpetrated in an alternate state of mind. Although it is a bit of a love-it or hate-it film, "Psycho Beach Party" features an undeniably fascinating cast, from early 2000s it-actors Lauren Ambrose and Nicholas Brendon to six-time Academy Award nominee Amy Adams. 
While "The Beach Girls" is an unabashed product of the late 1970s when it was produced, "Psycho Beach Party" has the extra advantage of space between the time of production and the story's setting, lampooning surfer and horror movie tropes from the 1960s through the 1990s — including preposterous surfing scenes set against obvious green screens — with vulgar, but affectionate nostalgia.
Tomboy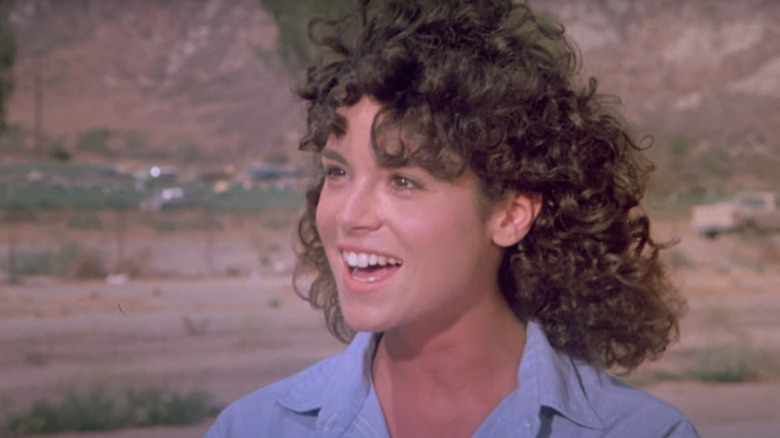 Crown International Pictures
If you are seeking a more character-driven movie compared to the ensemble cast of "The Beach Girls," consider Herb Freed's 1985 comedy "Tomboy," the underdog story of female mechanic Tomasina "Tommy" Boyd. Like Ginger and Ducky, Tommy is outspoken and confident, but Tommy possesses one thing that seems to evade the "Beach Girls": a goal. 
Tommy loves working on cars at the shop but has loftier goals to become a stock car driver, much to the chagrin of seemingly every single person in her life. She suffers harassment and misogynistic treatment at the repair shop from male co-workers and customers who doubt her capabilities — which only fuels Tommy's confrontational spirit and ambition. 
"Tomboy" utilizes bawdy humor to satirize gender roles as Tommy pursues both her stock car racing ambitions and a relationship with one of her competitors. "Tomboy" was also produced by the same distributor as "The Beach Girls" — the now defunct Crown International Pictures.
Where the Boys Are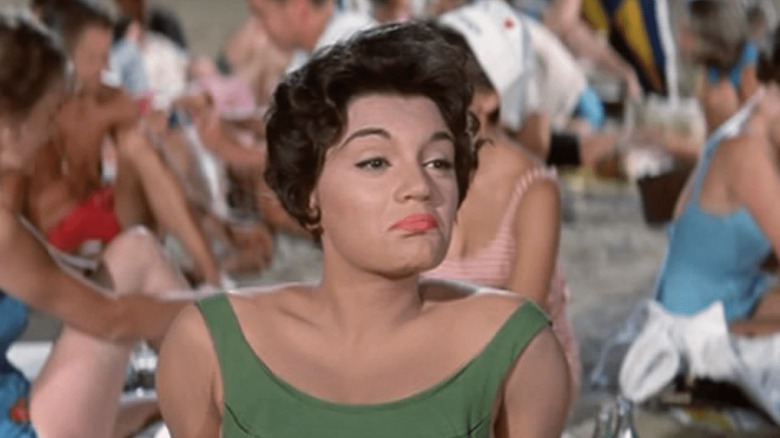 Metro-Goldwyn-Mayer
A more innocent, earnest ancestor to "The Beach Girls," Henry Levin's 1960 romantic comedy "Where the Boys Are" follows four young women from a women's college in Ohio as they travel south for "Easter vacation." The young women feel inhibited in their buttoned-up collegiate environment and are yearning for fun, freedom, and, of course, boys, arrive on the shores of sunny Fort Lauderdale, Florida. 
Ducky and Ginger would be repulsed by how much clothing these characters wear to the beach, but this film is less interested in showing skin than it is in youthful rebellion. "Where The Boys Are" is an amusing time capsule, providing a glimpse into the peculiar junction between the wholesome, modest 1950s and the looming influence of 1960s counter-culture. The film juggles an impressive array of genres, most notably the musical, which grants its star and then chart-topping recording artist Connie Francis a platform to showcase her vocal talents — including the film's titular song "Where the Boys Are."