Movies Like Girls Trip That Comedy Fans Need To See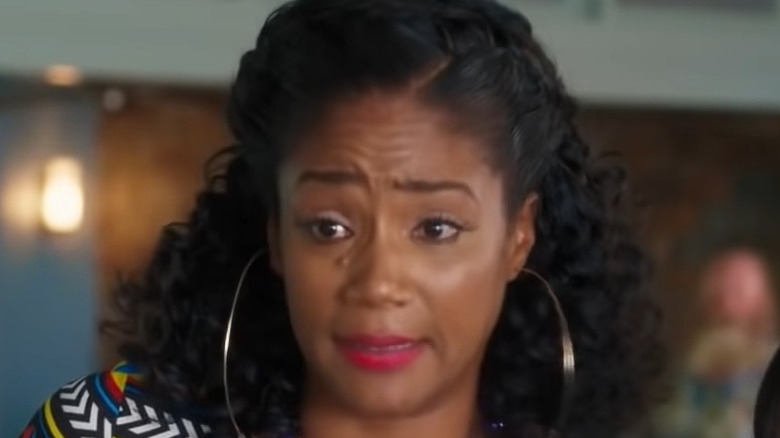 Universal Pictures/YouTube
2017's "Girls Trip" proved to be a huge critical and commercial success. This rollicking comedy follows lifestyle maven Ryan Pierce (Regina Hall) as she tries to reconnect with three college friends on a trip to New Orleans' Essence Music Festival. Hilarity ensues, thanks to the film's zippy script and spectacular lead performances. Tiffany Haddish shines as the raunchy and fiercely loyal Dina, Jada Pinkett Smith is hilarious as serious-minded mom Lisa, and Queen Latifah balances humor and pathos as Sasha, a gossip blogger struggling to mend her relationship with Ryan.
For years, people have talked about a potential sequel to the hit film. While we may be getting closer to a second "Girls Trip" film, anything on the horizon is still a ways off. Itching for a new female-fronted buddy comedy while you wait? We have you covered with this list of riotous movies every fan of "Girls Trip" needs to see.
Bad Moms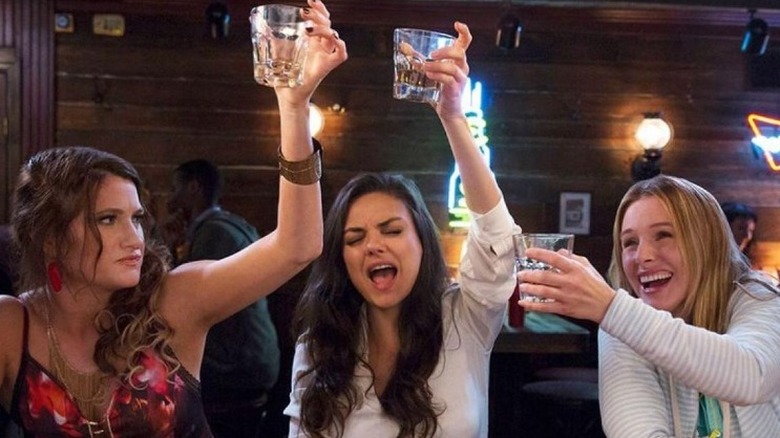 STX Entertainment
Like "Girls Trip," "Bad Moms" focuses on a group of women who desperately need to let loose. Mila Kunis stars as Amy Mitchell, a Chicago mom who is torn between her home and her job at a coffee company. Her life erupts when she finds out her husband (David Walton) is cheating, sending her down a hilarious path of self-discovery.
Amy's rebellion is supported by Carla (Kathryn Hahn), a free-spirited single mom, and Kiki (Kristen Bell), a stay-at-home mom. Together, the women go on an all-night escapade that changes Amy's approach to parenting and encourages her to run for the PTA. This angers top-dog mom Gwendolyn (Christina Applegate), who will stop at nothing to maintain her control.
"Bad Moms" is a fun, raucous movie with something of substance to say about the pressures of motherhood and what determines "good" and "bad" parenting. In his review, Rolling Stone's Peter Travers wrote that the movie offers "hardcore hilarity for stressed moms looking for a girls night out. Guys should also check out 'Bad Moms' — you just might learn something."
Romy and Michele's High School Reunion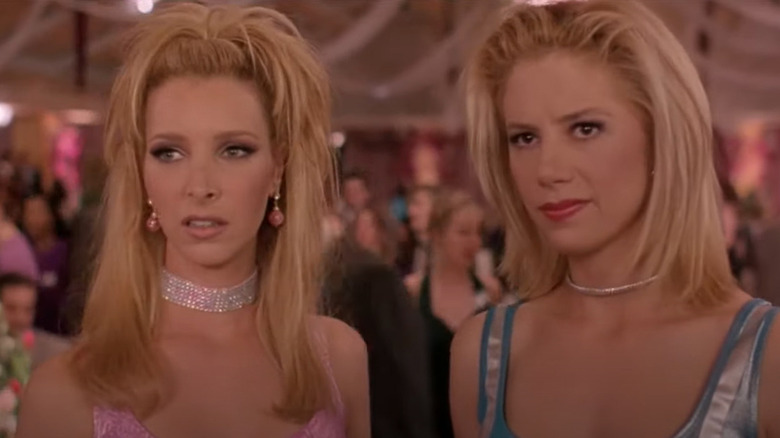 Buena Vista Pictures/YouTube
1997's "Romy and Michele's High School Reunion" has become a cult classic on the strength of Lisa Kudrow and Mira Sorvino's dazzling performances in the titular roles. The film follows best friends Romy and Michele as they prepare to attend their 10-year high school reunion in Tucson, Arizona. The women, who now live together in Los Angeles, realize their work and personal lives are severely lacking, and attempt to make changes to impress the people who used to bully them. When all else fails, they invent backstories that will make them look good in front of their peers.
Kudrow and Sorvino carve out incredibly unique characters you can't help but root for, even when they go completely off the rails and claim to be responsible for inventing the Post-it Note. There are also strong supporting turns from Janeane Garofalo, Alan Cumming, and Camryn Manheim as their fellow uncool graduates. "My work celebrates people who are different, people who are weird, and showing the value of that," director David Mirkin told Glamour in 2017. "It's a matter of making people realize that who they are is just fine, and you just have to find the path that works with who you are instead of trying to turn yourself into something you're not."
How to Be Single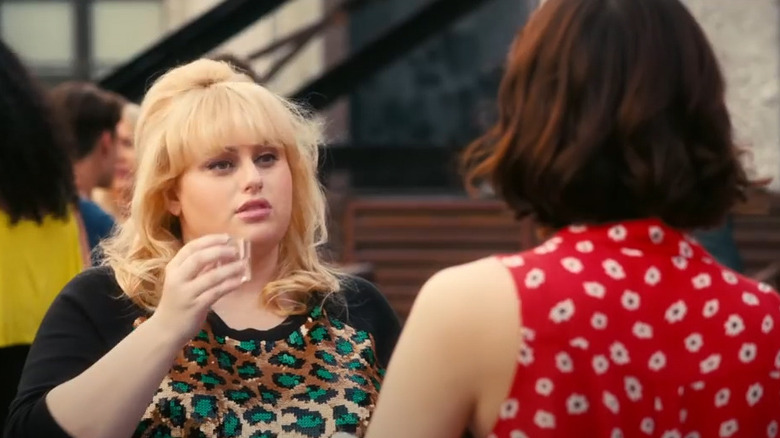 Warner Bros. Pictures/YouTube
"How to Be Single" is a funny little rom-com about Alice (Dakota Johnson), a paralegal who moves to New York City to start a new career and explore the single life. She has some help in her new activities, most notably from her crazy co-worker Robin (played by the always enjoyable Rebel Wilson) and her very single sister Meg (Leslie Mann). Things get complicated when she meets a promiscuous bartender named Tom (Anders Holm), who is himself infatuated with the married Lucy (Alison Brie). What results in a delightful ride through the world of dating.
Renowned movie critic Richard Roeper praised the film, saying he was "smitten" despite occasional moments of predictability. "It's one of the most endearing romantic comedies in recent memory, with some laugh-out-loud dialogue, gorgeous photography and uniformly charming performances from the entire cast," he wrote in his Chicago Sun-Times review. He's not wrong, especially when it comes to Wilson, whose over-the-top and un-self-conscious humor works like magic here.
Bachelorette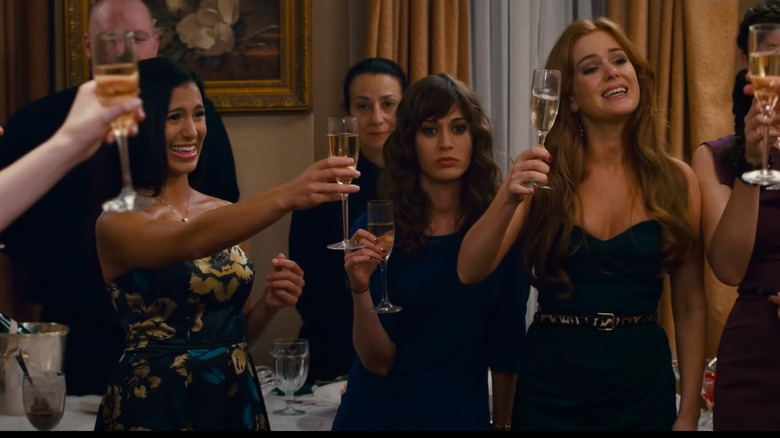 Radius-TWC/YouTube
Most of the films on our list are slapstick flicks or comedies with a romantic bent. But 2012's "Bachelorette" is neither of those things. Instead, it's a darkly comic movie about relatively unlikable people — and that's what makes it so fantastic
A group of girlfriends must reluctantly throw one of their number a bachelorette party, despite being jealous and unenthused about her nuptials. Kirsten Dunst plays control freak Regan Crawford, Rebel Wilson plays Becky Archer, the bride-to-be, and Isla Fisher and Lizzy Caplan round out their clique as Katie and Gena, both messes in their own ways. What ensues is a night of drug-fueled fights, mishaps, and hook-ups, which causes many secrets to float to the surface.
The four leads absolutely devour their roles, especially Dunst, Caplan, and Fisher, who play deeply miserable people. The male cast members — including James Marsden, Adam Scott, Kyle Bornheimer, and Andrew Rannells — are solid as well. Though the film received mixed reviews, those who "got" it were full of praise. As critic Stephen Holden wrote in his review for the New York Times, "'Bachelorette' is more tartly written, better acted and less forgiving than male-centric equivalents like the 'Hangover' movies." 
The House Bunny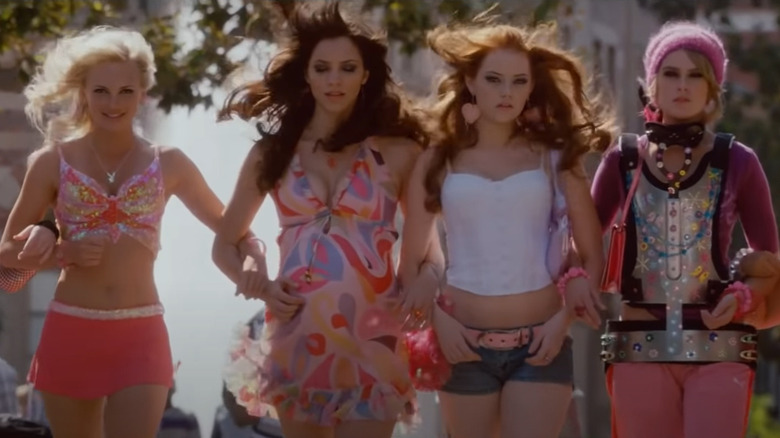 Sony Pictures/YouTube
2008's "The House Bunny" is about a Playboy bunny named Shelley Darlingson (Anna Faris) who finds herself homeless after being kicked out of Hef's mansion. Naturally, she decides that her next step should be to become a house mother to a sorority — but none of the cool ones will have her. Thus, Shelley joins the Zeta Alpha Zetas, a house full of awkward intellectuals and wayward misfits.
Faris dazzles as a ditzy but good-hearted blonde bombshell, and the supporting cast is equally uproarious. Nerdy Natalie (Emma Stone), sardonic Mona (Kat Dennings), awkward Joanne (Rumer Willis), and heavily pregnant Harmony (Katharine McPhee) are utterly irresistible. As Shelley takes the young women under her wing, she learns as much from them as they do from her. "The House Bunny" mixes an impressive amount of satire in with its bubbly comedy, resulting in a movie boasting as much heart as it has humor.
Someone Great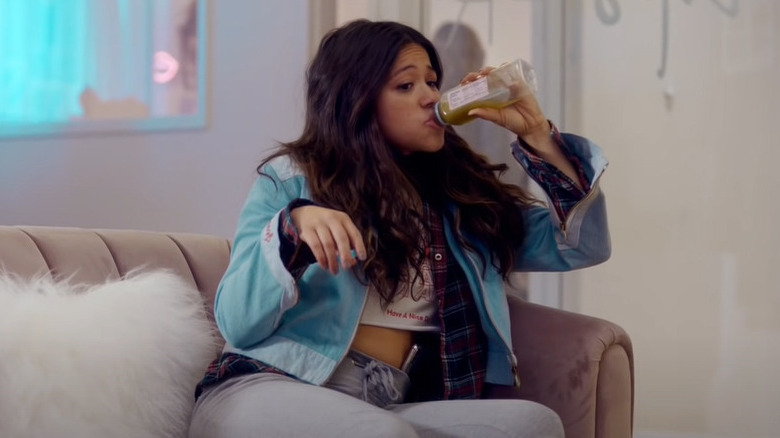 Netflix/YouTube
2019's "Someone Great" stars Gina Rodriguez as Jenny Young, a journalist dealing with two huge life changes: The break-up of her long-term relationship and a major job opportunity that requires a cross-country move. Looking to mourn and celebrate, she enlists her friends Blair (Brittany Snow) and Erin (DeWanda Wise) for one final fun-filled day (and night) in New York City.
"Someone Great" is slightly less rowdy than other entries on this list, but it makes up for its slightly more sedate tone with an enormous amount of heart. In her review for Vox, Alissa Wilkinson called it "a hopeful break-up film." We agree, and would like to add that it's also about strong female friendships that can withstand change and personal growth. "Someone Great" boasts a wonderful turn from Rodriguez: In his review for The Atlantic, David Sims wrote, "The movie is grounded by a star turn from Gina Rodriguez, who sheds her chipper 'Jane the Virgin' persona to portray a more frayed romantic lead."
Bridesmaids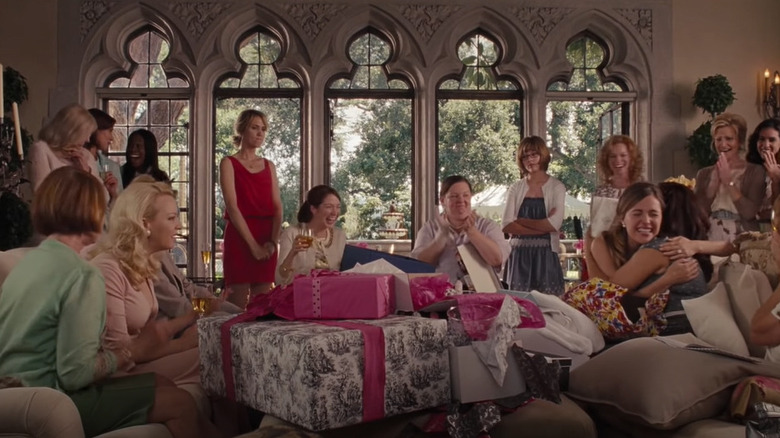 Universal Pictures/YouTube
As a huge hit with an Oscar-nominated screenplay and one of the grossest food poisoning scenes in movie history, 2011's "Bridesmaids" is one of the best female-fronted buddy comedies around. Kristen Wiig stars as Annie Walker, a down-on-her-luck thirtysomething who is trying to bounce back from a failed business and relationship. When her best friend Lillian (Maya Rudolph) gets engaged, she asks Annie to be her maid of honor. Hilarity ensues when Annie must go up against Lillian's new pal, the stylish and wealthy Helen (Rose Byrne), who wants to take things over.
Wiig, Byrne, and Rudolph are absolute delights in "Bridesmaids," but much of the movie is stolen by Melissa McCarthy, whose turn as Lillian's soon-to-be sister-in-law Megan earned her an Academy Award nomination for Best Supporting Actress. Throw in a charming cop (Chris O'Dowd) as Annie's love interest, a plane ride made of movie magic, and Maya Rudolph ruining a wedding dress, and you have one heck of a funny movie.
The First Wives Club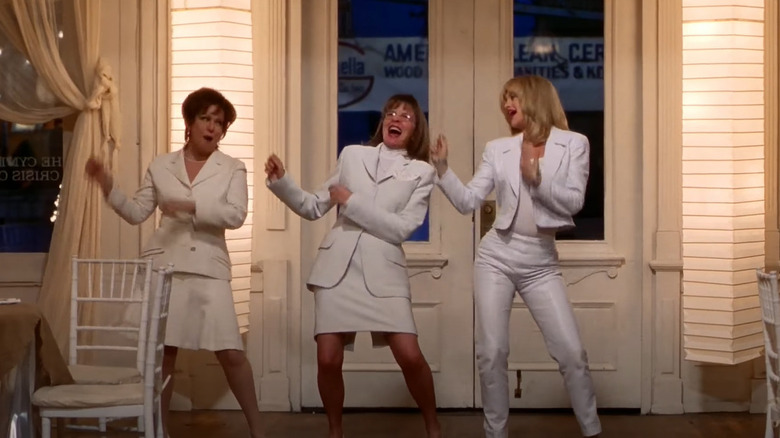 Paramount Pictures/YouTube
In 1996's "The First Wives Club," Goldie Hawn, Diane Keaton, and Bette Midler play three middle-aged women looking for revenge on the husbands who left them for younger mates. Having lost touch after college, these former friends are brought back together when the fourth member of their gang kills herself. As they soon discover, she was despondent after learning her husband — who got rich off her networking — has married his dramatically younger mistress. Having undergone similar indignities, the trio decides to do something about it.
Each actress plays to her strengths. Midler is an in-your-face spitfire as businesswoman Brenda Morelli-Cushman, Hawn is charismatically vain as washed-up actress Elise Elliot Atchison, and Keaton is zanily anxious as housewife Annie MacDuggan-Paradis. The fun the actresses are having is palpable, which critic Leonard Klady noted in his Variety review: "Midler, Hawn and Keaton are a refreshingly cohesive comedy combo with that indefinable thing known as screen chemistry." The acting legends are joined by a killer supporting cast, including stars like Sarah Jessica Parker, Victor Garber, Stockard Channing, and Dame Maggie Smith.
The Hustle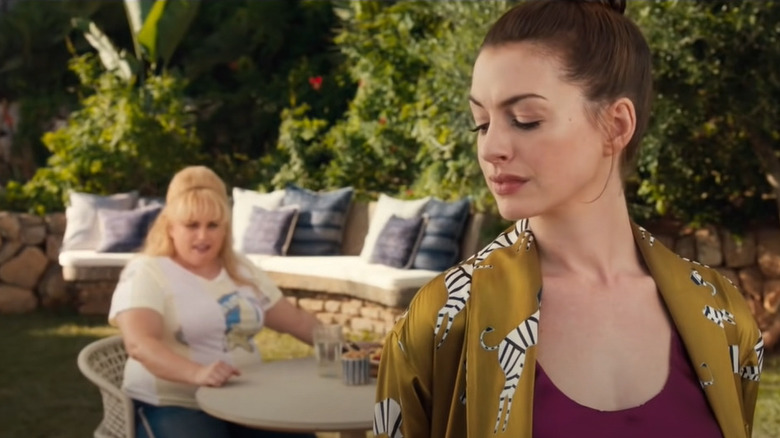 Universal Pictures/YouTube
We are aware that a lot of the films on this list include Rebel Wilson, but you have to give it to her — she plays off-the-wall oddballs so very well. In 2019's "The Hustle," Wilson stars as Penny Rust, a con artist with rather modest tactics who comes into contact with a more evolved, high-level crook named Josephine Chesterfield, played by Anne Hathaway. The women team up for a big con, only to get conned themselves. 
The fun of this movie is in the mismatch between the two lead characters. This unlikely duo proves to be the ultimate odd couple: Watching the sophisticated Josephine try to train unruly Penny is pure delight. Though critics didn't care for the film, audiences certainly did, and we're willing to bet you will too. Like "Girls Trip," this is a film that doesn't take itself too seriously, providing the cast with plenty of room to swan around, earning laughs. "The Hustle" also has lavish costumes and incredible scenery — always a plus in our books. 
The Other Woman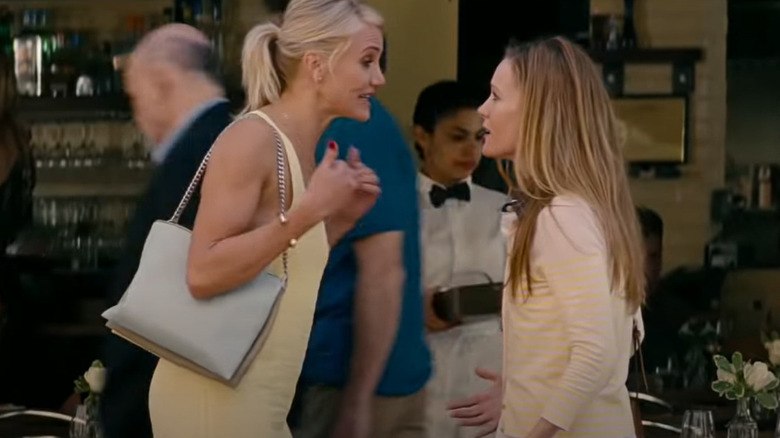 20th Century Fox/YouTube
In 2014's "The Other Woman," Cameron Diaz (in one of the final roles she took on before retirement) plays Carly Whitten, a lawyer who realizes that her new boyfriend Mark King (Nikolaj Coster-Waldau) is married. Not only that, he's also seeing Amber, a third woman (why it's not called "The Other Women," we don't know). In typical rom-com fashion, Carly teams up with Mark's wife Kate (Leslie Mann) and Amber (Kate Upton) to take him down.
This revenge comedy flick (boasting a performance from Nicki Minaj in a small supporting role, weirdly enough) offers exactly what viewers want from it. It isn't Diaz's best work, but it is an enjoyable little comedy that will make you laugh. Notably, Taylor Kinney, who plays Kate's brother Phil, brings real charm to his budding relationship with Carly. It's a nice contrast to the pranks the women pull on their philandering target.
The Heat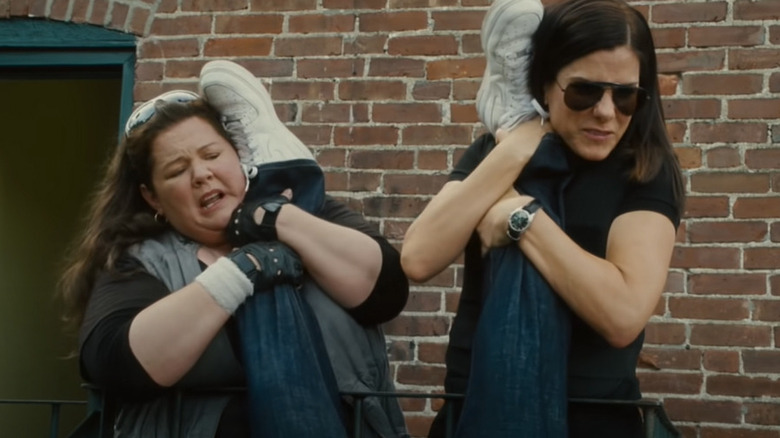 20th Century Fox/YouTube
The first time Melissa McCarthy teamed up with director Paul Feig, they gave us "Bridesmaids." The second time, they gave us "The Heat," a hysterical 2013 female buddy comedy that pairs McCarthy with the equally wonderful Sandra Bullock. (Don't sleep on Feig and McCarthy's other collaborations, "Spy" and "Ghostbusters," either.) McCarthy and Bullock play Shannon Mullins, a Boston Police detective with a big temper and a bigger mouth, and Sarah Ashburn, an uptight and unlikeable FBI agent. The women are forced to team up on a drug case, which of course causes them to fight each other as much as the actual villains.
This female spin on the buddy cop formula is delightful. But the particular reason this movie works so well is the fact that McCarthy and Bullock are comedic goldmines, with chemistry that is off the charts. As Peter Travers wrote in his Rolling Stone review, "There are only two reasons to see 'The Heat.' But they are formidable reasons, and they go by the names of Sandra Bullock and Melissa McCarthy." No other reasons are needed.
Ibiza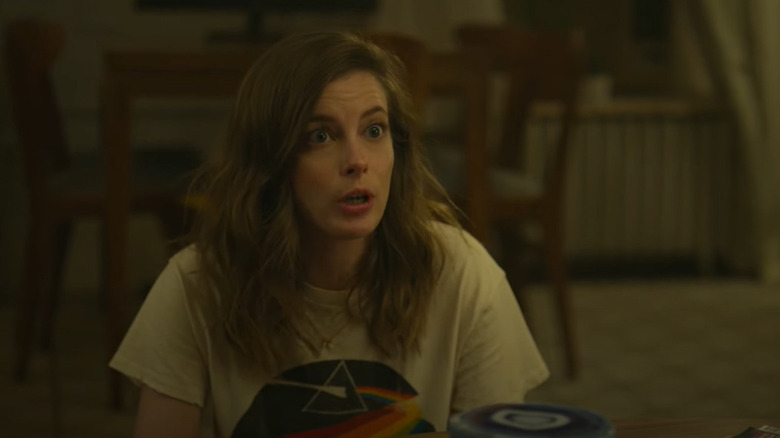 Netflix/YouTube
It seems like Netflix original movies either dominate cultural conversation ("Bird Box," anyone?) or fall completely under the radar. The latter fate is what greeted 2018's "Ibiza." Nonetheless, we think you should check it out — it has good gags, a killer script, and a super-talented cast. "Ibiza" follows Harper (Gillian Jacobs), who works in PR and must fly to Barcelona for her job. Her two best friends Nikki (Vanessa Bayer) and Leah (Phoebe Robinson) decide to tag along, and together, the women set off on an adventure. Their jaunt takes them to Ibiza after they meet a hot DJ named Leo West (Richard Madden) who is headed there for a gig.
"Ibiza" has all the elements necessary for success: There are laughs, a good love story, and scenery galore. The Los Angeles Times even compared it to "Girls Trip," though the review acknowledged it has "darker themes" and more "oddball humor." Critic Katie Walsh came to the following conclusion: "Although the script relies on gross-out body humor more often than it needs to, it manages to be deeper and more resonant than most girls gone wild comedies. A truly enjoyable trip."
Sisters
Universal Pictures
Here's an easy recipe for fun: Put Tina Fey and Amy Poehler together, and magic will happen. It likely surprised no one when 2015's "Sisters" turned out to be quite funny as a result. While critics were mixed on the film, many praised the chemistry between the two leads. Writing for the Seattle Times, critic Moira Macdonald said, "You've pretty much seen this movie before, but the chemistry between Fey and Poehler — famously pals off-screen — is, of course, a kick, particularly in throwaway scenes where they seem to be happily wandering off script."
So, yes, you're treading into familiar territory here, but who wouldn't when they know they're guaranteed a good time? Fey plays Kate Ellis, a wildly messy and undependable single mom, while Poehler plays her younger, more together sister, a divorced nurse named Maura. When their parents (played by James Brolin and Dianne Wiest) decide to sell their childhood home, the sisters plan a blow-out party with all of their high school friends. This obviously means that a fantastic crew of comedians pop up, including other "Saturday Night Live" vets like Maya Rudolph, Bobby Moynihan, Rachel Dratch, Kate McKinnon, and Chris Parnell.
The Spy Who Dumped Me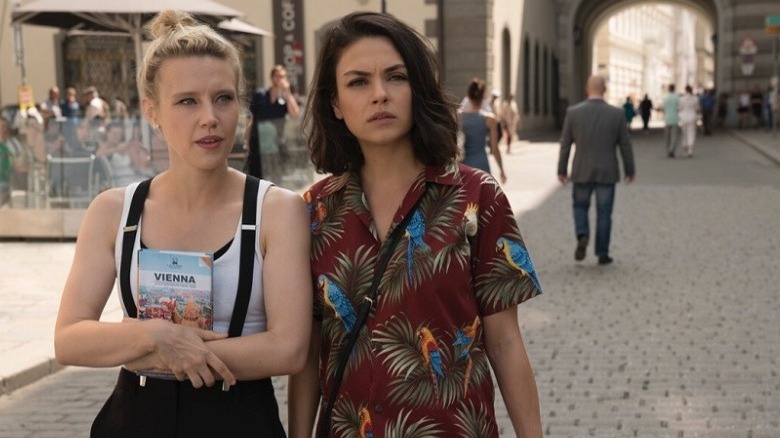 Lionsgate
Part comedy, part action flick, 2018's "The Spy Who Dumped Me" is a pleasurable buddy comedy in the vein of "Girls Trip," albeit with slightly more fight scenes.  Friends Audrey Stockman (Mila Kunis) and — yes, this is the character's real name — Morgan Freeman (Kate McKinnon) accidentally get caught up in a secret governmental mission, due to their affiliation with Audrey's ex-boyfriend Drew (Justin Theroux). Along the way, they encounter Sebastian Henshaw, another secret agent who may or may not be working with Drew.
The plot is very twisty and somewhat unhinged, but Kunis and McKinnon shine as unlikely action heroes. As you may expect, Kunis plays the more straightforward role while McKinnon plays the kooky one — something she does extremely well. As Peter Bradshaw noted in his review for the Guardian, "It's pretty much impossible for Kate McKinnon to dip below a basic level of funny." The film's reviews were mixed, but nearly every critic had similar levels of praise for McKinnon's comedic chops, and many also praised Kunis. For example, Time's review praised Kunis as "a terrific comedian, particularly suited to screwball mayhem because nothing seems to faze her."