This Is Where Dazed And Confused Was Actually Filmed
September 24, 2021, marks the 28th anniversary of the release of Richard Linklater's 1993 cult classic "Dazed and Confused," which is arguably one of the most accurate representations of high school life in the 1970s ever captured on film. Linklater was a student at the University of Texas and a founding member of the Austin Film Society in 1985. The movie is loosely based on experiences from his 1976 graduating class at Huntsville High School, and Linklater partly named some characters after people he went to school with at Huntsville (via The Washington Post).
The film featured many then-unknown actors who became big stars later in their careers. Matthew McConaughey, Ben Affleck, Joey Lauren Adams, Jason London, and Milla Jovovich are just some of the stars who had prominent roles in the movie. Not only do the actors add to the most important parts of the film, but so do the filming locations, which function as their own characters.
Dazed and Confused was filmed in a few Texas locations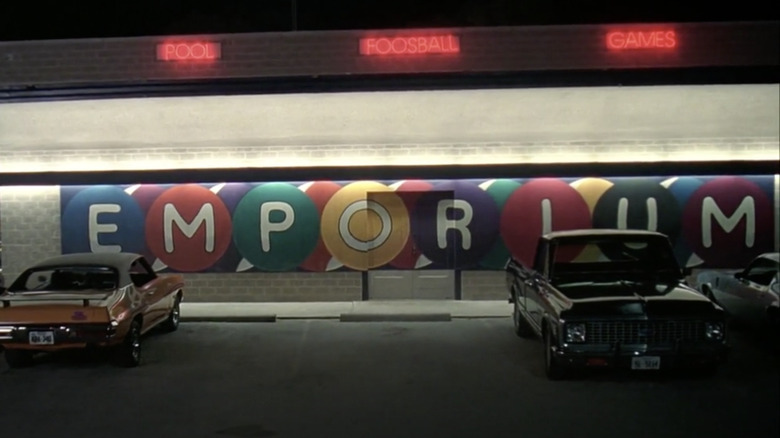 Gramercy Pictures
Set in a small Texas town on the last day of school, "Dazed and Confused" managed to actually film in Texas. According to The Cinemaholic, the major scenes in the film were primarily shot in Austin and Georgetown, with some minor scenes filmed in Seguin. One of the iconic locations in the movie is the Top Notch Hamburgers drive-in joint (via VisitAustin), featured in a scene where the teens are getting food and mingling with one another. Wooderson's (McConaughey) most famous line, "Alright, alright, alright," was delivered at Top Notch. Clearly, there wasn't enough McConaughey because the entire location and scene were added in just to give him more screen time.
Another quintessential scene took place at a local hang-out spot in the movie called The Emporium. Known in real life as the Violet Crown Shopping Center (via ThenNowMovieLocations), The Emporium became a crucial and notable piece of "Dazed"s filmography. Another one of Wooderson's most famously remembered lines — the one about high school girls — was said outside of this location while he is hanging out with Pink (London), Mitch (Wiley Wiggins), and Don (Sasha Jensen). 
Some of the other notable locations in Austin and Georgetown that were used in "Dazed and Confused" include Bedichek Middle School (the exterior shots of Robert E. Lee High School), Everette L. Williams Elementary School (the location for the junior high school), West Enfield Park (where the Moontower party scene was filmed), and the Americana Movie Theater, which has since been converted into a public library (via CurbedAustin).