Whatever Happened To Xander From Buffy The Vampire Slayer?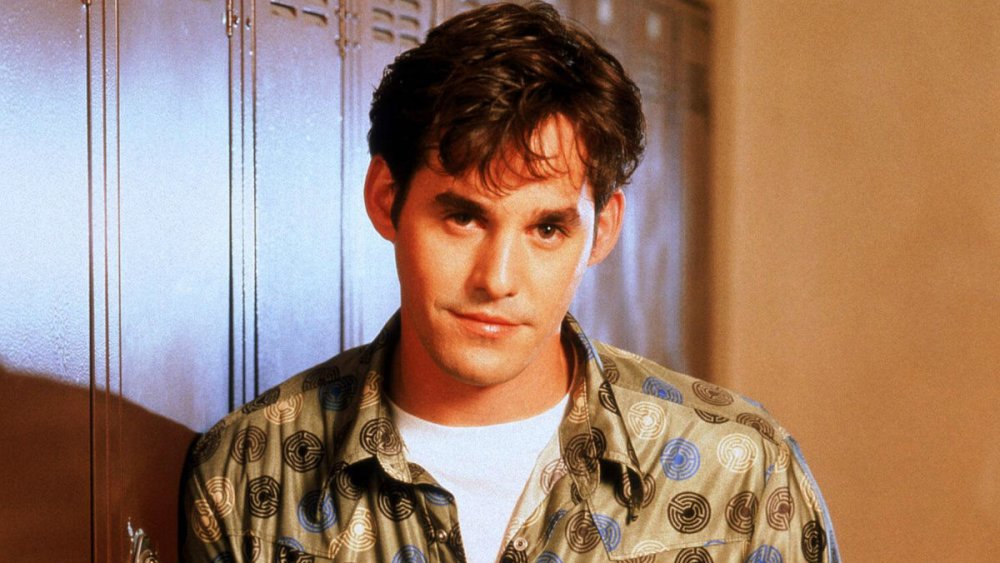 For seven seasons, the heroes of Buffy the Vampire Slayer – brainchild of writer/director Joss Whedon — fought bloodsuckers, demons, cyborg zombies, and everything in between. While he didn't have super powers like the titular hero, ancient mystic knowledge like Buffy's mentor Giles, or spell-casting kung fu like his childhood friend Willow, Xander Harris (played by actor Nicholas Brendon) was there every step of the way. The goofy social pariah did much to cultivate Buffy's trademark snark and proved to be one of the series' most beloved characters. 
While Brendon's work since hasn't included anything that's reached the kind of cult status as Buffy, he hasn't stopped working since he and the rest of the Scooby gang escaped the destruction of Sunnydale in Buffy's finale. He's worked in film and television since, including in reunions with Buffy costars and in popular police procedural dramas. He even returned to the character that made him famous by helping to write his continuing adventures. 
He hasn't enjoyed a particularly smooth road. Unfortunately Brendon's had some very public battles with mental health and addiction issues — sometimes with violent consequences. Thankfully he's also found different forms of expression to help in his recovery and is continuing to help make us laugh and scream on the big and small screens. To learn more, keep reading about what happened to Nicholas Brendon, the actor who played Xander Harris on Buffy the Vampire Slayer.

He's been on the big screen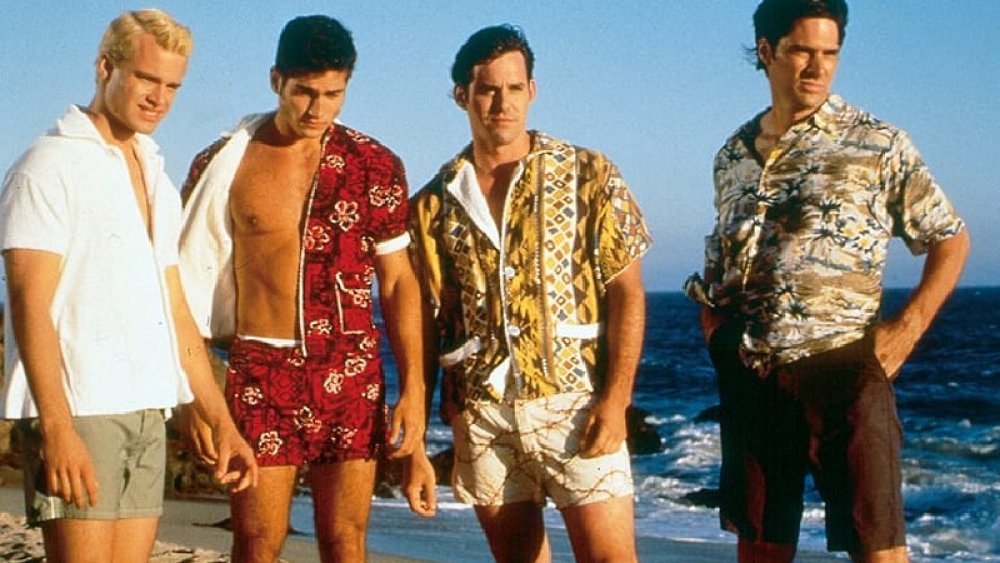 Nicholas Brendon's first major motion picture appearance came while Buffy was still on the air. Staying true to the comedy/horror fusion roots of Buffy, Brendon was cast as college dropout Starcat in 2000's Psycho Beach Party. Originally a stage play that appeared off-Broadway in 1987, Psycho Beach Party merges '80s slasher flicks with the '60s beach movie craze and lampoons them both. Brendon appears opposite his girlfriend Marvel Ann, played by future Oscar nominee Amy Adams.
After the end of Buffy, other than straight horror fare most of Brendon's movie work came in the form of TV movies. He played the title character's cousin in the 2004 ABC Family Channel movie Celeste in the City. As the more stylish and metro-savvy Dana, Brendon's character gifts Celeste (Majandra Delfino) with a makeover that helps her confidence. Two years later Brendon got to reunite with Buffy co-star Charisma Carpenter for another ABC Family Channel movie, Relative Chaos. 
But he hasn't strayed from the big screen entirely. In 2013, he played a chef and the lead's love interest in Big Gay Love. That same year Brendon's character was one of eight friends at a dinner party who cope with bizarre occurrences after the passing of a comet in the sci-fi thriller Coherence. In 2016 he popped up in the superhero parody Surge of Power: Revenge of the Sequel, and starred in the 2018 UK crime thriller King of Crime. 
He was working in the kitchen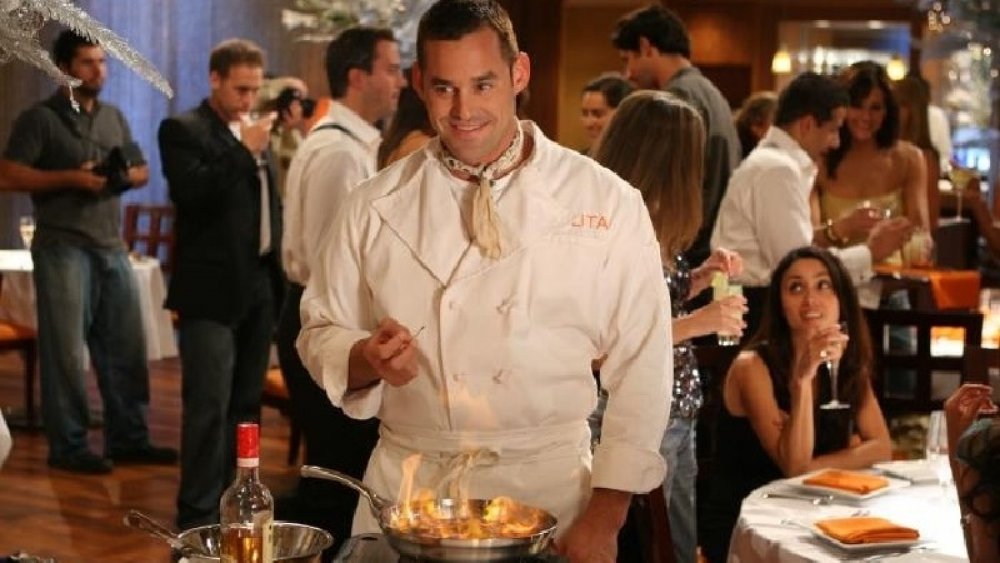 Brendon's first regular post-Buffy TV role was on Fox's culinary sitcom Kitchen Confidential. Based on late celebrity chef Anthony Bourdain's bestselling book of the same name, the sitcom starred Bradley Cooper as Jack Bourdain — stand-in for the real-life chef. Brendon played Seth Richmann, a pastry chef and old buddy of Jack's. 
In a 2005 interview with Campus Circle, Brendon said there were benefits to transitioning between Buffy and Kitchen Confidential. Brendon joked that "it's going to be nice not coming to work and having to have sex with a giant praying mantis or worry about some eight-hour fight sequence." He also said that, ironically considering the nature of the show, his favorite dish to make in real life was chili because "you just put the ingredients in a pot and let it sit there for two or three hours."
While the ingredients may have been right, sadly the patrons weren't hungry. In late 2005 Fox announced Kitchen Confidential would end after 13 episodes. But if nothing else, at least Brendon got to have some fun. Asked by the Pensacola News Journal in 2014 if he could share any interesting anecdotes about working with Cooper, Brendon mentioned "that time John Cho and I TP'd Coop's new car." We have to imagine Xander Harris would cry fat, grateful tears to know the actor who brought him to life not only covered Rocket Raccoon's car with toilet paper, but had Commander Sulu help him do it.
He was part of a powerful story in Private Practice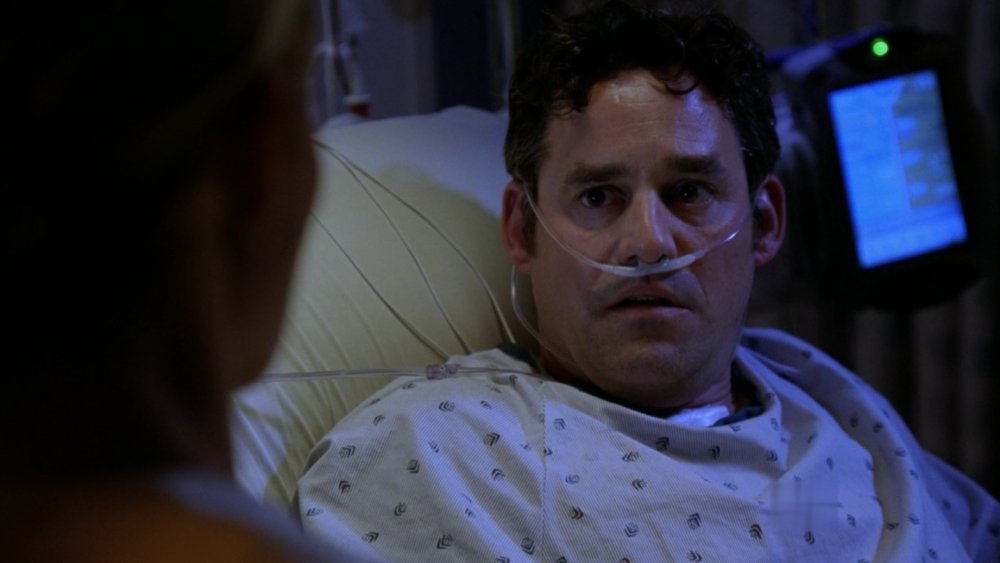 In 2010, Brendon was tapped to play a character very much against his usual type. In the Grey's Anatomy spinoff Private Practice, Brendon played Lee McHenry — a disturbed, violent man who rapes series regular Charlotte King (KaDee Strickland). Brendon played McHenry in four episodes between 2010-11, and helped to make the story one of the most powerful and poignant to be told on the series. 
McHenry shows up in the ER after a fight with his girlfriend and complains that he isn't being seen quickly enough. Later he claims the reason he assaulted King is that she was mean to him when she told him to wait his turn. In a 2017 interview, Brendon described filming the rape scene as "very brutal" and something that stuck with him. He also said, ironically, that series writer Shonda Rhimes admitted she was "stealing" from the Buffy episode "The Body" — which shows the aftermath of the titular hero finding her mother dead — by having no music in the episode.
Brendon's second episode on Private Practice — "Did You Hear What Happened to Charlotte King?" – received critical praise for its portrayal of the aftermath of rape. E! News went so far as to call it "the most realistic depiction of rape in media history." TV Guide named it one of the 25 best television episodes of 2010.
He became a criminal mind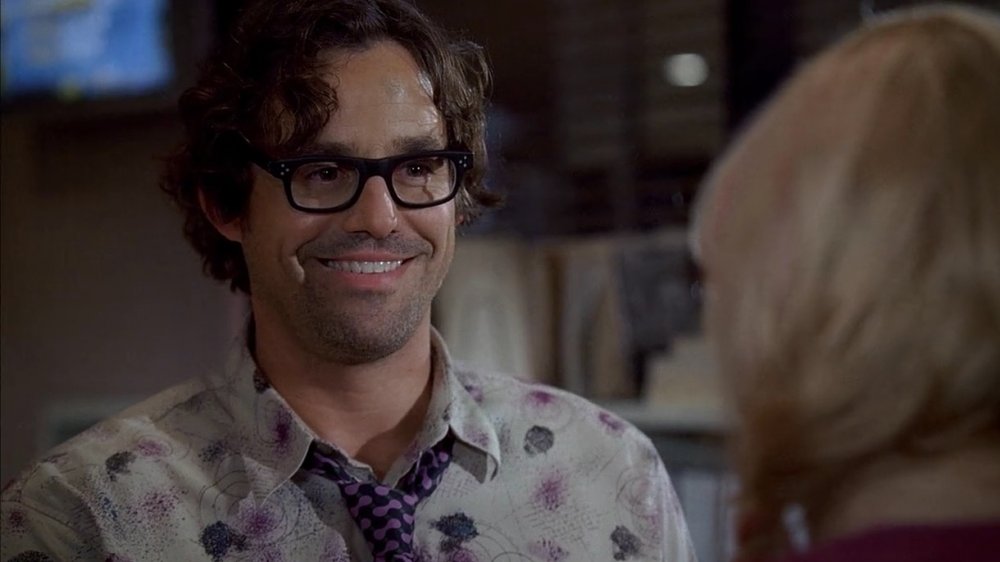 Four years after the end of Buffy, Nicholas Brendon made his first of many appearances on the hit police procedural drama Criminal Minds — on the third season episode "Penelope." After series regular Penelope (Kristen Vangsness) is shot by her date, FBI analyst Kevin Lynch (Brendon) is tapped to help the Behavioral Analyst Unit sift through her computer while she's recovering. Spotting images from underground comics on Penelope's computer and in awe of her system, Lynch starts falling for the kindred geek before even laying eyes on her. They meet face-to-face in the episode's final moments, and it's clear they're going to be more than friends. 
Lynch continues to appear on Criminal Minds for seven years. His relationship with Penelope has its dips and crests, including bouts of jealousy involving coworkers and ukulele instructors. Lynch helps the team track down killers and hostile hackers. By the tenth season it's clear Penelope and Kevin are no longer together, and Brendon isn't seen on the show after season 10's "Burn." 
In a 2016 interview, Brendon made it clear he was fond of playing his recurring Criminal Minds role. Asked to name his favorite acting role since Buffy, Brendon answered, "Kevin Lynch from Criminal Minds. He is Xander 2.0." Which makes sense, particularly if part of the journey between Xander 1.0 and 2.0 includes Willow teaching him how to use a computer.
He wrote Buffy's continuing adventures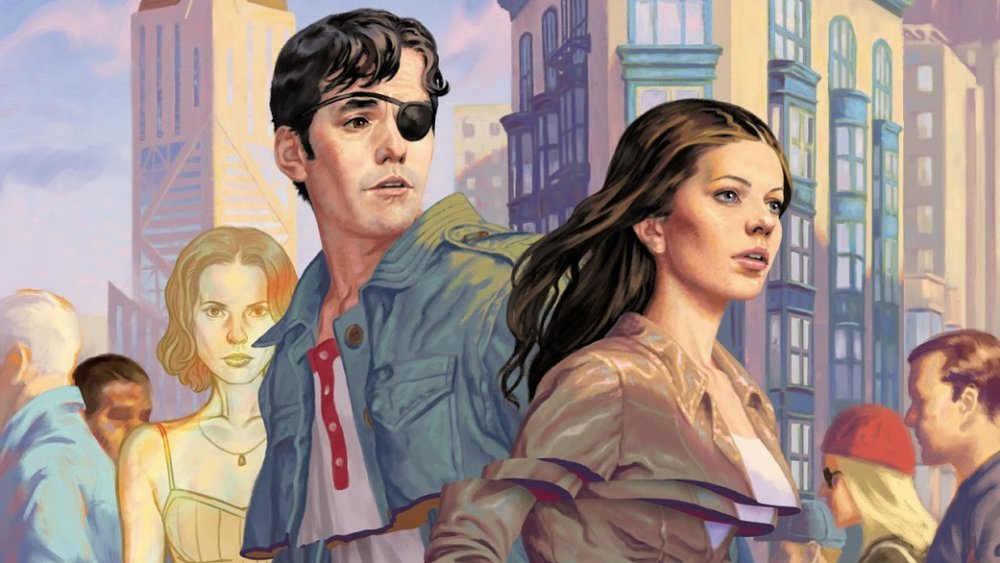 Buffy the Vampire Slayer's seventh and final season wasn't enough for a lot of fans, so since 2007, Dark Horse Comics has published Buffy adventures with each series representing a new season. With 2014 came the Season 10 comic, and for the first time Nicholas Brendon joined the writing team. 
Speaking to io9 in 2014 about the experience, Brendon said editor Scott Allie had invited him to write for the comic and that he'd gone to a Buffy comic writing summit where he collaborated mostly with writer Christos Gage. While he did a lot of writing for his former character Xander, one of his biggest contributions to the story came in the form of writing for Giles. Known as Buffy's usually stuffy mentor, in the comics Giles had been de-aged to a young man. Brendon felt strongly that, as a younger guy, "he should be talking about boobs more. I just bring a certain immaturity level to this thing... Think of me as the Bill Murray of this scenario."
Two years later, Brendon talked about writing with Gage in a "little coffee shop in Santa Monica," and how he would act out the lines. Brendon joked, "if anybody had been an avid Buffy fan they would have been like, wetting their pants, you know?" While we think it would be awesome if any Buffy nuts stumbled across the real-life Xander, we hope it wouldn't cause too much extra cleaning work for the staff.
He fought addiction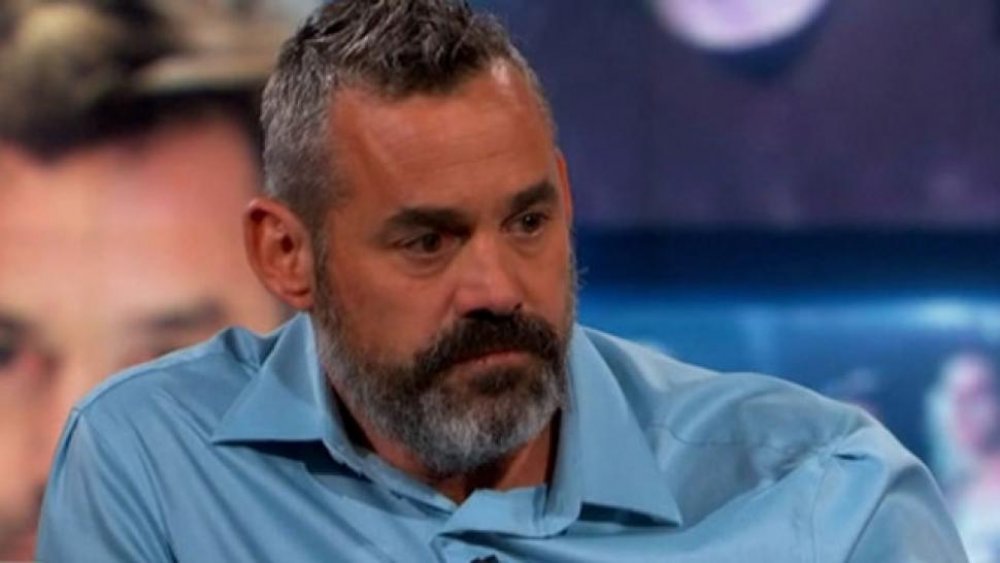 Nicholas Brendon's wrestled with demons for years, particularly since Buffy the Vampire Slayer ended. According to Brendon, he first went to rehab to cope with his addiction to alcohol and sleeping pills in 2003, the same year Buffy shuttered. Since then a number of very public arrests led to more rehab visits, including at Malibu's SOBA Recovery Center in 2010 and an undisclosed rehab facility in 2015. 
In 2015, in the wake of a number of very public arrests, Brendon made two appearances on the Dr. Phil Show to talk about his addiction and mental health issues. The first appearance, in August 2015, didn't last long. Fewer than five minutes into the interview, Brendon walked off the show after Dr. McGraw confronted him about reports that he was drinking the night before and the fact that he could smell alcohol on the actor. In a Facebook post (via the L.A. Times), Brendon said he left because the host "went for the jugular, talking about some of my recent mistakes, with no build up." Brendon reappeared on the show that December, this time being more open about his addiction and suicide attempts. At the end, Brendon accepted an offer for a rehabilitation program and the following January his friend Clare Kramer posted an Instagram image celebrating Brendon's 90 days of sobriety. 
He fought the law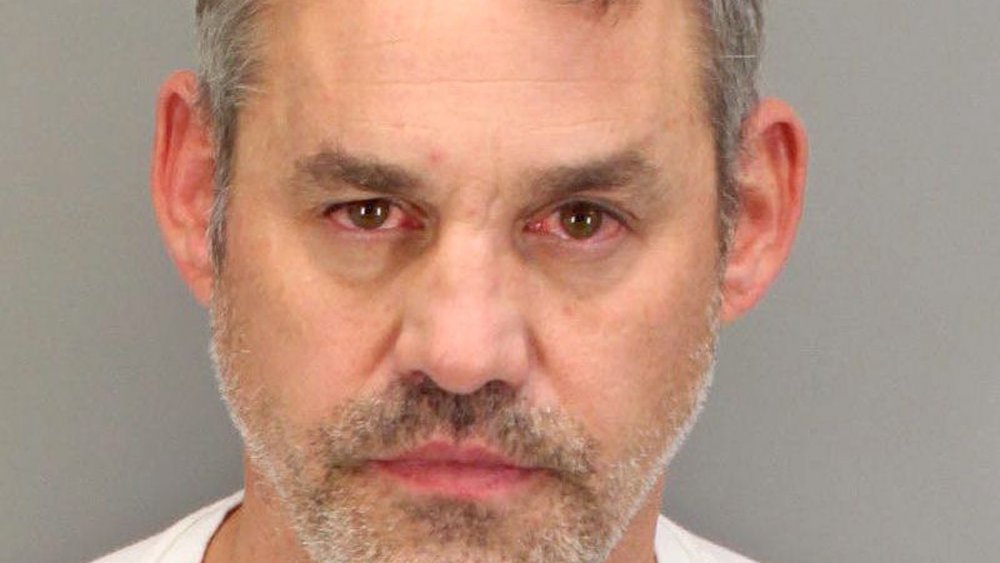 Palm Springs Police Department/Getty Images
Sadly, Nicholas Brendon's struggles with substance abuse and mental health have led to a number of run-ins with the law, starting in 2010 when the actor was reportedly tased and arrested by police. Brendon allegedly attacked the police and ran away before being caught. Brendon pleaded guilty to charges including resisting arrest and vandalism, and was sentenced to 36 months probation and 10 days of community service. 
Brendon's clashes with the law heated up between 2014 and 2015. In both February and March 2015 he was arrested for allegedly trashing Florida hotel rooms — first in Fort Lauderdale and the following month in Tallahassee. The February arrest took place days after he announced the end of his four-month marriage to Moonda Tee. By the time of his first brief appearance on the Dr. Phil Show, Brendon said he'd been arrested five times in eight months. 
Between his first and second appearances on Dr. Phil, Brendon was arrested again, this time allegedly for something much more violent. In October 2015 Brendon was arrested in Saratoga Springs, New York and charged with "Felony 3rd degree robbery, criminal mischief and obstruction of breathing." A woman claimed Brendon stole her car keys, destroyed her mobile phone, and grabbed her by the throat. His most recent arrest took place two years later in Palm Springs, California, where he allegedly violated a protection order made by an ex-girlfriend and attacked her in a bar. In May 2019, Brendon pleaded not guilty to the felony domestic violence charge.

He's expressing himself on the page and on canvas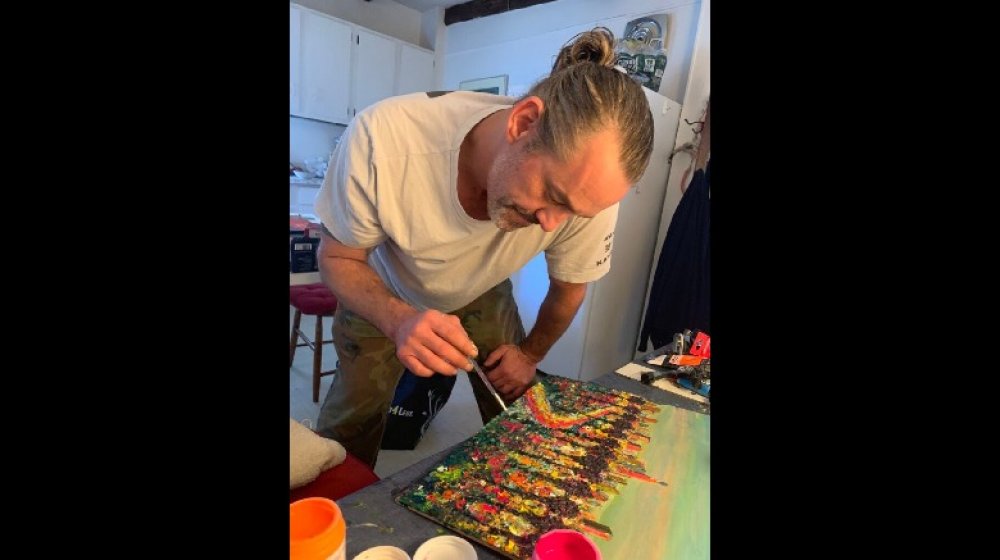 On Buffy, Xander Harris didn't have a lot of artistic endeavors, but the same doesn't hold true for the man who brought the awkward geek to life. 
While he's still acting, in more recent years Nichols Brendon has found other avenues for self-expression. On Brendon's official website, he writes that in 2019 he found a passion for painting. His work includes animal portraits of parrots, ostriches, and giraffes. His Redbubble page features a much broader range of styles and subjects, including not only painting but photography. 
And while being an actor, painter, and photographer would be impressive enough for anyone's portfolio, Brendon's also a writer. Along with his work on Season 10 of the Buffy the Vampire Slayer comic book, Brendon wrote the webcomic Very Bad Koalas about a pair of koalas "on the run from the law in a 1958 Cadillac Eldorado." Brendon's a poet as well and includes a sample of his work on his site. 
He's getting back to his horror roots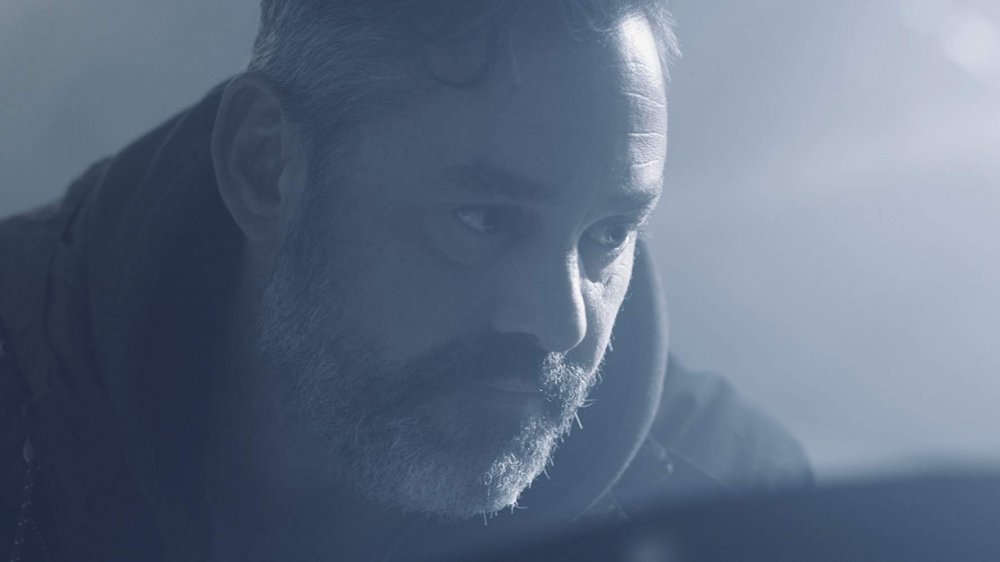 In more recent years, Nicholas Brendon's movie work has found him largely back in the realm of horror. In 2017, Brendon appeared in Redwood, about a couple who stumble upon a group of hungry vampires while camping in the wilderness. In 2018 he starred in The Nanny, in which a young girl believes her new nanny to be some kind of evil, supernatural force. That same year Brendon was in Judgment, which finds a group of friends stuck in a small desert town they soon learn is ruled by a violent cult. 
One of his most recent film projects is the partly crowdfunded Christmas Slasher. The horror flick follows the misadventures of a group of college kids on a Christmas hunting trip running from an undead reindeer and the married icons of Christmas themselves — Santa Claus and Mrs. Claus. Honestly? In some ways it sounds more like an episode of Buffy than anything Brendon's done since that series.