The Controversial Dark Comedy Coming To Netflix Next Month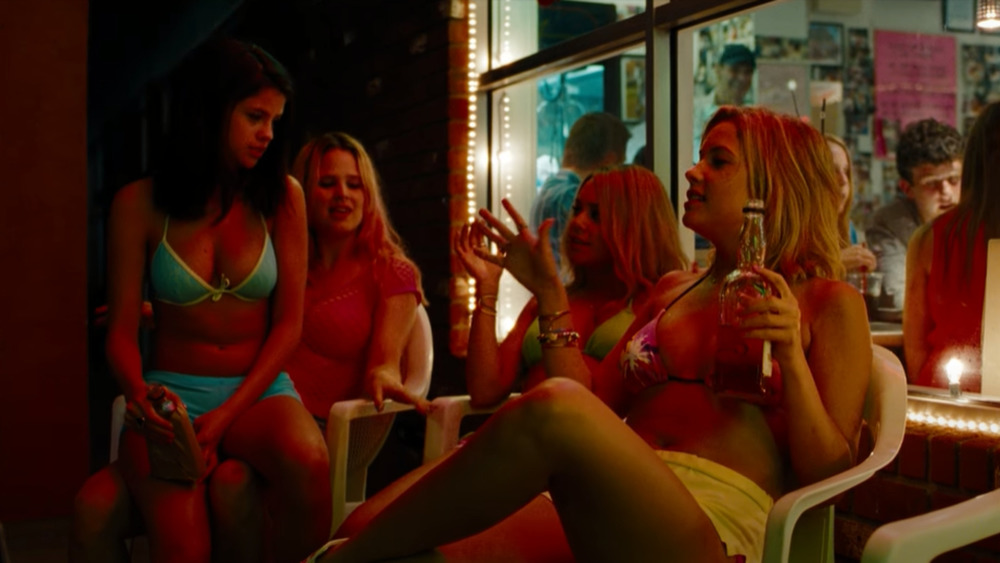 A24
Fans of Selena Gomez, James Franco, and risky comedies have something to look forward to next month: Netflix will be starting the new year with a bang, adding a slew of new tv shows and movies to their streaming line-up, including the 2012 film, Spring Breakers.
The film — which was written and directed by Harmony Korine — tells the colorful story of four young women who turn to robbing a local restaurant in order to fund a spring break trip to Florida. However, the act soon becomes one of many crimes that the girls commit, amidst wild, drug-fueled parties, and their antics only get more serious when they take up with a local drug dealer who's involved in crimes of his own.
Actresses Vanessa Hudgens, Ashley Benson, Rachel Korine, and Selena Gomez star as the four co-eds whose spring break trip turns out to be a life-changing experience, for reasons good and bad. James Franco delivers a memorable performance as Alien, a drug dealer who's living his own twisted version of the American dream.
The film received a 38% audience score on Rotten Tomatoes and received a 63 out of 100 on Metacritic, with the website stating that the film received generally favorable reviews from 40 critics. Still, the response to the film varied widely, judging from mainstream reviews.
Spring Breakers was a hotly debated film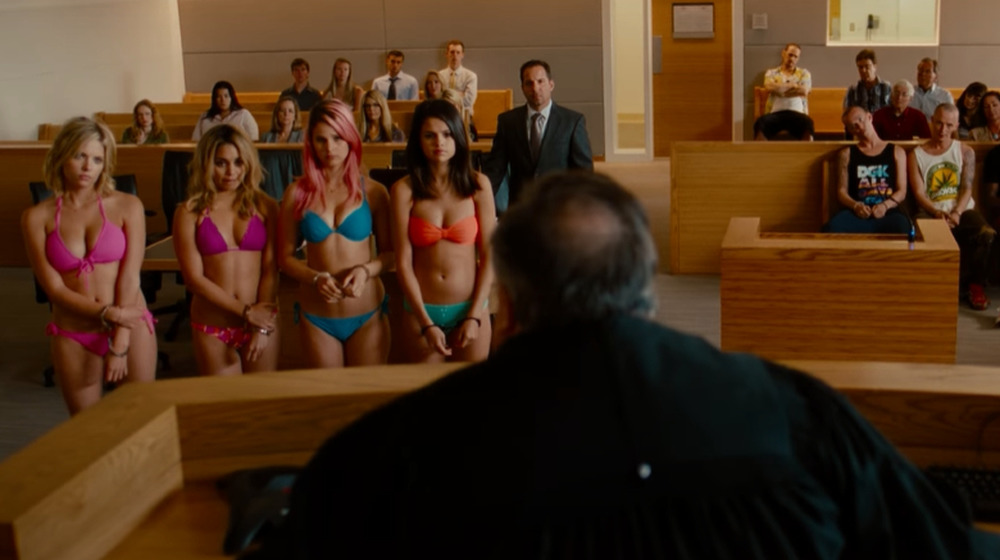 A24
While Spring Breakers may have received middle-of-the-road reviews from many critics, its merits as a film were also hotly contested by movie reviewers who couldn't decide if having bikini-clad coeds commit crimes while wearing ski masks was unbelievably sexist or daringly feminist.
Reviewer Richard Roeper, in his coverage of the film for RogerEbert.com, called it "the most unforgettable movie of the year so far," describing it as having the feel of a Girls Gone Wild! production while at the same time delivering an experience that felt like "raw, mad, avant-garde genius at work."
Conversely, writer Heather Long, in her review for The Guardian, blasted the film for treating its female leads as sex objects and reinforcing rape culture, deftly weaving in current events in her review of a film she called "hardly unique."
But, while critics may have been split on the ramifications of the film, it had a huge impact on at least one of its stars. Selena Gomez explained in an interview with Collider that the movie was very unlike the projects she'd done before, as a Disney star.
"I thought this was a great way to throw me into a huge acting camp, basically," she explained. "It was going to be a low-budget indie. Harmony [the director] was giving us opportunities to improv, and he let us play. That's really refreshing and rare. It was an actor's dream, in a way."
Watch Spring Breakers for yourself when it premieres on Netflix on January 10.