What The Cast Of The Mask Looks Like Today
New Line Cinema/YouTube
Based on the Dark Horse comic of the same name, 1994's "The Mask" tells the story of nebbish Stanley Ipkiss (Jim Carrey), whose less than joyful existence is turned completely upside-down when he finds a mysterious mask that unleashes his id in the form of a cartoonish, green-faced force of nature. Before long, Edge City gangster Dorian Tyrell (Peter Greene) seeks to make the mask his own, while Stanley pines for Dorian's girlfriend, Tina Carlyle (Cameron Diaz).
The film was a smash hit, earning over $350 million worldwide against its minimal $23 million budget. The zany comedy received an Academy Award nomination for best visual effects, as well as netting Jim Carrey a Golden Globe nomination that would shoot him into Hollywood stardom. The film spun off into an animated series that lasted for three seasons and a stand-alone sequel called "Son of the Mask" that most people would like to forget ever happened.
In the almost 30 years since the release of the original film, you might be wondering what has happened to its star-studded cast. Did they go on to success, failure, or somewhere in between? Read on to discover what the cast of "The Mask" looks like today.
Jim Carrey (Stanley Ipkiss)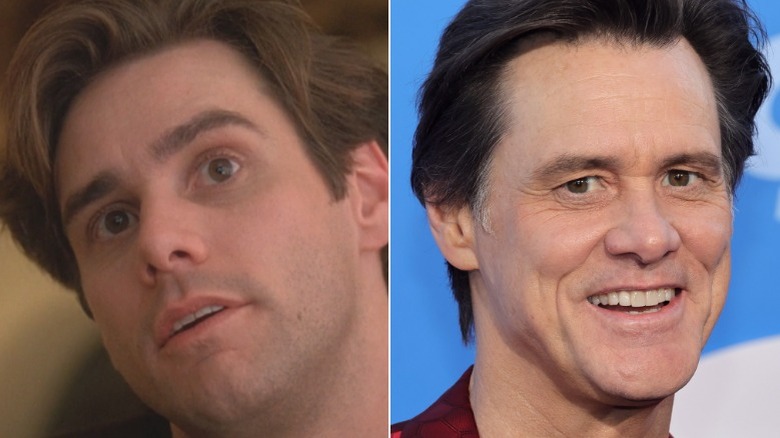 New Line Cinema/HBOMax & Kevin Winter/Getty
Jim Carrey puts in a star performance in "The Mask" by essentially playing two characters. The first is Stanley, a down-on-his-luck sad-sack who has absolutely no confidence in himself, but with passion and rage just below the surface. The other is Stanley's id brought to life as the fast-talking, green-faced man he becomes when he puts on the mask.
Previously appearing in the sketch show "In Living Color," as well as the feature films "Peggy Sue Got Married," "The Dead Pool," and "Earth Girls Are Easy," Jim Carrey became a household name after appearing in "Ace Ventura: Pet Detective," "The Mask," and "Dumb and Dumber" all within the same year. He quickly followed that up in 1995 with an "Ace Ventura" sequel and a villainous performance as The Riddler in "Batman Forever." His career would thrive for the next two and a half decades, with successes such as "Liar Liar," "The Truman Show," the Andy Kaufman biopic "Man on the Moon," "How the Grinch Stole Christmas," "Eternal Sunshine of the Spotless Mind," and his television reunion with Michel Gondry, 2019's "Kidding."
From box-office smashing comedies like "Bruce Almighty" to indie fare such as "I Love You Phillip Morris," Jim Carrey has done a little bit of everything (and almost all of it successfully). Most recently, he played the video game villain Dr. Robotnik in 2020's "Sonic the Hedgehog" and its 2022 sequel before announcing his retirement from acting.
Cameron Diaz (Tina Carlyle)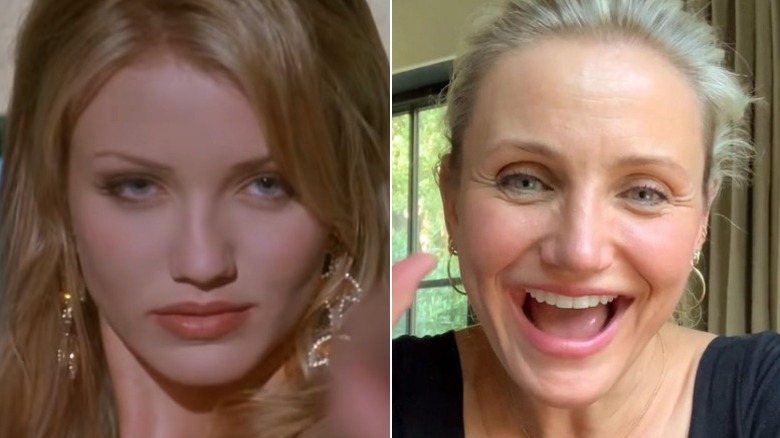 New Line Cinema/YouTube & World Of Wonder/Getty
Girlfriend of gangster Dorian Tyrell and aspiring nightclub singer, Tina Carlyle slips into Stanley Ipkiss's life when she goes to scope out the bank he works at so that Dorian can more effectively rob it. But when Stanley begins to show a romantic interest in her, both as himself and as his green-faced alter ego, Tina sees an opportunity to get out from under Dorian's thumb.
Following a modeling career, Cameron Diaz made her feature film debut in "The Mask." She followed it up with a successful film career that included praise for the comedy classic "There's Something About Mary," the mind-bending "Being John Malkovich," the sci-fi thriller "Vanilla Sky," and Martin Scorsese's "Gangs of New York." A mainstay in romantic comedies including "My Best Friend's Wedding," "The Holiday," and "What Happens in Vegas," Diaz would also show off her dramatic chops in films like "Any Given Sunday," "My Sister's Keeper," and "The Counselor." She also starred in two hugely successful franchises, playing Natalie Cook in 2000's "Charlie's Angels" and its 2003 sequel, as well as voicing Princess Fiona in 2001's "Shrek" and its three sequels.
After starring in a trio of films in 2014, "The Other Woman," "Sex Tape," and "Annie," Diaz retired from acting to spend more time with her husband (Good Charlotte guitarist Benji Madden) and their daughter. However, she appeared as a guest judge on the season premiere of "RuPaul's Drag Race All Stars 7."
Peter Greene (Dorian Tyrell)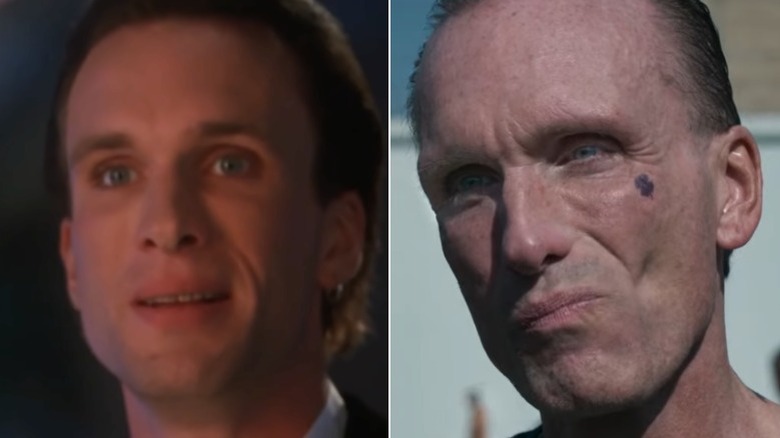 New Line Cinema/YouTube & ABC/YouTube
Dorian Tyrell wants nothing more than to get rid of his gangster boss Niko and take over his club, the Coco Bongo. When Dorian's business and romantic interests start getting interfered with by the green-masked Stanley Ipkiss, he puts a plan into action to get the mask for himself. And once he finally gets it, he becomes a terrifying force of violence.
The same year that "The Mask" was released, Peter Greene played his most iconic role as the sadistic Zed in Quentin Tarantino's "Pulp Fiction." Greene would make a career out of playing all sorts of bad guys, from criminals to corrupt cops in films like "The Usual Suspects" and "Training Day" as well as in comedies, including "Blue Streak" and "The Bounty Hunter."
Greene recently appeared in a recurring role as a white supremacist on the 2020 ABC legal drama "For Life." He also worked alongside Frank Grillo and Michael Kenneth Williams in the 2021 crime drama "Body Brokers." With a handful of film and television roles on the way, it seems as though Peter Greene will continue to grace our screens with his special brand of villainy for quite some time.
Peter Riegert (Lieutenant Mitch Kellaway)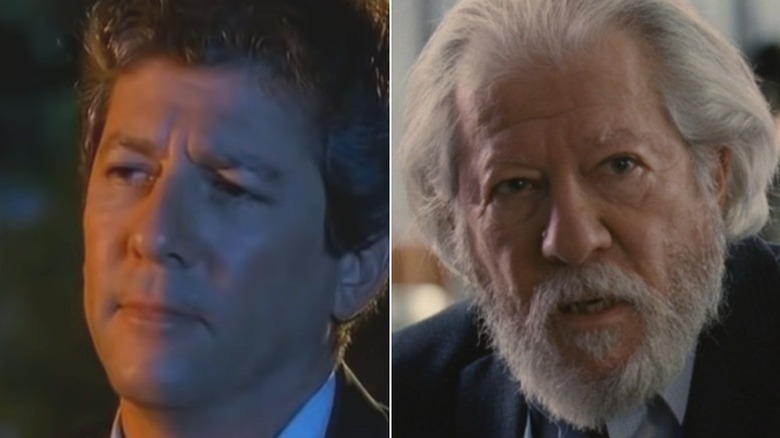 New Line Cinema/YouTube & HBO/HBOMax
Pursuing Stanley Ipkiss and trying to prove that he's also the guy in the green mask is Lieutenant Mitch Kellaway, who is played by Peter Riegert with a perfect balance of tough-guy attitude and comedic ineptitude.
Riegert made his feature film debut as Boone Schoenstein in the 1978 comedy classic "National Lampoon's Animal House" before starring in films like "Local Hero" and "Crossing Delancey" and earning an Emmy nomination for his role in the television film "Barbarians at the Gate." After "The Mask," Riegert appeared in many popular films including "Traffic" and "We Bought a Zoo," and was nominated for an Oscar for directing a short film called "By Courier."
In the realm of television, Peter Riegert memorably played NBC President James Kimbrough in the series finale of "Seinfeld," Ronald Zellman on "The Sopranos," and Judge Harvey Winter on "The Good Wife." Most recently, he has had recurring roles on "Disjointed," "Unbreakable Kimmy Schmidt," and "Succession."
Jim Doughan (Detective Doyle)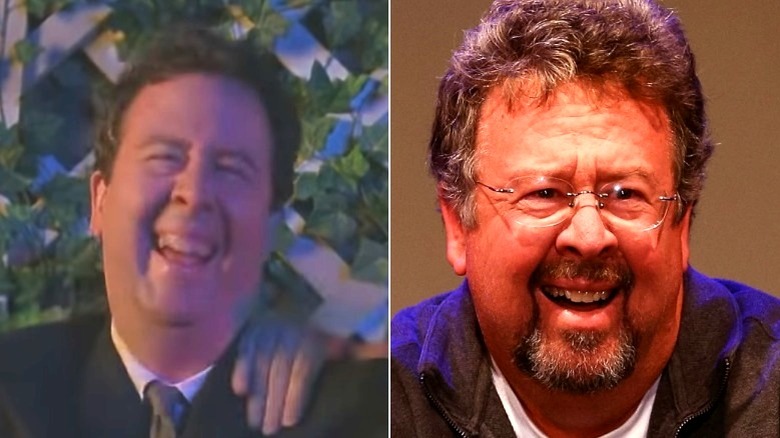 New Line Cinema/YouTube & Imeh Akpanudosen
Assisting (barely) Lieutenant Mitch Kellaway in tracking down the green-masked menace is his goofy partner, Detective Doyle, played with delightfully naive sincerity by Jim Doughan.
Doughan has appeared in countless small but memorable comedic roles, ranging from hit films like "Ruthless People" and "Evan Almighty" to television series such as "Perfect Strangers" and "Buffy the Vampire Slayer." He played yet another comedic detective and voiced a cat in 1999's "Stuart Little," and appeared as a soccer coach in its 2002 sequel. That wouldn't be the only family film franchise he would have multiple roles in — he also played a maitre d' in 1994's "The Flintstones" and a man who confesses to poisoning dinosaurs in the 2000 prequel "The Flintstones in Viva Rock Vegas."
Jim Doughan's last role was as a reporter in 2009's "Hotel for Dogs." Since then, he has been working as a performing arts and communications teacher for Harvard-Westlake School in Los Angeles.
Amy Yasbeck (Peggy Brandt)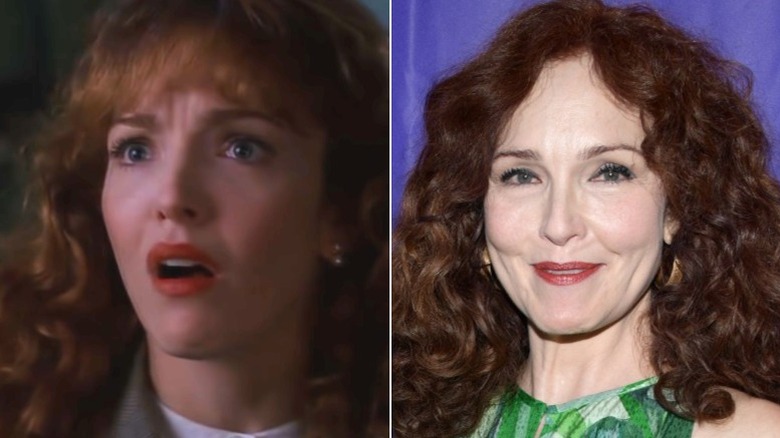 New Line Cinema/YouTube & Araya Doheny/Getty
Peggy Brandt is a reporter investigating the Mask who eventually betrays Stanley to Dorian in exchange for $50,000. Originally, Peggy was to be killed by Dorian, but the scene was removed with the thought that the character could be used in a sequel. While that didn't happen, Peggy was retooled for the animated series to be Stanley's best friend, and she even got to wear the mask herself in one episode.
Before her role as Peggy Brandt in "The Mask," Amy Yasbeck had appeared in hit films like "Pretty Woman," "Problem Child," and "Robin Hood: Men in Tights." After "The Mask," she landed the role of Casey Chappel Davenport on the NBC sitcom "Wings" and reunited with Mel Brooks for the 1995 comedy "Dracula: Dead and Loving It."
Though Yasbeck continued to appear in the occasional television episode, her acting career slowed down around the time of the passing of her husband, "Problem Child" co-star John Ritter. Her latest acting role was in a 2016 episode of "Pretty Little Liars."
Ben Stein (Doctor Arthur Neuman)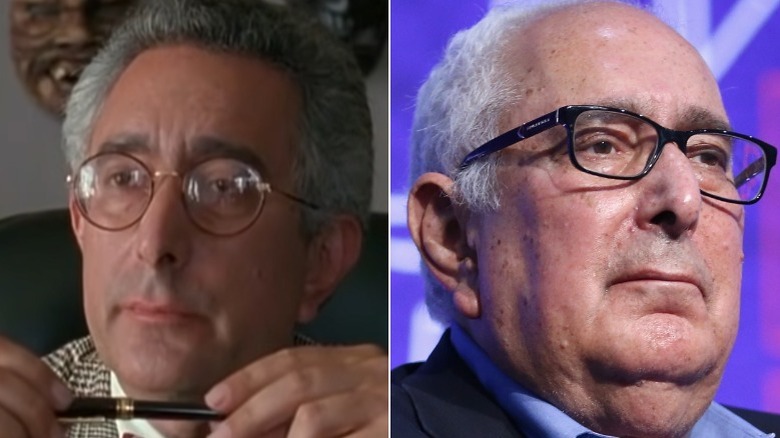 New Line Cinema/YouTube & Rich Polk/Getty
Not knowing what to do with his new magical mask, Stanley Ipkiss seeks out Dr. Arthur Neuman, a psychologist he sees on television discussing his latest book, "The Masks We Wear." Though not believing Stanley's wild claims, Dr. Neuman reveals the mask to be connected to the Norse trickster god Loki. Actor Ben Stein would reprise the character of Dr. Neuman in the animated series, as well as the 2005 sequel "Son of the Mask."
Before becoming an actor, Ben Stein was a lawyer, an economics teacher, and a speechwriter for former President Richard Nixon. There were even theories he could possibly be the anonymous informant Deep Throat. But Stein made his way into pop culture history when he memorably played a boring economics teacher in the 1986 comedy "Ferris Bueller's Day Off." He would carry this dry, monotonous delivery into countless film and television roles, including "Ghostbusters II," "The Fairly OddParents" and the award-winning game show "Win Ben Stein's Money." His most recent role was as Alexander Hamilton in the 2018 Syfy film "The Last Sharknado: It's About Time."
In more recent years, Ben Stein has courted controversy, calling Barack Obama "the most racist president there has ever been in America," getting into a shouting match with Ron Paul on "Larry King Live," and co-writing and starring in the highly controversial 2008 creationist propaganda film, "Expelled: No Intelligence Allowed."
Orestes Matacena (Niko)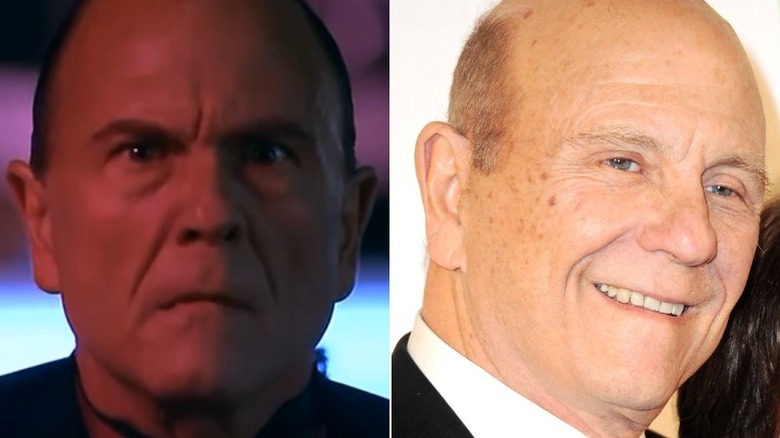 New Line Cinema/YouTube & Albert L. Ortega/Getty
Dorian's boss is the fearsome gangster, Niko, who owns the Coco Bongo club. Niko keeps Dorian in line by playing golf while Dorian holds the golf ball tee in his mouth. When Dorian gets control of Stanley's magical mask, Niko is one of the first people he seeks to get revenge on.
The Cuban-American actor Orestes Matacena has been writing, directing, and starring in his own films since 1981's "Fatal Encounter," with his latest film, "Two de Force," being released in 2011. In addition, he's kept busy appearing in independent films, with the occasional small role in bigger budget films like 1999's "Wild Wild West," as well as voicing Nickelodeon characters in "The Wild Thornberrys" and "All Grown Up!"
Matacena's latest acting role was the 2015 Canadian film "Random," and he is currently working on writing and directing a new film about resistance against Nazi occupation in Poland called "Swastika."
Johnny Williams (Burt)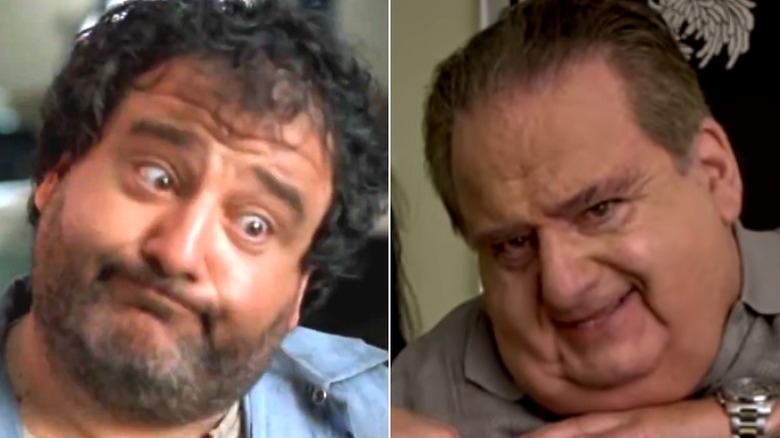 New Line Cinema/YouTube & Saban Films/Netflix
When Stanley Ipkiss tries to pick up his car from an auto repair shop, the lead mechanic Burt says it's not fixed yet, though he can let him use the loaner car ... for a price. When the car completely breaks down on Stanley, leading to his discovery of the mask, he uses his newfound abilities to give the dishonest mechanics their deserved comeuppance.
Johnny Williams, the actor behind the greasy mechanic Burt, got his start in the 1990 mobster classic "Goodfellas" as the gangster who Robert DeNiro's character gets mad at for buying his wife a pink Cadillac. The character's name, Johnny Roastbeef, was actually based on Williams's real-life nickname. The very next year, he would play Johnny Sandwich in "Honeymoon in Vegas" before going on to play small roles, mostly gangsters, in various films and television series, from films like 2004's "The Whole Ten Yards" to 2014's "The Cookie Mobster."
Recently, Johnny Williams played Fat Paulie in the Academy Award-winning 2018 film "Green Book" and Uncle Sal in the 2020 comedy "Friendsgiving."
Tim Bagley (Irv)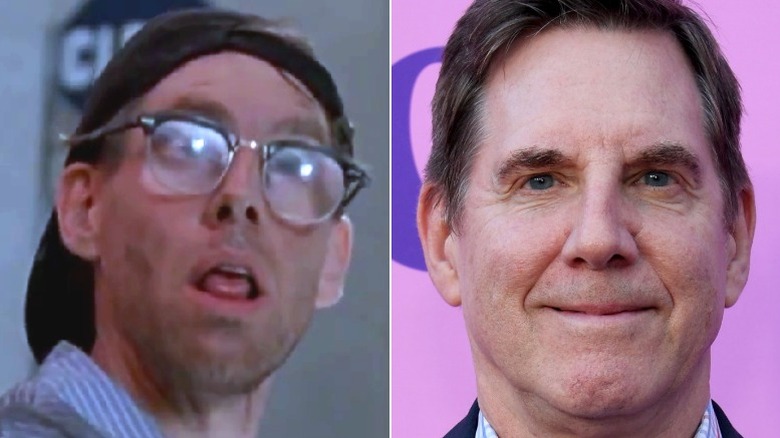 New Line Cinema/YouTube & Jon Kopaloff/Getty
Played with goofy jerkiness by Tim Bagley, Irv works alongside Burt as a pair of deceitful mechanics ripping off their customers. But after they swindle Stanley Ipkiss, they get their karmic (or rather, car-mic) retribution when they are attacked by the living cartoon character that Stanley becomes when he puts on the mask.
Bagley would go on to appear in small roles in films like 1999's "Austin Powers: The Spy Who Shagged Me," 2004's "The Day After Tomorrow," and 2007's "Knocked Up," as well as its 2012 spinoff "This is 40." His comedic sensibilities led him to appear on countless sitcoms, including the recurring roles of Larry on "Will & Grace," Harold Krenshaw on "Monk," and Richard Pratt on "Web Therapy."
In 2022, Tim Bagley appeared in the pilot episode of "Killing It" alongside Craig Robinson, wrapped up his role as Peter on "Grace and Frankie," and appeared in his ongoing roles as Wyatt in "Call Me Kat" and the voice of Principal Gibbons in "The Great North."
Nancy Fish (Agnes Peenman)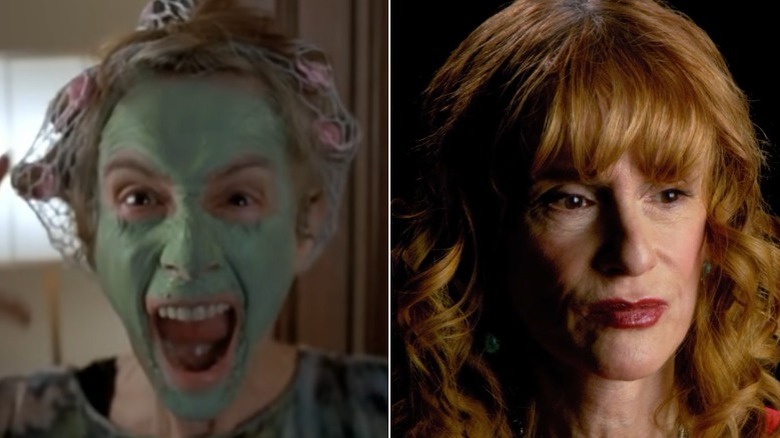 New Line Cinema/YouTube & Strand Releasing/Tubi
Stanley Ipkiss's landlord Agnes Peenman is always angrily telling him to keep the noise down, after which he sheepishly backs down and agrees. But once his inner self is released by the magic of the mask, he causes an obnoxiously loud scene outside of her apartment that not only scares her, but also causes her to shoot up her own hallway with a shotgun.
Before "The Mask," Nancy Fish had appeared in small roles in films like 1986's "Howard the Duck," 1990's "The Exorcist III," and 1992's "Beethoven." She would go on to play featured roles on shows like "NewsRadio," "The X-Files," and "CSI," as well as in films alongside the likes of Robert Downey Jr. in "Kiss Kiss Bang Bang" and Matthew McConaughey in "Surfer, Dude."
Nancy Fish's last role was as adult film star Honey Malone in the 2010 straight-to-video comedy "Love Shack," which also starred Ian Gomez from "Cougar Town" and Pete Gardner from "Crazy Ex-Girlfriend."
Blake Clark (Murray)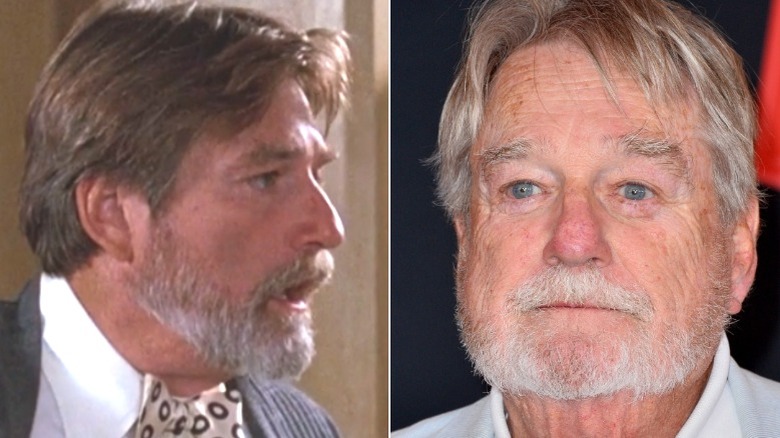 New Line Cinema/HBOMax & Featureflash Photo Agency/Shutterstock
When the police get their hands on the Mask, reporter Peggy Brandt's boss Murray dreads the long night ahead of him. However, Peggy is desperate to get the scoop, and she insists that she take the workload off of Murray's plate.
Though he plays a small role in "The Mask," Blake Clark has been featured more prominently in Adam Sandler's filmography, acting alongside him in thirteen films including "50 First Dates," "The Waterboy," and "Grown Ups," as well as appearing in three additional films that Sandler produced: "Joe Dirt," "The Benchwarmers," and "Strange Wilderness." Clark has also played popular television characters like Chet Hunter on "Boy Meets World" and Harry on "Home Improvement."
In 2010, he took over the role of Slinky Dog in the "Toy Story" films after his good friend Jim Varney passed away. In 2020, he reunited with Adam Sandler in the Netflix original "Hubie Halloween," then went on to play the recurring role of Wayne in the CBS sitcom "The United States of Al."
Joely Fisher (Maggie)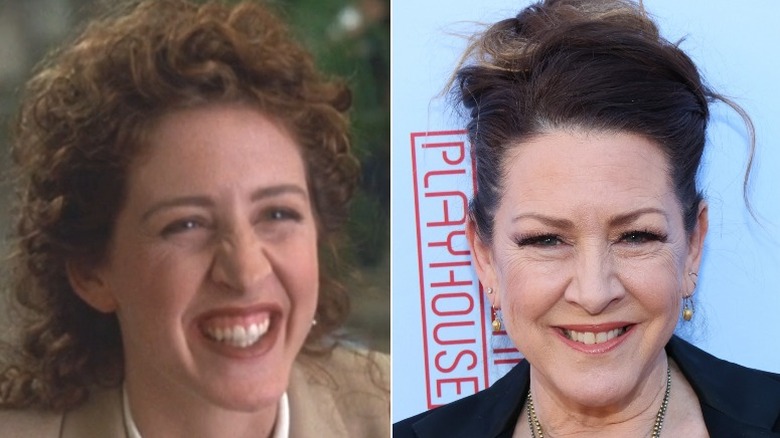 New Line Cinema/HBOMax & David Livingston/Getty
When the audience is first introduced to Stanley Ipkiss in "The Mask," he has obtained a pair of concert tickets so he can take his co-worker Maggie out on a date. Maggie concocts an obviously made-up story about her friend visiting from out of town and Stanley offers to bow out, so she can take her friend to the concert instead. As Maggie leaves, calling him the nicest guy, the film firmly establishes how much of a pushover Stanley is, and how that will all change once he gets the mask.
In 1994, the same year as her small role in "The Mask," Joely Fisher (half-sister of Carrie Fisher) also appeared in the Steve Martin film "Mixed Nuts" as well as embarking upon a five-year run as Paige Clark on "Ellen." She followed that up with a starring role alongside Matthew Broderick in the Disney film "Inspector Gadget." She played main roles in various short-lived sitcoms before landing another five-year stint as Joy Stark in "'Til Death," followed soon after by a recurring role as Wendi on "Last Man Standing."
Fisher continues to act in film and television, featuring in "Girl in the Basement" and "The Disappearance of Mrs. Wu," both released in 2021, as well as doing a guest spot in a 2022 episode of "How I Met Your Father."
Richard Jeni (Charlie Schumaker)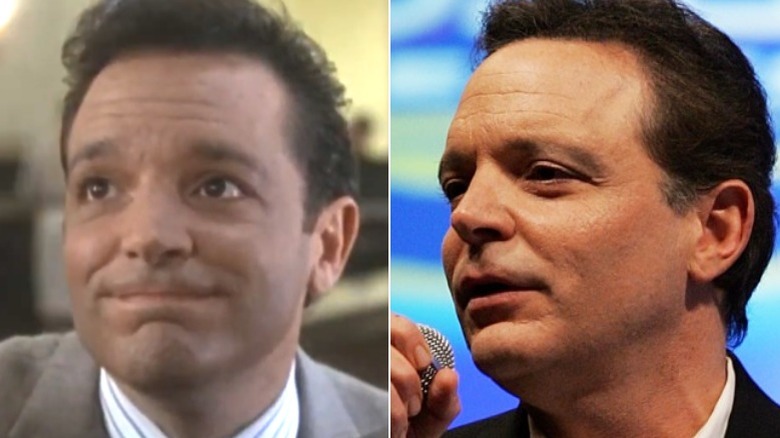 New Line Cinema/YouTube & Doug Benc/Getty
Stanley Ipkiss's best friend is Charlie Schumaker, a nightclub-loving ladies' man who tries to help Stanley with his relationship woes, and even briefly gets a shot to be a hero in the film's finale. (By the end of the film, he almost gets the mask himself, but Stanley's dog Milo beats him to it.)
Richard Jeni was a popular comedian, appearing multiple times on "The Tonight Show" with both Johnny Carson and Jay Leno. His comedy specials on Showtime and HBO eventually led to him starring in a short-lived sitcom for UPN called "Platypus Man" in 1995. He appeared on the animated comedy classic "Dr. Katz, Professional Therapist" the following year, then moved on to roles in the National Lampoon comedy "Dad's Week Off" and the star-studded flop "An Alan Smithee Film: Burn Hollywood Burn."
Richard Jeni's last role was as a bookie in the 2007 film "Chasing Robert." That same year, at the age of 49, Jeni died of an apparent suicide after struggling with depression.
If you or anyone you know is having suicidal thoughts, please call the National Suicide Prevention Lifeline​ at​ 1-800-273-TALK (8255)​.
Reg E. Cathey (Freeze)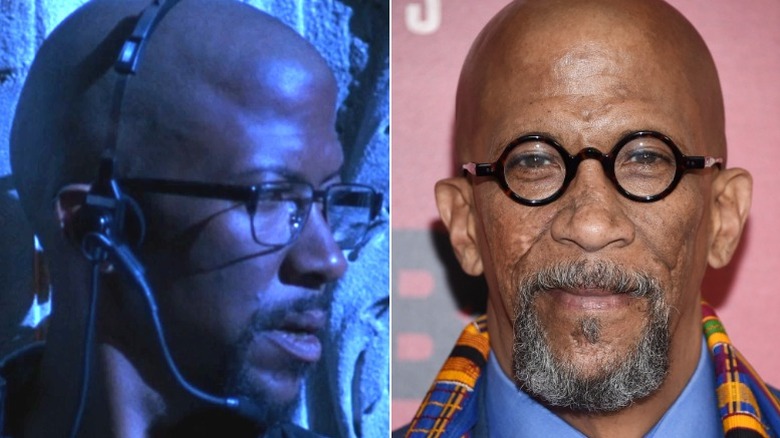 New Line Cinema/HBOMax & Dimitrios Kambouris/Getty
Freeze is Tyrell's tech-savvy henchman who winds up shot by the police when the Mask robs a bank before Tyrell's men have an opportunity to do so. Freeze's dying moments send Tyrell further down his path of revenge.
"The Mask" would not be the only comic book-inspired media featuring Reg E. Cathey. In 1995, he played Deetee, the poetic leader of a group of kangaroo-human hybrids in Rachel Talalay's "Tank Girl." In 2015, he played Dr. Franklin Storm, the father of the Invisible Woman and the Human Torch in Josh Trank's "Fantastic Four." Finally, in 2018, he had a recurring role as James Lucas, the father of the titular character in Marvel's "Luke Cage."
In addition to his comic book roles, Cathey appeared in popular films like "Se7en," "American Psycho," and "St. Vincent." On television, he played Martin Querns on "Oz," Norman Wilson on "The Wire," and won an Emmy for his role as Freddy Hayes on "House of Cards."
On February 9th, 2018, Reg E. Cathey died of lung cancer at the age of 59.