The Classic Jim Carrey Comedy You Likely Didn't Know Was Based On A Comic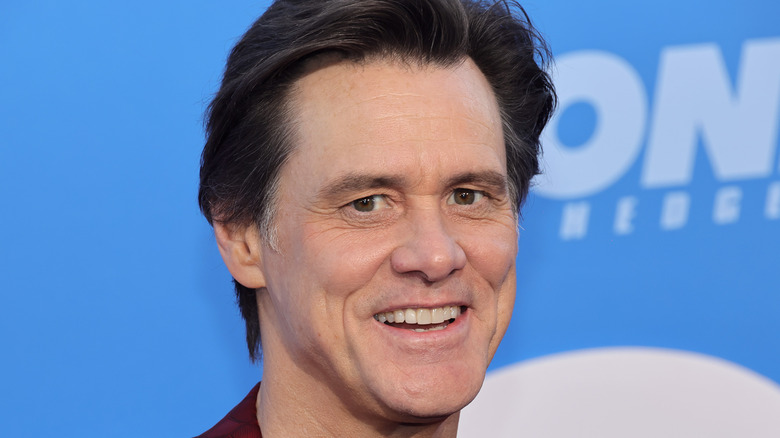 Kevin Winter/Getty Images
For fans of the Marvel Cinematic Universe and the DC Extended Universe, it's common knowledge that their beloved characters have come from the pages of a comic book, and the question becomes more about which comic book out of the hundreds or thousands that could have been written about that character. Comic books and graphic novels are such a fountain of source material for television shows and films these days that it's not surprising that many people don't always realize that something they love may have originally come from their pages.
Tom Hanks is probably the last actor most people would think of when they consider films inspired by graphic novels, but "Road to Perdition," the heavy mob drama starring Hanks, Tyler Hoechlin, and Liam Aiken, is exactly that. The Academy Award-winning film is actually based on a long-running series written by Max Allan Collins that began in 1998.
One of Jim Carrey's most popular films may not have been an Academy Award winner like "Road to Perdition," but it was extremely influential in launching Carrey's career, and many fans don't realize that it's actually based on a comic book.
The Mask is a based on a dark and grim comic
In the 1980s, Dark Horse Comics founder and CEO Mike Richardson had an idea for a new comic book (via Forbes). "The idea I had was sort of a combination of a Steve Ditko character, [t]he Creeper, with a Joker sense of humor to it," he told the magazine. Marvel writer and illustrator Mark Badger eventually took over, changing the spelling of the name of the comic to "Masque," but Richardson didn't like the direction the comic was going in and brought in a new writer and illustrator, John Arcudi and Doug Mahnke. Now "The Mask," the rebooted comic series was released in 1989, telling the story of Stanley Ipkiss and the mask that gives him his cartoonish powers.
While the comic book was much darker and gorier, director Chuck Russell thought, "Do we really need to do another grotesque film when there's this guy, Jim Carrey, out there? Here's an opportunity to light the world up with a new comedian." Other names had been discussed, like Rick Moranis, Martin Short, and Robin Williams, but Carrey's physical humor and contortionism were really enough to convince those behind the scenes that he was the right pick. Taking a chance on the new comedian paid off, with the film earning more than $350 million on a $23 million budget. Pretty good for a little-known Dark Horse comic.