Jim Carrey Has Sad News For Fans After Sonic The Hedgehog 2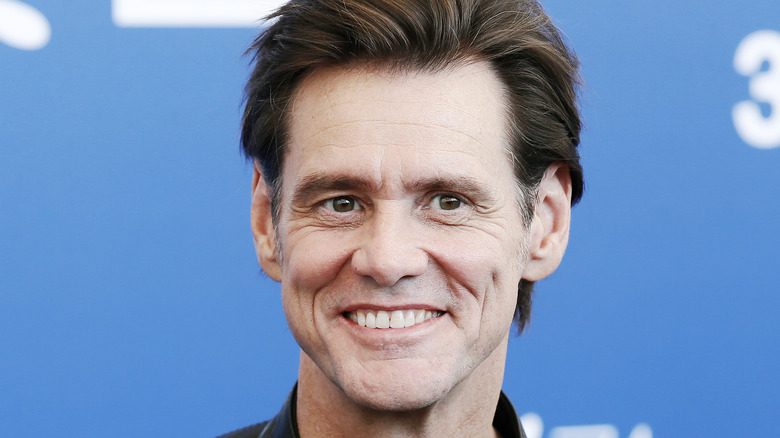 Andrea Raffin/Shutterstock
Since breaking into the A-list in the early-1990s via roles in the sketch comedy series "In Living Color" and an iconic little comedy by the name of "Ace Ventura: Pet Detective," rubber-faced funnyman Jim Carrey has carved out one of the more eclectic careers in Hollywood. He has, of course, fronted blockbusters aplenty throughout his decades-long career, with the likes of "Dumb and Dumber," "Liar Liar," "How the Grinch Stole Christmas," and "Bruce Almighty" serving as highlights. But Carrey has just as frequently caught his fans off guard with lauded dramatic turns in projects like "The Truman Show," "Man on the Moon," and "Eternal Sunshine of the Spotless Mind."
This savvy career mix helped make the actor one of the highest-paid stars in Hollywood during his late-1990s, early-2000s heyday, with Carrey reportedly earning approximately $30 million for 2008's "Yes Man" alone. There have, naturally, been a few missteps along the way, but Carrey has always found a way to bounce back, doing so once again by playing the evil Dr. Robotnik in the hit 2020 video game adaptation, "Sonic the Hedgehog."
The sequel to this surprise blockbuster is set to hit theaters on April 8, 2022. Now on the promotional trail for "Sonic the Hedgehog 2," Carrey shocked one and all by dropping some seriously unexpected news about his career. Here's what the beloved actor said.
Sonic the Hedgehog 2 might be the last we see of Jim Carrey on the big screen
According to his comments to Access Hollywood, it seems like "Sonic the Hedgehog 2" may be the last project we see Jim Carrey in for a while. In fact, "Sonic the Hedgehog 2" might be the final role of his entire illustrious career, as Carrey dropped the bombshell that he's seriously considering getting out of the Hollywood game altogether. He said as much when his Access Hollywood interviewer asked what's next for the actor, to which Carrey responded, "Well, I'm retiring ... I'm being fairly serious."
Carrey is clearly not pulling anyone's leg with this response either, though he did backtrack slightly, stating, "It depends, if the angels bring some sort of script that's written in gold ink that says to me that it's going to be really important for people to see, I might continue down the road, but I'm taking a break." Carrey has, of course, been known to take occasional breaks from acting throughout his career. He's also gotten pretty choosy about the roles he's taken in recent years. But according to his IMDb page, Carrey has no projects lined up after "Sonic the Hedgehog 2," and we now know the sequel may serve as his final act.  
Should this be the case, it would be just fine with Carrey, who continued, "I really like my quiet life, and I really like putting paint on canvas, and I really love my spiritual life, and I feel like — and this is something you might never hear another celebrity say as long as time exists — I have enough. I've done enough. I am enough." Looking back at his body of work, it's hard to argue with this statement.