Amy Schumer Reportedly 'Traumatized' By Will Smith Slap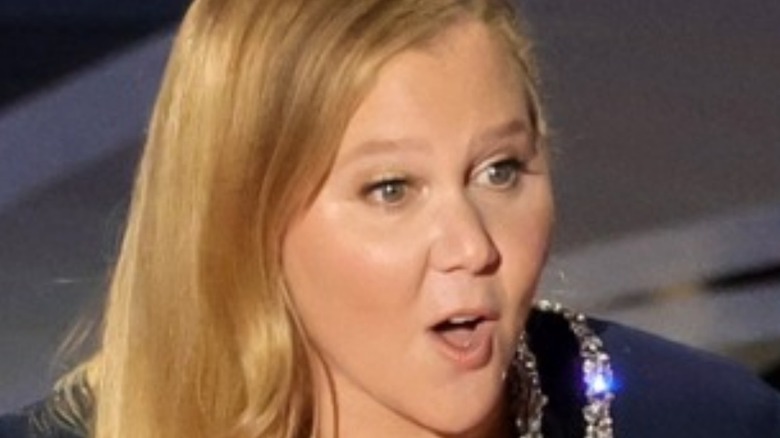 Neilson Barnard/Getty
The Academy Awards were a lot to take in this year, especially for comedians. Will Smith's slap heard 'round the world to actor and funnyman Chris Rock has not only angered most people in the comedy world (via AP News), it's also instilled a sense of fear and trauma in many, including one of the biggest comics and actors in Hollywood today — Amy Schumer.
As one of the three Oscars hosts last Sunday, March 27, Schumer got a firsthand look at Smith's outburst, which came after a joke was made about his wife, Jada Pinkett Smith, being bald. Rock, who was presenting an award, said that he couldn't wait to see Pinkett Smith in "G.I. Jane 2." Pinkett Smith's hair loss is due to her suffering from alopecia (via CNN). Smith initially appeared to laugh at Rock's wisecrack, but his feelings quickly changed after seeing his wife's negative reaction. The future Oscar winner then walked up on stage, slapped Rock across the face, and walked back down to his seat. From there, Smith shouted: "Keep my wife's name out of your f***ing mouth." Rock kept his cool and kept going through his presentation. Smith later apologized via an online statement.
In the wake of the Oscars slap, countless comedians and actors have come forward in support of Rock, who they claim was just doing his job. One of his biggest backers, Schumer, was still feeling upset about the whole thing on Wednesday, March 30, when she took to Instagram to vent. 
Schumer says she's still 'triggered and traumatized' by Will Smith slap, defends her 'friend' Chris Rock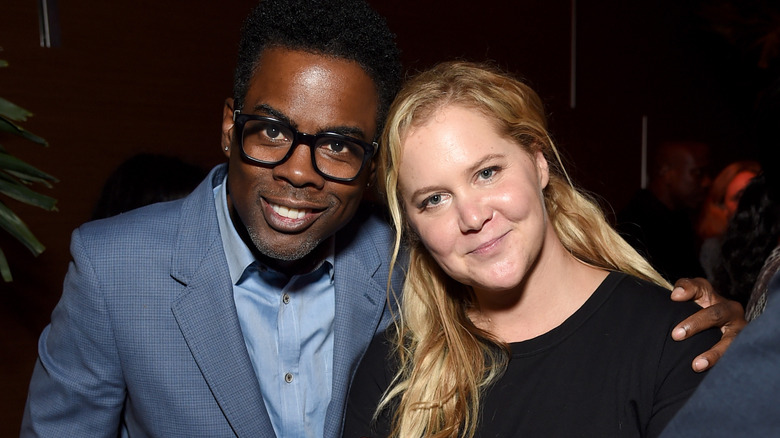 Jamie Mccarthy/Getty Images
For Schumer, Will Smith's slap didn't just happen to a fellow comedian and actor. Chris Rock is a friend of hers, which made the whole thing even more "disturbing," she says. 
"Still triggered and traumatized," Schumer wrote in an Instagram post early Wednesday morning. "I love my friend @chrisrock and believe he handled it like a pro," she said. "Stayed up there and gave an Oscar to his friend @questlove and the whole thing was so disturbing. So much pain in @willsmith." According to Schumer, the incident has been weighing heavily on her mind ever since it happened, and she doesn't know when she'll be done processing it. "I'm still in shock and stunned and sad," Schumer explained. "I'm proud of myself and my cohosts. But yeah. Waiting for this sickening feeling to go away from what we all witnessed."  
Schumer's connection to Rock is one that doesn't just stem from seeing each other in comedy clubs and Hollywood events over the years. The two have actually worked together, with Rock directing her first HBO special, "Amy Schumer: Live from the Apollo" in 2015. "Amy's real. She just is," Rock told HBO in an interview that year. "She's not all show business-y and comedian-y. Her greatest attribute is how normal she is." While Schumer's reaction to the Smith slap might get mixed reactions from people, she's not the only comedian or actor to say that they were "traumatized" by it. 
Wanda Sykes echoes Schumer's statement, says she was also sickened and 'felt ill' after Smith slap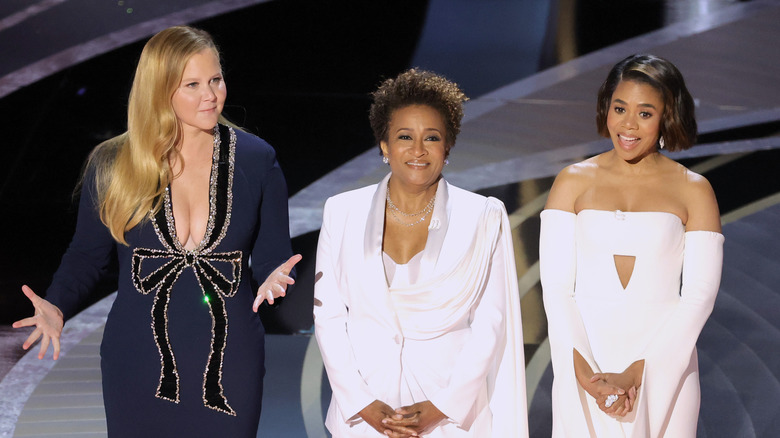 Neilson Barnard/Getty Images
Also referring to Chris Rock as her "friend," comedy legend and fellow Oscars host Wanda Sykes echoed Amy Schumer's statement on Wednesday during an appearance on "The Ellen DeGeneres Show," saying that she was sickened by what she saw at the Oscars as well. Initially, Sykes didn't even see the slap, and she describes to Ellen her initial reaction to the event, as well as her deeper feelings in the aftermath.
"I just felt so awful for my friend Chris," Sykes explained in a video teaser posted by the show's Twitter account. "I physically felt ill and I'm still a little traumatized by it. And for them to let him stay in that room and enjoy the rest of the show and accept his award — I was like, 'How gross is this?' This is just the wrong message. You assault somebody, you get escorted out of the building and that's it." Sykes' appearance on "Ellen" in which she speaks about the Smith-Rock incident will air Thursday, March 31.
Sykes and Amy Schumer are just two of countless people from the comedy world who have called out the Academy and Will Smith for what happened last Sunday. Many are now fearing for their own safety after the incident, saying that it could spark others to want to do the same when a joke is cracked about them. "Now we all have to worry about who wants to be the next Will Smith in comedy clubs and theaters," wrote comedian Kathy Griffin in a tweet.