The Real Reason For Will Smith's Oscars Outburst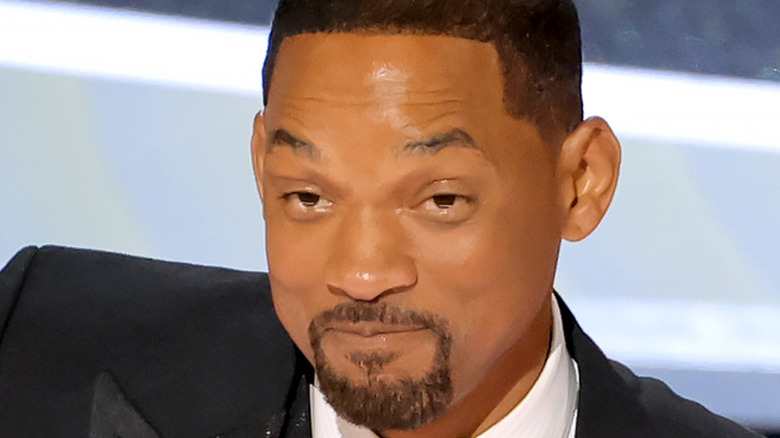 Neilson Barnard/Getty Images
In the history of the Academy Awards, there have been memorable moments. However, at the 2022 Oscars, one moment was so unexpected to attendees and viewers at home that it will likely not only be considered memorable, but also shocking and unforgettable. 
After Sunday evening's ceremony had passed the halfway point, comedian Chris Rock took to the stage to present the award for best documentary. As the stand-up comic made what he believed were jokes about some of the celebs in the audience, he turned his attention to Will Smith and Jada Pinkett Smith, both of whom were seated up front near the stage. After Rock made a joke about Pinkett Smith's shaved head ("Jada, can't wait for 'GI Jane 2'," Rock said), Smith took to the stage and slapped Rock in the face before taking his seat and yelling at the presenter, "Keep my wife's name out of your f***ing mouth" (via Twitter).
In an instant, this baffling turn of events derailed the entire Oscars show, and the night never really recovered from it. Viewers immediately reacted on Twitter, appearing to neither condone Smith's actions nor deem Rock's joke acceptable. Very soon after the incident, Smith was awarded best actor for his titular role in "King Richard." The actor took the stage, clearly emotional by the events of what just happened. Though he apologized, it is very likely that there was a deeper reason for Smith so publicly and suddenly defending his wife on live television. 
Smith publicly defended his wife, Jada Pinkett Smith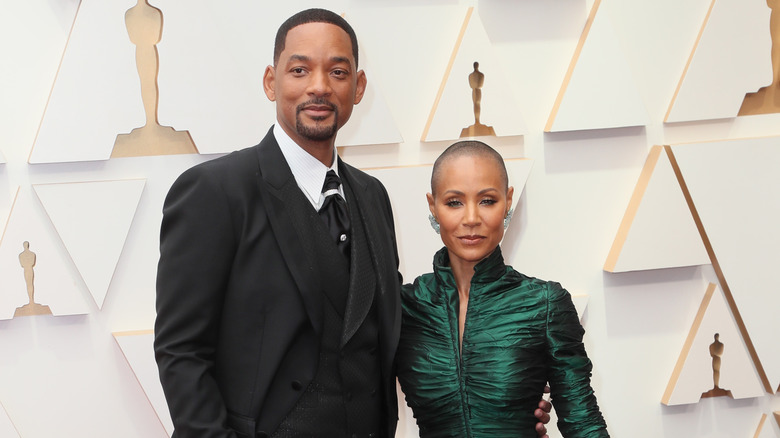 David Livingston/Getty Images
If one thing is clear from Sunday night's show, it is that Will Smith was actively defending his wife, Jada Pinkett Smith. At the time of reporting, neither Smith nor Pinkett Smith have issued an official statement about what occurred at the 2022 Oscars, nor have any specific reasons outside of Smith allegedly reacting poorly to Chris Rock's joke about Pinkett Smith's hair been made known to the public — but it appears likely that Rock's joke cut deeper than he intended.
Shortly after Variety executive editor Ramin Setoodeh confirmed on Twitter that Smith hitting Rock and yelling at him was very unplanned, tweets rolled in reminding viewers that Pinkett Smith has alopecia, a diagnosis she first went public with on her Facebook Live show "Red Table Talk" in 2018 (via People). At the time, she shared, "I was in the shower one day and had just handfuls of hair in my hands, and I was just like, 'Oh my God, am I going bald?' It was one of those times in my life where I was literally shaking in fear. That's why I cut my hair, and why I continue to cut it." In December 2021, she opened up about her hair loss on Instagram, telling her followers, "Y'all know I've been struggling with alopecia and just all of a sudden one day, look at this line right here."
Knowing that Pinkett Smith is living with an autoimmune disease (per the American Academy of Dermatology) makes it slightly more understandable why Smith did not take kindly to Rock mocking her hair loss so publicly, particularly since it's a condition that she has clearly struggled with — and, as seen on the live telecast, she was visibly unamused by Rock's joke.
Will Smith and Chris Rock may have unresolved issues in the past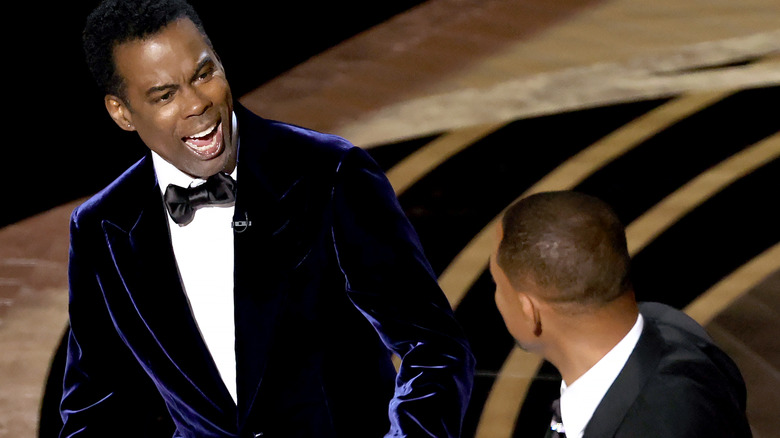 Neilson Barnard/Getty Images
However, it's entirely possible that Will Smith's anger at Chris Rock predates the night of the 2022 Academy Awards, because this isn't the first time Rock has publicly joked about Pinkett Smith onstage — and at the same event, no less.
Back in 2016, Pinkett Smith refused to attend the ceremony, boycotting the event due to the awards having a — once again — all-white slate of acting nominees, a year after these rather obvious diversity problems were highlighted by the hashtag #OscarsSoWhite. The Smiths weren't the only notable Hollywood talent to ditch the ceremony: Other celebrities to skip the event, per The Independent, included Ava DuVernay, Spike Lee, and Ryan Coogler. However, when host Chris Rock took to the Oscars stage as that year's host, as outlined by Page Six, it was Pinkett Smith he chose as his target. "Jada said she's not coming. I was like, 'Isn't she on a TV show?,'" he joked, arguing that she wasn't invited in the first place. At the time, Pinkett Smith publicly dismissed Rock's commentary (also per Page Six), but she and Smith's private feelings about the matter may have been different from what she said publicly.
Smith's actions, which were then followed by an acceptance speech which appeared to contain an apology for his behavior and some vague reasons as to why he did what he did (via YouTube), certainly took the Academy Awards to a strange place and will not be forgotten for a long while.