Amy Schumer's Oscars Monologue Turns Into A Fierce Roast Session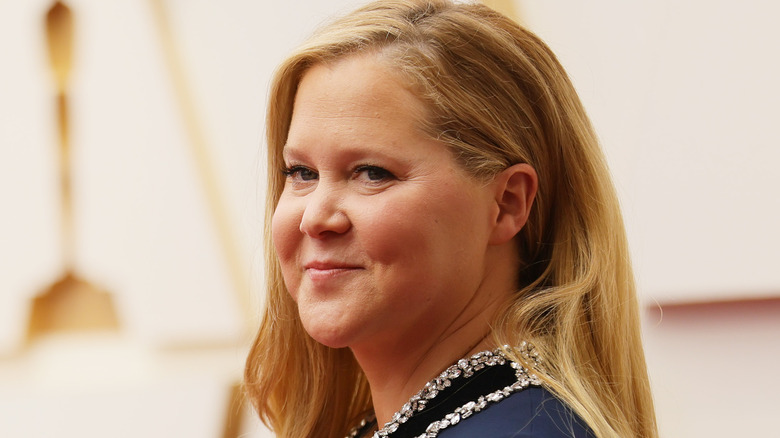 Mike Coppola/Getty Images
The 2022 Oscars ceremony was a night of many firsts, including the telecast's trio of female co-hosts, Amy Schumer, Wanda Sykes, and Regina Hall. The three comedians-actresses opened the show with jokes about COVID-19, Florida's "Don't Say Gay" Bill, and a self-referential nod to their history-making roles. Schumer joked, "This year, the Academy hired three women to host because it's cheaper than one man."
The ladies had their hands full keeping the mood light, especially in the aftermath of the slap seen worldwide delivered by nominee Will Smith unto presenter Chris Rock. Hall used the pretense of COVID-19 testing to make sexual advances to some of Hollywood's most desirable leading men. Sykes donned a pair of skin-tight shorts for her impression of Oscar winner Smith's portrayal of Richard Williams, and Hall went full-on Tammy Faye Bakker.
It's standard practice for hosts to take shots at members of the A-list in the audience, and nobody is off-limits. Never one to hold back, Schumer got the chance to keep this tradition alive, turning a brief monologue into a fierce roast session. We would expect nothing less.
Amy Schumer took aim at Leonardo DiCaprio, Aaron Sorkin, and more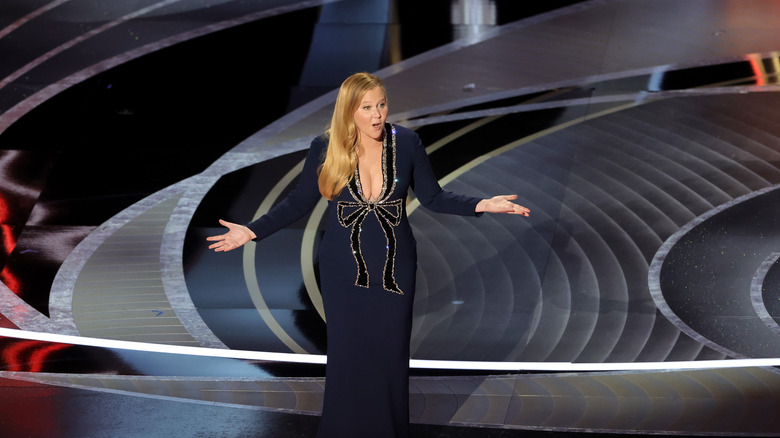 Neilson Barnard/Getty Images
Following the opening credits of the 94th Academy Awards, Amy Schumer flew solo, performing a stand-up monologue. After some self-deprecating humor about baby weight, and her love of prescription drugs, Schumer set her sights on other high-profile targets. After congratulating everyone for managing to make a movie during the pandemic, she added, "they weren't all great." The first Oscar-nominated film to take a hit was "King Richard." Schumer joked, "After years of Hollywood ignoring women's stories, this year we finally got a movie about the incredible Williams sisters' dad." A nod to the film's critics who took umbrage over its focus on Richard Williams over his tennis legend daughters Venus and Serena.
Schumer addressed all of the couples in the room, including an incest joke involving famous siblings Jake and Maggie Gyllenhaal, stating, "It's a night for lovers." Next on the comedian's hit list was Adam McKay, whose "Don't Look Up" was nominated for best picture. "I guess Academy members don't look up reviews," she quipped. But Schumer reserved one of her best zingers for the film's star, Leonardo DiCaprio. "He's done so much to fight climate change and leave behind a cleaner, greener planet for his girlfriends."
Schumer also marveled how Aaron Sorkin, who wrote and directed the biographical drama "Being the Ricardos," managed "to make a movie about Lucille Ball without even a moment that's funny." Schumer reassured star Nicole Kidman, "It's not your fault." 
Everyone seemed to take the good-natured ribbing in stride.