15 Great Shows Like Outer Banks You Need To See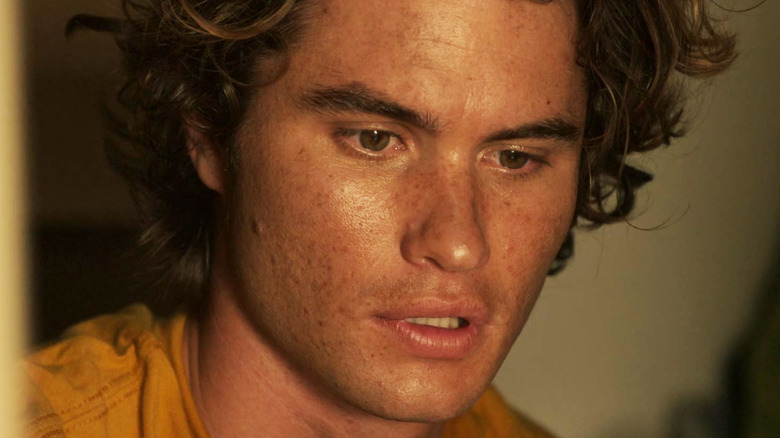 Netflix
Netflix's "Outer Banks" has won over audiences with its charming characters, giddy love story, hair-raising adventures, and gorgeous visuals, which make every hour seem like golden hour. At first glance, the town "Outer Banks" takes place in might seem like paradise on earth. But beneath its sun-kissed beaches and lush blue waters lie sinister secrets, dead bodies, and, perhaps most significantly, nearly half a billion dollars in treasure.
This lovely locale is also perpetually mired in class conflict. The main instigators are two rival gangs, the Kooks and the Pogues. The wealthy Kooks descend upon the town during tourist season, but act like they've owned it all along. The Pogues are the quartet of blue collar teens who work odd jobs and live hand-to-mouth: Loose cannon JJ Maybank (Rudy Pankow), clever Pope Heyward (Jonathan Daviss), Kooks defector Kiara Carrera (Madison Bailey), and charismatic leader John B Routledge (Chase Stokes). After the sudden disappearance of his father, John B ropes his found family into hunting age-old treasure that might lead to some answers — and possibly the elder Routledge himself. 
While there are more than a few teen dramas in existence, few capture the gleefully audacious spirit of that age quite like "Outer Banks" does. Hungry for more tales of adolescent adventure, angst, and intrigue? Here are 15 great shows "Outer Banks" fans need to see, from supernatural sagas to prep school mysteries.
Cruel Summer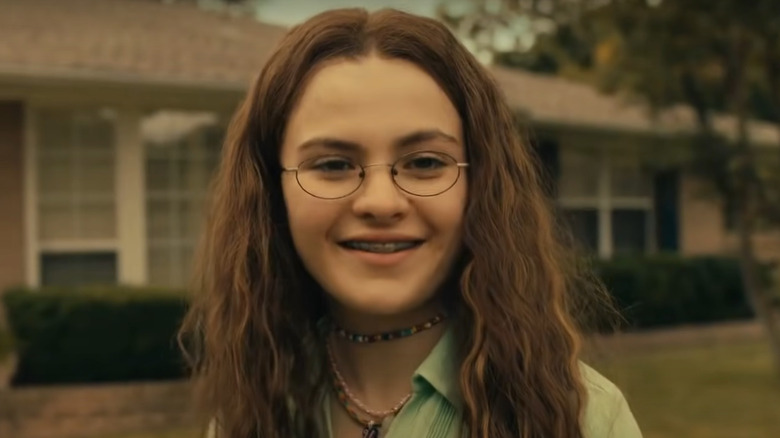 Freeform
"Cruel Summer" and "Outer Banks" both chronicle one fateful summer that completely changes the lives of their overzealous teenage protagonists. The former begins in the summer of '93, when pretty and popular Kate Wallis (Olivia Holt) is abducted. Her classmate Jeanette Turner (Chiara Aurelia), who has been a wallflower all her life, begins to bloom in the wake of this disappearance by effectively taking over Kate's life. For the first time, Jeanette has everything. This show might not make as sizable a statement about social and class divides as "Outer Banks" does, but in this transformation, it vividly depicts the yawning chasm between the haves and the have-nots.
When Kate is finally rescued, she levels a weighty accusation against Jeanette, claiming that she knew where she was being held but failed to contact the authorities. The show proceeds to explore both sides of this enigmatic story. There aren't any sunken treasure chests or dead bodies in "Cruel Summer," but the series does come bearing plenty of buried secrets and skeletons in the closet.
Teenage Bounty Hunters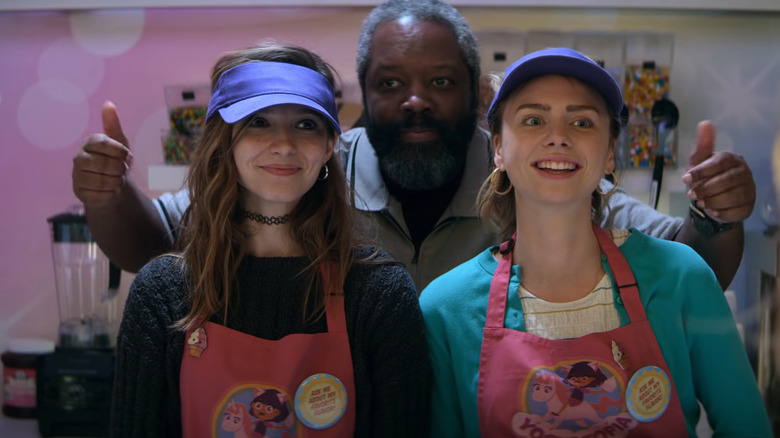 Netflix
This Netflix show's title gives away its plot: Teenage twins Sterling (Maddie Phillips) and Blair Wesley (Anjelica Bette Fellini) turn to the unconventional side hustle that is bounty hunting to pay for damages to the family car. What initially begins as a get-slightly-rich-quick scheme soon turns into a passion project for Sterling and Blair, who find bounty hunting puts their talents to good use. But soon enough, their fledgling career attracts bountiful trouble — not really a surprise, given their ultra-religious school, classmates, and, of course, parents.
"Teenage Bounty Hunters" and "Outer Banks" have much more in common than you might think, based on this premise. While the Pogues hunt for long-lost treasure, the twins track down those who evade the law. In so doing, both sets of teenagers rebel against rigid, unwelcoming communities that are far too set in their ways. This clash of ideas and mindsets is nearly as riveting as the twins' hair-raising adventures.
American Vandal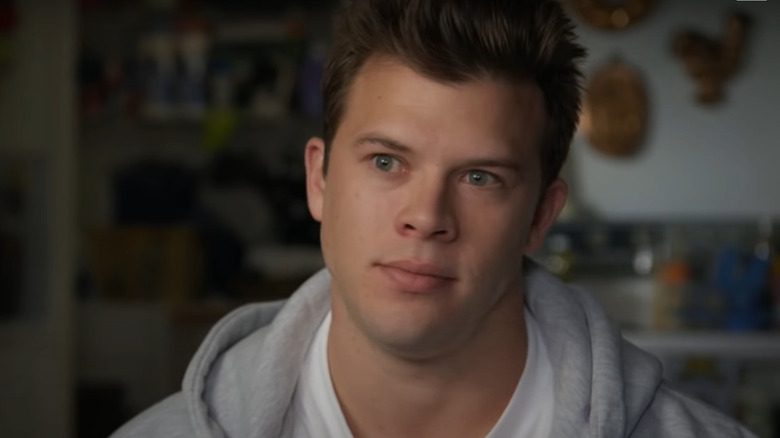 Netflix
Take away the serious air of "Outer Banks" and you get "American Vandal." This might seem surprising, as any and all efforts to describe the plot of "American Vandal" sound almost as comical as the show itself. In Season 1 of this mockumentary-style series, the titular high school vandal draws phallic iconography across dozens of teachers' cars, leading to widespread uproar. Two teens, Peter Maldonado (Tyler Alvarez) and Sam Ecklund (Griffin Gluck), are out to document every moment of it. Season 2 follows a similarly crude mystery, which Peter and Sam attempt to solve through the power of fine detective and camera work. 
Netflix may have (tragically, in our opinion) canceled "American Vandal" after this season, but viewers still get two self-contained stories to feast upon. Even die-hard true crime fans can't help but love the way "American Vandal" satirizes the melodramatic excesses of the genre, and anyone can enjoy the genuinely well-written characters on display. If you like the way "Outer Banks" plucks a compelling coming-of-age story out of twisty noir, you'll love how "American Vandal" crafts a very real drama about the trials of young adulthood from a seemingly unsophisticated premise.
The Wilds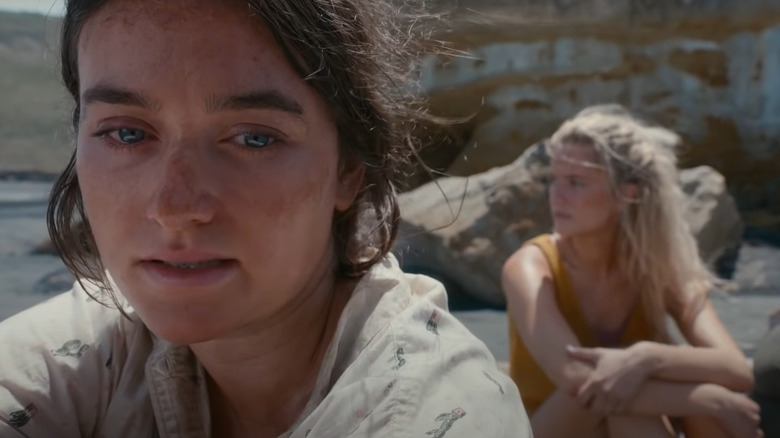 Amazon Prime Video
A group of youngsters comes of age on a remote island, with the sun, sea, and some good old-fashioned mystery for company. This description could apply equally well to either "The Wilds" or "Outer Banks." Of course, the desolate shore where most of "The Wilds" takes place is quite different from the busy coastline of the OBX — but even it comes alive when a dynamic group of teenage girls quite literally crash-lands into it.
Cut off from the rest of the world on an apparently uninhabited island, the girls of "The Wilds" find themselves battling the harsh reality of nature. To make things worse, the place they appear to be marooned on is harboring sinister secrets that could rival the ones from "Lost." Our heroines must confront their darkest experiences, impulses, and conflicts to get out of this alive — if they can, that is. If you enjoy shows like "Outer Banks" that explore what happens when teenagers are left to their own devices, you'll lap up "The Wilds."
The Hardy Boys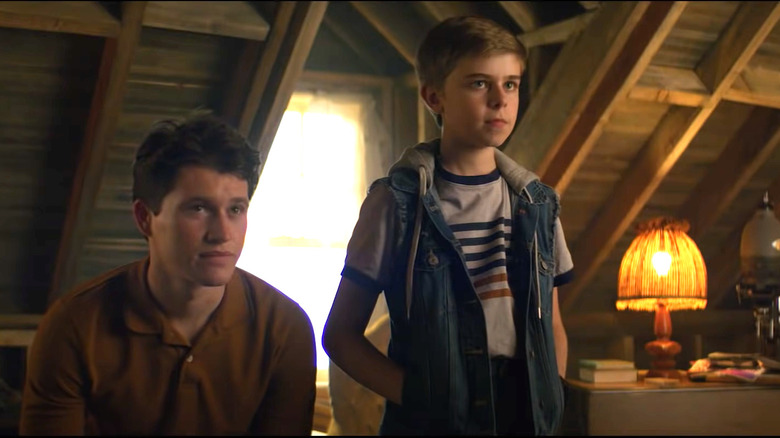 Hulu
If you're a serial consumer of adventure mysteries like "Outer Banks," chances are you're already familiar with the classic "Hardy Boys" books. But did you know this beloved series has been adapted into a brand new TV show? Hulu's "The Hardy Boys" follows a pair of brothers with killer detective skills and plenty of mysteries to tackle. Not only do the two shows resemble each other thematically, they also share a similar plot point: Protagonists from both series grapple with the loss of a parent and the many secrets they've left behind.
"The Hardy Boys" starts off on a somber note. Frank (Rohan Campbell) and Joe Hardy (Alexander Elliot) are dealt two blows back to back: Their mother has met with a fatal "accident," and they're moving to live with their aunt in a dreary place called Bridgeport. As it turns out, this quintessential small town and the people who live there hold the answers to all the questions Frank and Joe have about their mother's untimely death. This is more than a little reminiscent of "Outer Banks," where the townspeople always seem to know more than they let on.
Search Party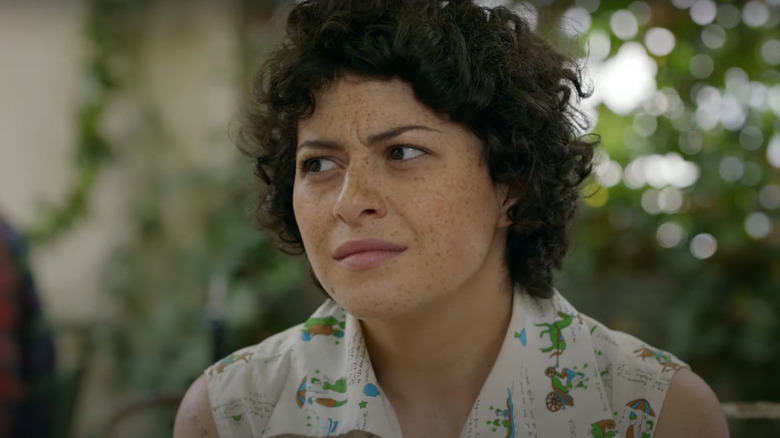 TBS
Teenagers like John B and JJ aren't the only people who crave adventure, as 20-something Dory Sief (Alia Shawkat) proves in "Search Party." She and her posse of (sometimes reluctant) friends stumble upon a head-scratcher when a university acquaintance of theirs, Chantal Witherbottom (Clare McNulty), vanishes without a trace. Headstrong Dory refuses to leave the detective work to the professionals, instead launching her own investigation into Chantal's disappearance.
In both shows, the overarching mystery and resulting pursuit of truth is an attempt by our protagonists to fill the gaping holes in their own lives. Where John B seeks closure for his father's disappearance by hunting treasure, Dory seeks a quick escape from her drab, unfulfilling life by probing the vanishing of a near stranger. Télérama aptly described "Search Party" as an "existential quest," which fits "Outer Banks" as well — though of course, it's an existential quest for very valuable treasure.
Skins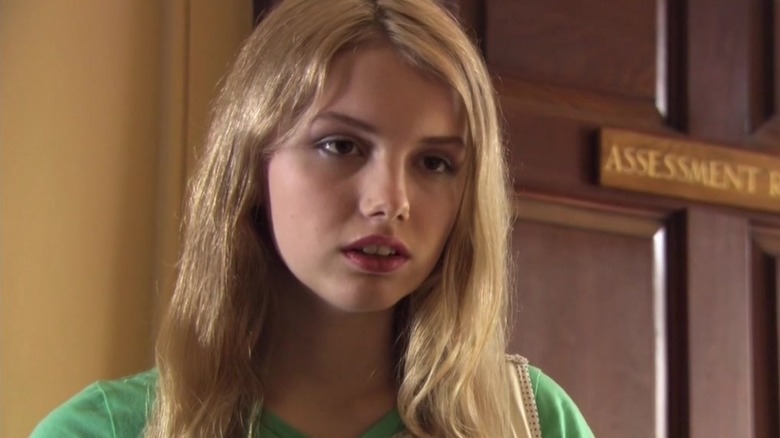 E4
This list would be lacking indeed without the inclusion of "Skins," which Paste aptly hailed as the "gold standard for teen drama series." As fans of the series might have already guessed, we're referring to the original British version of "Skins" and not the American remake. Now, comparing any series to "Skins" is doing the entirely unique show a disservice, but it's safe to say that the British drama depicts teenage life in all its glory and gore in a manner not dissimilar to that of "Outer Banks." Like their North Carolina counterparts, the Bristol-bound youngsters of "Skins" — ranging from the razor-sharp Tony Stonem (Nicholas Hoult) to the meek Sid Jenkins (Mike Bailey) — raise havoc wherever they go. 
Unlike "Outer Banks," "Skins" prefers not to get bogged down in adventures and mysteries, instead exploring teenage life unto itself. If you like the sound of more raw glimpses into adolescence and fewer nefarious twists and turns, "Skins" is the show for you.
One of Us Is Lying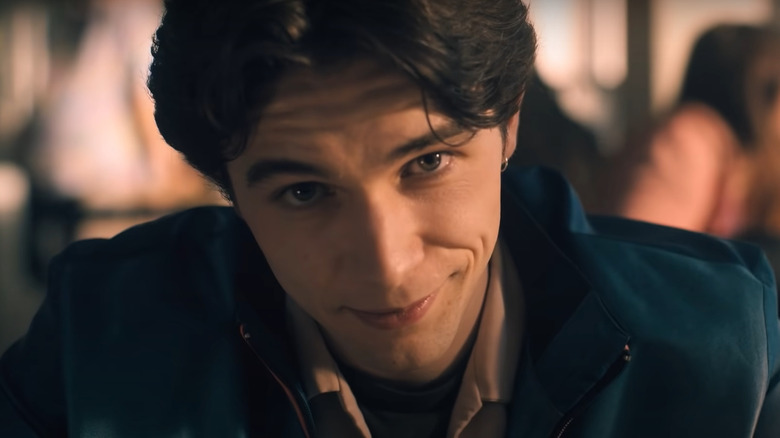 Peacock
"Outer Banks" meets "The Breakfast Club" in the murder mystery romp "One of Us Is Lying." If the air of intrigue surrounding the supposed death of John B's father has you hooked, the thrilling whodunit in "One of Us Is Lying" will draw you in hook, line, and sinker.
"One of Us Is Lying" begins with the death of Bayview High's resident gossip columnist Simon Kelleher (Mark McKenna), who may have dug up a little too much dirt on someone — enough to put him in the dirt, in fact. In Season 2 of "Outer Banks," when one of the Pogues is (falsely) accused of murder, the rest band together to clear his name. In a similar vein, "One of Us Is Lying" sees not one, but four students — Addy Prentiss (Annalisa Cochrane), Cooper Clay (Chibuikem Uche), Bronwyn Rojas (Marianly Tejada), and Nate Macauley (Cooper van Grootel) — suspected of murdering Simon. While this group is nowhere near as tight-knit as the Pogues, they still join forces to unearth the truth and prove themselves innocent of the central crime.
Euphoria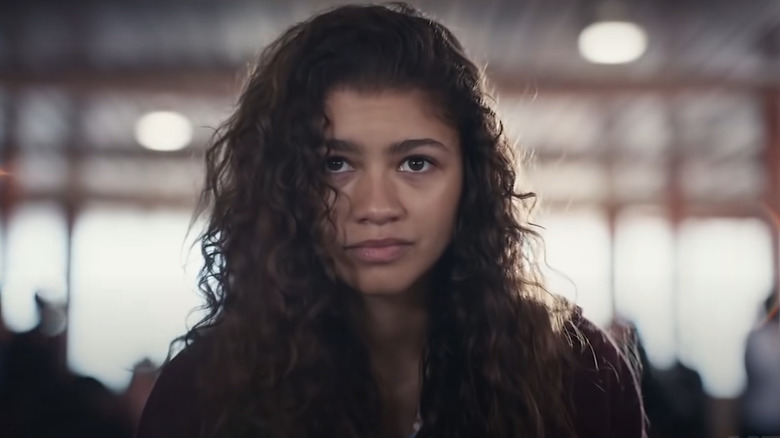 HBO
As far as teen programming goes in this day and age, "Euphoria" clearly reigns supreme. Like "Outer Banks," "Euphoria" chooses to focus on the less-than-rosy aspects of teenager-hood. Neither show shies away from depicting sensitive subjects like drug addiction, domestic abuse, or mental illness, not to mention social ills like classism, racism, and homophobia. At the nexus of it all in "Euphoria" is recovering addict Rue Bennett (Zendaya), who isn't so much clean as she is good at pretending to be. It doesn't help that she is constantly surrounded by teens who are as self-destructive as she is. 
Zendaya has been praised by outlets like The Guardian for depicting a complex character like Rue with "astonishing, mesmerizing" sincerity.  However, every ounce of praise the show receives has been swiftly met with an equal portion of controversy. The series has previously faced criticism for its nudity, graphic violence, and high-shock-value storylines. It might not be for everyone, but if you like the intense emotion of "Outer Banks," you should give "Euphoria" a try.
If you or anyone you know is struggling with addiction issues, help is available. Visit the Substance Abuse and Mental Health Services Administration website or contact SAMHSA's National Helpline at 1-800-662-HELP (4357).
13 Reasons Why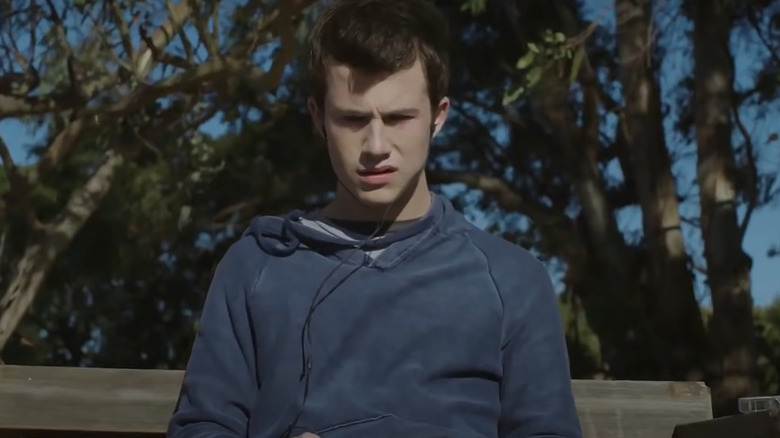 Netflix
"13 Reasons Why" puts forth a haunting portrait of teenage life at its most bleak  — so much so that it almost makes the "Outer Banks" kids' lives look cushy. Both shows are built on a simple paradox: The most rousing, radiant time in your life can also be fraught with pain and trauma. In "13 Reasons Why" high-schooler Hannah Baker (Katherine Langford) dies by suicide and doesn't leave behind a note. Instead, she records a set of cassette tapes that explain the titular 13 reasons why she did what she did, which end up with friend and classmate Clay Jensen (Dylan Minnette).
Like "Euphoria," "13 Reasons Why" has been subject to its share of controversy. Some outlets like The Washington Post have charged the series with having a flawed understanding of its complex and fragile subject matter. As such, despite their thematic similarities, "13 Reasons Why" is a much more jarring watch than "Outer Banks." If you're up for it, however, it's a stirring exploration of a complex age.
If you or anyone you know is having suicidal thoughts, please call the National Suicide Prevention Lifeline​ at​ 1-800-273-TALK (8255)​.
We Are the Wave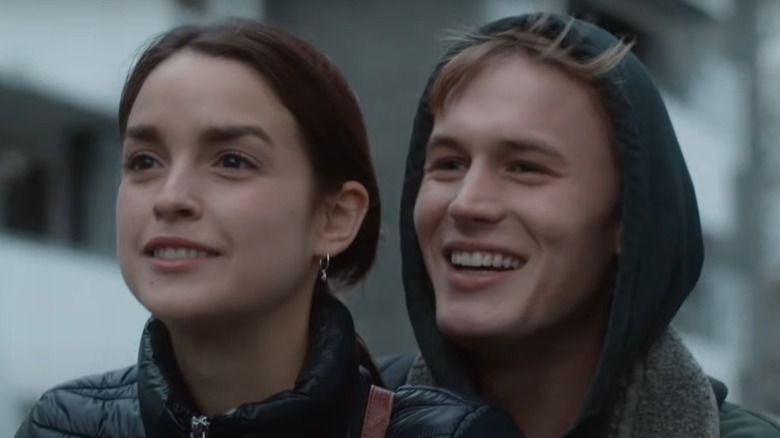 Netflix
If you consider John B and Sarah Cameron's (Madelyn Cline) chemistry to be the highlight of "Outer Banks," this fiery love story might also catch your interest. In "We Are the Wave," romance between privileged high-schooler Lea Herst (Luise Befort) and boy-from-the-wrong-side-of-the-tracks Tristan Boch (Ludwig Simon) cuts similarly across class lines. 
The commonalities between these shows hardly end there: "We  Are the Wave" and "Outer Banks" expand their purview far beyond teen melodrama into social criticism. Lea and Tristan round up a group of misfits to establish "the Wave," an outfit that takes (often hilarious) action against injustice, not unlike the Pogues. Both gangs of young adults essentially launch crusades against the powerful and the power-hungry. Despite being thought of as unserious and harmless, the Wave's campaign gathers steam. But as groups of youngsters all over town mobilize against systemic injustice, Lea and Tristan realize they may have gotten more than they bargained for.
Buffy the Vampire Slayer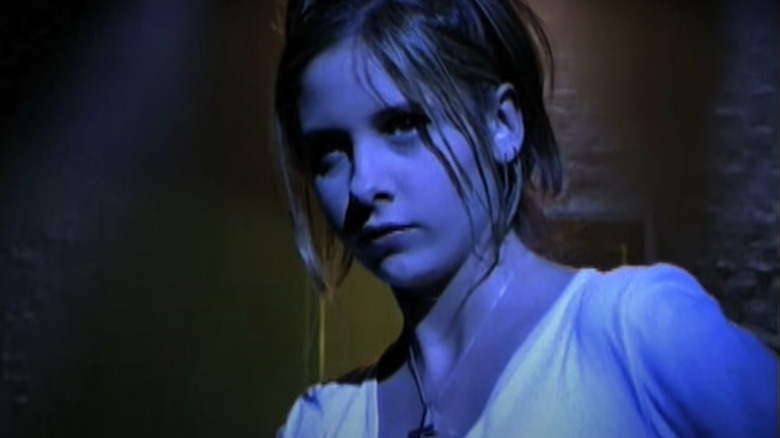 The WB
If you've ever wondered what would happen if supernatural forces descended on the Outer Banks, "Buffy the Vampire Slayer" offers an answer. In both "Buffy" and "Outer Banks," adolescence and the innumerable trials that come with it act as spokes in the wheels of a larger mission. On "Outer Banks," this quest is to unearth treasure while slaying the bad guys. On "Buffy the Vampire Slayer," this mission is to defeat the evil supernatural forces that lurk about the town of Sunnydale. Like the teens of "Outer Banks," Buffy (Sarah Michelle Gellar), the titular teenage slayer, and her ragtag team of fellow fighters wrestle with their inner demons, even as they conquer outer ones.
"Buffy the Vampire Slayer" remains the stuff of pop culture legend and has even become the subject of intense academic scrutiny, as reported by the Atlantic — and rightly so. This classic series offers up hilarious snark, a beautiful mythologization of high school life, and successful subversion of the "pretty girl killed in every horror movie" trope. Without it, "Outer Banks" might not even exist.
Panic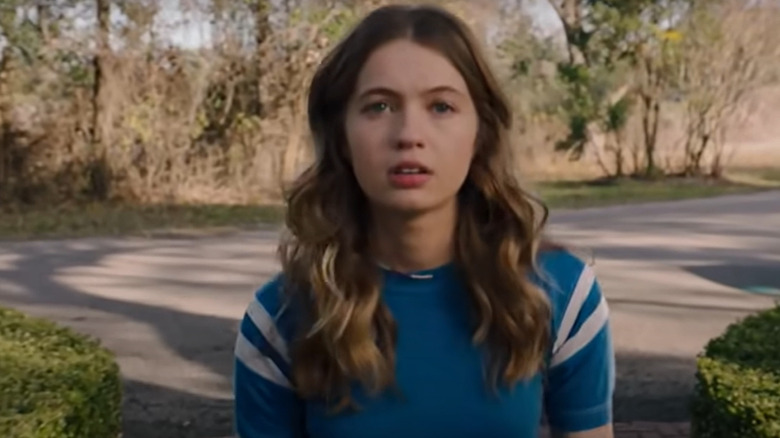 Amazon Prime Video
One could be fooled into thinking that the sun-soaked island town of "Outer Banks" would have little in common with the rural Texan backwater of "Panic." But beneath Carp's idyllic façade are deeply buried secrets, just as there are in small-town North Carolina. The ripple effects of these skeletons in the closet (some more literal than others) can be felt throughout both towns, especially by their teenage residents. While the Pogues look to change the course of their depraved lives on "Outer Banks," the teens of "Panic" aim to escape it entirely.
But that's easier said than done. Carp holds a vice-like grip over its residents, and only those of means can afford to move on to greener pastures. To become men and women of means, the youngsters of Carp participate in a unique game, which consists of a series of dares — each worse than the last. The victor walks away with $50,000 and a get-out-of-Carp-free-card. All the while, scheming forces work behind the scenes to sabotage the game and its outcome, creating a sense of ... you guessed it, panic.
Dawson's Creek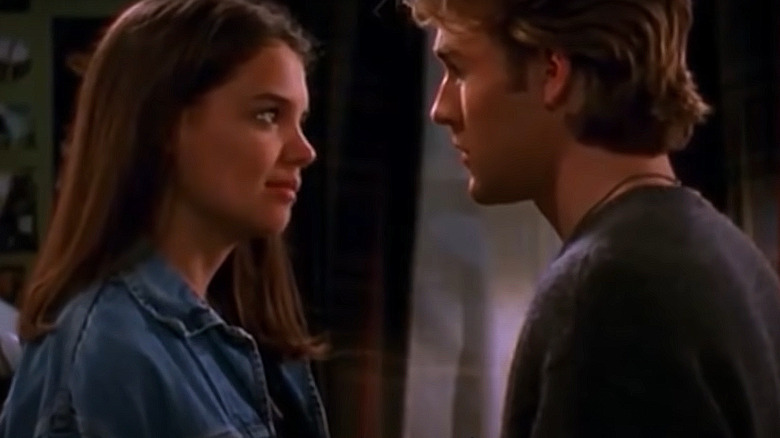 The WB
If you find yourself drawn to the soapy teenage drama of "Outer Banks," you'll want to watch its spiritual predecessor, "Dawson's Creek." This late '90s show holds the distinction of being one of the first television dramas to portray "adolescent characters in adult situations," as Lucie Salhany, a prominent critic of the show, once put it. While Salhany decried this approach, plenty more people fell in love with it. That's not all the series deserves credit for, either: The AV Club attributes the success of the entire WB network to the success of "Dawson's Creek."
This beloved show follows teenagers Dawson Leery (James Van Der Beek), Joey Potter (Katie Holmes), Pacey Witter (Joshua Jackson), and Jen Lindley (Michelle Williams) as they begin to explore their own identities and those of their peers, all while having brazen and candid discussions about love, heartbreak, and sex. Today, "Outer Banks" can freely discuss subjects once considered too taboo for television, and it has shows like "Dawson's Creek" to thank for it.
Elite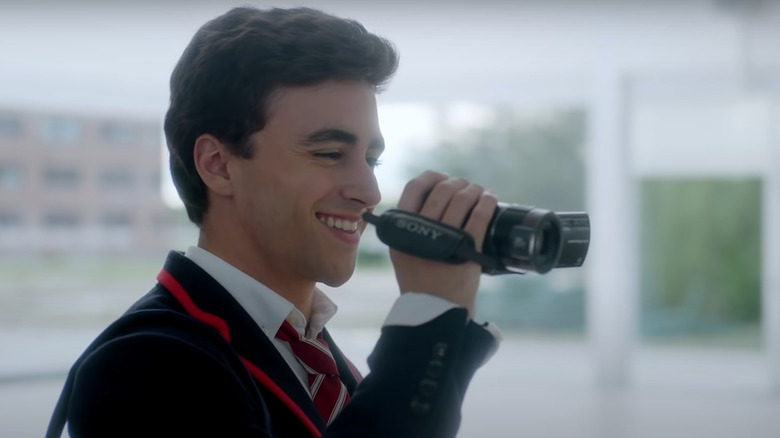 Netflix
In the surprisingly robust genre of teen noir shows, "Elite" and "Outer Banks" are touchstones. That these two productions, which hail from two different continents and are helmed by two completely different sets of people, could resemble each other so much speaks to how pervasive class divides really are. On "Outer Banks," the rivalry between the Pogues and the Kooks stems from their vastly different social statuses. Similarly, on "Elite," class war breaks out in moneyed private school Las Encinas when a handful of working-class students join the ranks. More often than not, this culminates in brutal murder. 
Each season of "Elite" brings a new murder mystery and a smattering of fresh characters to the fore, even while the old ones continue to rule the roost. The show doesn't forget the "teen" in "teen noir," though: It spends as much time exploring its subjects' heartbreaks, hopes, and fears as it does indulging in murder and mayhem.