Netflix Cancels American Vandal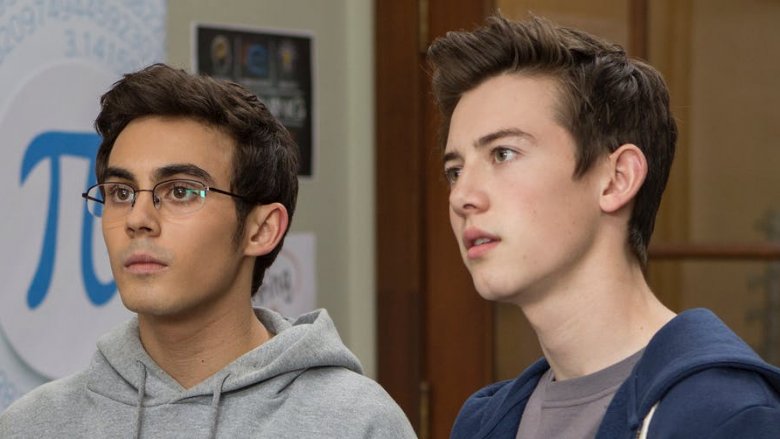 Netflix
The American Vandal case is officially closed. 
Per The Hollywood Reporter, Netflix has canceled its true crime spoof series American Vandal after two seasons. Producers were reportedly working out the story for the third season of the series at the time the streamer pulled the plug. 
Given that the freshman outing focused on finding the high school student who spray-painted obscene images on 27 parked cars and the sophomore turn centered around a mysterious "Turd Burglar" playing a disgusting prank on their peers at a private Catholic high school, it was assumed that American Vandal season 3 would be as raunchy and subversive as ever. Unfortunately, fans won't get to see that planned narrative play out on Netflix. 
"American Vandal will not return for a third season," the streaming site announced in a statement. "We're very grateful to the creators, writers, cast, and crew for bringing their innovative comedy to Netflix, and to the fans and critics who embraced its unique and unconventional humor."
The cancellation comes as Netflix is clearing out its scripted series produced by outside studios. American Vandal hailed from CBS TV Studios, while recently axed series All About the Washingtons, Iron Fist, and Luke Cage were produced by ABC Studios. 
Created by Dan Perrault and Tony Yacenda, American Vandal hit Netflix in September 2017 and was quickly met with a wave of praise. Though promotion was thin and the cast was comprised primarily of up-and-comers and previous-unknowns, the mockumentary took off like a rocket. Many praised the first season of American Vandal, which sits at a 98 percent approval rating on Rotten Tomatoes, for "working as a genuinely absorbing mystery that offers thought-provoking commentary on modern entertainment" and for poking fun at the hyper-dramatized elements of true crime series like Making a Murderer. When season 2 debuted this September, audiences were just as swept away, loving how the new episodes traded "one type of potty humor for another in an ambitious second season that manages to double down on the explicit gags while subtly addressing serious social issues."
It goes without saying that fans are majorly confused as to why Netflix would cancel American Vandal, a series some consider the best show the streamer has ever produced. The cancellation is even more mind-boggling when remembering that co-creator Perrault told Rolling Stone just last month that there's "an endless supply of tropes" that American Vandal could explore in future seasons. It sounded like the show would stick around for the long haul, but clearly, Netflix had other ideas. 
The only bright spot to this bleak news is that, according to Variety, other platforms have already expressed interest in snagging American Vandal for their own and keeping it alive. Could Hulu or Amazon Prime, two of Netflix's biggest competitors, save American Vandal? There's a chance, so hold on to hope, gang.