The Law & Order: Organized Crime Couple Fans Can't Get Enough Of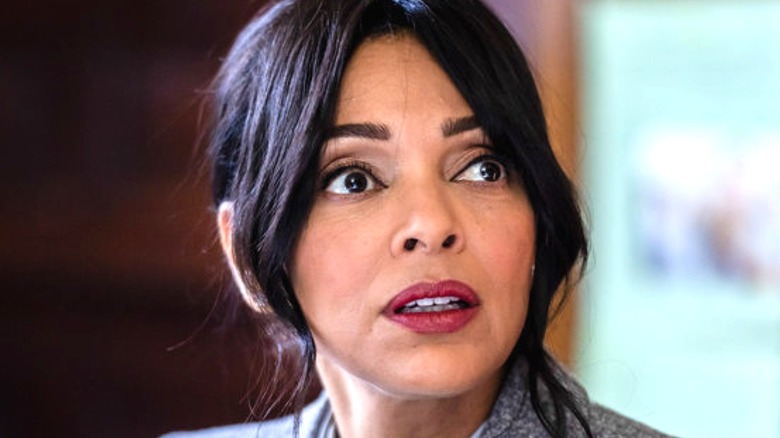 Zach Dilgard/NBC
Move over Bensler (you too, Benangela, Bensarba, and Carisollins), there's a new Dick Wolf cutest couple in town from "Law & Order: Organized Crime," and if the fans have anything to say about it, they'll be leaving the fledgling spinoff's other potential romances in the dust within a handful of episodes. Though the Elliot Stabler (Christopher Meloni) focused series had previously gone out of its way to tease either a long-awaited Stabler and Olivia Benson (Mariska Hargitay) romance or a relationship between the detective and the ex-wife of his biggest nemesis (Tamara Taylor's Angela Wheatley), it appears fans are done waiting for Stabler to get it together. Not only have they moved on from some of the series' most drawn-out flirtations, but they've also decided to shift their attention to one of its newest potential couples. 
Unlike many a "Law & Order" fandom "ship," this dynamic duo hasn't appeared on the series very long — understandable, given that "Organized Crime" has had just two seasons. But in their seven episode-arc together, they've earned themselves a slew of supporters. As user ZDR1994 put it on the series' subreddit, "Forget Elliot and Olivia, I'm all on the Jet and Malachi train now." That train, apparently, is overflowing with passengers as of late. 
Fans are all about Jet and Malachi on Law & Order: Organized Crime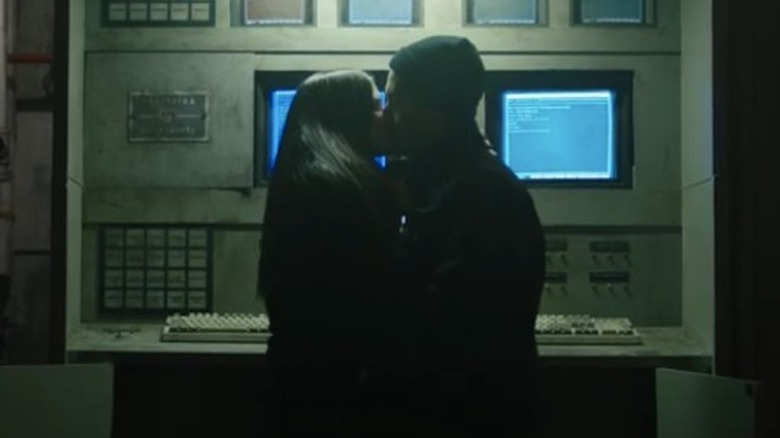 NBC / Amazon Prime
Tech-savvy and surprisingly young Detective "Jet" Slootmaekers (newcomer Ainsley Seiger) debuted along with the series and has been gracing the Organized Crime unit with her characteristic deadpan wit for 23 episodes. By contrast, former criminal hacker Adam "Malachi" Mintock (Wesam Keesh of "Good Girls") has starred in just seven episodes to date. Despite their brief interplay, fans on Reddit can't seem to get enough of the tech whizzes' chemistry, which was sealed with a kiss in Season 2, Episode 14.
"I'm so here for Jetachi," wrote user Pootsaroo, referencing one of the pair's popular portmanteaus (the other is "Jalachi," as many a Twitter post proves), while Puzzleheaded-Fly2837 added, "Yess love them together," and heaths8 noted, "They are so cute. Their chemistry is good too!" Nevertheless, though many fans fell hard for the couple's eagerly anticipated kiss, cfinboston felt "it would have been better if they hadn't, because that would allow the flirting and tension to continue."
The arguably too-soon release of that tension isn't the only obstacle Jetachi/Jalachi fans face. Speaking to Cinemablend, Keesh alluded to how he'd like to return to the series, though it was clear his time on the show would conclude alongside Richard Wheatley's (Dylan McDermott) arc. But will Malachi's exit mean the end of Jetachi? At least one fan doesn't think so: "[H]e's also going all in on retweeting/responding to 'Jalachi' posts," wrote user Schiffy94 in a statement bore out by the actor's official Twitter page), adding that "(Dick) Wolf knows the fans like Wesam Keesh." 
To be fair, it's not as if the characters couldn't easily manage a long-distance, online relationship, given their shared affinity for all things digital.