Actors Who Worked Together Even Before Joining The MCU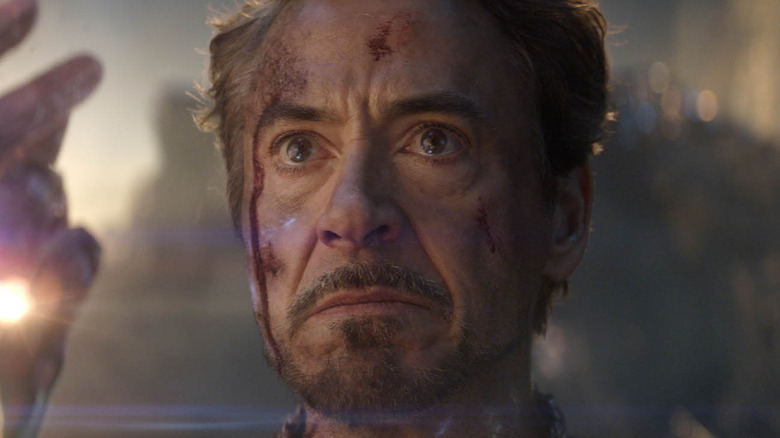 Marvel Studios
The Marvel Cinematic Universe is the highest grossing franchise of all time, and for good reason; under the watchful eye of producer and chief creative officer Kevin Feige, Marvel Studios has indeed created an entire universe of amazing characters and stories that pay homage to their comic book origins while also appealing to casual moviegoers not familiar with the decades of lore that inform the films. And because the films cross over into other genres (sci-fi, fantasy, spy thriller, etc.), there's something for every taste.
However, if there's one thing that's constantly lifted Marvel Studios' films above and beyond the typical Hollywood potboiler, it's their stellar casts, who work overtime to turn two-dimensional comic book characters into living people we actually care about. So many of the MCU's heroes, villains, and supporting characters have been played by acclaimed, Oscar-winning and -nominated actors, giving the films a touch of class among the CGI-enhanced superpowers and explosions. From Robert Downey Jr. to Marisa Tomei to Robert Redford to Natalie Portman, it seems no actor is too good to star in a Marvel movie.
In fact, now that the MCU is more than 25 films and multiple television series in, it's feeling like almost every A-list actor has been in a Marvel movie. With a talent roster this large, there are bound to be actors who have worked together before teaming up to take down Thanos or travel into the quantum realm. Below is a list of actors who have starred in films together before joining the MCU.
Robert Downey Jr. and Michael Douglas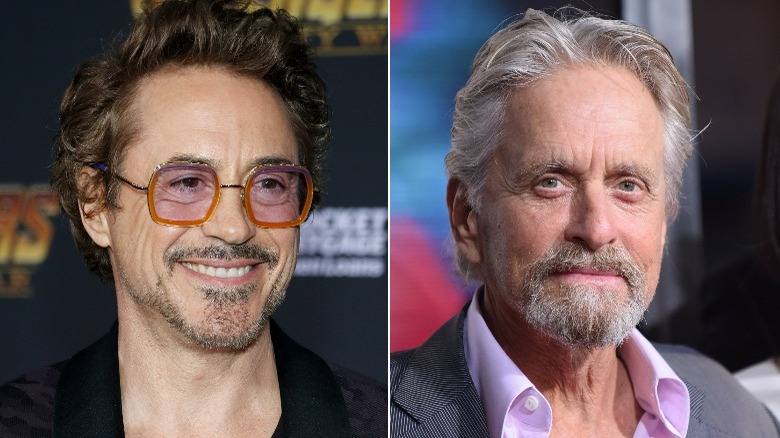 Tinseltown & DFree/Shutterstock
Few actors have become so inextricably tied to a role as Robert Downey Jr. and Iron Man. First exploding onto the scene in 2008's "Iron Man," which single-handedly kicked off the wildly popular Marvel Cinematic Universe, Downey Jr. brought a captivating charm and arrogance to the role that audiences have loved for over a decade, and became an integral part of the MCU.
By 2015, the MCU was on a nearly nonstop streak of films that proved to be hits with audiences and critics alike, and began to take more risks with less well-known characters. One of those characters was Ant-Man, played by the always loveable Paul Rudd. Joining in on the fun was Michael Douglas as Dr. Henry "Hank" Pym, the original Ant-Man who brought Rudd's Scott Lang under his wing to take over the mantle. While "Ant-Man" was a departure from the more serious roles that Douglas usually plays, he nonetheless lent some welcome class and pathos to what otherwise might have been a silly "Honey, I Shrunk the Kids" knock-off.
Downey Jr. and Douglas both previously starred in 2000's "Wonder Boys," which follows English professor and novelist Grady Tripp (played by Douglas), who must contend with his wife leaving him, the struggle of writing his next novel, and a nagging editor (played by Downey Jr.). As a bonus, the film also starred Tobey Maguire, who would go on to make a pit stop in the MCU in 2021's "Spider-Man: No Way Home."
Chris Evans and Brie Larson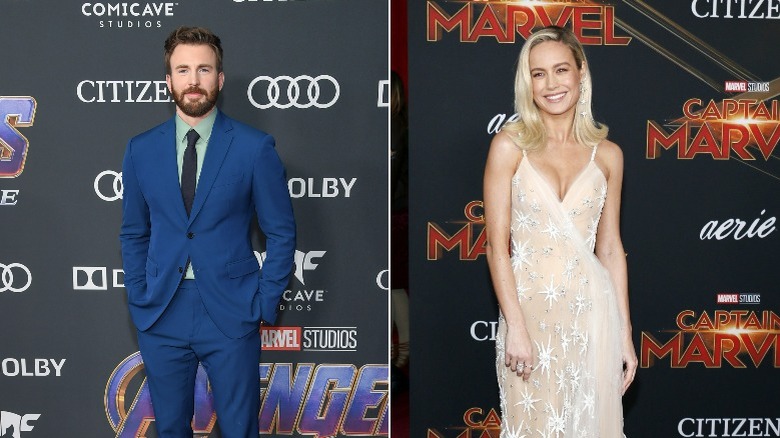 DFree & Tinseltown/Shutterstock
Chris Evans was a surprising choice to play the Star-Spangled Avenger, but proved to be perfect for the wholesome if old-fashioned Steve Rogers. His first outing was in 2011's "Captain America: The First Avenger," and he went on to play the character in six more films (in addition to hilarious cameos in "Thor: The Dark World" and "Spider-Man: Homecoming"), culminating in 2019's "Avengers: Endgame."
Brie Larson joined the MCU in 2019's "Captain Marvel," and has the distinction of starring in Marvel Studios' first female-led film (we're still mad about not getting a "Black Widow" movie sooner, though). Larson followed up her first solo film by showing up in "Avengers: Endgame" later that year, where she gave the Avengers a helping hand against Thanos' army and memorably withstood a headbutt from the Mad Titan himself like it was nothing.
But before Evans and Larson joined Earth's Mightiest Heroes, they were both in another comic book movie, 2010's "Scott Pilgrim vs. the World," which told the story of Scott, a young man who must defeat his new girlfriend's seven exes before he can truly win her heart. Evans played one of Ramona Flowers' exes, Hollywood actor and skateboarder Lucas Lee, while Larson played Scott's ex-girlfriend, pop star Envy Adams. The film also featured several other superhero actors, including Mary Elizabeth Winstead (who played the Huntress in "Birds of Prey"), Brandon Routh (who played Superman in "Superman Returns"), and Thomas Jane (who played the Punisher in the eponymous 2004 film).
Paul Bettany and Jennifer Connelly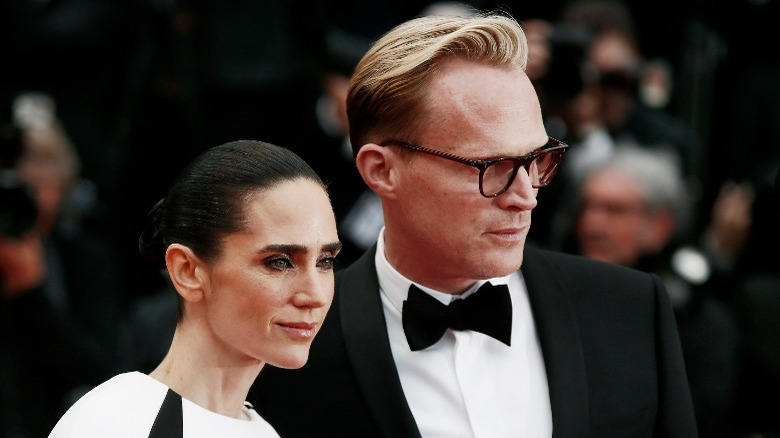 Andrea Raffin/Shutterstock
Paul Bettany has been in the MCU since the very beginning, bringing Tony Stark's trusty butler, Edwin Jarvis, to life in the form of J.A.R.V.I.S., a sophisticated artificial intelligence assistant. He voiced the AI program in "Iron Man," "Iron Man 2," "The Avengers," and "Iron Man 3." It was in "Avengers: Age of Ultron" that J.A.R.V.I.S. is seemingly destroyed by Ultron until he's resurrected in humanoid form as the Vision, giving Bettany a chance to do more than just voice a character. Vision has since become an important part of the Marvel Cinematic Universe, appearing in several other films as well as the Disney+ series, "WandaVision."
Jennifer Connelly joined the MCU in 2017's "Spider-Man: Homecoming," voicing the natural-language user interface, dubbed "Karen," in Peter Parker's second Spider-Man suit which was created by Tony Stark. But there's something oddly sweet about Connelly appearing in a Marvel film and being cast as "Karen": she's married to Bettany in real life, which means that this couple has voiced two different AI programs in the MCU.
But before their voices appeared in the Marvel Cinematic Universe, Bettany and Connelly both appeared (in human form) in the highly acclaimed 2001 film "A Beautiful Mind." Connelly was nominated for an Oscar as Alicia, the wife of John Nash (played by Russell Crowe, who will join the MCU as Zeus in the upcoming "Thor: Love and Thunder"), while Bettany played Charles Herman, a friend of Nash.
Josh Brolin, Elizabeth Olsen, and Pom Klementieff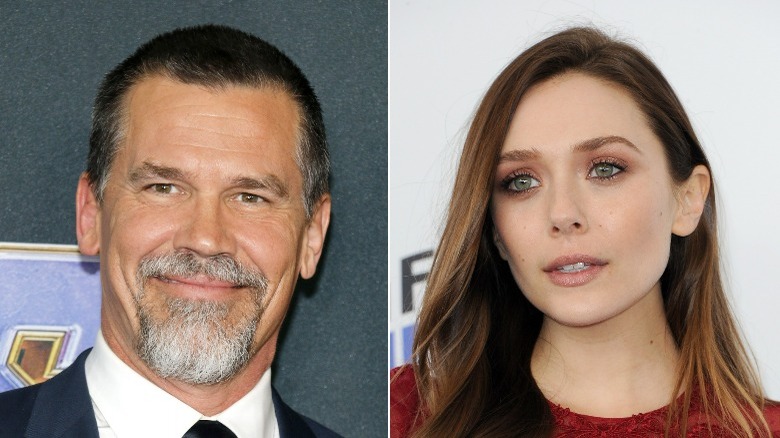 Tinseltown & Tinseltown/Shutterstock
Josh Brolin is no stranger to comic book movies, having played the titular bounty hunter in 2010's "Jonah Hex" and Cable in 2018's "Deadpool 2," but he's perhaps most known to fans for his portrayal of Thanos across multiple MCU films and Disney+'s "What If...?" Elizabeth Olsen is beloved by fans for her portrayal of Wanda Maximoff, aka the Scarlet Witch, who's easily one of the most powerful Avengers. Then there's Pom Klementieff, who became a welcome addition to the MCU in "Guardians of the Galaxy Vol. 2" as Mantis.
While each of these actors have played prominent roles in the ever-growing Marvel Cinematic Universe, did you know that they all appeared together in the same film several years earlier? That movie was 2013's "Oldboy," the Spike Lee-directed remake of Park Chan-wook's 2003 film. Brolin played Joe Doucett, a man on a violent mission to uncover why he was kidnapped and held captive for 20 years; Olsen played Marie Sebastian, a woman who aids Joe on his quest (we won't reveal anything else about her character, in case you haven't seen "Oldboy" yet); and Klementieff (making her American film debut) played Haeng-bok, the bodyguard for the primary villain, Adrian Doyle Pryce. As a bonus, Samuel L. Jackson, the MCU's Nick Fury, also appears in the film as Chaney (although he was already well into his career in the MCU by the time he starred in this picture).
Chris Hemsworth, Zoe Saldana, and Karl Urban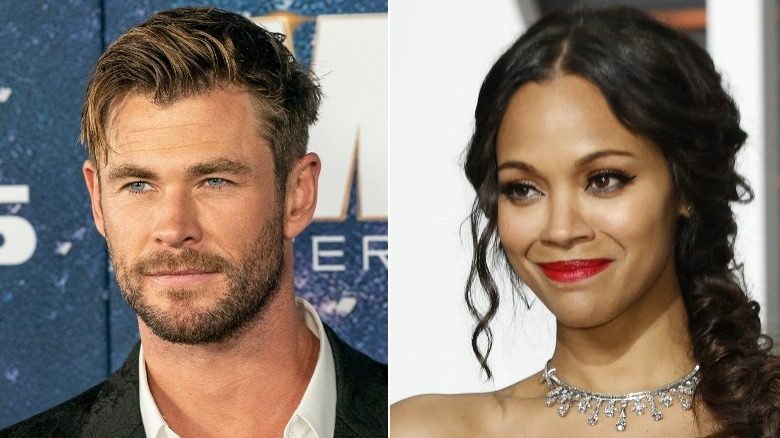 lev radin & Kathy Hutchins/Shutterstock
Chris Hemsworth will always be one of the hunkier MCU heroes, bringing the legendary Thor to life in the eponymous 2011 film along with its sequels and the "Avengers" epics; Zoe Saldana is terrific as the deadliest woman in the whole galaxy, Gamora, in the "Guardians of the Galaxy" series, as well as "Avengers: Infinity War" and "Avengers: Endgame;" and Karl Urban made quite the splash as Skurge in "Thor: Ragnarok."
However, before turning up in some of the most popular and lucrative films of all time, these three actors all appeared together in the 2008 J.J. Abrams-directed "Star Trek" reboot. Hemsworth had a small yet pivotal role as George Kirk, James Kirk's father, who died on the USS Kelvin while battling the Romulans; Saldana played Nyota Uhura, the communications officer of the USS Enterprise; and Urban played Dr. Leonard "Bones" McCoy, the chief medical officer of the USS Enterprise. "Star Trek" has another Marvel connection in Eric Bana, who played the time-traveling Romulan commander Nero: the actor had previously portrayed the Hulk/Bruce Banner in the 2003 Ang Lee film "Hulk" before Marvel Studios took over the property with Edward Norton in the role, to be later replaced by Mark Ruffalo.
Chris Pratt and Frank Grillo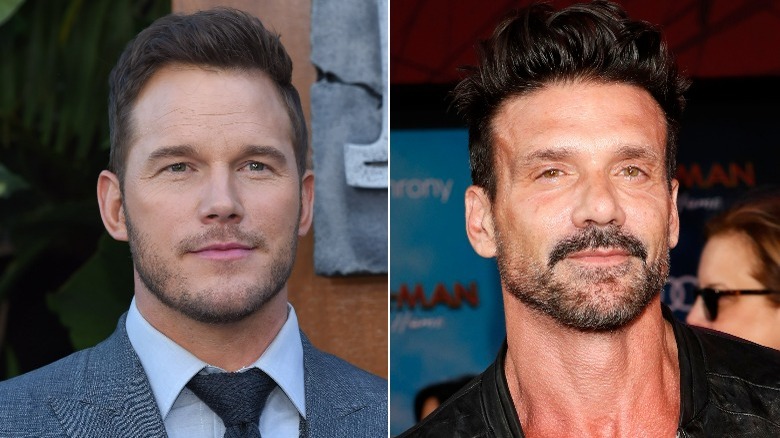 DFree & Kathy Hutchins/Shutterstock
Who couldn't love Chris Pratt as Peter Quill/Star-Lord? Somehow managing to be arrogant yet charming, brash yet vulnerable, Pratt took one of the more obscure characters in Marvel Comics lore and turned him into one of the most loveable figures in the MCU. Over the course of two "Guardians" films, two "Avengers" entries, and a Disneyland ride, fans have delighted in Pratt's turn as a laid-back space pirate.
Frank Grillo made his MCU debut in "Captain America: The Winter Soldier" as Brock Rumlow, a S.H.I.E.L.D. agent who is actually working for Hydra. He returned in "Captain America: Civil War" in his Crossbones persona, where he takes on Cap while trying to steal a biological weapon from a lab in Lagos. While his character was killed in the film, Grillo made a brief appearance in "Avengers: Endgame" during one of the film's time travel sequences.
Before Pratt took to the cosmos as Star-Lord and Grillo fought an Avenger as Crossbones, they both appeared in the Oscar-nominated "Zero Dark Thirty." Directed by Kathryn Bigelow, the film chronicled the years-long hunt for Osama bin Laden, the leader of terrorist network Al-Qaeda that was behind the 9/11 attacks. Pratt played DEVGRU operator Justin Lenihan, while Grillo played a DEVGRU commanding officer. (While it's still up for debate on whether the Netflix Marvel shows are MCU canon or not, "Zero Dark Thirty" also stars Mike Colter, who would later go on to play the lead character in "Luke Cage.")
Benedict Cumberbatch and Martin Freeman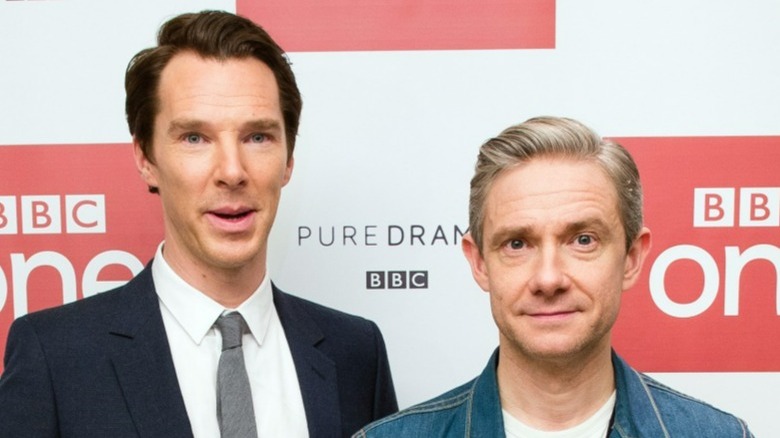 Jeff Spicer/Getty
"Doctor Strange" blew audiences away in 2016 for its stunning psychedelic visuals that perfectly captured the weirdness of the trippy comic book source material. However, just as impressive was Benedict Cumberbatch's turn as the arrogant neurosurgeon who, after turning to magic out of desperation to heal his broken hands, becomes an arrogant Master of the Mystic Arts. The actor lent a gravitas to the role, elevating what could have been a standard CGI-packed summer blockbuster. Cumberbatch returned for a brief appearance in "Thor: Ragnarok," and has played important roles in "Avengers: Infinity War," "Avengers: Endgame," and "Spider-Man: No Way Home."
Martin Freeman made his debut in the Marvel Cinematic Universe playing Everett Ross, the Deputy Task Force Commander of the Joint Counterterrorism Center in "Captain America: Civil War." He tries to bring in Bucky Barnes for his alleged bombing of the Vienna International Centre, before realizing the real culprit is Helmut Zemo. Freeman played a larger role in 2018's "Black Panther," where he teams up with T'Challa and Shuri to prevent their vibranium weapons from being taken out of Wakanda by Killmonger and his forces.
Cumberbatch and Freeman previously portrayed Sherlock Holmes and Dr. John Watson, respectively, in the beloved BBC series, "Sherlock." While Cumberbatch's Strange and Freeman's Ross have yet to meet one another in the MCU, we're still hoping for them to share a scene or two together at some point, perhaps with Strange lecturing Ross on his lack of deductive reasoning.
Samuel L. Jackson and Natalie Portman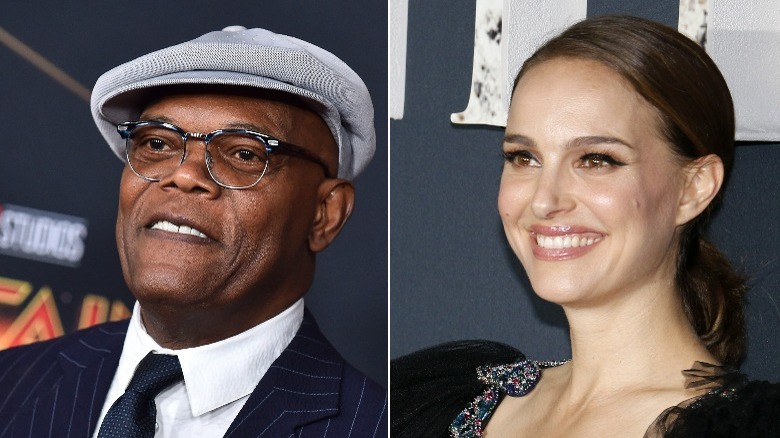 DFree & Tinseltown/Shutterstock
Before Samuel L. Jackson walked onto the screen as Nick Fury at the end of "Iron Man," the idea of combining multiple film franchises was often discussed but rarely carried out, and certainly without much success. However, after that fateful end credits scene, shared universes have become the norm in Hollywood. Since the beginning of the Marvel Cinematic Universe, Jackson has served as one of the main throughlines connecting the stories of the various heroes, leading up to 2012's "The Avengers" and beyond.
Natalie Portman's first outing in the MCU was in the first "Thor" as Jane Foster, serving as the love interest for the God of Thunder in both that film and its sequel, "Thor: The Dark World." For a while, it seemed that Portman would never return to the MCU as it was speculated that her frustration with Marvel Studios firing original "Dark World" director Patty Jenkins was the reason why. However, she would appear in "Avengers: Endgame" (albeit in archival footage), and is now slated to appear in "Thor: Love and Thunder," much to fans' delight.
Before appearing in the Marvel Cinematic Universe, Jackson and Portman were in another massive franchise, the "Star Wars" prequel trilogy: "Episode I – The Phantom Menace," "Episode II – Attack of the Clones," and "Episode III – Revenge of the Sith." Jackson played Mace Windu, a Jedi Master and high-ranking member of the Jedi Council, while Portman played Padmé Amidala, the Queen of Naboo and wife of Anakin Skywalker.
Mark Ruffalo, Brie Larson, Andy Serkis, and Judy Greer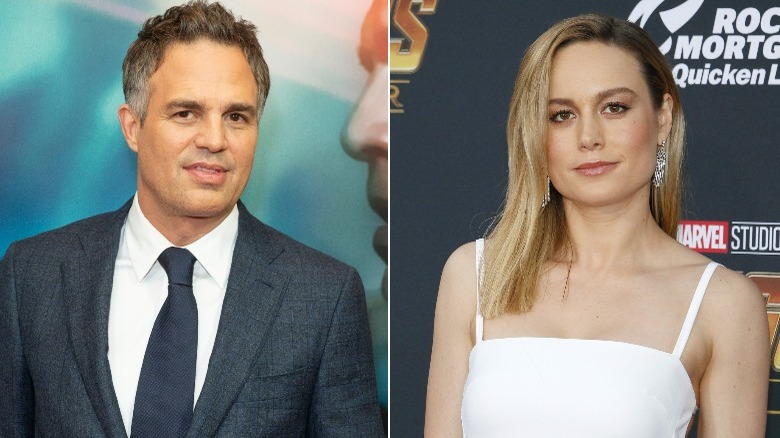 lev radin & Tinseltown/Shutterstock
Mark Ruffalo took over acting duties for Bruce Banner/Hulk after Edward Norton played the character in 2008's "The Incredible Hulk." Since then Ruffalo played the character in all "Avengers" films and in "Thor: Ragnarok," as well as cameos in "Iron Man 3" and "Shang-Chi and the Legend of the Ten Rings." We'll be seeing him again in the upcoming Disney+ series, "She-Hulk."
Andy Serkis made quite the impression in "Avengers: Age of Ultron" as the villainous Ulysses Klaue, the South African black market arms dealer specializing in stealing and selling vibranium from Wakanda. After he gets his left arm cut off by Ultron, Serkis' Klaue reemerged in "Black Panther" with a new prosthetic arm that doubles as a sonic weapon, more closely resembling his comic book counterpart. Serkis even lent his voice talents to an episode of the Disney+ series, "What If...?"
Judy Greer made her MCU debut in "Ant-Man," where she played Maggie, the ex-wife of Scott Lang/Ant-Man and the mother of Cassie Lang. She was also seen in the 2018 sequel, "Ant-Man and the Wasp."
However, before showing up in the Marvel Cinematic Universe, these three actors, along with Brie Larson, appeared together in the 2004 romantic fantasy comedy "13 Going On 30." Ruffalo played main love interest Matt Flamhaff, Greer played Lucy "Tom-Tom" Wyman, Larson played one of the "Six Chicks," and Serkis played Richard Kneeland, the editor-in-chief of Poise magazine.
Rachel McAdams and Jude Law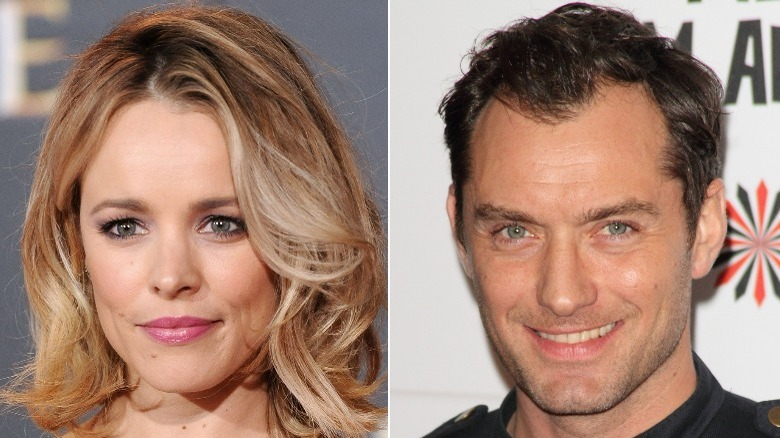 DFree & landmarkmedia/Shutterstock
Rachel McAdams first appeared in the Marvel Cinematic Universe in 2016's "Doctor Strange" as Christine Palmer, an emergency surgeon and former lover of Stephen Strange. Director and co-writer Scott Derrickson originally intended for her to be Strange's love interest, but felt that it was too much of a cliche and changed them into friends who were previously in a romantic relationship. McAdams returned to the character for the Disney+ animated series "What If...?"
Jude Law portrayed Yon-Rogg, the commander of Starforce and Carol Danvers' mentor who trains her in the use of her new powers, in "Captain Marvel." Yon-Rogg has a complicated relationship with Danvers: while he did save her life by giving her a transfusion with his blood and brought her on as his protégé, he also manipulated her memories to make her believe that she is a member of the alien Kree race and uses her in his fight against the Skrulls.
But before dating soon-to-be wizards and attacking innocent alien races, McAdams and Law appeared together in 2009's "Sherlock Holmes" and its 2011 sequel "Sherlock Holmes: A Game of Shadows." McAdams portrayed Irene Adler, an American femme fatale and one of the few people to outwit the impressive mind of Holmes, while Law played Holmes' loyal partner, Dr. John Watson. As a bonus, both "Sherlock Holmes" films starred Robert Downey Jr. as the titular detective, although he was already entrenched in the MCU as Iron Man by this point.
Paul Rudd and Bobby Cannavale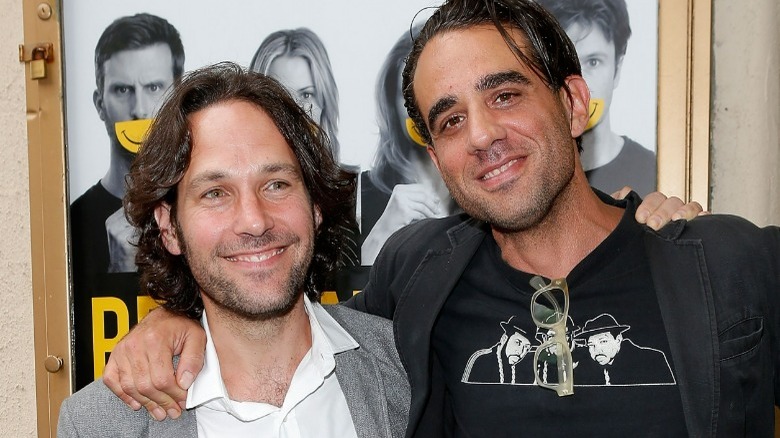 J. Countess/Getty
Paul Rudd made a perfect Scott Lang/Ant-Man in his first solo outing in 2015, delivering plenty of comedy and heart in equal measure while also proving that he has what it takes to be a superhero. Rudd's second MCU appearance was in "Captain America: Civil War," where he joined forces with Cap, Bucky Barnes, Sam Wilson, Wanda Maximoff, and Clint Barton in their fight against Tony Stark, Natasha Romanoff, T'Challa, James Rhodes, Vision, and Peter Parker at Leipzig/Halle Airport.
Rudd returned for another installment in the "Ant-Man" series, this time with Evangeline Lilly's Wasp getting a chance to spread her heroic wings. In the 2018 sequel, the two heroes face off against the mysterious Ava Starr/Ghost (played by Hannah John-Kamen) and search for the original Wasp (played by Michelle Pfeiffer) who's stuck in the quantum realm. And in "Avengers: Endgame," Rudd's Lang proved to be integral to the team's plan to acquire the Infinity Stones and return everyone wiped out from Thanos' fateful snap.
While Bobby Cannavale had only a small role to play in Ant-Man's life (playing his ex-wife's new husband Jim Paxton), he nevertheless brought some dramatic heft to the two "Ant-Man" films.
Rudd and Cannavale both appeared in the 2007 anthology film, "The Ten," before joining the ever-expanding Marvel Cinematic Universe. In fact, the two actors are such good friends in real life that Rudd personally asked Cannavale to be in "Ant-Man."
Jeremy Renner and Anthony Mackie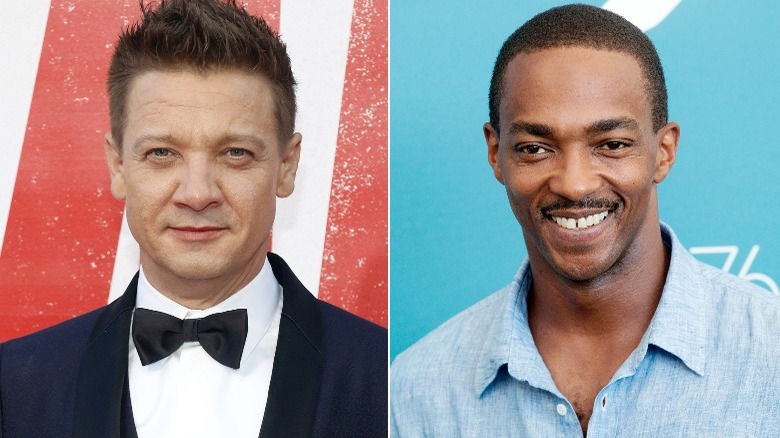 Tinseltown & Andrea Raffin/Shutterstock
Jeremy Renner made his MCU debut in "Thor" as Clint Barton/Hawkeye working for S.H.I.E.L.D. The agency sends him to New Mexico to stop the banished God of Thunder from retrieving Mjolnir, but ultimately chooses to refrain from apprehending him after watching Thor fail to lift his hammer. After getting brainwashed in "The Avengers," his best friend Natasha Romanoff manages to undo Loki's influence over him so he can join the rest of the team to stop the Trickster God's army from invading the Earth in the Battle of New York. Renner would go on to appear in "Captain America: Civil War," as well as "Avengers: Age of Ultron" and "Avengers: Endgame," and even trains the young Kate Bishop in what it takes to be an archery-themed superhero in the "Hawkeye" series.
Anthony Mackie first brought Captain America's trusty partner, Sam Wilson/The Falcon, to life in "Captain America: The Winter Soldier" and "Captain America: Civil War." He became an important member of the Avengers before ultimately taking on the mantle of Captain America in the Disney+ series "The Falcon and the Winter Soldier." Mackie will return as the new star-spangled hero in a fourth installment in the "Captain America" series.
Before joining Earth's Mightiest Heroes, Renner and Mackie appeared in the Oscar-winning 2008 film, "The Hurt Locker," directed by Kathryn Bigelow. Renner played Sergeant First Class William James (a role that garnered him an Academy Award nomination), while Mackie played Sergeant J. T. Sanborn in the powerful Iraq War drama.
Peter Dinklage, Richard Madden, and Kit Harington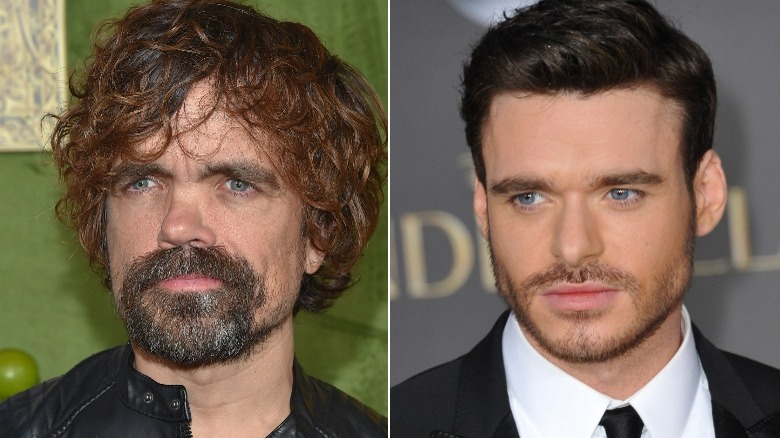 DFree & Jaguar PS/Shutterstock
Peter Dinklage had a small but pivotal role in "Avengers: Infinity War" as Eitri, King of the Dwarves and a member of a long line of blacksmiths from Nidavellir. In the film, Thor, Groot, and Rocket travel to Nidavellir to have Eitri build Thor a new weapon to take on Thanos. However, because a previous encounter with Thanos left him the only survivor of his people and with his hands unable to create any more weapons, the three heroes must come together to help him build Stormbreaker.
Richard Madden was seen in 2020's "Eternals" as Ikaris, a member of the immortal race with superhuman strength, the ability to project cosmic energy beams from his eyes, and the power of flight. In the film, he reunites with the other Eternals only to betray them and follow Arishem's orders. Guilt-ridden from his actions and defeated by the other Eternals, he ultimately commits suicide by flying into the Sun. Also joining Madden in "Eternals" is Kit Harington, who portrayed Dane Whitman, a history professor who works at the Natural History Museum in London and is in a romantic relationship with Sersi. While Dane doesn't become the Black Knight character from the comics, he does hint that there's more to his family lineage and, in a post-credits scene, opens a case that contains the Ebony Blade.
Dinklage, Madden, and Harington previously appeared together in another wildly popular franchise, the hit HBO show "Game of Thrones," as Tyrion Lannister, Robb Stark, and Jon Snow, respectively.
Marisa Tomei, Tilda Swinton, and Brie Larson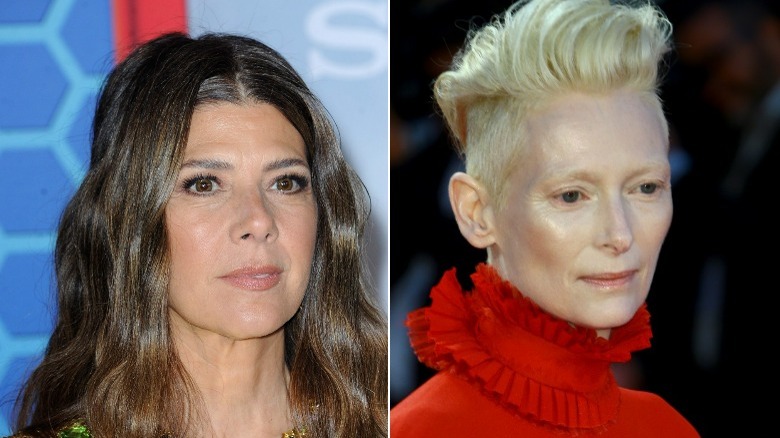 Matteo Chinellato/Shutterstock & Albert L. Ortega/Getty
The MCU's version of Aunt May (the third cinematic incarnation) was brought to life by Marisa Tomei. The aunt of Peter Parker and widow of Ben Parker, this take on Aunt May is different from previous depictions as she finds out pretty early on that her seemingly average nephew is in fact Spider-Man. Portrayed as younger and more hip, Tomei's character has a brief relationship with Happy Hogan, and is the one who gives Parker the immortal wisdom, "With great power, there must also come great responsibility."
Tilda Swinton appeared in "Doctor Strange" as the Ancient One, a Celtic sorcerer who brings Stephen Strange under wing to learn the mystic arts. The Ancient One is also the former mentor of Kaecilius, who's leading a band of zealots that's trying to bring Dormammu of the Dark Dimension into Earth's reality for his own nefarious purposes. While the Ancient One passes away in "Doctor Strange," Swinton returns to the character in a past sequence in "Avengers: Endgame," as well as an episode of "What If...?"
Tomei, Swinton, and fellow MCU actress Brie Larson were all seen in the 2015 Amy Schumer comedy "Trainwreck." Tomei played The Dog Owner, Swinton played Dianna, and Larson played Kim Townsend. While it's still to be seen if fans will ever get that all-female Avengers film, it's looking like "Trainwreck" will have to tide them over until that happens.
James Spader and Robert Downey Jr.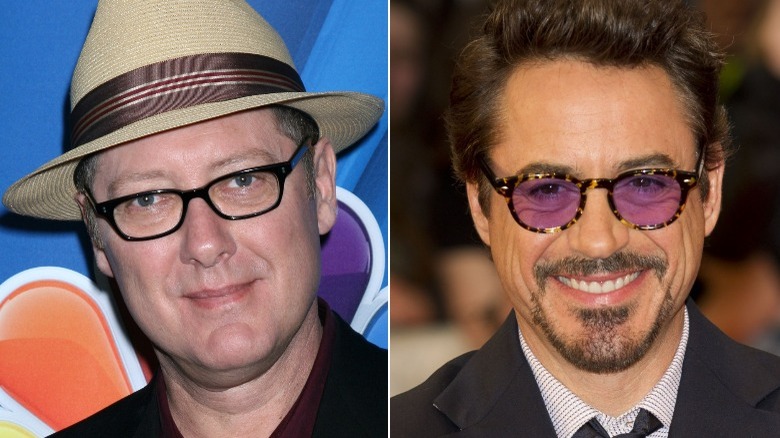 Kathy Hutchins & Featureflash Photo Agency/Shutterstock
While "Avengers: Age of Ultron" didn't quite live up to its predecessor in terms of reviews and box office gross, it did give us a wonderful voice performance from James Spader, who played the megalomaniacal robot Ultron. Born out of an artificial intelligence that resided within Loki's scepter and a previously abandoned global defense program created by Tony Stark and Bruce Banner, Ultron believes that he must destroy humanity in order to establish peace on Earth. Ultron could have easily wandered into the typical mad-robot cliches seen in other films like those of the "Terminator" series, but Spader brought an irony and pain to the role not usually seen in other AI villains.
Robert Downey Jr.'s Tony Stark is largely responsible for the creation of Ultron, so of course the two are enemies. But funnily enough, Downey Jr. and Spader are actually good friends in real life, and previously starred together in two films: 1985's "Tuff Turf" and 1987's "Less Than Zero." But the connections don't end there; in "Tuff Turf," there's a scene where Spader's character gets beaten up and mugged in an alley, and is then helped by Downey Jr.'s character — all in front of a brick wall with graffiti that spells out "The New Avengers" (which also happens to be the name of several Marvel comics series).