Captain America 4: Everything We Know So Far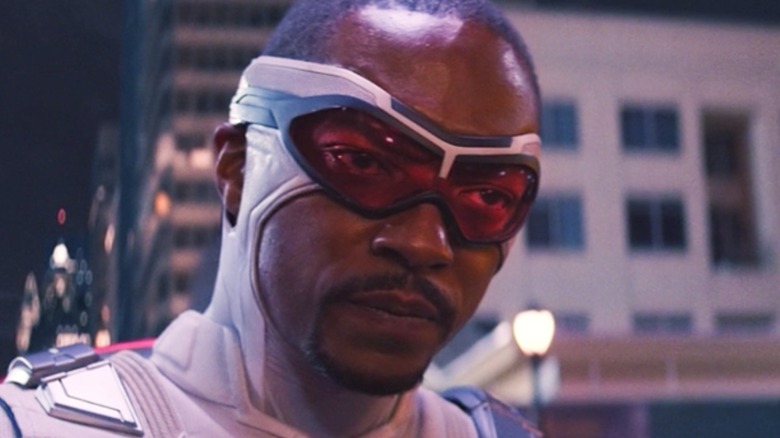 Marvel Studios/Disney+
Ask and you shall receive. Or, in the case of Marvel fans, hope really, really hard and you will eventually get what you asked for.
On Friday, April 23, The Hollywood Reporter broke the news that "Captain America 4" is in the works at Marvel Studios. The announcement comes on the very same day that the company's latest Disney+ series, "The Falcon and the Winter Soldier," wrapped its six-episode run. Even more fittingly, "The Falcon and the Winter Soldier" showrunner and lead writer Malcolm Spellman is attached to the project. One of the series' staff writers, Dalan Musson, is co-writing the film's script alongside Spellman. 
A movie that will turn a Marvel movie trilogy into a saga, "Captain America 4" is now the second movie of its kind, following after the forthcoming "Thor: Love and Thunder" that expand the existing the three-film story of Chris Hemsworth's God of Thunder and his Asgardian pals.
Marvel Studios hasn't tapped a director for "Captain America 4" just yet, and, as expected, hasn't released much concrete information about the new movie. However, there are a few details on hand, as well as super-recent events that have happened in the Marvel Cinematic Universe, that can help paint a clearer picture of what "Captain America 4" might be like. 
Here's what we know so far about the fourth "Captain America" movie.
Chris Evans' Steve Rogers, or Anthony Mackie's Sam Wilson?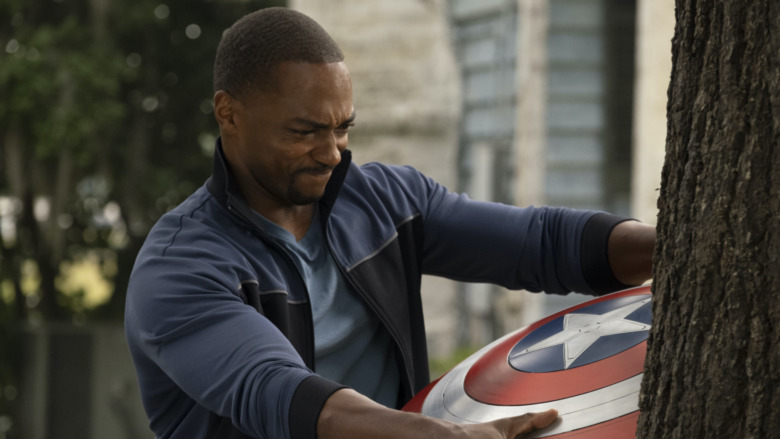 Marvel Studios/Disney+
It's unclear at this time who will embody the titular character in "Captain America 4," but there are two stars who could lead the film: Chris Evans and Anthony Mackie.
Evans began his MCU career as Steve Rogers back in 2011's "Captain America: The First Avenger." However, Evans' time within the superhero franchise came to an ostensible end during the closing moments of "Avengers: Endgame," during which Steve returns to the present as an old man after he finished placing the Infinity Stones in their respective places in the past. It's revealed that Steve took a detour of sorts on his way back and chose to live out a life with his beloved Peggy Carter (Hayley Atwell). "Old Man Cap," as fans affectionately call him, then gives Sam Wilson his Captain America shield.
This considered, the chances of Evans being the star of "Captain America 4" feel pretty slim. Earlier this year, there were rumblings that the actor would return to his role as Steve Rogers, but Evans played coy about the whole thing, writing on Twitter, "News to me." Plus, Marvel Studios is notoriously secretive, so even if he was set to play Cap again, it's not like the company would just come right out and say it. As it stands, there's really no way to know for certain whether or not an Evans reemergence is possible.
When it comes to Mackie, it would make total sense for him to be at the heart of "Captain America 4" considering where his character ended up by the conclusion of "The Falcon and the Winter Soldier" Episode 6. In the final episode (unless the series gets a second season), Sam Wilson, aka the Falcon, embraces the Captain America mantle, wields the iconic shield, and confronts U.S. government policymakers about how the country should move forward now that he's its superheroic protector. He even takes Isaiah Bradley (Carl Lumbly) and his grandson Elijah (Elijah Richardson) to the Smithsonian Institution to show them the newly expanded Captain America exhibit, which now has a section focused on Isaiah's heartbreaking, heroic story. With this all in mind, it could be argued that it wouldn't make sense or even be a good move to bring Evans back when a new Captain America has just taken flight — one that has his own story to tell. 
The ending of "The Falcon and the Winter Soldier" feels like a powerful — and pretty perfect — jumping-off point for a fourth "Captain America" movie. Keep your eyes on Looper for updates on "Captain America 4" as more information becomes available.