Captain America: Brave New World Release Date, Cast, Director, Writer And More Details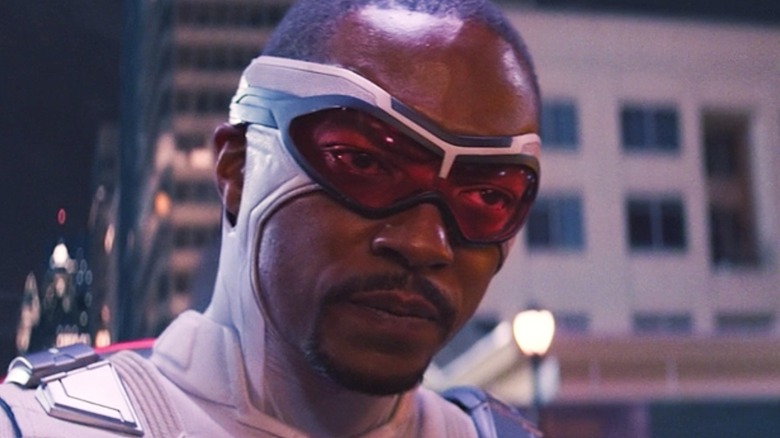 Marvel Studios/Disney+
We may receive a commission on purchases made from links.
Thor was the first MCU superhero to receive four solo films, but now, Captain America is joining his Asgardian ally. Of course, when "Captain America 4" rolls around — formerly subtitled "New World Order," now subtitled "Brave New World" — there will be a different man repping the red, white, and blue uniform.
As all Marvel fans know, the original Cap was Steve Rogers, a 90-pound weakling who became a super soldier thanks to his pure heart and some sci-fi serum. Over the course of the Infinity Saga, Steve joined the Avengers and battled threats foreign and domestic, but after defeating Thanos and earning some well-deserved R&R time, he decided to pass along the mantle of Captain America.
Enter the new Cap — aka Sam Wilson. Steve's right-hand man and Bucky Barnes' BFF (best frenemy forever), Sam is a veteran who's made up for his lack of superpowers with a whole lot of heart, heroism, and heavy fists. While the man has spent most of his Avenging days as the winged Falcon, he picked up the Captain America shield at the end of Disney+'s "The Falcon and the Winter Soldier," and now, he's forging his own star-spangled path. 
So what's in store for Captain America in "Brave New World?" Read on for everything we know so far about the upcoming Marvel movie.
When will Captain America: Brave New World be released?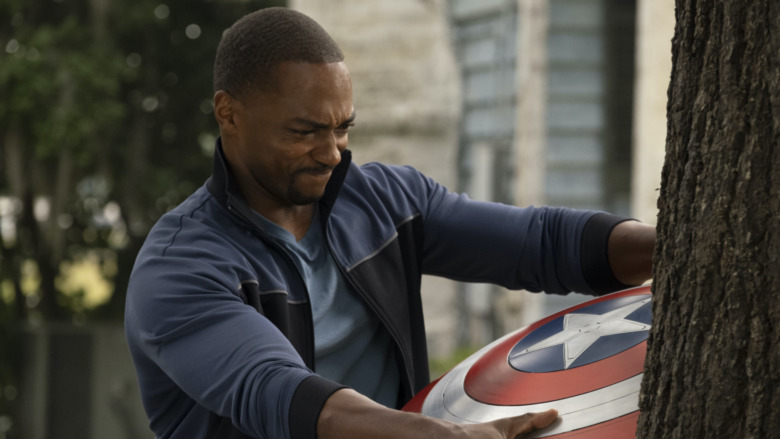 Chuck Zlotnick/Marvel Studios
Throughout "The Falcon and the Winter Soldier," we saw Sam Wilson struggle with whether or not he should take up the shield and become the new Captain America. While Steve Rogers represented America at its best, Sam knew there was another side to the U.S. — one he had to grapple with daily as a Black man. "The legacy of that shield is complicated," Sam said, a fact highlighted by the violent actions of John Walker and the tragic tale of Isaiah Bradley.
But over the course of the series, Sam decided to accept the Captain America mantle, coming to terms with America's dark past and its hopeful future. Sam made that decision in "One World, One People," the final episode of "The Falcon and the Winter Soldier," which hit Disney+ on April 23, 2021. On that very same day, The Hollywood Reporter broke the news that a fourth Captain America movie was in the works. In July 2022, it was announced the film would be called "New World Order," but in June 2023, the movie got a makeover, as the title shifted to "Brave New World."
So when will we see Cap back in action? The movie was at one point slated for July 26, 2024, but even though the film was almost completely finished, it was moved back to February 14, 2025. According to industry insider Jeff Sneider, that's because the movie did poorly in a test screening and needs some major reshoots. While that hasn't been officially confirmed, it is 100% official that we'll be seeing Sam Wilson on Valentine's Day 2025.
Who is starring in Captain America: Brave New World?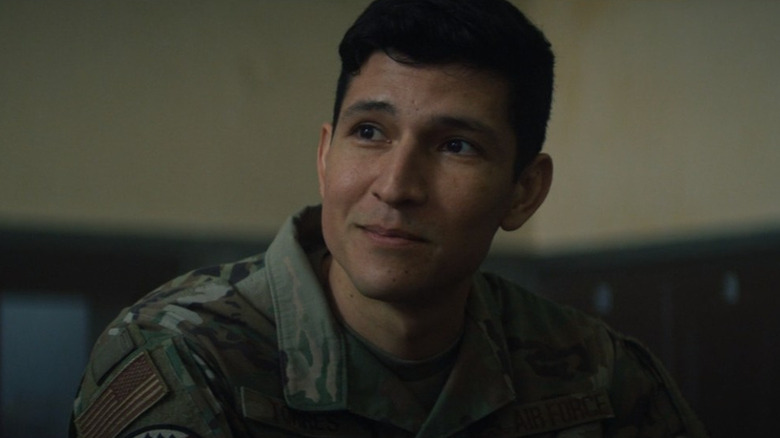 Marvel Studios
"Captain America: Brave New World" has an absolutely stacked cast. Anthony Mackie will be reprising his role of Sam Wilson/Captain America, and while it doesn't appear that Sebastian Stan is coming back as Bucky Barnes, we will be seeing several other characters from "The Falcon and the Winter Soldier."
Carl Lumbly will return as Isaiah Bradley, an ex-super soldier who was terribly abused by the U.S. government. In addition to playing Bradley, superhero fans will likely recognize Lumbly's voice as that of Martian Manhunter's from the "Justice League" and "Justice League Unlimited" series. He's also starred in projects like "Alias," "Doctor Sleep," and "Supergirl." Joining Lumbly, we'll get to see Danny Ramirez back in action as Joaquin Torres, an Air Force lieutenant who helped Sam Wilson defeat the Flag Smashers. In the comics, Torres becomes the new Falcon, and that's exactly what's going to happen here. As for Ramirez, he recently took to the air in another popular franchise — he was Lt. Mickey "Fanboy" Garcia in "Top Gun: Maverick."
We'll also meet a new character in the form of Sabra, an Israeli superhero who works for Mossad. The character will be played by Shira Haas, an actress who blew critics away with her performance in the Netflix miniseries "Unorthodox." You can also expect to see WWE wrestler Seth Rollins, who's rumored to be playing a member of the Serpent Society — a group of supervillains who all use snake codenames, a la Sidewinder and Anaconda.
Which Incredible Hulk characters are appearing in Captain America: Brave New World?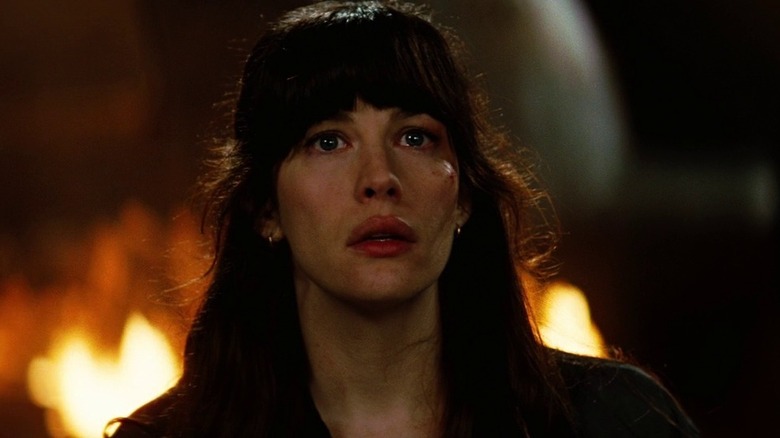 Marvel Studios
Perhaps the most interesting thing about "Brave New World" is how it will serve as a big get-together for "Incredible Hulk" characters. Harrison Ford will be playing Thaddeus "Thunderbolt" Ross, filling in for the late William Hurt. As the man who played Han Solo and Indiana Jones, Ford obviously needs no introduction, and neither does Ross. He's long been an antagonistic force in the MCU — first as a general hunting Bruce Banner, then as the secretary of state supporting the Sokovia Accords, and now as the president of the United States.
Ford will be joined by character actor Tim Blake Nelson, who played The Leader/Samuel Sterns in "The Incredible Hulk," and you've also definitely seen him in projects like "Poker Face," "Watchmen," and "O Brother, Where Art Thou?" And we're delighted to say that Liv Tyler will be coming back to the MCU as Betty Ross, Thunderbolt Ross' daughter and Bruce Banner's old flame. Like Nelson, we haven't seen Tyler in the MCU since 2008's "Hulk" movie, and we're glad the star of projects like "Lord of the Rings," "Armageddon," and "The Leftovers" is back in the Marvel family.
What is the plot of Captain America: Brave New World?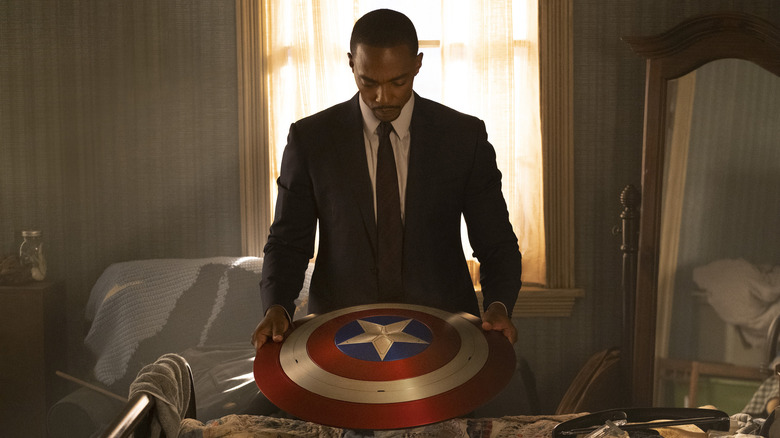 Chuck Zlotnick/Marvel Studios
We don't know a ton about what's going to happen in "Brave New World," but we can piece some clues together. Speaking with Screen Rant, "Captain America" director Julius Onah revealed the film will be a paranoid thriller, and he also revealed that Sam will be butting heads with The Leader, who's going to be the primary antagonist of the piece.
For those who might not remember, Samuel Sterns/The Leader has only had one appearance in the MCU so far. He popped up in 2008's "The Incredible Hulk" as a scientist working on an antidote to Bruce Banner's little rage issue. He also spent a lot of time tinkering with Bruce's blood samples, a bad decision that led to Emil Blonsky becoming the Abomination and Sterns becoming The Leader. In the comics, he's a supergenius with an oversized head (think a green-skinned Megamind). Traditionally, he's the Hulk's nemesis, so it will be interesting to see what happens when his brains go up against Sam Wilson's less angry brawn.
As for the implications of the title "Brave New World," director Julius Onah spoke to IGN and explained, "The decisions [Sam's] going to have to make and the situations he's going to be confronted with are radically different from what Steve Rogers had to deal with. And as a result of that, because he's a leader, now, of this team, he's got to make decisions that are going to have massive implications. So, the world has changed around him, and he's a changed man, and I think that leads to some really exciting storytelling."
Who is writing and directing Captain America: Brave New World?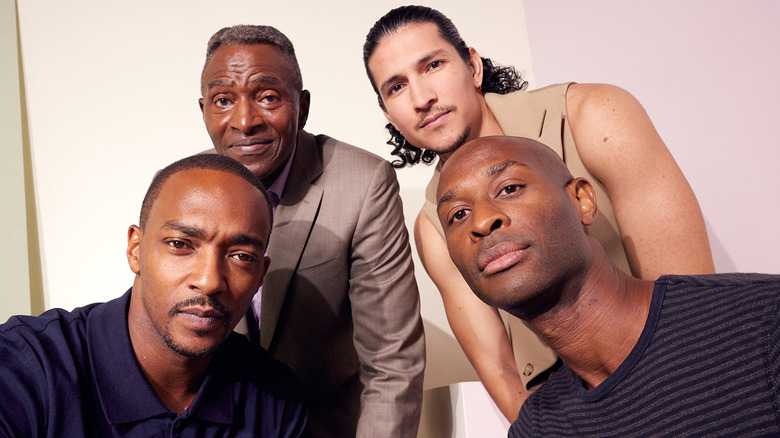 Corey Nickols/Getty Images
The first "Captain America" movie was helmed by Joe Johnston, and the two follow-ups were directed by the Russo brothers. So who's sitting behind the camera this time around? Well, directing duties have gone to Julius Onah. While he's not a household name, Onah is an incredibly talented filmmaker with three features under his directorial belt — 2015's "The Girl Is in Trouble," 2018's "The Cloverfield Paradox," and 2019's "Luce."
As for who's penning the script, the screenplay hails from the minds of Malcolm Spellman and Dalan Musson. Both were involved with "The Falcon and the Winter Soldiers" series — that's especially true for Spellman, who was the head writer for the show. In addition to the Disney+ series, Spellman helped develop Peacock's "Fresh Prince" reboot, "Bel-Air," and he also served as a writer and producer on "Empire." As for Musson's additional credits, he's well-known for penning the sci-fi comedy "Iron Sky: The Coming Race."
Where to watch the previous Captain America adventures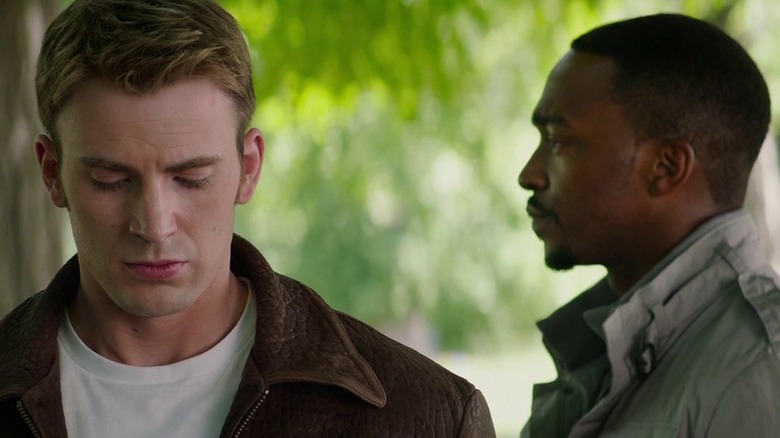 Marvel Studios
Before "Brave New World" soars into theaters, you might want to go back and revisit the journey of Captain America's shield. We first saw the original Cap cracking (red) skulls back in "The First Avenger," which details Steve Rogers' heroic journey from 1940s Brooklyn to 21st-century Manhattan. Watch Steve take the fight to HYDRA on Disney+, or you can rent it on Prime Video, Google Play, Vudu, and YouTube.
In the second installment in the series, "The Winter Soldier," Steve Rogers goes from Boy Scout to someone a little more cynical when he discovers the insidious truth about SHIELD and his best friend, Bucky Barnes. Drawing inspiration from paranoid thrillers like "Three Days of the Condor," "The Winter Soldier" is also the first film where we meet Sam Wilson in all his winged glory. The film is available to stream on Disney+, or you can rent it on Prime Video, Google Play, Vudu, and YouTube.
In the third movie, "Civil War," Steve finds himself standing across from Tony Stark. The two lead Avengers are split on the Sokovia Accords, with Steve refusing to sign. As a result, the fractured Avengers find themselves up against their greatest threat — each other. Of course, as they battle it out, there's someone sinister lurking in the shadows, pulling all the strings. You can stream "Civil War" on Disney+ or rent it on Prime Video, Google Play, Vudu, and YouTube.
Now, if you really want to get ready for "Brave New World," you'll need to watch "The Falcon and the Winter Soldier." It's here that we see Sam Wilson struggling with whether or not to accept the Cap mantle, all while dealing with some super soldier anarchists and a rival for the shield who's more about murder than being Captain America. You can stream the series on Disney+, along with other key films in the Captain America story, a la "Avengers: Infinity War" and "Avengers: Endgame."