15 Shows Like Bosch You Should Watch Next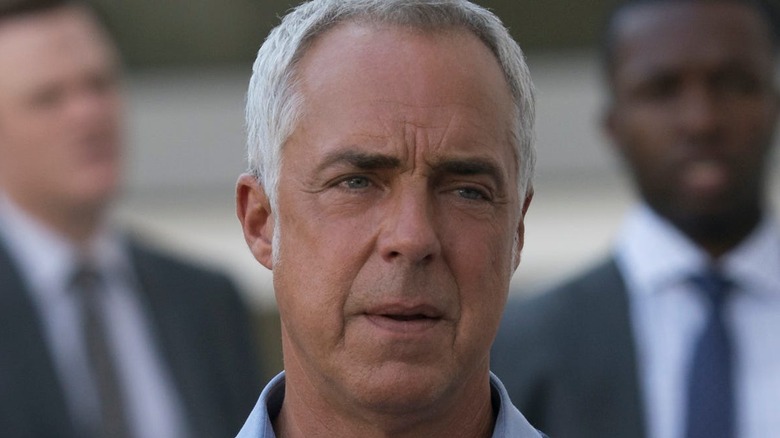 Amazon Prime
Amazon Prime's "Bosch" tells the story of gruff, grumpy Hieronymus Bosch — no not the 15th Century Dutch painter, rather a Los Angeles police detective in the modern era.
Harry, as he goes by, is played by Titus Welliver, whom drama fans may remember as "The Man in Black" on "Lost." The premise is a "case of the week" police procedural, though like any good drama these days, it features story arcs that span multiple seasons. The show is based on a series of novels by author Michael Connelly (who also serves as an executive producer on the show) and starts out with the early seasons following a specific novel, such as "The Concrete Blonde," "City of Bones," or "Echo Park." 
The series has dug into more than 20 of Connelly's books for inspiration over its seven seasons, and after wrapping its final one in 2021, fans were sad to see Bosch go. But with so much source material, the announcement of a sequel series made total sense. In 2021, Connelly and team announced that another series is heading to Amazon Prime's IMDb TV. "Bosch: Legacy" is expected to jump ahead two years from where "Bosch" left off at the end of Season 7. But if you're eager for something similarly-minded while you wait, here are 15 shows worth checking out.
Ray Donovan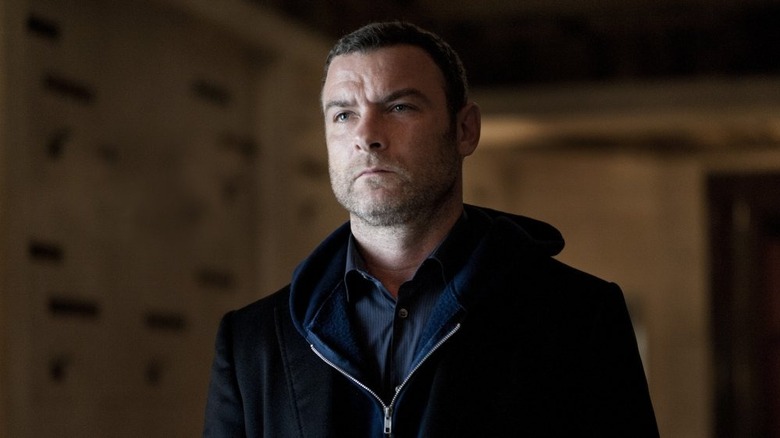 Showtime
Showtime's "Ray Donovan" stars Liev Schreiber as the titular character, a "fixer" for the powerful and questionably ethical law firm Goldman & Drexler. Donovan's job is to influence people, handle bribes, distribute payoffs, dole out threats, and anything else generally illegal for the firm, while of course keeping a low profile and everything off the radar. Schreiber's natural gruffness made for a convincing character and Donovan turned likable despite all of his wrongdoings.
"Ray Donovan" was a hit for Showtime, so when the series was abruptly cancelled after seven seasons, fans and the team behind the show were equally shocked. A casualty of the merger between CBS and Viacom, "Ray Donovan" was put on the chopping block. Thanks to fan outrage, however, Showtime was able to bring the series back for a movie in early 2022 that wrapped up what would have been fleshed out in a final, eighth season.
Longmire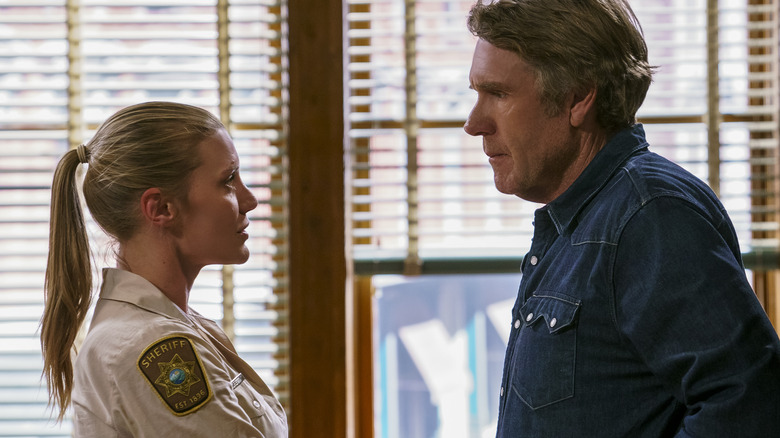 Netflix
If you're a fan of a procedural crime shows but want a Western twist, check out "Longmire." The series, based on the "Walt Longmire Mysteries" series of novels by Craig Johnson, takes place in modern-day Wyoming, so you're getting a crime show with a neo-Western ambiance. Robert Taylor stars as Walt Longmire, the Sheriff of Absaroka County. Katee Sackhoff of "Battlestar Galactica" fame co-stars as Victoria "Vic" Moretti, the sheriff's deputy. Lou Diamond Phillips plays Henry Standing Bear, a resident of the Cheyenne Reservation and good friend of Longmire. 
The series aired for three season on A&E before it was cancelled, but "Longmire" became one of those "saved by another network" shows that seems to be all the rage these days. Netflix picked the series up for three more installments, though the show never did get its finale seventh season. Netflix cancelled the show again, but you can still catch the entire series on their platform. 
Mare of Easttown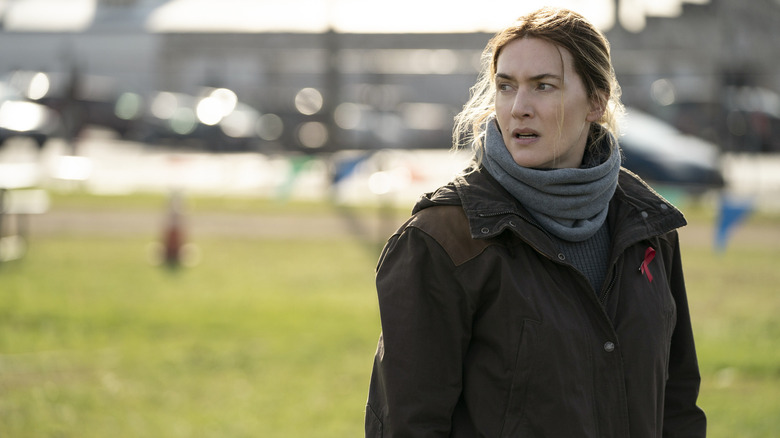 Michele K. Short/HBO
It's not often that the brusque lead of a detective show is female. Kate Winslet stars in this HBO miniseries as Mare Sheehan, detective in Easttown, Pennsylvania, a fictional area outside of Philadelphia. The series follows Mare as she investigates the murder of a local teen, in addition to dealing with the aftermath of being unable to solve the case of another missing teen, her ex-husband remarrying, the return of her grandchild's mother from rehab, and the aftermath of her son's suicide. Yep, Mare is a bit of a mess. So when another detective (Evan Peters) shows up to help, as well as a mysterious professor (Guy Pearce), Mare has a couple of love interests thrown in and is just trying to keep it all together. 
"Mare of Easttown" was a major hit during its seven episode run on HBO, so much so that HBO Max crashed during the finale episode. Winslet won an Emmy award for playing the role as well. It's still unclear if Mare will return for another season, but fans liked the character so much, and there hasn't been a definitive "no" from anyone involved, so some are holding out hope. Regardless of what happens, however, the seven existing episodes of "Mare of Easttown" are a fantastic binge. 
True Detective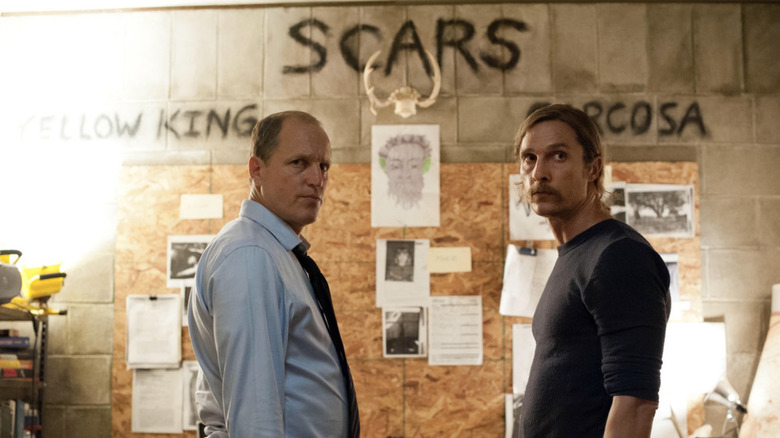 HBO
For more single-season story lines, check out HBO's "True Detective," which has three seasons and three different story lines of detective work to follow. The first season was the show's biggest hit, starring Woody Harrelson as Detective Martin "Marty" Hart and Matthew McConaughey as Detective Rustin "Rust" Cohle. The story takes place in Louisiana and the two detectives hunt the same serial killer for 17 years, trying to unravel the killer's links to the occult and the mysterious and creepy events surrounding the murders. 
Season 2 brought in a new cast, including Rachel McAdams, Colin Farrell, Taylor Kitsch, Vince Vaughn, and Kelley Riley. The new setting was California and the story involved how three different police departments intertwined and worked together. Season 3 moved to the Ozarks and brought back the time-jumping formula, setting a mystery in three different time periods. The cast included Mahershala Ali, Ray Fisher, Stephen Dorff, Carmen Ejogo, and Mamie Gummer. The stories in the three seasons of "True Detective" don't overlap or intertwine, so you could watch one season or watch them all. 
Broadchurch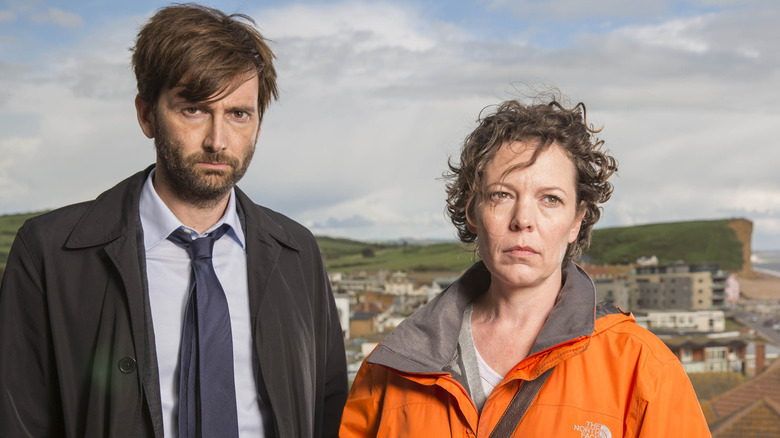 ITV
How about a police procedural with a spot of tea? "Broadchurch" takes place in the UK in a fictional small village where local detectives Alec Hardy (David Tennant) and Ellie Miller (Olivia Coleman) reluctantly team up to solve the murder of a local boy. 
The mood of Broadchurch (the town) provides the gloomy ambiance for "Broadchurch" (the show). The cold, English seaside creates a dour setting, perfect for the macabre cases that Hardy and Miller take on. And it being a small town, you know all of the inhabitants have their own theories, links, and involvements in all of the cases, which may or may not be helpful to the detectives. With the whole town in crisis, the detectives must not only solve their cases but also deal with how the citizens interact with each other on their own terms. "Broadchurch" ran for three seasons, and is seriously addictive. 
The Americans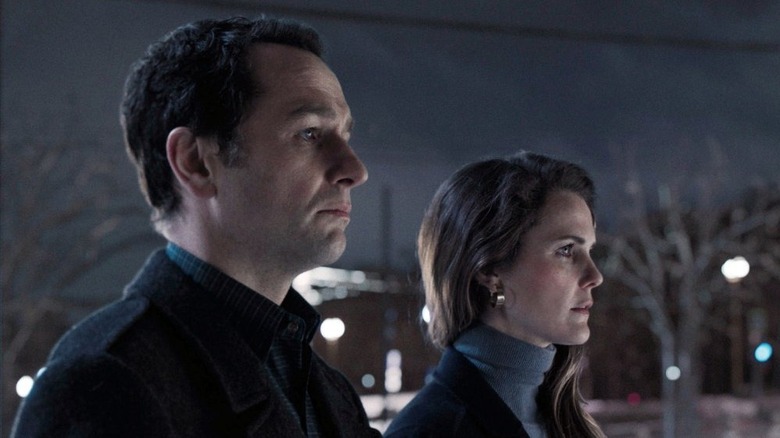 FX
FX's "The Americans" is not a police procedural, but is a thrilling spy drama with a lot of the same elements of tension, family dynamics, and crime as "Bosch." The 1980s-set series stars Kerri Russell and Matthew Rhys as Elizabeth and Philip Jennings, two spies for the Soviet Union who have lived in secret and raised a family in Washington D.C., all while reporting back to Mother Russia. They take on various cases, befriend the FBI agent living across the street, and during their various tasks you'll find yourself unsure who to root for. Things get really interesting once their teenage daughter Paige (Holly Taylor) figures out their true identities and must decide to oppose their scheme or join their ranks. 
"The Americans" was created by a real life former CIA agent named Joe Weisberg. In 2013, writer/executive producer/showrunner Joel Fields told Slate that the show "is at its core a marriage story. International relations is just an allegory for the human relations. Sometimes, when you're struggling in your marriage or with your kid, it feels like life or death. For Philip and Elizabeth, it often is." The show ran for six seasons on FX, winning multiple Emmy awards.
Luther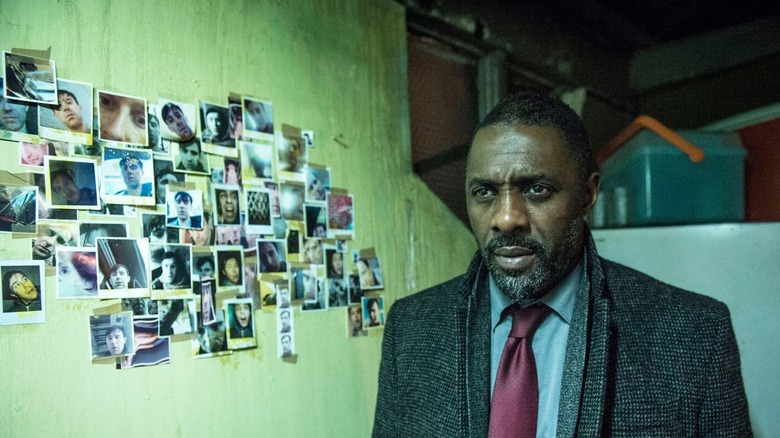 BBC
Idris Elba played Detective Chief Inspector John Luther from 2010 – 2019 in the BBC's "Luther." The character was evidently inspired by both Sherlock Holmes and Colombo, but there's a very sketchy sense of morality when it comes to Luther. Though he is devoted to his work, is an excellent detective, and has justice in his heart, how he achieves his means is certainly questionable. Luther often gets violent, and his relationship with suspected murderer Alice Morgan (Ruth Wilson) is a dangerous one. First, Luther and Alice use each other, then their relationship deepens, but throughout the show's run their friendship is increasingly questionable considering Alice's ... hobby.
"Luther" is set up as more of a miniseries than a long, involved series. Each season has only a few episodes, so they are easy to binge. There are five seasons, each consisting of between two and six episodes. Fans can look forward to more of Luther soon, as there's a Netflix movie on the way.
The Shield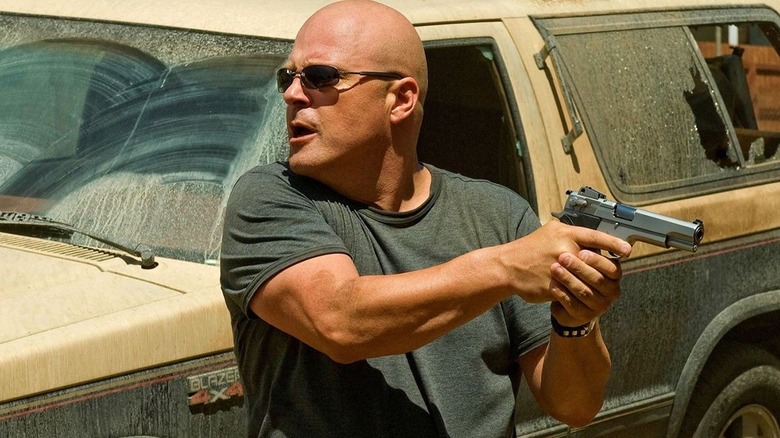 FX
Michael Chiklis made a name for himself with the 1990s police family comedy-drama "The Commish," but he came back rougher and tougher in the 2000s with "The Shield." Chiklis plays corrupt cop Vic Mackey, leader of a special LAPD strike team who use unethical and often illegal means to catch criminals and solve crimes. So yeah, Vic is basically the opposite of the lovable, funny Commish. 
"The Shield" ran for seven season on FX and won Best Drama at the 2002 Golden Globes. Chiklis won both an Emmy and a Golden Globe for his performance as well. "The Shield" also featured a ton of other notable actors. Glenn Close was brought in as a female adversary during Season 3, another season featured great work from Forest Whitaker, and at other times Anthony Anderson, Paula Garces and Michael Peña got their chance to shine. The series also made stars out of Benito Martinez and Jay Carnes, launched the career of Walton Goggins (whose Shane Vendrell deserves to be ranked among television's all-time greatest characters), and reminded viewers why CCH Pounder is in a class of her own.
Reacher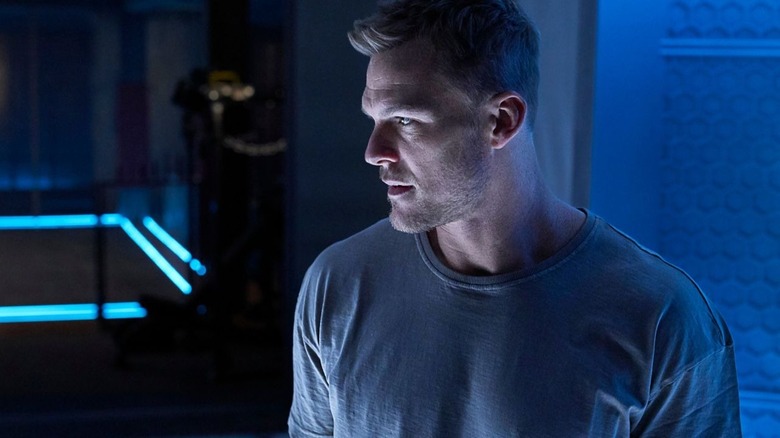 Amazon Prime
Based on the series of novels by Lee Child, this series premiered its first season on Amazon Prime in early 2022. The show stars Alan Ritchson as the titular character, a military policeman in the U.S. Army. Season 1 of "Reacher" is an adaptation of Child's first Jack Reacher story, the 1997 book "Killing Floor," which finds Reacher embroiled in a conspiracy in rural Georgia, a far cry from his former days in the Army. 
If you're thinking to yourself, "Didn't they already do this?" The answer is, kind of. Tom Cruise starred in two movies based on the Jack Reacher novels (2012's "Jack Reacher," and 2016's "Jack Reacher: Never Go Back"), and as a result was frequently questioned about how he had no physical resemblance to the massive military man described in the books. The casting of "Titans" star Ritchson solves that, and the serialized TV format gives creators the opportunity to dive further into the plot points of the books. Considering there are 26 novels featuring Reacher, the show may have many seasons to come.
Bloodline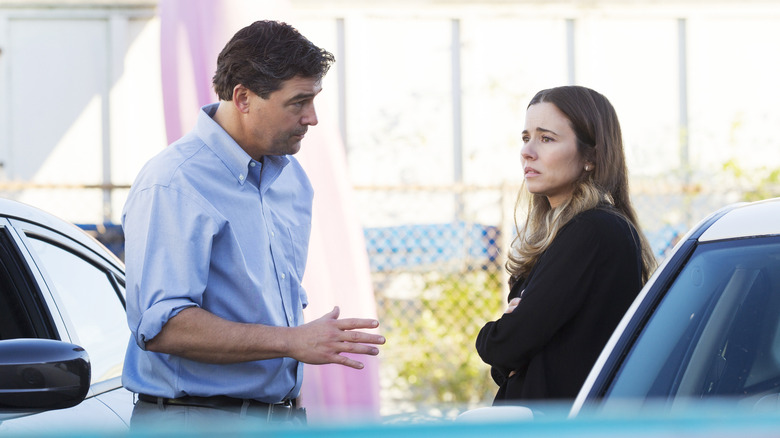 Netflix
Yearning for something a little more tropical but just as sinister and secretive? Netflix's "Bloodline" is set in the Florida Keys and follows the Rayburn siblings: detective John (Kyle Chandler), businessman Kevin (Norbert Leo Butz), lawyer Meg (Linda Cardellini), and mysterious, perpetually missing Danny (Ben Mendelsohn). But there's a downside to all that sunshine. Danny's return stresses out his parents so much that Rayburn patriarch Robert (Sam Shepard) dies of a stroke, leading Danny to want to take over the family inn, much to the chagrin of the other siblings.
Naturally, it isn't just about the family inn, yet everyone seems to be keeping secrets in the Rayburn family, and soon the mysteries of their past bubble to the surface of the refreshing, turquoise water that surrounds them. This isn't really a procedural like "Bosch," but much like that show, family gets wrapped up in some serious stakes. "Bloodline" only ran for three seasons on Netflix before it was cancelled, but thankfully the series was allowed to tie up its family noir mystery. 
Justified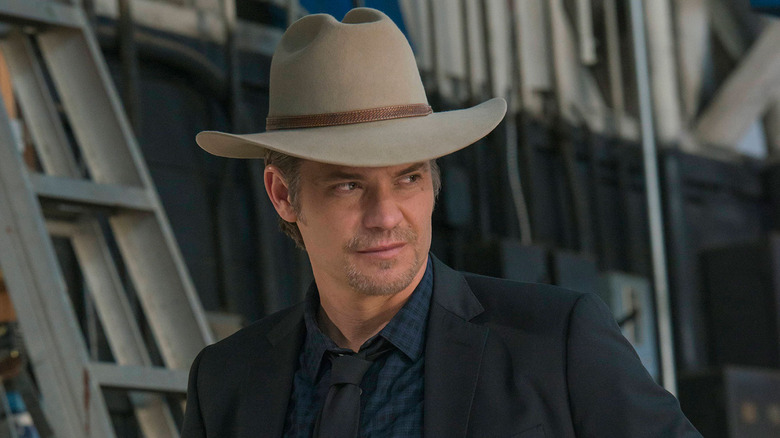 FX
Timothy Olyphant starred as Deputy U.S. Marshal Raylan Givens in FX's "Justified," which ran on the channel from 2010 – 2015. Like many shows on this list, the series is based on a series of novels, these written by Elmore Leonard. 
After shooting a mobster in Miami, Givens gets transferred back to his home state of Kentucky, where he's not exactly welcome. A white supremacist preacher named Boyd Crowder (Walton Goggins) runs the local criminal underground, while Givens must protect Boyd's sister-in-law from the family after she kills her abusive ex-husband.
"Justified" leans into anti-hero developments with characters who do awful things because of their environment, hence in defense and "justified." The show can get violent, but Olyphant's charm making the proceedings just slightly more palatable. "Justified" ran for six seasons on FX and was nominated for numerous awards throughout its run — and recently announced plans for a sequel series. 
Perry Mason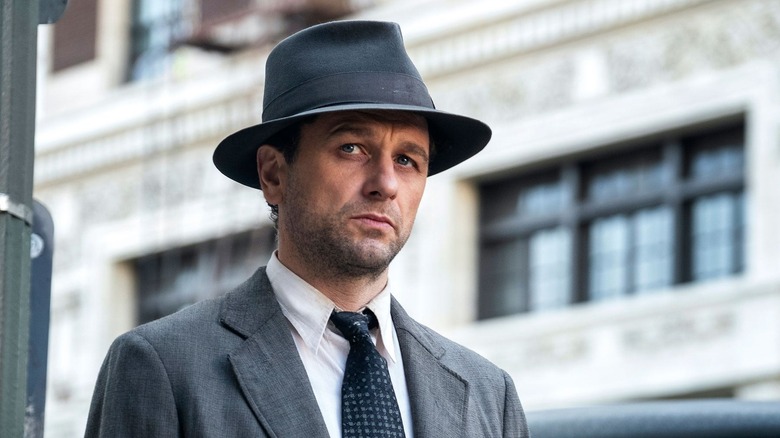 HBO
No, not that "Perry Mason." We're not talking about the classic Raymond Burr series from the '50s and '60s. This far grittier reboot on HBO stars Matthew Rhys, who came up earlier on this list as one of the leads of "The Americans," so you know he can do dark and mysterious. 
HBO's "Perry Mason" sets up the character from Erle Stanley Gardener's books a little differently. While the original "Perry Mason" series was a procedural courtroom drama, this show takes place a few years earlier, while Mason is working as a private investigator. Rather than a procedural setup, Mason investigates one crime throughout the first season — the murder of a young boy. 
"The first novel starts with a knock on his door, and he's already Perry Mason, a lawyer about town feared by cops and ne'er-do-wells alike," series creator Ron Fitzgerald told Town & Country in 2020. "We wanted to step back and figure out how he becomes this guy."
The Wire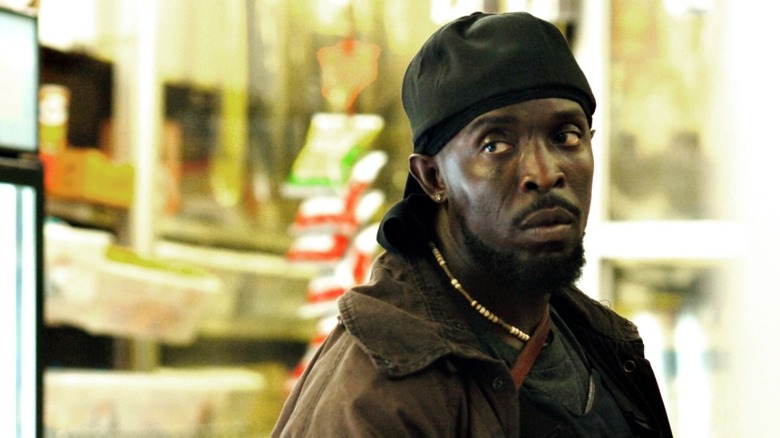 HBO
HBO's "The Wire" is consistently ranked as one of the best dramas in the history of television, so it seems kind of pointless to write anything beyond this sentence.
Still looking for a sales pitch? Okay, the series is essentially a crime drama, with an interesting setup that makes each season stand out from the others. Exploring law enforcement in the city of Baltimore, each season has its own focus: The first on Baltimore's criminal drug trade and underbelly, then how the drugs get to the Baltimore streets. Season 3 turns its attention to the politicians, Season 4 goes inside the education system, and the fifth and final season takes a look at how this entire ecosystem is covered by the media.
You'll recognize a lot of famous faces on "The Wire." Michael K. Williams, Idris Elba, Dominic West, Amy Ryan and Wendell Pierce all became stars from their work here. Many were featured in storylines alongside real-life Baltimore politicians, lawyers, criminals, and other faces that have the hard-earned look of life on the streets.
Jack Ryan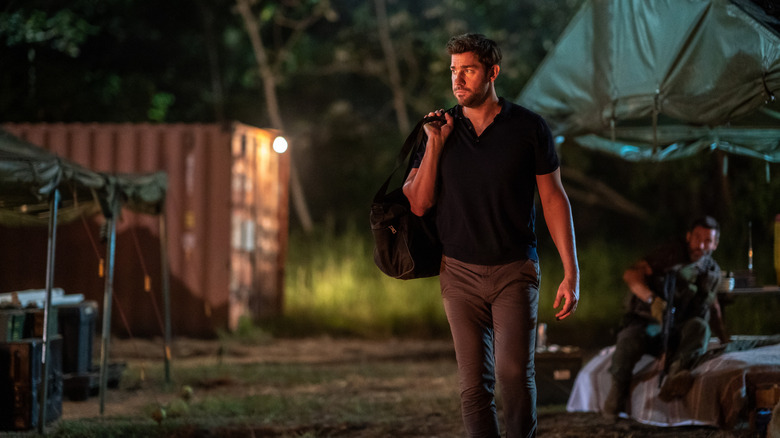 Amazon Prime
Tom Clancy's character Jack Ryan, a CIA analyst and Marine veteran, has been played by some Hollywood A-listers over the years from Alec Baldwin ("The Hunt for Red October") to Harrison Ford ("Patriot Games" and "Clear and Present Danger") to Ben Affleck ("The Sum of All Fears") and Chris Pine (2014's "Jack Ryan: Shadow Recruit"). Every few years, it seems, a new actor tries to step into the role and bring back Jack.
The latest actor to don the \ Ryan name is John Krasinski. But this time around, Jack Ryan is on television, allowing for deeper story exploration. Amazon Prime's "Jack Ryan" isn't sticking to any one particular Clancy novel as it fleshes out its stories, and the show has had only two seasons so far. It's gotten mixed reviews, but it is worth checking out if you're interested in an intrigue-filled, action heavy, procedural-adjacent kind of series with a burly, gruff man at its center. 
Homicide: Life on the Street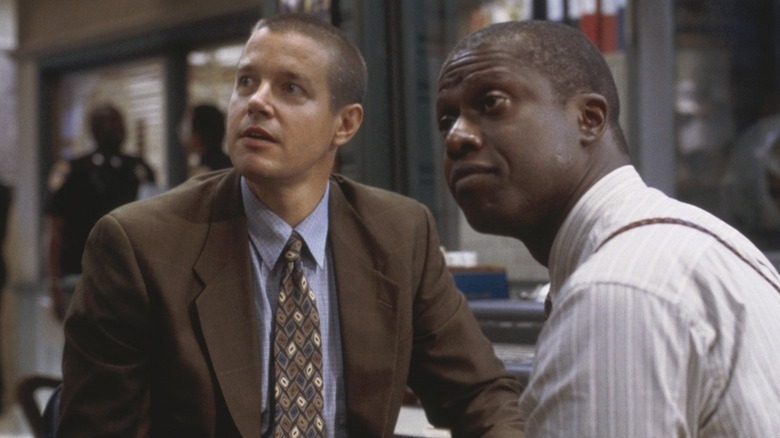 NBC
This is an oldie but a goody. "Homicide: Life on the Street" ran from 1993 to 1999 and was "The Wire" creator David Simon's first series. Based on his book "Homicide: A Year on the Killing Streets," the show focused on homicide detectives in Baltimore and how their cases impact their lives. The series is bleak, highlighting the grunt work of solving crimes, and exploring how the gruesome reality of murder and crime can start to take a toll on people who see the horrors of humanity every day.
The show's big breakout star was Andre Braugher, whose portrayal of Detective Frank Pendleton won him an Emmy award, among other accolades. Much like fellow police drama "Law & Order," "Homicide: Life on the Street" featured a revolving door of famous guest stars and followed a procedural setup. Over the course of seven seasons, characters would come and go, and the show was eventually wrapped up with a feature-length movie in 2000.