What These Former Grey's Anatomy Actors Look Like Today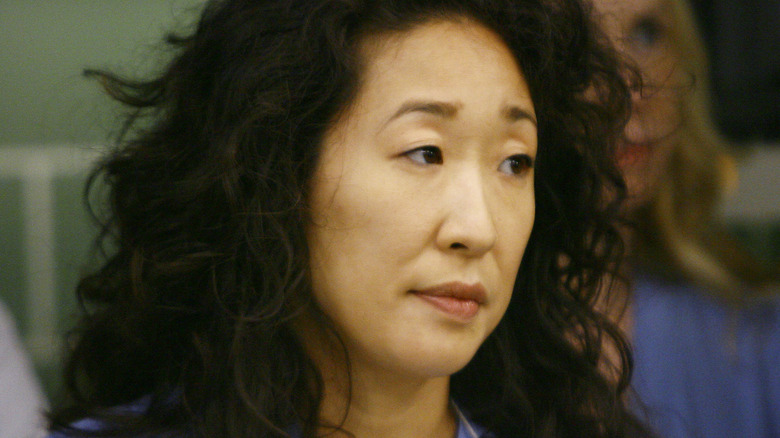 ABC
"Grey's Anatomy" has been around for so many seasons that it can now vote and the show has gone through a ton of cast changes along the way. Even though aging does seem to progress more slowly in Hollywood than in the rest of the world, it never stops entirely. So while many of the former "Grey's Anatomy" cast members who have departed recently still look the same, those that came and went during the first decade or so of the show have naturally gone through some significant changes in appearances.
Some long-departed "Grey's Anatomy" cast members have made guest appearances in recent seasons, of course, so we've gotten a glimpse of how they look today. But even then, those cast members were styled to resemble their past selves as closely as possible, so it may come as a surprise to see what they look like now outside of the show. Of course, others haven't been seen interacting with the doctors of Grey Sloan Memorial Hospital, even as ghosts, for many years. Here's what some of our favorite former "Grey's Anatomy" actors look like today.
Sandra Oh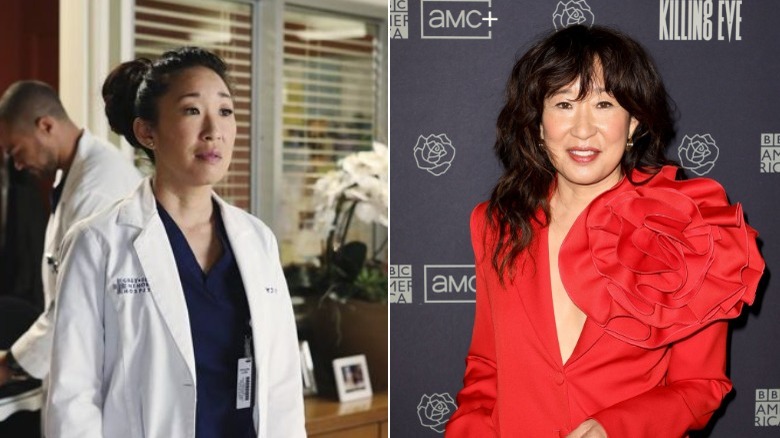 ABC, Kevin Winter/Getty Images
Sandra Oh played the ambition-driven Cristina Yang for nearly a decade on "Grey's Anatomy," departing in Season 10 after Cristina received an offer to head up a cutting-edge research facility in Zürich. Cristina was main character Meredith Grey's (Ellen Pompeo) "person" ("Grey's Anatomy" speak for "best friend"), and arrived at then-Seattle Grace Hospital in the same surgical intern class. Cristina constantly strives to rise to the top of not just her colleagues in the hospital but the medical field as a whole. A stellar cardiothoracic surgeon as well as a force of nature in general, Cristina was one of the most impressive and beloved characters on "Grey's Anatomy," and her absence is still felt today.
After leaving "Grey's Anatomy" in 2013, Oh went on to star in the highly acclaimed British spy thriller "Killing Eve" as Eve Polastri, a British Intelligence agent who becomes an object of fascination for charismatic assassin Villanelle. Oh received significant praise for her role, winning a Golden Globe and a SAG award for her performance while also earning an Emmy nomination. Oh now stars as the lead of Netflix's comedy series "The Chair," on which she also serves as executive producer. Throughout her roles, Oh has kept her trademark black curls and still looks like she'd be just as at home in the halls of the now-named Grey Sloan Memorial Hospital as she ever was.
Katherine Heigl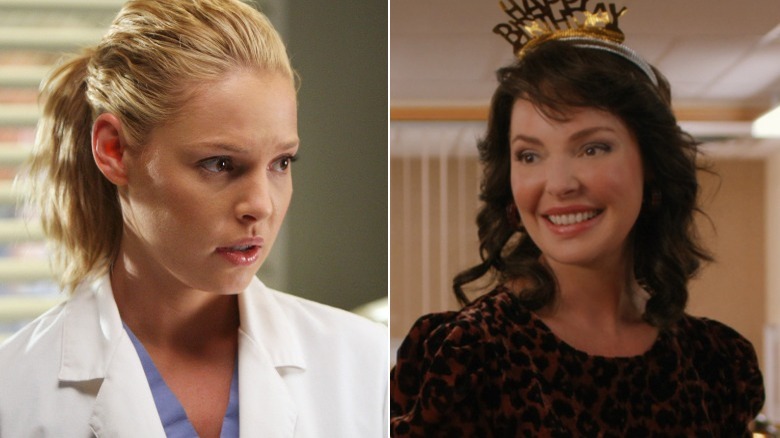 ABC/Netflix
Along with Sandra Oh, Katherine Heigl was also a member of the show's inaugural class, playing former model and resident bleeding heart Izzie Stevens. Izzie has a dramatic run on (and off) of "Grey's Anatomy," falling in love with a patient who later dies, hallucinating his return, getting (and recovering from) brain cancer, and ultimately leaving her brand new husband to go out into the world and start a new life. But even after she departs in Season 6, Izzie is never truly gone and proves instrumental in her ex-husband Alex Karev's (Justin Chambers) departure 10 seasons later. In a surprise twist, he reveals that Izzie secretly had his children using the embryos they'd frozen during her cancer treatment, and he is leaving his current wife to reunite with Izzie and raise their children.
Following her 2010 exit from "Grey's Anatomy," the Emmy-winning Heigl starred in a string of big-screen romantic comedies before eventually returning to television, leading the dramas "State of Affairs" and "Doubt." She also played a supporting role in the final two seasons of "Suits." In 2021, Heigl joined the "Firefly Lane" cast as one of its three leads. For her role in "Firefly Lane," Heigl sports dark brown hair most of the time, a significant change from her blonde "Grey's Anatomy" locks.
T.R. Knight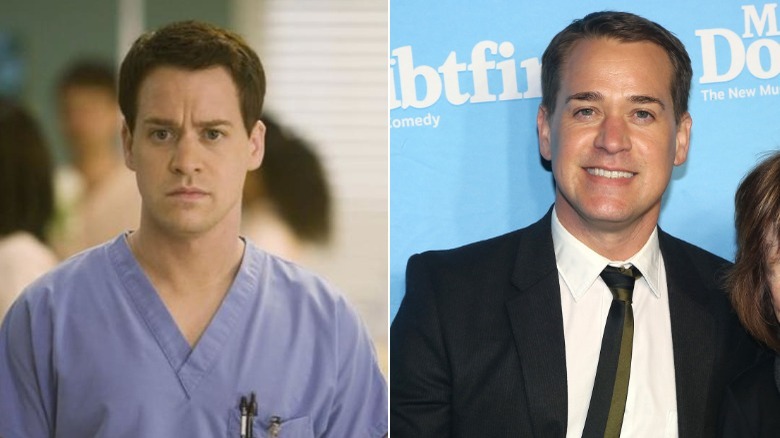 ABC, Bruce Glikas/Getty Images
Original cast member T.R. Knight played George O'Malley, the last of the original group of surgical interns on "Grey's Anatomy" along with Meredith, Cristina, Izzie, and Alex. The soft-spoken George has a rough time on "Grey's Anatomy," struggling to establish himself among his much more aggressive classmates, although he eventually finds his footing and proves himself a highly capable surgeon. However, George feels called to do something bigger with his life and leaves the hospital to enlist in the army at the end of Season 5 in 2009 — only to immediately get hit by a truck and killed.
George returned in Season 17 when Meredith dreams the return of all of her dead loved ones while in a COVID-induced coma, and he looks just like we imagined George would if he'd been allowed to age another decade. He is still clean-shaven, short-haired, and still has the same endearing smile. In the years since leaving "Grey's Anatomy," Knight got married to his longtime partner, and continued acting both on stage and in numerous television series, the most recent being the main role in HBO's "The Flight Attendant."
Isaiah Washington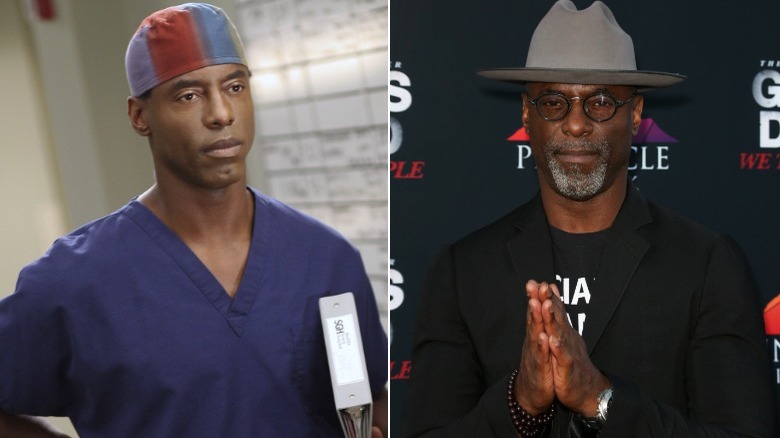 ABC, Paul Archuleta/Getty Images
One of the most experienced doctors in the original cast of "Grey's Anatomy," Preston Burke is a cardiothoracic surgeon with a tough perfectionist streak, making him an interesting romantic partner for the laser-focused Cristina Yang. Isaiah Washington portrayed Burke for the first three seasons of "Grey's Anatomy," getting almost all the way to the aisle with Cristina before deciding at the last second to call the whole thing off. Behind the scenes, ABC chose not to renew Washington's contract following season three in 2007 after Washington allegedly used an anti-gay slur to refer to co-star T.R. Knight. However, despite the bad blood, Washington later returned in 2014 to briefly reprise his role long enough for Burke to offer his ex-fiance a job in Switzerland, paving the way for Sandra Oh's exit.
Following his three-season stint on "Grey's Anatomy," Washington continued to act regularly in both TV and film, with his most notable role being Chancellor Jaha in the first five seasons of The CW series "The 100." In 2020, Washington began hosting his own travel and cooking show on Fox Nation, called "Isaiah Washington: Kitchen Talk." Washington is now older than in his "Grey's Anatomy" days, with more gray in his hair and a full beard contrasting Burke's clean-shaven look. Washington also typically wears glasses nowadays, while Burke tended to favor contacts most of the time.
Patrick Dempsey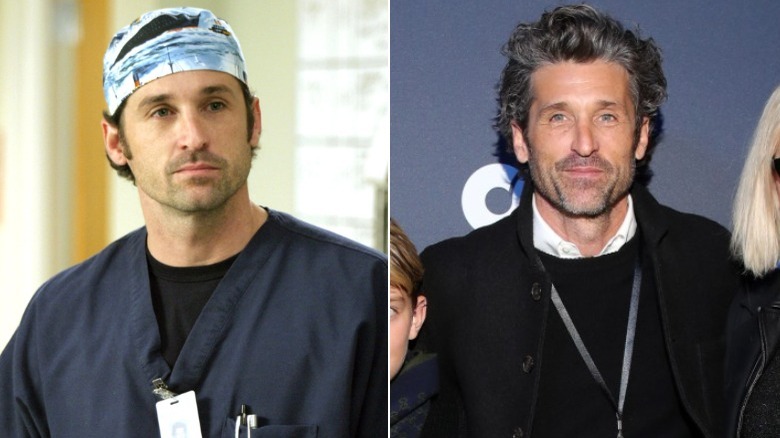 ABC, Andreas Rentz/Getty Images
"Grey's Anatomy" would likely not have cultivated the devoted fandom it did so quickly if not for the sizzling chemistry between Meredith Grey and her love interest, Dr. Derek Shepherd. Played charmingly by Patrick Dempsey, Derek and Meredith have what they both think is a one-night stand after meeting in a bar in the pilot episode, only to discover later Derek is actually Meredith's boss. Throughout the next 11 seasons, Derek and Meredith would break up and get back together numerous times, eventually get married, and later have two children. However, Derek is tragically killed by receiving subpar medical care after being hit by a car in Season 11, leaving Meredith (now pregnant with their third child) a widow.
Dempsey surprisingly returned to "Grey's Anatomy" in Season 17 as one of Meredith's COVID-induced hallucinations/ghostly visitors. Derek had a little more silver in his (still dreamy) hair than before and a slightly more chiseled jaw, if such a thing is possible, but otherwise appeared mostly unchanged. The same is true for Dempsey himself, who threw himself fully into his passion of car collecting and auto racing after leaving "Grey's Anatomy" but continues to act occasionally, most notably opposite Amy Adams in the upcoming Disney sequel "Disenchanted."
Sara Ramirez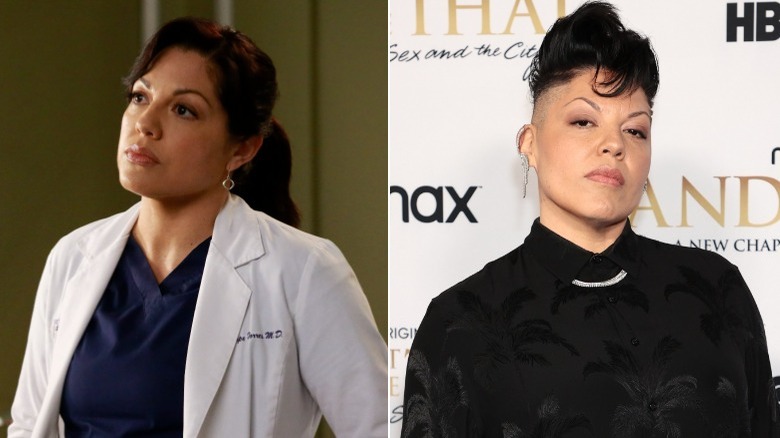 ABC, Dimitrios Kambouris/Getty Images
Broadway veteran Sara Ramirez has undergone one of the most dramatic appearance shifts since leaving "Grey's Anatomy." Ramirez starred as Dr. Callie Torres from Seasons 2 through 12, making her the longest-running LGBT character in television history after coming out as bisexual in Season 4, according to Out Magazine. Callie eventually leaves Grey Sloan in Season 12 after divorcing her wife, Arizona Robbins (Jessica Capshaw), and relocating to New York with her new girlfriend. However, since Callie and Arizona still share custody of their daughter, she is still mentioned occasionally, and it is implied that they got back together off-screen following Capshaw's own departure from the show at the end of Season 14.
Shortly after leaving "Grey's Anatomy," Ramirez came out as queer and bisexual, chopping off their lustrous long dark hair to donate to Locks of Love and sporting a short undercut, per E! News. Later, in 2020, Ramirez announced that they identify as nonbinary and went on to portray the nonbinary fan-favorite character Che Díaz in the "Sex and the City" reboot, "And Just Like That..." in 2022. Ramirez now tends to style themself in pants and jackets as opposed to the dresses they used to favor when portraying Callie on "Grey's Anatomy." If Ramirez ever does return to "Grey's Anatomy" — a possibility they've told People they're open to – it'll be interesting to see whether Callie has undergone any similar changes to the actor that portrays her since she's been in New York.
Eric Dane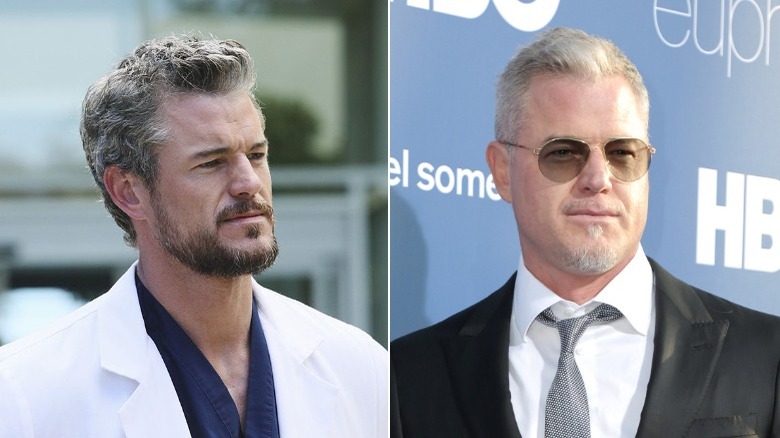 ABC, Shutterstock
After sweeping explosively onto the "Grey's Anatomy" scene in Season 2 as Dr. Mark Sloan, Eric Dane quickly endeared himself to fans. This makes it all the more heartbreaking when Mark is shockingly killed off at the beginning of Season 9 as a result of injuries sustained during a plane crash in the Season 8 finale. While appearing on the show, Mark is a renowned plastic surgeon and lifelong bachelor who turns on the charm for just about any woman but carries a torch for much of the series for Meredith's younger sister, Lexie Grey (Chyler Leigh) — who also dies in the plane crash.
Mark and Lexie both appear in Meredith's Season 17 COVID dreams, showing that they reunite in the afterlife (or at least, Meredith believes they had). Throughout Dane's run on the series, Mark sported wavy, dark blonde hair, which featured some gray creeping in as time went on, and facial hair of varying lengths. When he returned, he was styled similarly, although he'd obviously aged in the intervening years. In real life, though, Dane has now gone entirely blonde, veering on silver. Following "Grey's Anatomy," Dane's most notable roles have been as part of the main cast on TNT's "The Last Ship" and as a series regular on HBO's "Euphoria."
Chyler Leigh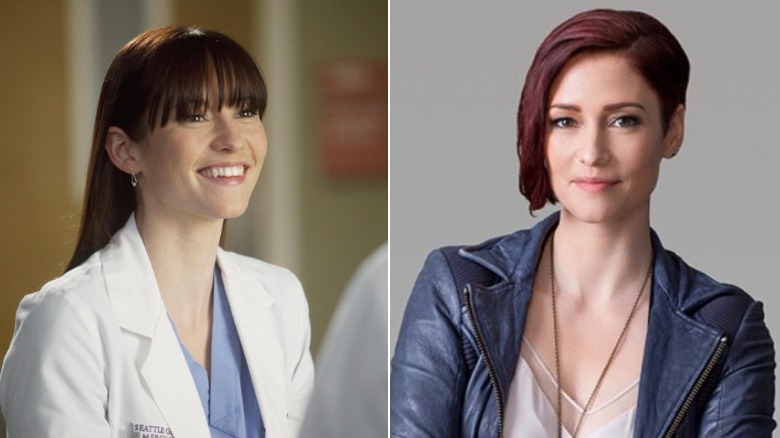 ABC, Chyler Leigh/Twitter
Also perishing in the Season 8 plane crash that ultimately takes the life of Mark Sloan is Meredith's younger sister Lexie Grey, who Chyler Leigh portrayed since the end of Season 3. Lexie is a nervous and sensitive individual with a photographic memory, who gradually endears herself both to Meredith and the other doctors at the hospital, which was renamed Grey Sloan Memorial in honor of Lexie and Mark following their deaths. Leigh chose to leave after Season 8 to spend more time with her family but returned alongside Eric Dane in Season 17 to spend a day with Meredith on her dream beach.
Throughout "Grey's Anatomy," Lexie sports all sorts of hairstyles and colors. When she died, she was sporting long brown hair with bangs, the same look she had when she returned in 2021. However, in real life, Leigh has long been sporting a short pixie cut since leaving "Grey's Anatomy" and is currently a redhead. Leigh's most notable role since departing "Grey's Anatomy" has been on The CW series "Supergirl," in which she plays Supergirl's sister, Alex, otherwise known as Sentinel. Leigh's run on "Supergirl" and the other DC comics shows put her in a total of 126 episodes, outpacing her impressive 115 episodes as Lexie Grey, according to IMDb.
Tessa Ferrer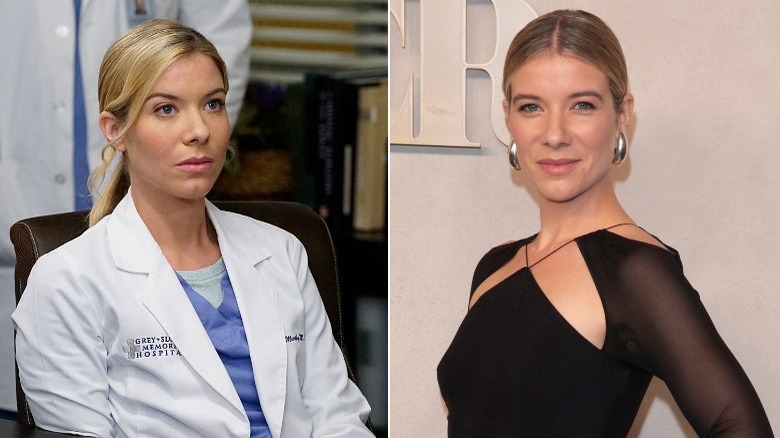 ABC, Shutterstock
Tessa Ferrer joined the cast of "Grey's Anatomy" as surgical intern Leah Murphy in Season 9, then departed the show at the end of Season 10. During her time on the series, Leah proves to have an erratic and obsessive personality, latching first onto Alex and later Arizona after they sleep together, and has a hard time endearing herself to the other interns in her class due to her tendency to take things to extremes. Leah is fired after her second year of residency when Richard Webber (James Pickens Jr.) tells her that he doesn't think she is cut out for surgery. However, she returns in Season 13 after working hard to improve her skills at another hospital.
Leah begins her residency at Grey Sloan with long brown hair, which she eventually lightens to blonde. Since her time on "Grey's Anatomy," Ferrer has gone through a few more hairstyles and colors, including short bobs and dark browns, but has landed back on a long blonde hairstyle similar to the one she sported as Leah Murphy. However, in real life, Ferrer tends to look a lot more polished and put together than the often frazzled Leah.
Chris O'Donnell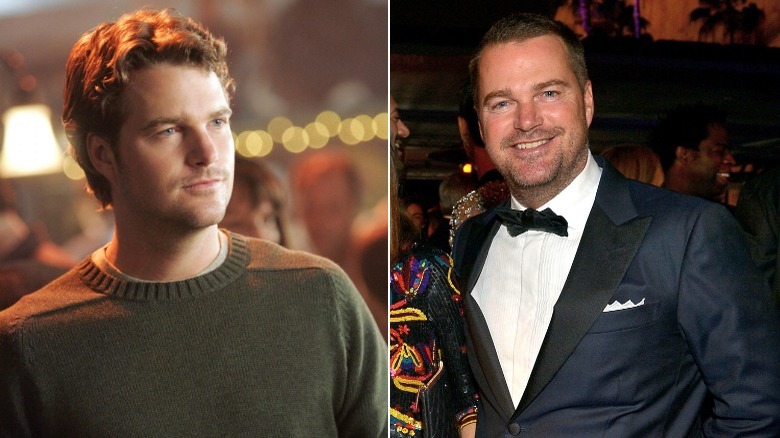 ABC, Donato Sardella/Getty Images
Back in the early days of "Grey's Anatomy," before it becomes clear that Meredith and Derek were in it for the long haul (or at least, until Derek's untimely demise), Meredith dates veterinarian Finn Dandridge, played by '90s heartthrob Chris O'Donnell. Finn was a recurring character in Seasons 2 and 3, often presented as a safer alternative to Derek who could offer Meredith the stability and emotional support she wasn't finding with the conflicted Derek. Ultimately, though, Meredith broke things off with Finn, knowing she couldn't feel about him the way he felt about her.
On "Grey's Anatomy," O'Donnell wore his thick brown hair long enough for some of the curl to show and sported the short facial stubble that tends to be preferred by many of "Grey's Anatomy's" male cast members. Since leaving the show in 2006, O'Donnell's main role has been as G. Callen on "NCIS: Los Angeles," beginning in 2009 and continuing through the show's most recent season. As Callen, O'Donnell wears his hair in a short buzz cut, although he's kept the trademark "Grey's Anatomy" stubble.
Jeffrey Dean Morgan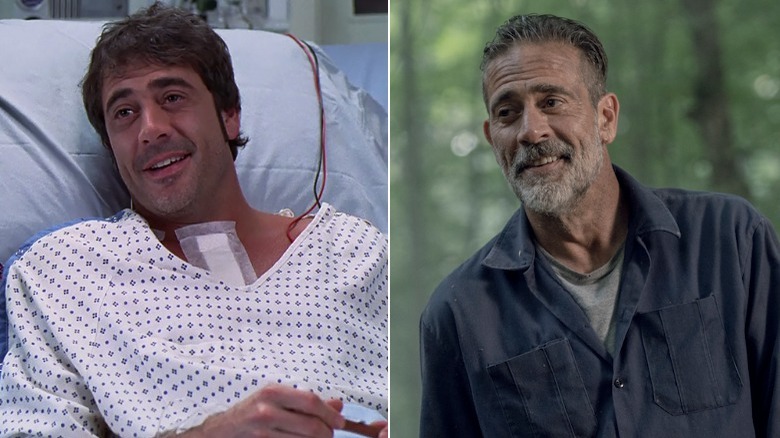 ABC, AMC
One of "Grey's Anatomy's" most iconic storylines occurred in Season 2 when surgical intern Izzie Stevens falls in love with heart transplant patient Denny Duquette, played by Jeffrey Dean Morgan. Denny and Izzie's romance leads to some pretty dramatic storylines, such as when Izzie jeopardizes her entire medical career to send Denny into heart failure and move him up the transplant list. Despite all of Izzie's efforts and a successful heart transplant, Denny dies of a blood clot at the end of the season. However, due to Denny's popularity, he continues to pop up following his death, first as a player in Meredith's near-death experience in Season 3 and later as a hallucination brought on by Izzie's brain tumor in Season 5.
While Denny was alive, he frequently wore a hospital gown and breathing tubes. As a ghost, he looks similar, just without all the tubes and with regular clothes. Denny wore his brown hair just long enough to be constantly tousled and somehow mastered maintaining the perfect amount of five o'clock shadow all the time, even in a hospital bed. Since Denny's death, Morgan has appeared in a number of shows and films, most notably as the chilling villain Negan on "The Walking Dead." As Negan, Morgan wore his dark hair slicked back and sported a full gray beard, a look he has also embraced in real life, although he thankfully saves the character's other malevolent preferences for the screen.
Elizabeth Reaser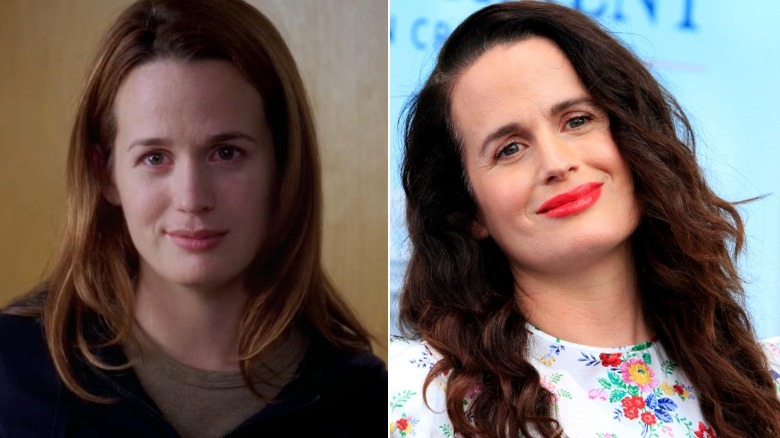 ABC, Shutterstock
When Elizabeth Reaser's guest arc on "Grey's Anatomy" first begins in Season 3, she is utterly unrecognizable as an amnesiac patient whose face has been crushed in a ferry boat accident. Slowly, over the course of multiple surgeries throughout the season, she gradually comes to resemble the actress playing her, taking on the name Ava since she can't remember her own. Eventually, Ava regains her memories and realizes she is actually Rebecca, and leaves the hospital to return home with her husband. However, her experiences at the hospital and blossoming romance with her doctor, Alex Karev, prompts her to return to the hospital in Season 3 to pursue a relationship with him, but she ends up suffering severe mental health issues as a result of her facial reconstruction and has to be admitted to a psychiatric facility.
Reaser went through quite the transformation during her time on "Grey's Anatomy" while playing Ava/Rebecca in 2007 and 2008, but her look has remained largely consistent since her role on the series ended. She has continued acting regularly in both TV and film, and her most famous part to date is likely as Esme Cullen in the "Twilight" film saga. Reaser also had a significant role in the acclaimed Netflix horror series "The Haunting of Hill House." In most of her parts, and real-life, Reaser has kept her wavy brown locks long and appears to be much more comfortable in her skin than poor Ava/Rebecca ever got to be.
Nora Zehetner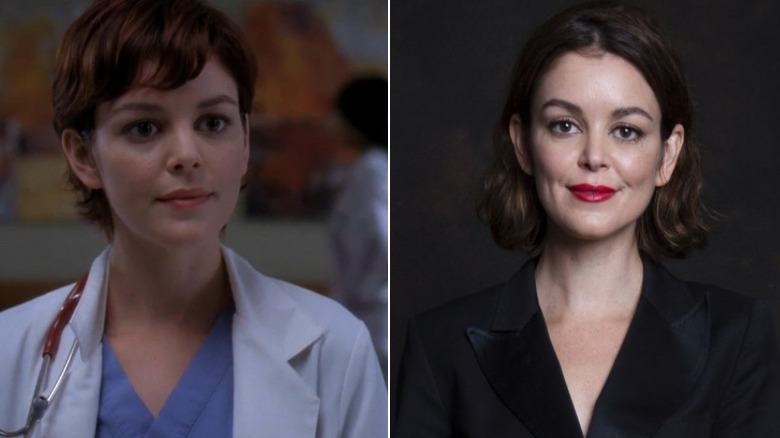 ABC, Michael Bezjian/Getty Images
Joining the staff of Seattle Grace in 2009 as part of a crop of surgical residents that transferred to the hospital following a merger with Mercy West, Nora Zehetner played Dr. Reed Adamson. Reed is an assertive and often abrasive doctor who isn't the biggest fan of her new professional digs but is determined to excel no matter where she is. However, Reed is also fiercely loyal to her friends and isn't afraid to stand up for others when she thinks they are treated unfairly. Shockingly, Reed is killed at the end of Season 6 when a man brings a gun to the hospital, the first of many people to be shot and killed in the two-part finale.
On "Grey's Anatomy," Zehetner wore her reddish-brown hair in a pixie cut with side-swept bangs, a fitting style for her confident, no-nonsense character. Since her character's death on the show, Zehetner has worked steadily in TV and film, most recently as astronaut John Glenn's wife Annie on the Disney+ series "The Right Stuff." For that role, Zehetner wears her hair longer, styled in a 1960s curly bob. Off-screen, Zehetner has donned a variety of hairstyles over the years but currently prefers a bob as well, albeit a more relaxed, contemporary version.
Tina Majorino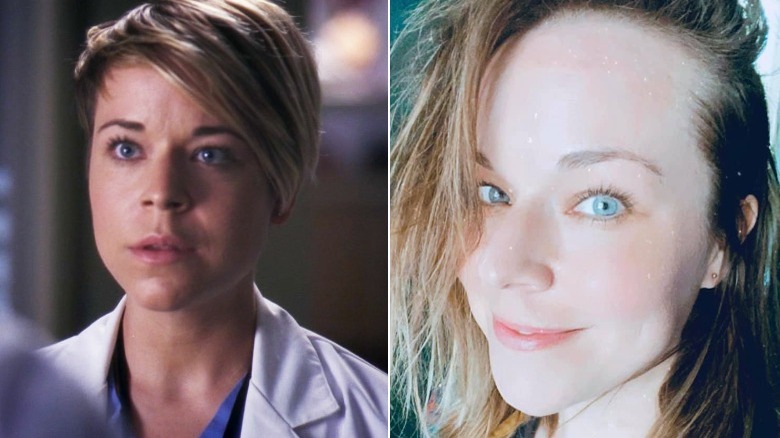 ABC, Tina Majorino/Facebook
Tina Majorino joined the cast of "Grey's Anatomy" in Season 9 as anxious and awkward intern Heather Brooks. Heather is presented as a little quirky and scattered, with a tendency to talk constantly to help ease her nerves. After glimpsing potential in Heather, Derek Shepherd takes her under his wing, determined to help build her confidence so that she can become a better surgeon. Tragically, Heather is electrocuted by some damaged electrical wires following a storm at the end of Season 9 and dies at the beginning of Season 10.
Majorino has continued to appear in various shows and films on and off since her role on "Grey's Anatomy," including reprising her role as Mac in the "Veronica Mars" movie in 2014. Although Heather starts on "Grey's Anatomy" with shoulder-length blonde hair, she winds up chopping it off midway through the season in favor of a sleek pixie cut. Majorino kept the style for years, although she changed up the color a few times. In recent years, she has grown her hair out once again, possibly thanks to the common tendency to forego haircuts during the coronavirus pandemic.