The Best Episodes Of Grey's Anatomy According To IMDb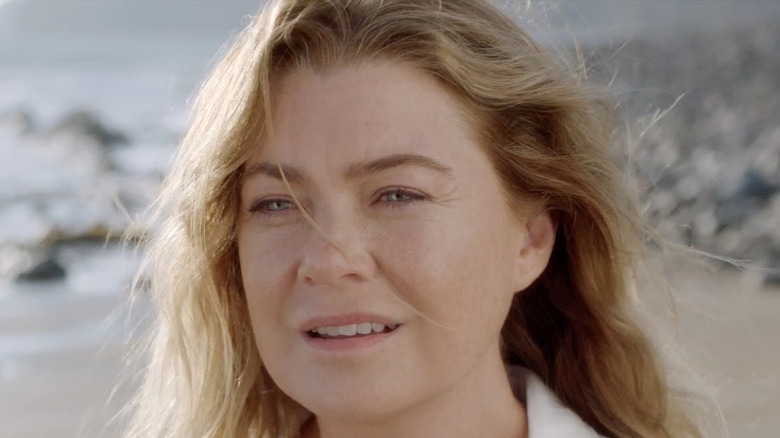 ABC
Introduced as a mid-season replacement in 2005, executives never could have known that "Grey's Anatomy," a medical drama created by Shonda Rhimes — and named as a cheeky nod to the famous medical textbook "Gray's Anatomy" — would become one of the network's all-time biggest hits. Over many seasons and hundreds of episodes, fans have feverishly followed the career of Dr. Meredith Grey (Ellen Pompeo), from her origins as a timid intern with a famous surgeon for a mother to becoming a legendary doctor in her own right.
Throughout its run, the hospital at the center of "Grey's Anatomy" sees plenty of drama, from various romantic entanglements to natural disasters to shocking events — including plane crashes, mass murders, and ferry boat accidents. From a disgruntled (and armed) grieving widower roaming the hospital to some seriously difficult episodes to some of the show's biggest romantic moments, here are the best episodes of "Grey's Anatomy," as decided by fans on IMDb. Major spoilers ahead!
15. My Shot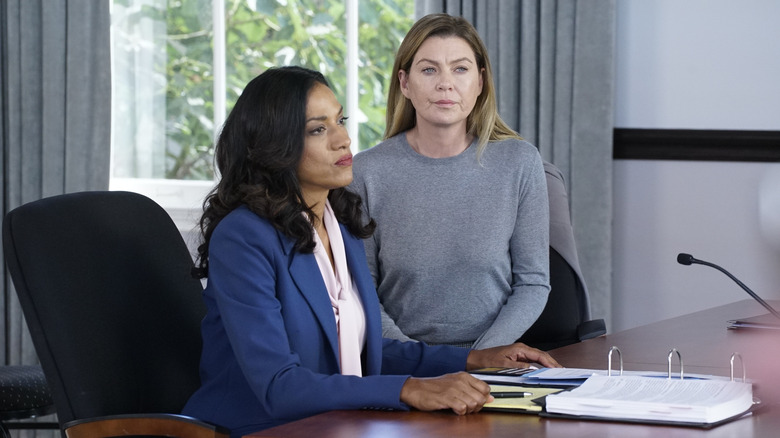 ABC
Another episode named for a "Hamilton" ditty, season 16 episode "My Shot" tackles the aftermath of Meredith's suspension by the medical board — which she incurred after falsifying insurance information to help a sick child. With her license on the line, Meredith is concerned that she'll never be legally permitted to operate again, but her friends and colleagues help her out until the very end.
The hearing gets off to a pretty rocky start when one of the doctors on the panel begins criticizing Meredith personally — only for her to point out that he was one of the physicians present when Derek died. After their confrontation, another doctor on the panel has a seizure. When he needs surgery, the hearing is nearly postponed ... until Alex brings a parade of Meredith's former patients into the room, all of whom traveled to speak on her behalf. Fans of "Grey's" know that Meredith is a great doctor, but in "My Shot," it's gratifying to watch the people she's treated help her retain her medical license.
14. Stand By Me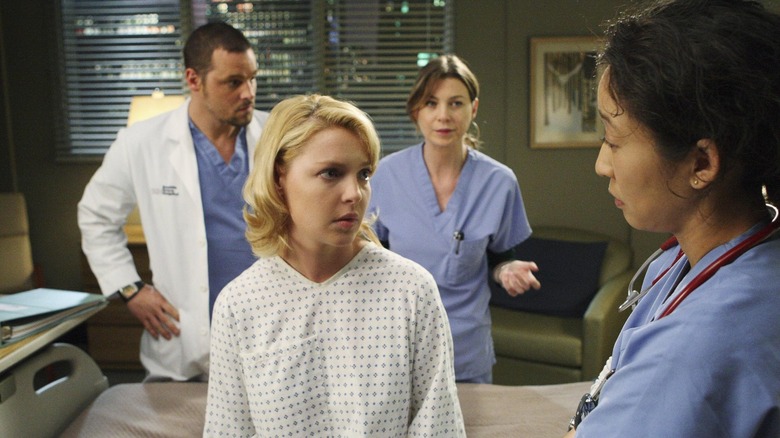 ABC
Being a surgeon is clearly a difficult job for countless reasons, one of which is losing a patient despite your best efforts. Such a case deeply affects Derek in the Season 5 episode "Stand By Me." Derek is inconsolable after losing a pregnant woman despite multiple operations — especially when he finds out that he's lost far more patients than he's saved. To cope, Derek retreats to his trailer in the woods. When colleagues Callie Torres (Sara Ramirez) and Owen show up, they all end up wallowing about their hardest losses.
Meanwhile, as older residents, Meredith and George are forced to deal with a troublesome intern love triangle — one which has left several of their charges bloodied, crying, and otherwise injured. This all happens while Cristina prepares for her first solo surgery and tries to help Izzie get treatment for her advanced skin cancer. By balancing the seriousness of Derek's mental breakdown with the silly intern drama, "Stand By Me" emerges as one of the best examples of the show's skill at straddling several moods at once.
13. Elevator Love Letter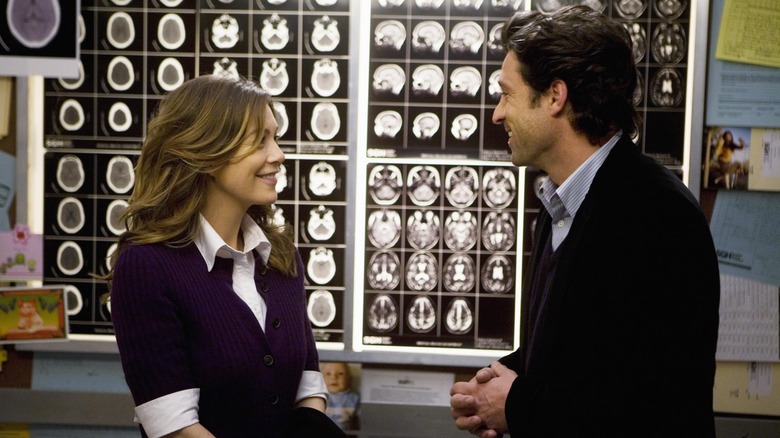 ABC
Season 5's "Elevator Love Letter," which features one of the show's biggest romantic moments, also opens with an unsettling scene depicting post-traumatic stress disorder. As Cristina and Owen fall asleep next to each other, Owen, a veteran, finds himself disturbed by her ceiling fan. This leads to a horrifying scene where an unconscious Owen chokes Cristina in his sleep. Devastated but loyal to Owen, Cristina seeks help from Meredith — who is furious at Owen and, by extension, Cristina.
Amidst this, Derek is trying to figure out the best way to finally propose to Meredith after years of buildup. He also has to perform surgery on Izzie's brain tumor, leading to a hectic day throughout the hospital. After Derek proposes in an elevatored lined with scans of cases he and Meredith worked on together, Meredith tells Cristina she's engaged ... only for Cristina to reveal that she split up with Owen. The episode's central story might focus on Derek and Meredith, but it's only right that it ends with Meredith and Cristina by one another's side.
12. Who Lives, Who Dies, Who Tells Your Story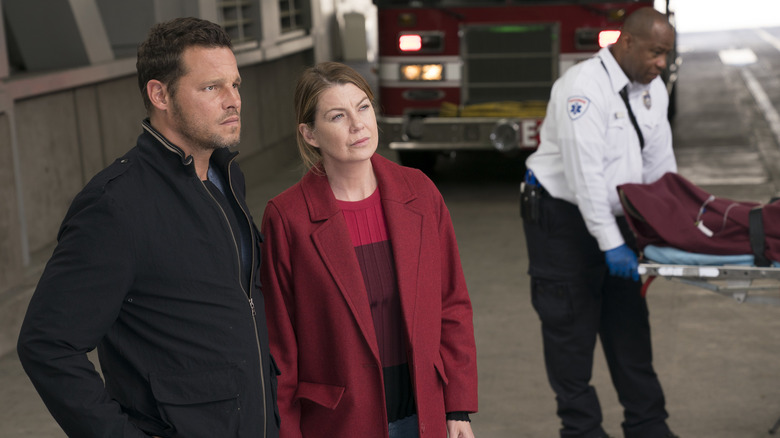 ABC
Shonda Rhimes is a huge fan of the hit show "Hamilton," and she went on to name several episodes of "Grey's" after Lin-Manuel Miranda's musical — including the landmark 300th episode in Season 14, "Who Lives, Who Dies, Who Tells Your Story."
As Meredith prepares to attend the ceremony for the Harper Avery Awards as a nominee — a prestigious award that her late mother, Dr. Ellis Grey (Kate Burton), won multiple times — an accident at a carnival brings a group of surgical residents to the hospital. The incoming patients remind the doctors of George, Cristina, and Izzie (all of whom have left the series by this point). Despite protests from her coworkers, Meredith elects to stay behind and perform surgery on the resident who reminds her of Cristina ... only to live stream into the Harper Averys and discover that she won the award. As Meredith stands in the O.R., watching her friends and loved ones cheer her on from the gallery, she sees the specter of Ellis smiling down at her — bringing a difficult mother-daughter journey to a heartwarming and satisfying conclusion.
11. Stairway to Heaven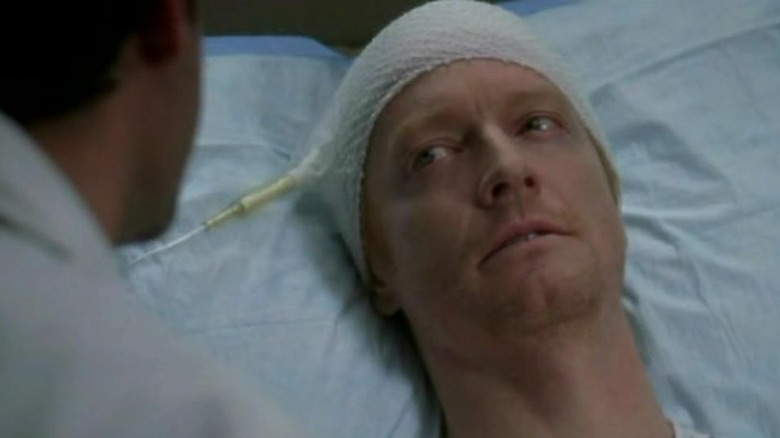 ABC
"Grey's Anatomy" tends to explore morally gray areas. During a Season 5 storyline in which a convicted murderer gets moved to the hospital from death row, Meredith and Derek's opposing beliefs are truly put to the test. Rather than simply let killer William Dunn (Eric Stolz) die of his neurological injuries, Derek says the man doesn't deserve pity and is hellbent on saving him. Meanwhile, Meredith finds herself weirdly drawn to the man. When a dying young boy desperately needs organ donation, Meredith tries to convince William to injure himself further — infuriating Derek after he discovers the ruse.
The young boy ultimately gets organs from a different patient, and William receives surgery, returns to Death Row, and is executed by the state of Washington. As a twisted act of compassion, Meredith attends the execution and watches William die, breaking down in her car afterwards. Derek, at a loss, begs Cristina — with whom Meredith has been fighting — for help, and the two make up as Cristina consoles Meredith. "Stairway to Heaven" might seem like a pretty dark episode, but as Meredith and Cristina rekindle their friendship, even this unsettling episode has a happy ending.
10. Suddenly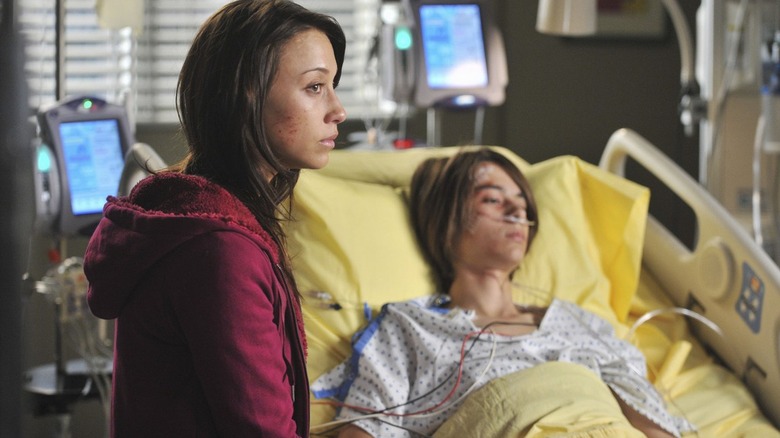 ABC
Picking up directly where "Dark Was the Night" leaves off, Season 8 episode "Suddenly" sees Meredith and Alex struggling to save a family on the side of the road after a car accident, as well as the aftermath of Henry's death at Cristina's hands. After the ambulance is hit by another car, Meredith and Alex are forced to keep a struggling infant alive — as well as the rest of the family, most of whom are dire condition.
Once Meredith and Alex finally return to the hospital, the daughter Lily (Stella Maeve) — the only healthy one — watches as both of her parents die despite multiple attempts to save them. Meanwhile, Teddy, involved in a different cardiac surgery, grows frustrated when Cristina refuses to answer her pages. Ultimately, Owen and Cristina are forced to reveal the truth: Henry died on the table, and there was nothing that they could have done. Between Lily's losses and Teddy's abject grief, "Suddenly" is a devastating installment of "Grey's Anatomy," leaving the audience to sympathize with multiple people grieve their loved ones ... and gives audiences a moment of relief when Derek and Meredith are granted custody of Zola.
9. Losing My Religion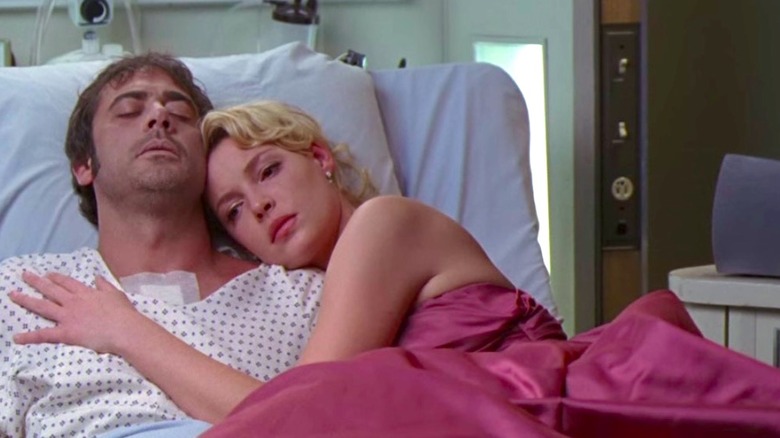 ABC
After an abbreviated first season, "Grey's Anatomy" truly became a television phenomenon in its second season, building to the season's unforgettable finale, "Losing My Religion." As "Saturday Night Live" standout Stefon might say, this episode has everything, from a devastating death to an illicit affair to a prom held in the hospital after hours — and it all builds into a dramatic, gripping conclusion.
The latter half of Season Two builds up the ongoing relationship between Izzie and her patient Denny, driving it to a truly dangerous point. When Denny narrowly misses out on a heart transplant, Izzie nearly kills him by cutting the wire to his LVAD (a mechanical heart pump), worsening his condition so he gets the first available heart. By "Losing My Religion," Denny has a brand new heart — and has proposed to Izzie, who says yes — but as Izzie heads to visit Denny before the prom, he dies suddenly, leaving her to find his body.
Elsewhere in the hospital, the interns are all suspended over Denny's LVAD wire, Meredith and Derek rekindle their relationship — despite having other dates to the prom — and Richard must make a difficult family decision when it turns out his niece Camille (a young Tessa Thompson) is dying of cancer.
8. What a Difference a Day Makes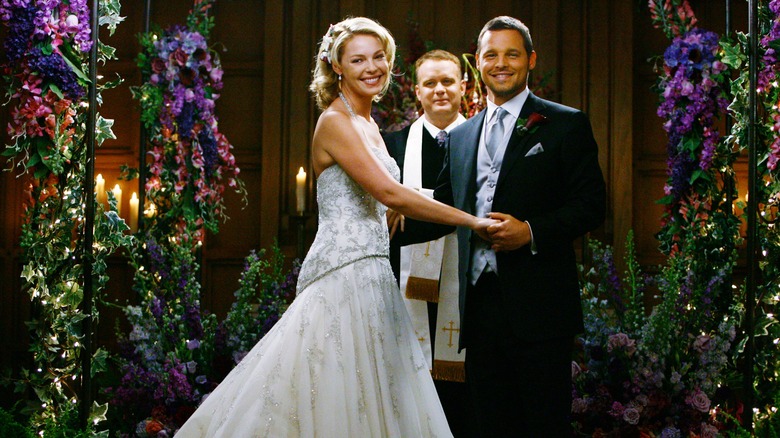 ABC
Weddings are a regular occurrence on "Grey's Anatomy" — putting aside the fact that every single doctor seems to attend every wedding, which would seem to leave the hospital dangerously understaffed — but in the Season 5 episode "What a Difference a Day Makes," the bride and groom go through several switches before the wedding even takes place.
As Izzie recovers from her first round of surgeries — and plans a fairytale wedding for Derek and Meredith, which neither of them particularly want — she makes the unsettling discovery that she's still hallucinating her dead fiancé, Denny Duquette (Jeffrey Dean Morgan). Aware that Denny's presence means she has another tumor, Izzie asks Bailey and Derek to investigate ... only to discover that the tumor seems to be inoperable. As a surprise, Derek and Meredith make a sacrifice on the spot, handing their "perfect" wedding to Izzie herself — who marries Alex that very day. When you consider that a bus full of graduating college students filled the emergency room shortly before the wedding, creating multiple surgeries and categories, there's no doubt that "What a Difference a Day Makes" remains one of the show's best episodes.
7. Dark Was the Night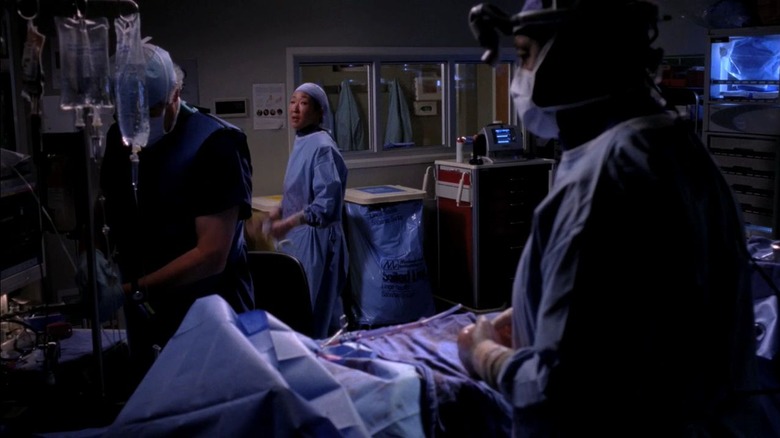 ABC
Many of "Grey's Anatomy's" very best episodes feature several different intense plotlines overlapping, which is likely why the Season 8 episode "Dark Was the Night" is such a fan favorite. After Teddy marries Henry (Scott Foley), a patient who needs health insurance, as a kindness to help him get his treatment, the two end up falling in love. When Henry needs a relatively simple cardiac surgery, Teddy tells Owen to have Cristina perform it, saying that they can easily cover Henry's face and hide his identity from Cristina. However, because this is "Grey's Anatomy," Henry's body is too weak to withstand the surgery, and he dies. When Cristina realizes who she just lost, she breaks down, while Teddy is still in a different O.R., oblivious to her husband's death.
Add Derek and Meredith's continued struggle to regain custody of their adopted daughter, Zola — and an ambulance accident during a thunderstorm that leaves Meredith and Alex in danger — into the mix, and it's easy to understand why "Dark Was the Night" is so popular. Beyond that, the episode even ends on a major cliffhanger, leaving the viewer on edge even if they've seen the series multiple times.
6. Fear (Of the Unknown)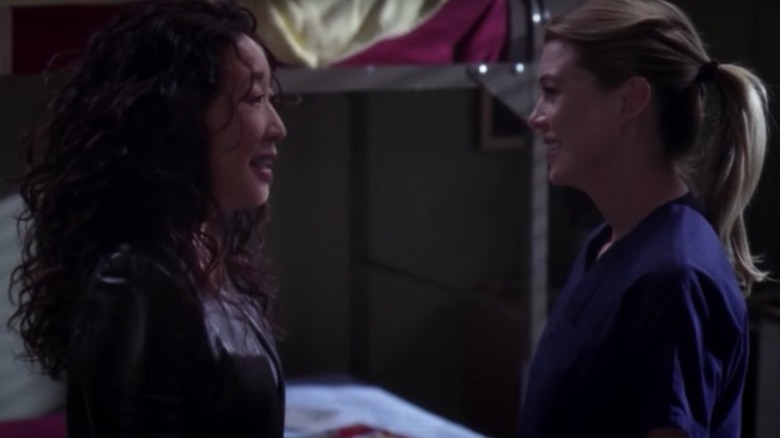 ABC
Derek and Meredith might seem like the central couple of "Grey's Anatomy" — but the truth is that Meredith and Cristina are the series' most important duo, referring to one another as their "person" and sticking together no matter what. With that in mind, fans were understandably devastated when Sandra Oh announced that she would leave Cristina Yang and "Grey's Anatomy" behind after its tenth season. Thankfully, Cristina's final episode, the Season 10 closer "Fear (Of the Unknown), provided a perfect, emotional, and poignant ending for this beloved character — and her relationship with Meredith.
After losing a prestigious surgical award due to some petty behind-the-scenes politics, Cristina doesn't know what to do. She is eventually presented with an opportunity: her ex-fiancé, Dr. Preston Burke (Isaiah Washington), wants her to take his place as the head of a cardiac department at an esteemed Zurich hospital. Despite the opportunity, Cristina drags her feet in leaving. Before she does, she and Meredith "dance it out" once last time, culminating in one of the show's sweetest moments. Telling Meredith that she can't sacrifice her needs for Derek, Cristina delivers one last piece of wisdom: "He's very dreamy, but he is not the sun. You are." Cristina Yang is one of the best television characters in recent memory, and in "Fear (Of the Unknown)," she gets the amazing ending she deserves.
5. The Sound of Silence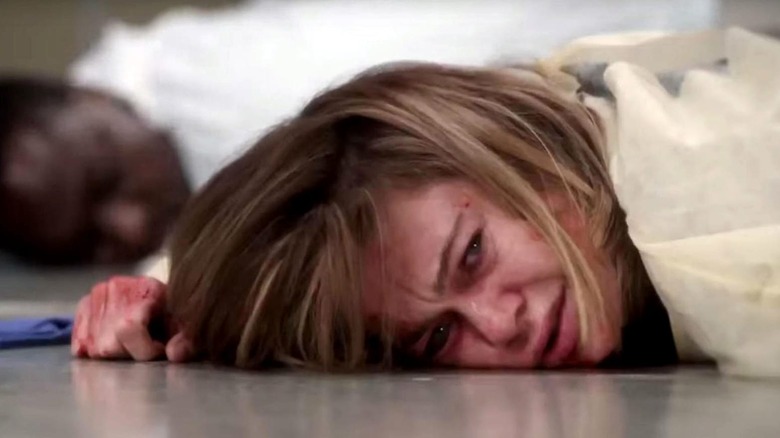 ABC
Meredith Grey goes through some pretty horrible stuff throughout "Grey's Anatomy," but one of her most harrowing experiences comes halfway through Season 12 in one of the show's toughest hours: "The Sound of Silence." Directed by Denzel Washington, the episode sees Meredith get attacked by a patient suffering from a severe neurological episode. Left alone with him, Meredith is brutally beaten, laying in an exam room for an extended period of time without anyone realizing what happened to her.
Meredith survives the attack, but at a great cost: her hearing has been seriously damaged, and her jaw is wired shut as she recovers. As a result, most of the episode occurs in silence or near-silence as Meredith's hearing slowly returns, chronicling her difficult and arduous recovery. In perhaps the most harrowing moment of the episode, Meredith's three children — Zola, Bailey, and Ellis — are brought to visit her in the hospital ... but they leave in horror after her appearance scares them, putting Meredith in a state of pure panic. Pompeo's performance in this episode is one of her best in the entirety of the series. Though you know deep down that Meredith, a consummate survivor, will be alright, "The Sound of Silence" will keep you on the edge of your seat for the entire run.
4. It's the End of the World + As We Know It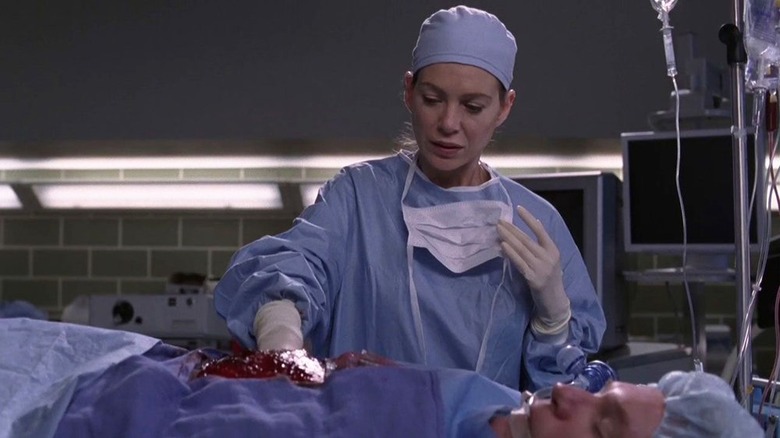 ABC
Early in its run, "Grey's" made a name for itself with wildly unrealistic yet fascinating medical oddities, and the two-part season two arc "It's The End of the World" and "As We Know It" features one of the show's most famous cases: a bomb in a body cavity. After two men make a homemade bazooka and fire it, one of them ends up with the unexploded ammunition inside of his chest. Paramedic Hannah (guest star Christina Ricci) has to hold the bomb still as surgeons try to figure out a course of action. When Hannah flees the scene, it's up to Meredith to hold the bomb still, aided by bomb squad leader Dylan Young (guest star Kyle Chandler).
As Meredith grapples with this incredibly dangerous situation, the rest of the hospital is thrown into turmoil — especially when Bailey goes into labor after her husband is injured in a car accident. High-stakes drama is definitely one of "Grey's" signatures, and this two-part episode is both heightened and emotionally grounded all at the same time
3. Now or Never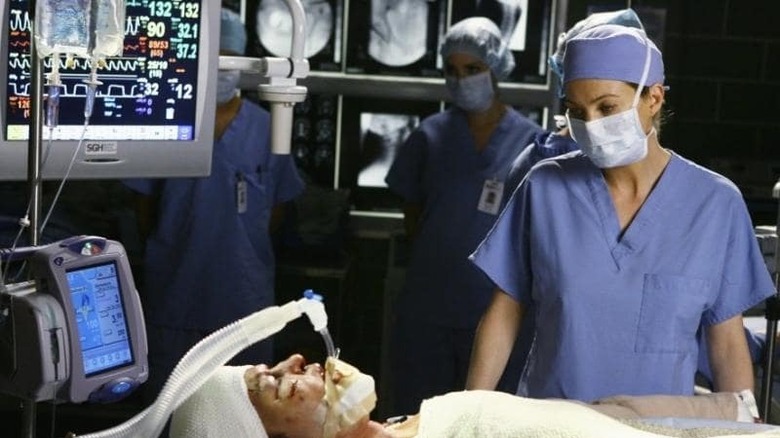 ABC
Anyone who's stuck with "Grey's Anatomy" since the very beginning knows that shocking, major character deaths happen constantly throughout the season — in fact, it seems as if the death rate amongst the doctors at this Seattle hospital is higher than it is for the patients undergoing risky procedures. However, one of the most surprising departures comes courtesy of the season five finale "Now or Never."
As the episode begins in the aftermath of surgery to remove a brain tumor, Dr. Izzie Stevens' (Katherine Heigl) memory is in terrible shape — infuriating her husband Dr. Alex Karev (Justin Chambers). Meanwhile, Dr. George O'Malley (T.R. Knight), with the help of former military medic Dr. Owen Hunt (Kevin McKidd), decides to enlist in the army as a medic himself. George's friends are appalled, worried he'll be killed immediately, and prepare an intervention ... only to focus all of their attention on a seriously wounded man who saved a woman from an oncoming bus and was dragged through the road as a result. After a horrified Meredith realizes that the unrecognizable bus victim is actually George, the doctors rally to save two of their own as Izzie also flatlines. Knight departed the show after this episode, but as far as swan songs go, "Now or Never" was a pretty great exit.
2. Silent All These Years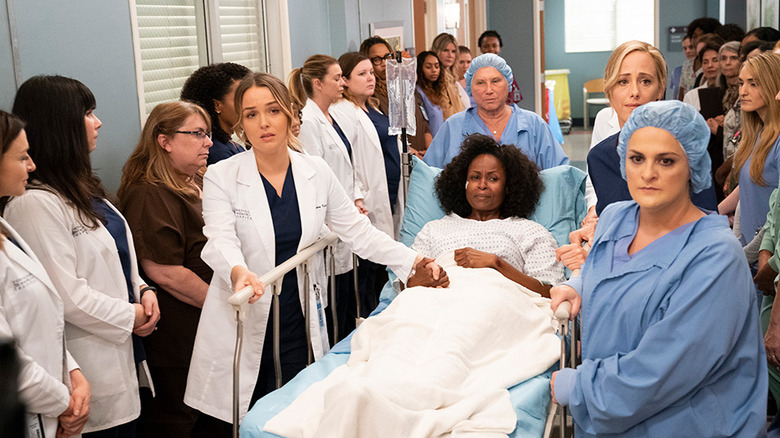 ABC
There's no denying that keeping a show's momentum going across seemingly countless seasons and episodes can be a huge challenge, but the team behind "Grey's" proved that they could still shock and surprise audiences well into the series' fifteenth season. In the gripping, difficult episode "Silent All These Years," resident Jo Wilson (Camilla Luddington) and cardio chief Dr. Teddy Altman (Kim Raver) are confronted with a traumatized patient who, despite initially denying it, eventually admits that she was sexually assaulted at a bar the night before. Afraid to tell her husband or be around any men, the patient clings to Jo and Teddy, who tenderly walk her through a process that can put her on a path to justice and help her heal. Amidst all of this, the episode shows flashbacks to Jo's recent trip to Pittsburgh, where she meets the birth mother who abandoned her (Michelle Forbes), and learns that she is actually the product of her mother's sexual assault.
Juxtaposing Jo's discovery against one patient's story is as deeply moving as it is effective, and between the episode's unflinching look at trauma brought on by sexual assault — which creator Shonda Rhimes insisted stay in the episode despite backlash from network executives — and an unforgettable scene where women of Grey Sloan Memorial Hospital line the walls to show their support for the patient, "Silent All These Years" is a tough watch at times, but it's incredibly important.
1. Sanctuary + Death and All His Friends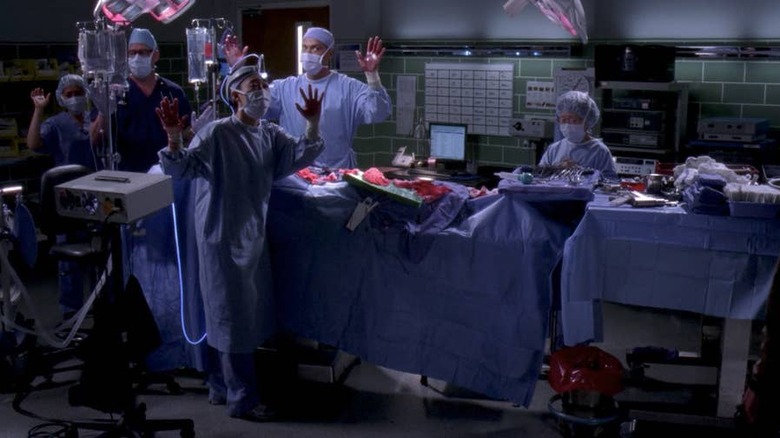 ABC
When it comes to season finales, "Grey's Anatomy" always has huge surprises up its sleeve — and Rhimes' talent for writing intense, dramatic finales has never been better than the two-part Season 6 closer "Sanctuary" and "Death and All His Friends." Written by Rhimes herself, the episode begins with Meredith finding out that she and her husband, Dr. Derek Shepherd (Patrick Dempsey), are expecting a baby. It starts off on a cheerful note ... until things quickly devolve when Gary Clark (Michael O'Neill), whose wife recently died at the hospital under Derek's supervision, shows up with a gun.
From there, Gary goes on a murderous rampage throughout the hospital, indiscriminately killing doctors left and right as he tries to track down Derek himself — eventually cornering the Chief of Surgery and attacking him. After Derek is shot, Meredith suffers a staggering trauma of her own. Throughout the hospital, various doctors work furiously to save their colleagues from certain death. From Miranda Bailey's (Chandra Wilson) ingenious fib that saves her life to a scene where Meredith's best friend Cristina Yang (Sandra Oh) operates on Derek while being held at gunpoint, this frighteningly intense and thrilling two-part episode is a near-perfect installment of "Grey's Anatomy" — and clearly, fans think so too.