The Most Over-The-Top Moments On Grey's Anatomy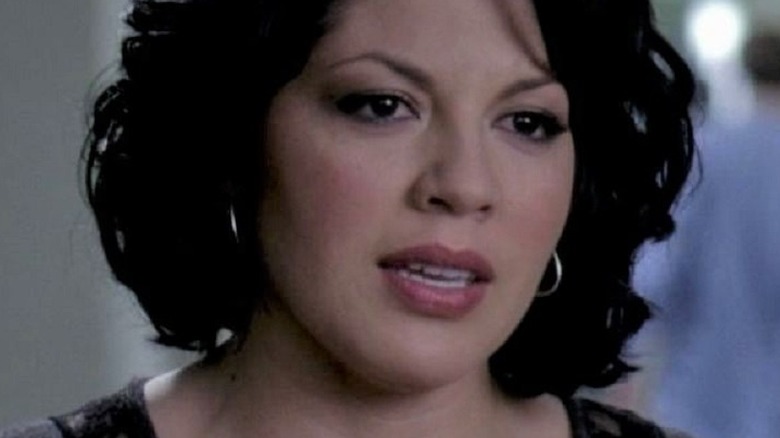 ABC
There's never been any shortage of drama or extraordinary circumstances on "Grey's Anatomy." The long-running medical series has long been a source of bizarre medical cases, from deadly hiccups to a stomach full of doll heads. And not only has the show seen a constantly revolving door of medical marvels, but the doctors of Grey Sloan Memorial Hospital have gone through their own share of absurdity, some due to random circumstance, others due to their own personal choices. And of course, there are more than a few parts where the plot just takes an absurd turn for reasons that only made sense in the minds of the show writers.
With 17 seasons of unique and ridiculous moments to pick from, there are countless candidates for which ones are the most over the top. Still, even in a show with nearly 400 episodes under its belt, there are a handful of moments, cases, and storylines that manage to stand out from the rest. Here are the ones that pulled out all the stops, for better or for worse, making them the wildest of the bunch.
Addison makes a dramatic entrance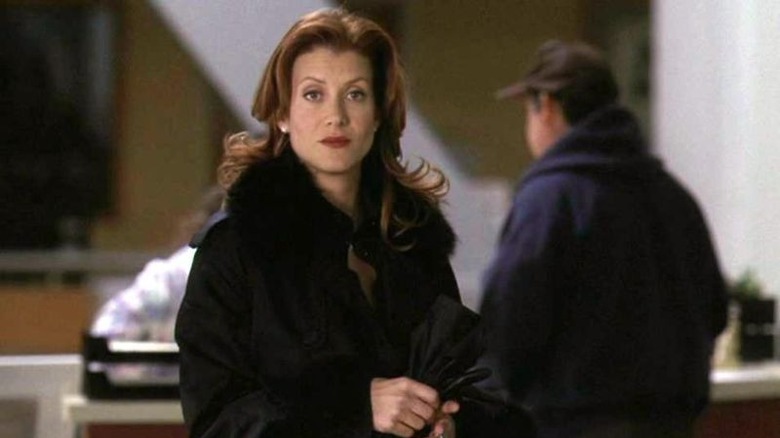 ABC
The first season of "Grey's Anatomy" kicked off by establishing the will-they-won't-they romance between protagonist Meredith Grey (Ellen Pompeo) and swoonworthy neurosurgeon Derek "McDreamy" Shepherd (Patrick Dempsey). In the pilot episode, following a one-night stand after meeting for the first time in a bar, the two are shocked when Meredith shows up for the first day of her surgical residency to find that Derek is her boss. For the rest of the season, the two circle each other, trying to figure out how to make a relationship work when one is the student and the other is the teacher.
However, in the first season finale, "Who's Zoomin' Who?," the young series threw a curveball that no one was expecting when Derek's wife, Addison (Kate Walsh), came strutting into the hospital and quickly identified Meredith as the woman sleeping with her husband. It was a truly shocking moment that upended viewers' — and Meredith's — entire perception of what had been happening all season, and it kicked off a tense love triangle that would play out throughout the show's second season.
That girl is poison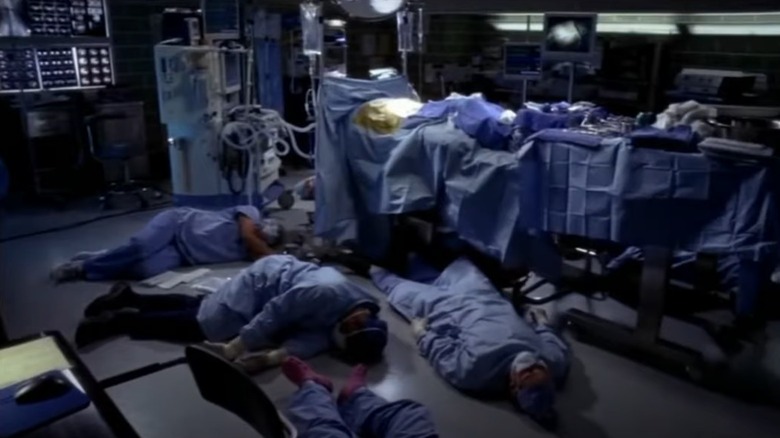 ABC
"Grey's Anatomy" has featured literally hundreds of interesting medical cases in between its doctors' personal conflicts, but one of the most bizarre has to be the Season 3 episode "Wishin' and Hopin'," in which a patient with toxic blood poisons everyone in the OR. 
When a cancer patient comes in experiencing stomach pains, Richard Webber (James Pickens Jr.) attributes it to a tumor he removed from her colon months ago. Thinking it's returned, he books her for surgery. However, while taking her blood for testing, George O'Malley (T.R. Knight) and several other healthcare workers fall seriously ill, and George realizes that the patient's blood is toxic. It turns out that an herbal supplement she was taking had reacted with her chemotherapy to form a neurotoxin, one that quickly incapacitates anyone exposed to it. 
During the rest of the episode, nearly all of the doctors rotate through the OR in a race to complete the surgery before they pass out. Ultimately, it comes down to Meredith, Cristina (Sandra Oh), and Izzie (Katherine Heigl) holding their breath and tag-teaming into the room for just a few seconds at a time to complete the procedure. The patient survives (and receives a much-needed dialysis treatment to clean her blood), and the operation goes down as one of the most unexpected medical complications in "Grey's Anatomy" history.
George and Izzie's forced romance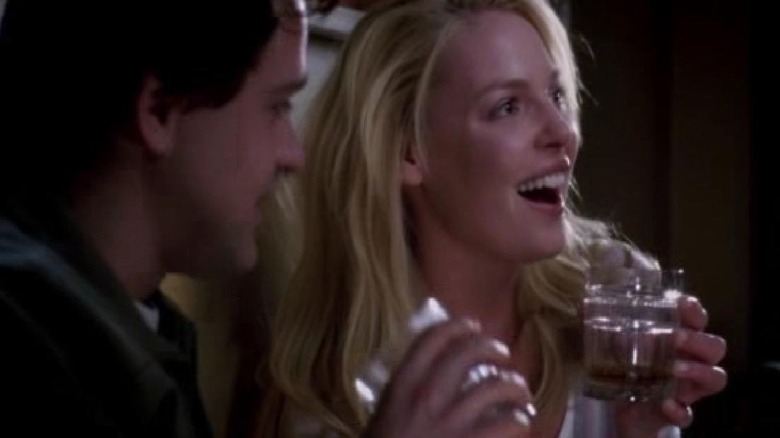 ABC
In the same episode where the patient poisons half the hospital with the neurotoxin pumping through her veins, George and Callie Torres (Sara Ramirez) announce that they spontaneously eloped in Las Vegas. However, it doesn't take long before the couple realizes how little they really knew each other before getting married, and they soon start bickering. A mere four episodes later, in the episode "Scars and Souvenirs," George drinks himself into a stupor with his best friend Izzie following a fight with Callie, and they wind up sleeping together.
"Grey's Anatomy" is no stranger to sudden romance or complicated relationships, but George and Izzie's fling really comes out of nowhere. Previously, the pair had been close yet platonic best friends, and Izzie had been engaged — only for her fiance to abruptly die — less than a season before. Still, it wouldn't have been so far out of the norm if the show hadn't then tried to make their one-night drunken dalliance into a meaningful committed relationship despite what was widely perceived by fans as the pair's lack of chemistry. Thankfully, the relationship didn't last very long, but while it did, it felt like a more far-fetched storyline than any of the bizarre medical cases that occurred in the meantime.
Alex's sweet love story turns dark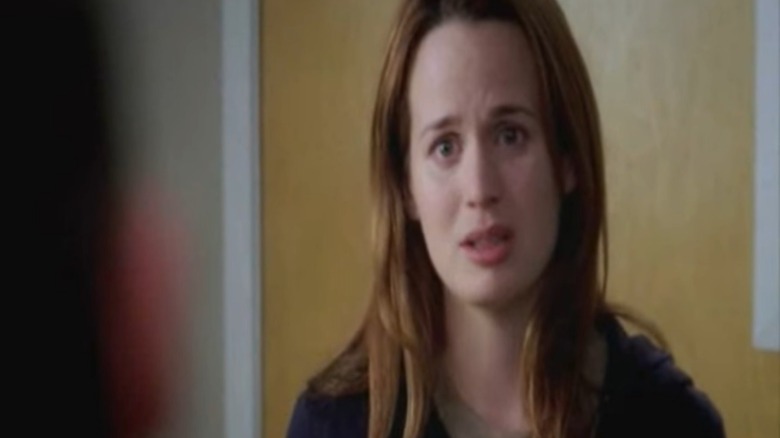 ABC
In real life, doctors falling for their patients is pretty frowned upon, but in "Grey's Anatomy," it's par for the course, especially when the patients need extended hospital stays. So when Alex Karev (Justin Chambers) starts developing a connection with a pregnant amnestic patient whose face was crushed during a ferry boat accident in the middle of Season 3, it doesn't immediately raise any red flags. It even seems sweet at first, especially since his relationship with Jane Doe (Elizabeth Reaser) — who later names herself Ava — prompts a good amount of character growth in the previously shallow and self-centered intern.
However, in Season 4, Alex's relationship with Ava turns weird. After eventually remembering her identity and reluctantly leaving the hospital with her husband, she returns in Season 4, and the two start a romantic relationship. But the sweetness they shared in Season 3 is gone the second time around, and it soon becomes evident that Ava — now going by her real name of Rebecca — is suffering from a serious mental illness. After Alex saves her following a suicide attempt, their relationship ends when she has to be committed to a psychiatric facility. What begins as a sweet story of two lost characters discovering themselves eventually morphs into a twisted tale of toxicity and delusion, taking an already far-fetched plotline and pushing it toward the absurd.
If you or anyone you know is having suicidal thoughts, please call the National Suicide Prevention Lifeline​ at​ 1-800-273-TALK (8255)​.
Izzie is haunted by the past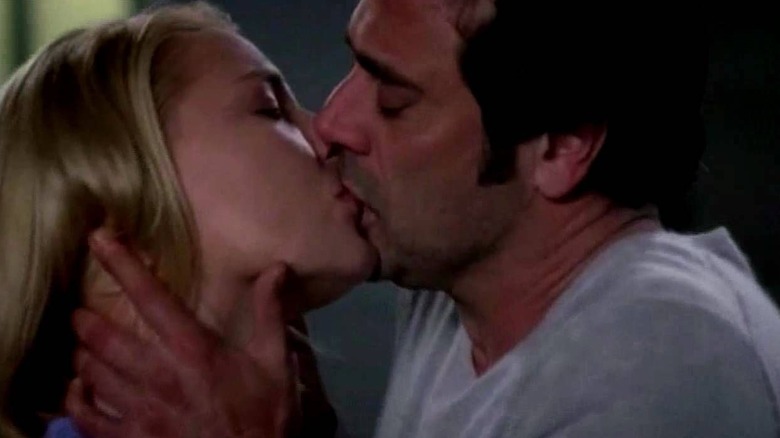 ABC
There are any number of over-the-top moments that could be included on this list, but one that all "Grey's Anatomy" fans would likely agree is non-negotiable is when Izzie's former fiance, Denny Duquette (Jeffery Dean Morgan), suddenly reappears in the middle of Season 5 after dying at the end of Season 2. To prove that he's real when Izzie assumes that she's hallucinating due to lingering grief, Denny promptly offers to do the one thing they didn't get a chance to do when he was alive — have sex.
Of course, Denny isn't real, and after cryptically telling her for several episodes following their steamy encounter that he's "here for [her]," Izzie finally figures out the truth: She has cancer that has spread to her brain. Yet even then, the show still implies that Denny is real and that he returned from the dead to warn her, rather than fully admitting that he's a hallucination. Following her diagnosis, Izzie's storyline is compelling, but all of the strange Dead Denny scenes preceding it — especially the ghost sex — is just a bridge too far, even for a show that routinely likes to push the limits of drama.
George gets thrown under the bus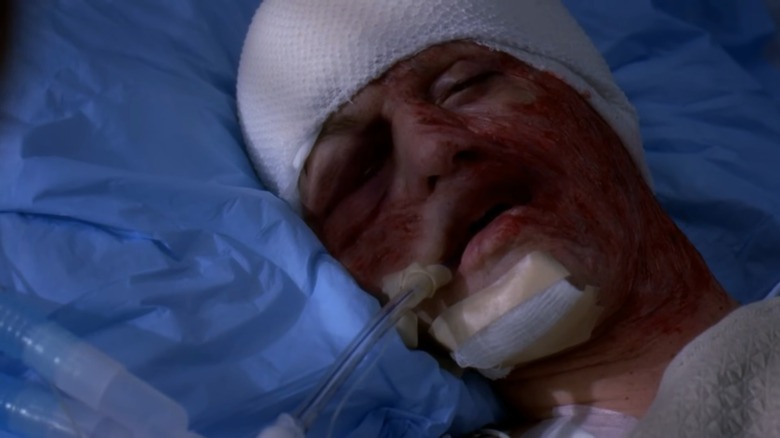 ABC
For the first five seasons of "Grey's Anatomy," while patients and recurring guest stars were fair game as far as death was concerned, the main cast seemed off-limits. That all changed at the end of Season 5. Here, the doctors of Seattle Grace spend most of the episode tending to a John Doe who was severely disfigured after saving a woman from a speeding bus, only to get dragged underneath himself. Meanwhile, George's friends spend the same day coordinating an intervention to prevent him from enlisting in the Army.
It seems like just another case-of-the-week until at the end of the episode, when John Doe shocks everyone by finally managing to tell Meredith who he is — he's George. The doctors try everything in their power to save him, but his injuries are too extensive, and he dies. It's a jarring way to lose a main cast member, especially when it's never happened before. Plus, even without the bait-and-switch, killing George by having him heroically jump in front of a bus, only to be ground up underneath it, is so outlandish that it still stands out as one of "Grey's Anatomy's" biggest stunners.
'Listen to your heart' gains a whole new meaning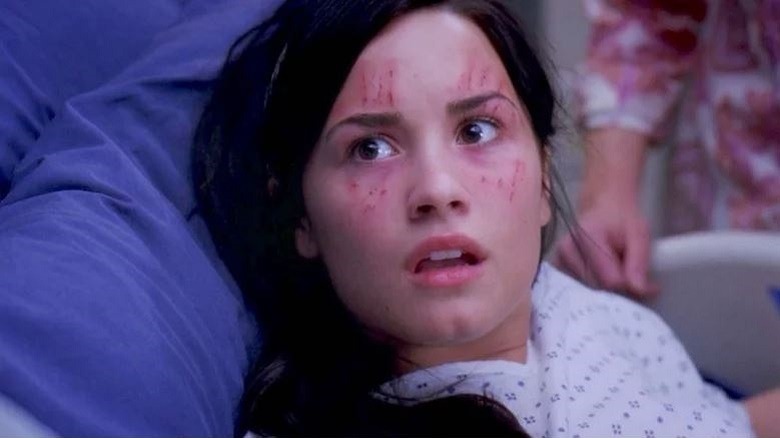 ABC
Doctors spend over a decade learning how to deal with what goes on inside the human body, and there's a good reason for that. Bodies are complicated machines, and learning how to fix what's wrong with them is a long and intricate process. However, the Season 6 episode "Shiny Happy People" introduces the idea that not only is being aware of the inside workings of the human body a huge responsibility ... it also has the potential to drive you mad.
In one of the show's more bizarre medical cases, a teenage girl is brought to the hospital after attempting to claw her own eyes out. Although she's been previously diagnosed with schizophrenia, Hayley (Demi Lovato) insists that she's "not crazy," and Alex believes her. After spending the episode running test after test — against the instincts of the more seasoned doctors — Alex finally diagnoses the problem: She has a small hole in her inner ear that enables her to hear her own internal organs and amplifies all external sound. The constant barrage of sensory input renders her unable to sleep or concentrate, causing her to act out in desperation. After figuring out the problem, Derek is able to operate and repair the hole, finally giving her peace. It's a fairly calm solution to what started out as a pretty wild problem.
Sing it out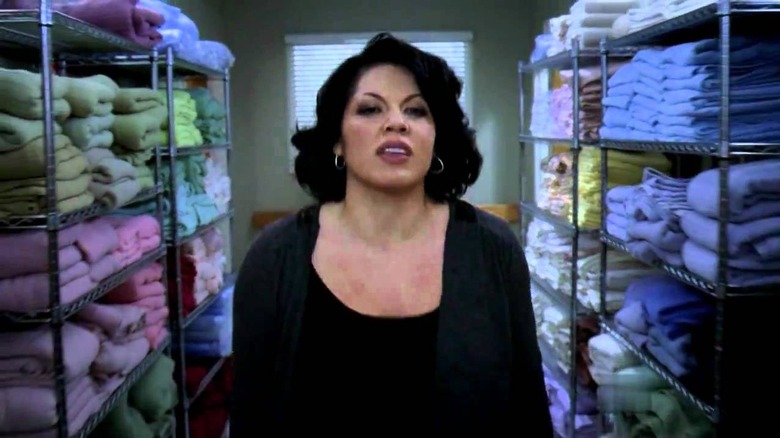 ABC
There are two sorts of television viewers in the world: Those who feel like every show should have a musical episode, and those who don't. Fortunately for "Grey's Anatomy" creator Shonda Rhimes, most of the people working on the show fell into the former camp. Centered around Tony Award-winning actress Sara Ramirez, who played Callie Torres on the series, "Song Beneath the Song" followed Callie's treatment in the aftermath of a horrible car accident.
It turns out that more "Grey's Anatomy" doctors are harboring musical talent than not, and most of the doctors of Grey Sloan Mercy West belt out at least a few lines over the course of the episode. But Callie — hallucinating music due to a traumatic brain injury — carries much of the musical weight, with Owen Hunt (Kevin McKidd), Miranda Bailey (Chandra Wilson), and Lexie Grey (Chyler Leigh) divvying up the bulk of what's left. So the songs themselves are actually pretty great covers of familiar tunes, which is not always a guarantee when shows decide to venture into musical territory. Still, regardless of whether you think songs belong in a medical drama or you think the episode was a huge mistake, there's no denying that "Song Beneath the Song" was one of the most creatively unexpected and narratively ambitious episodes in the show's history.
It's raining surgeons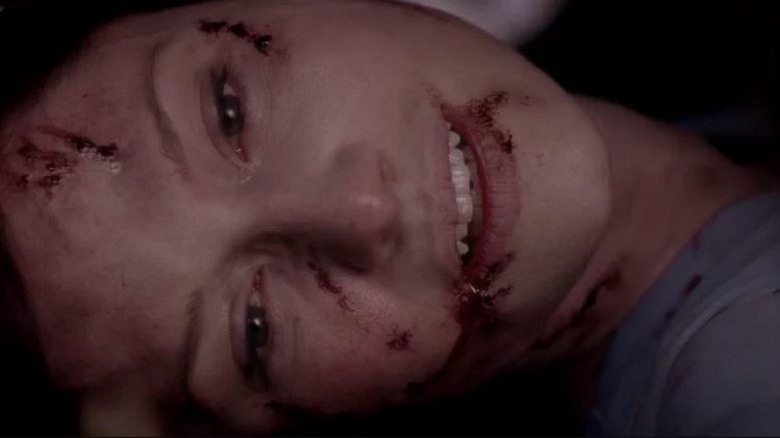 ABC
The odds of being in a plane crash are almost astronomically low — around one in 5 million — but "Grey's Anatomy" has never been one to place much stock in statistical probability. Still, it comes as a shock when the penultimate episode of Season 8 reveals in its closing moments that the private plane carrying half a dozen of Seattle Grey Mercy West's finest to perform a tricky surgery in Idaho has crashed in the woods before reaching its destination.
The Season 8 finale, "Flight," jumps back and forth between the victims of the plane crash — Meredith, Derek, Cristina, Lexie, Mark Sloan (Eric Dane), Arizona Robbins (Jessica Capshaw), and the pilot, Jerry (James LeGros) — and the rest of the cast, going about their day completely unaware of the tragedy that has befallen their friends. It's a harrowing episode that results in the deaths of two main cast members and completely upends the future plans of pretty much everyone. That it comes out of nowhere, when we'd been led to believe the primary conflict of the end of the season would be the original resident class all getting jobs in other parts of the country, just made the season finale that much more jarring and unexpected.
Ben's MacGyver moment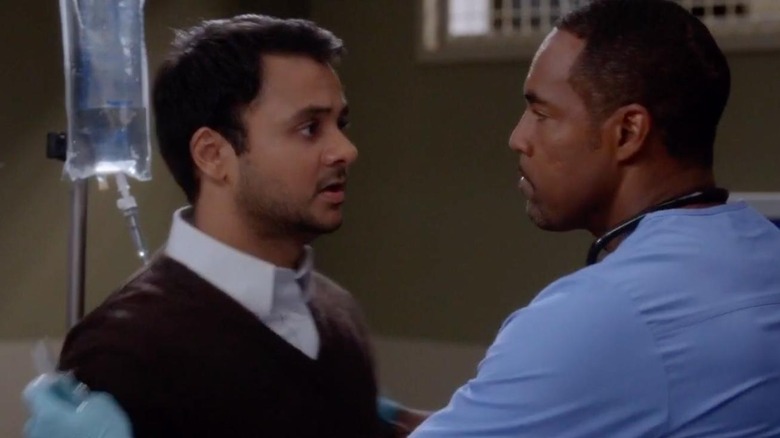 ABC
After getting divorced from her first husband, Miranda Bailey eventually falls for and marries anesthesiologist Ben Warren (Jason George). But it turns out that putting people to sleep for a living isn't exciting enough for Ben, who decides to go back to the medical drawing board and become a surgeon. The thrill of surgery seems to scratch the itch for a while, but ultimately, Ben proves too impulsive for the disciplined and meticulous life of a surgeon, which becomes abundantly clear when he performs an emergency procedure by cutting a man open with a broken clipboard in the Season 12 episode "All Eyez on Me."
The incident takes place in the psych ward, where there are no sharp objects. Ben finds a patient in severe distress with an abdominal aortic aneurysm, and instead of waiting for help to arrive with proper equipment (and an attending physician since Ben is still a resident), he chooses to remove the metal clip from a clipboard, squirt it with hand sanitizer, and slice into the patient that way. The patient lives, but the incident raises some serious questions about Ben's ability to be a surgeon, which eventually leads him to switch careers yet again to become a firefighter. We'd seen doctors on "Grey's Anatomy" come up with makeshift treatments on the fly before in emergency situations, but Ben deciding to do so in the hospital with help on the way was something no one could've seen coming.
Owen's sister returns from the dead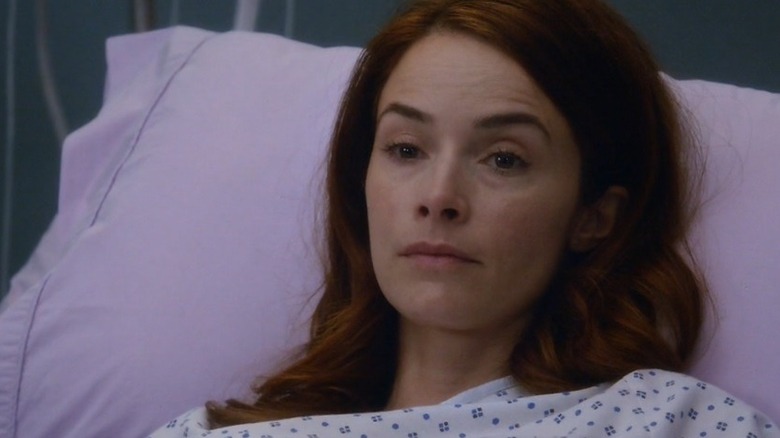 ABC
Part of ex-Army doctor Owen Hunt's backstory when he arrived at Seattle Grace in Season 5 was that his sister, Megan (Abigail Spencer), had gone missing while serving as a trauma surgeon in Iraq in 2007, and she was presumed dead. However, Owen keeps the loss of his sister secret until Season 12, when Megan's fiance, Nathan Riggs (Martin Henderson), shows up at the hospital, and the two are forced to finally contend with their feelings about her death. From that point forward, dealing with the death of Megan and figuring out how to move on is a big part of both Owen's and Nathan's stories.
So imagine everyone's surprise when, at the end of Season 13, Owen receives a call that Megan — missing for a decade by that point — has been found alive. She receives treatment at the hospital at the beginning of Season 14, and she ultimately moves away to start a new life at the beach with Nathan and her adopted son. It's a surprisingly happy ending for what had previously been presented as a story of grief and loss, but it also felt very out of place. While "Grey's Anatomy" had always felt a bit soapy, especially in the early seasons, long-lost family members returning from the dead still felt like it fell outside the bounds of the types of stories the show typically asked viewers to accept.
April's (second) impromptu wedding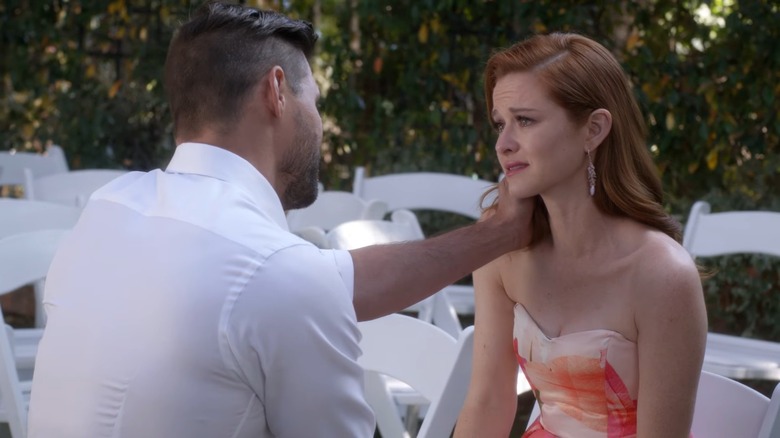 ABC
"Grey's Anatomy" loves a good love story, and next to Meredith and Derek, April Kepner (Sarah Drew) and Jackson Avery (Jesse Williams) may have one of the show's best ... and most heartbreaking. The pair started out as surgical interns at Mercy West, who then came to Seattle Grace when the hospitals merged, and their relationship gradually blossomed from friendship into romance. It peaked when Jackson interrupted April's wedding to paramedic Matthew (Justin Bruening) in Season 10, and the two ran off and eloped with each other instead.
Sadly, though, Jackson and April's marriage wasn't able to survive the traumatic death of their infant son, Samuel, and the two eventually got divorced — only to have a healthy child together after splitting up. Gradually, they were able to grow close again as friends as they co-parented their daughter and dated other people. But at the end of Season 14, all of that slow, organic development abruptly gave way to several whiplash-inducing twists in a row. 
First, April revealed that she'd started secretly seeing Matthew again following the death of his wife, then nearly died when the two got into a horrific car crash. Then she quit her job and impulsively married Matthew at someone else's wedding. That's all in the course of two episodes. After the gradual slow burn of April's character development over nine seasons, it felt like jamming multiple seasons' worth of big events into just a couple hours, leaving viewers feeling blindsided.
Alex's 'Dear Jo' letter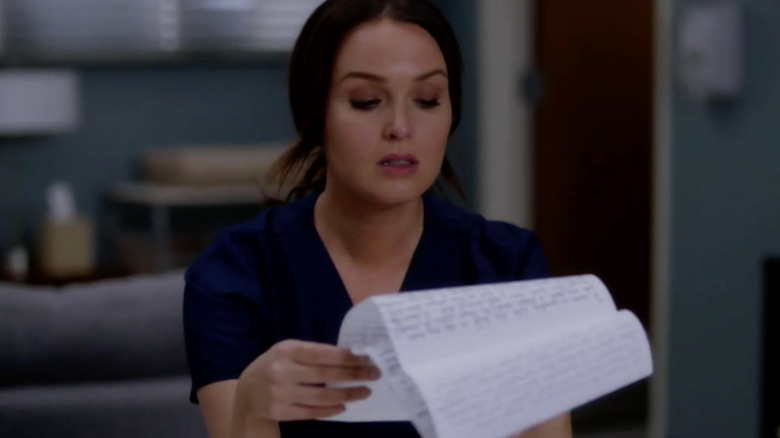 ABC
Perhaps no other character on "Grey's Anatomy" went through more character growth during their run on the show than Alex Karev, who began his residency so brash and unpleasant that he quickly earned himself the nickname "Evil Spawn." But over 16 seasons, Alex grew into one of the most beloved characters on the show, rising to eventually become head of pediatric surgery at Grey Sloan and later chief of surgery at Pacific Northwest General Hospital, establishing himself as Meredith's "person," and — after marrying Izzie in Season 5, only for her to walk out on him in Season 6 — marrying Jo Wilson (Camilla Luddington) at the end of Season 14.
Alex and Jo's relationship had a lot more time to establish itself than Alex and Izzie's, and knowing Jo's abandonment issues, Alex reiterated over and over that he was committed to her for the long haul. So imagine everyone's surprise when Alex abruptly decided to leave Jo, his friends, and his job in the middle of Season 16, ditching Seattle entirely to go be with Izzie again after learning she had secretly used two of the embryos they'd had frozen while they were together and was raising his children on a farm in Kansas. He served Jo with divorce papers, accompanied by a letter explaining his sudden departure, and also delivered letters to Meredith, Richard, and Miranda. It felt like a bizarrely out-of-character move for one of "Grey's Anatomy's" last remaining original interns, leaving both fans and the remainder of the characters reeling in shock.
Teddy's big lie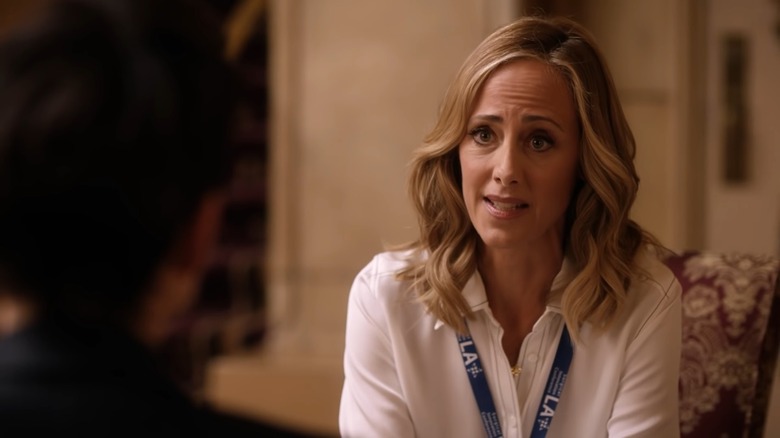 ABC
It's not as dramatic as a plane crash or a mass shooting, but sometimes even small choices can feel so bizarre that they strain the limits of plausibility. Such is the case with the name Teddy Altman (Kim Raver) gave to the daughter she had with Owen Hunt. Teddy and Owen knew each other before their introductions on the show through serving together in Afghanistan. Teddy had always told him that she enlisted to help her deal with her grief of losing her best friend, Allison (Sherri Saum), when the Twin Towers fell on 9/11. So when the two had a child together years later, it seemed only natural that they name their daughter after her, honoring the deceased friend that, in a way, brought them together.
However, Teddy's sweet tribute to her deceased best friend turned very weird when she ran into her former best friend and roommate, Claire (Rya Kihlstedt), at a medical conference in the Season 16 episode "Love of My Life." Claire had been dating Allison — who also lived with the two of them — at the time that she died, but it came out during the course of their conversation that Teddy and Allison had been having an affair at the same time. So rather than honoring her best friend, Teddy and Owen's daughter's name turned out to be a tribute to Teddy's secret lover — her best friend's girlfriend — who she then lied about for the next 20 years. It's hard to buy that Teddy would've ever thought this was a good idea, and no wonder that when Owen found out that their daughter's name was based on a lie, it did not go over well.