The Peacemaker Finale's Stunning Cameos Explained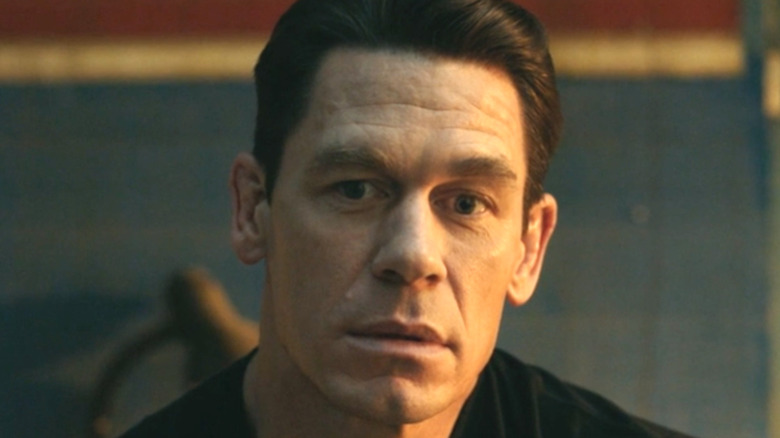 HBO Max
Contains spoilers for the finale of "Peacemaker" Season 1
When Warner Bros. and HBO Max first announced that James Gunn's "The Suicide Squad" would get its own spin-off series, "Peacemaker," which follows the titular member of Task Force X on his own adventure, it wasn't clear what kind of story fans were going to get. After all, Christopher Smith/Peacemaker (John Cena) is a violent right-wing vigilante who frequently pledges that he'll kill men, women, and children to achieve peace. But Gunn's "Peacemaker" series has been a clever deconstruction of the anti-hero in an insightful, heartfelt way. 
Both viewers and critics have been loving the series, so it's not entirely surprising that the streaming service gave the go-ahead for "Peacemaker" Season 2 shortly before the final episode was released. It's great news for those who are impressed with what Gunn has brought thus far to the DC universe. The director recently revealed that he's working on another TV show connected to "The Suicide Squad," although he didn't explain which character he's expanding. Bloodsport (Idris Elba), Harley Quinn (Margot Robbie), Ratcatcher II (Daniela Melchior), and Polka Dot Man (David Dastmalchian) could all carry a show of their own in different ways.
But when it comes to the ending of "Peacemaker" Season 1, Gunn clearly wanted to go out with a bang. And Warner Bros. appears to have been impressed with his concept, as they let him include some stunning cameos towards the end of the episode.
The Justice League arrives late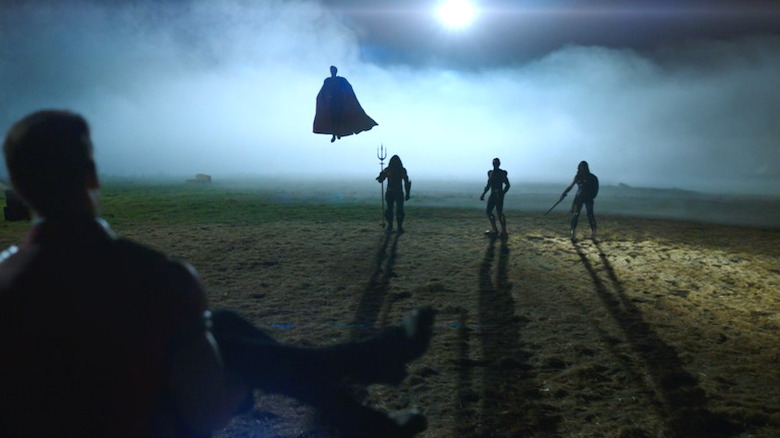 HBO Max
The finale episode of "Peacemaker" Season 1 revolves around the team's mission to kill the 'cow' — a giant alien beast that produces the liquid the Butterflies feed on. But before the team assaults the barn which hides the underground base, Leota Adebayo (Danielle Brooks) rings her mother Amanda Waller (Viola Davis) to ask for help. She even suggests that the Justice League help them, which is an understandable request since the fate of the world is at stake.
Ultimately, Peacemaker and Adebayo are the ones who finish the mission, as they kill the cow using the Human Torpedo helmet. But when they triumphantly stroll out of the barn to help their injured friends, they're met by the Justice League ... Sort of.
Superman, Aquaman, The Flash, and Wonder Woman are all standing in the field, but because of the minimal light, their faces are completely obscured until Peacemaker gets a little closer to them. The only team members we actually see are Aquaman (Jason Momoa) and The Flash (Ezra Miller) when Peacemaker walks between them, shouting, "You're late, you f*****g d***heads!" It's not surprising that Momoa and Miller are the only ones who actually appear in the series because they've both been working on their respective solo movies recently.
Why don't we see Henry Cavill, Gal Gadot, or Ben Affleck?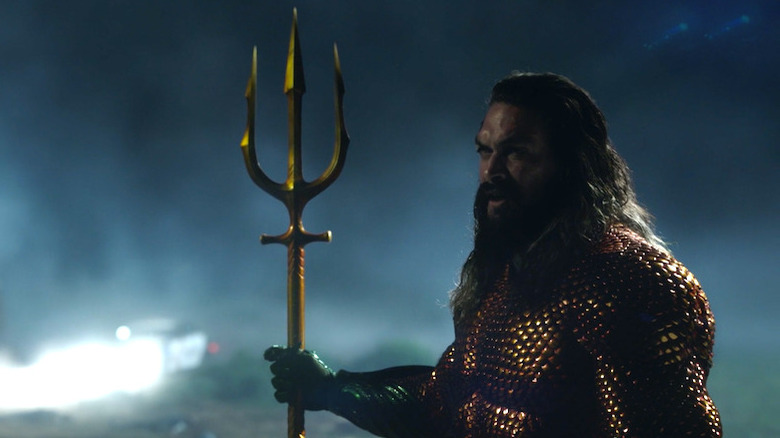 HBO Max
Despite the thrill of the character cameos, it's a little disappointing that we don't see Henry Cavill, Gal Gadot, or Ben Affleck reprise their respective roles in the series. There are a few reasons why they probably didn't opt to come back. 
When it comes to the Superman of it all, it's not clear when — or if — Cavill is ever returning to the role, although he still wants the opportunity to suit up again. There's been plenty of speculation about his future in the DCEU, which has only been made more complicated by a new "Superman" movie from famed writer Ta-Nehisi Coates and J.J. Abrams. Then there's also Michael B. Jordan's Val-Zod HBO Max project. So, it's probably easier for HBO Max and Warner Bros. to sidestep all of that completely with an obscured Superman in "Peacemaker."
Gal Gadot's career has only become more successful in the last few years, and there's a good chance that she was a little busy working on "Red Notice," or any additional work for "Death on the Nile," when it came time for Wonder Woman to appear in "Peacemaker." It's also not that surprising that Batman doesn't show up, since Ben Affleck has been fairly open about leaving the role behind after "Justice League" — although he is coming back one last time for Ezra Miller's "The Flash" movie. 
It's still an incredibly fun moment, though, especially when we get to see Peacemaker insulting our beloved and powerful heroes.