Here's What Keanu Reeves Could Look Like As Ghost Rider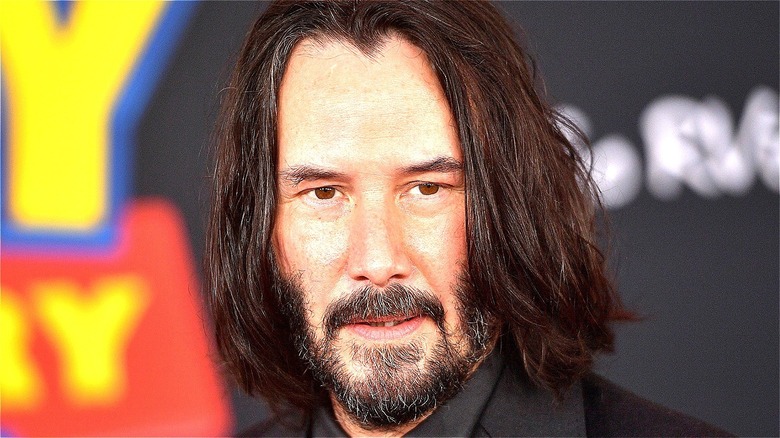 Matt Winkelmeyer/Getty
Keanu Reeves is easily one of the most recognizable action movie stars alive today, and for good reason. The "John Wick" movies have enjoyed monumental success for being ultra-violent, ultra-entertaining thriller films. Overall, all three films have grossed $573 million worldwide (per The Numbers) and a fourth film is on the way. More recently, Reeves starred in the long-awaited fourth entry in "The Matrix" franchise, "The Matrix Resurrections," though it received a lukewarm response, garnering a 63% critic rating on Rotten Tomatoes.
However, fans have long wondered when Reeves would become involved in the Marvel Cinematic Universe. After all, it wouldn't be his first time stepping into a comic book property. He could previously be seen in the titular role in 2005's "Constantine," based on the DC Comics property. 
Reeves has confirmed that he's met with Marvel Studios president Kevin Feige (per Comic Book) but that they've been unable to come up with a way to bring the actor into the fold. Of course, where there's a will there's a way, and it's not like it would be the first time for an actor to play coy about entering the world of Marvel. Naturally, viewers have fan-cast him in many roles, but perhaps one of the more popular choices is that of Ghost Rider. Luckily for those fans, some crafty digital artists have imagined what Reeves could potentially look like in the role.
Keanu Reeves is blazing in stunning Ghost Rider fan art
Late last year, artist @MizuriAU posted some fanart (via Twitter) of Keanu Reeves with half of his face engulfed in flame and showcasing the trademark Ghost Rider skull. From the leather jacket, it seems clear that this particular piece of art is meant to portray Reeves as the Johnny Blaze incarnation of the character. Based on the art alone, the casting of Reeves seems almost like a no-brainer for a "Ghost Rider do-over, following the poor reception of the Nicolas Cage "Ghost Rider" films.
Still, there's no guarantee that Reeves will ever step into the role, especially given his busy schedule with the "John Wick" movies and whatever else he has in the pipeline. Furthermore, "The Walking Dead" star Norman Reedus has shown a lot of interest in the role as of late — and there's similar fan art out there envisioning that casting, too. Either way, it would be exciting for the MCU to continue pushing in a darker direction with "Ghost Rider. If the upcoming release of the "Moon Knight" series is any indication, Marvel seems more willing to take things closer to the edge.
Alas, MCU fans hoping for concrete news regarding the future of the Ghost Rider character will have to continue to be patient.
It's not the only Marvel fan art of Keanu Reeves out there
Given his massive popularity, it should come as no surprise that fans will take any excuse to have more Keanu Reeves in their life. Even if it doesn't work out with Ghost Rider, there are thousands of characters across the pages of Marvel Comics, and surely, there's a part out there for Reeves. He may be nearly 60, but he still has the star power to put butts in the seats. As such, numerous artists have envisioned what the actor could look like as a variety of characters who have still yet to appear in the MCU.
One Instagram artist, @daanys.art, offered a glimpse of what he would look like as Namor the Sub-Mariner. There has been intense speculation that Namor could make an appearance in "Black Panther 2," but those have yet to be confirmed. It would undoubtedly be challenging to hide Reeves' casting if that's the case, so perhaps it's possible Namor will make his debut in a later MCU project. 
That same account also posted some artwork of Reeves as a character we know he won't appear as. Years ago, @daanys.art offered a portrait of Reeves as Adam Warlock. We now know that character will appear in "Guardians of the Galaxy Vol. 3," as played by Will Poulter. Reeves certainly would've been an excellent pick for that part, but it wasn't meant to be. 
That's not even getting into all of the iconic characters Reeves could theoretically play one day, like Silver Surfer, Wonder Man, or Nova. An actor of his talents could portray virtually anyone, and fans would be utterly delighted. Then again, Reeves is a busy man these days, so perhaps a multi-picture contract with Marvel would be too difficult to pull off. Still, there's nothing wrong with a little hope.